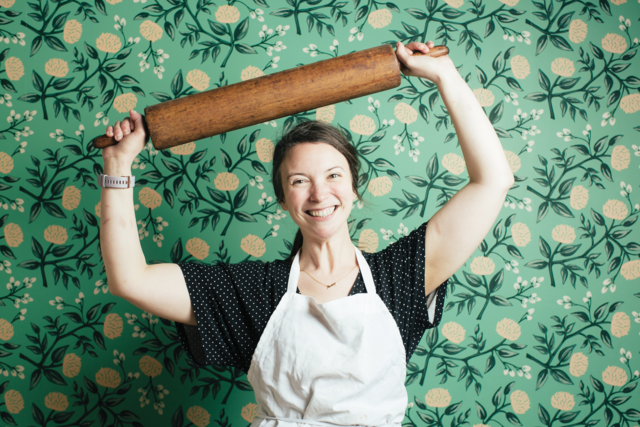 Leah Carmean of Baked on 8thPhoto: Daniel Meigs
Nashvillians know where to find a good doughnut — in the Scene's recent Best of Nashville issue, readers wisely declared Five Daughters Bakery and Fox's Donut Den two of their favorite fried-dough dealers. Locals know where to find their favorite cupcakes too — both The Cupcake Collection and The Painted Cupcake maintain a dedicated fan base by consistently creating hand-held perfection.
There are spots for decadently gooey or still-warm cookies (Christie Cookies and Tiff's Treats, respectively), oodles of ice cream options (Jeni's, Pied Piper Creamery and Frisson) and places for amazing pies and flaky pastries (Buttermilk Sky and Dozen). This city is stuffed with specialized bakeries that have staked their claims on a small corner of the dessert world.
So when husband-and-wife baking team Adam and Leah Carmean started imagining what their bakery would look like — a long-talked-about dream they leapt into after both were suddenly laid off from their jobs within five days of one another — they didn't see the city's abundance of baked goods as a threat. Instead they looked between the cakes, cookies and crusts and spotted an opportunity. 
"I think that Nashville is such a great city for supporting local, and we knew going into it, if we make something good, Nashville's gonna support us," Leah Carmean tells the Scene while taking a rare break from the kitchen. "There are a lot of niche places where you can get incredible things, but not where you can go get a variety of different things. So I wanted that."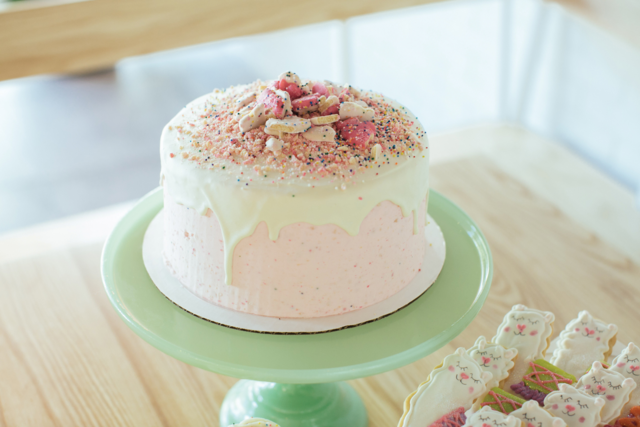 Photo: Daniel Meigs
Leah grew up in Memphis baking with her mom and grandmother. She moved to Nashville to study entrepreneurship at Belmont, sticking around to sharpen her culinary skills at bakeries all over town — from The Puffy Muffin and Gigi's Cupcakes to the Nashville Farmers' Market's now-defunct (but fondly remembered) Sweet Stash. 
Adam studied French classical cooking at the Art Institute of Philadelphia and has a decade of bakery experience of his own. He loves bulk baking ("When I've made 120 cake rounds and 340 cookies on a Friday afternoon, I feel very accomplished," he says), and she loves to make everything from Rice Krispie treats to pies. The Carmeans' menu at Baked on 8th, which the couple opened in May just a block north of The Basement, reflects that.
"Everyone [in the kitchen] feels more creative and excited when it's new," says Leah. "You wanna put that on a cake? Do it. You want to make that flavor? Do it. You wanna try this type of scone today? OK! I never want to have a set, 'We have these things on this day and these things on this day.' It's not our style."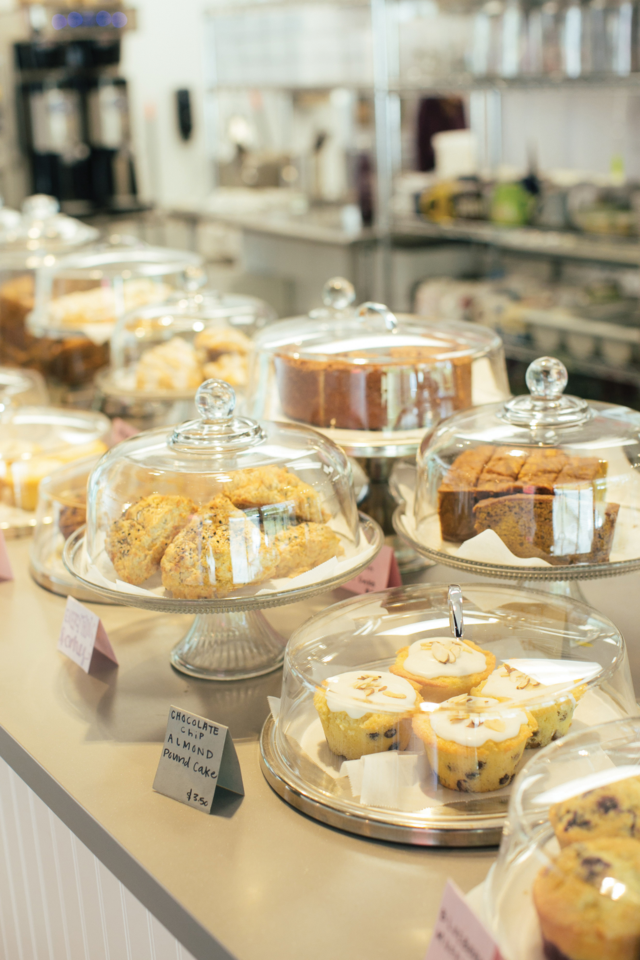 Photo: Daniel Meigs
To call Baked on 8th's array dizzying is an understatement — their selection is enough to make your sugar-craving brain shut down all together. The long front counter is covered with glass cake plates housing dozens of different baked goods — scones, blueberry muffins, chocolate-chip-almond pound cake, cinnamon-pecan coffee cake, Jewish apple cake, blondies (with and without sprinkles, of course), pumpkin bread, chess pie bars, banana bread, homemade Pop-Tarts stuffed with pumpkin or fruit, brownies, and three different flavors of Rice Krispie treats. There are also gorgeous shortbread cookies flavored with almond and decorated with royal icing to look like golden-horned unicorns and smiling llamas, or offer glittery words of encouragement like, "Not today, Satan."
The large refrigerated cake case is just as impressively loaded. Extravagantly decorated layered cakes — available whole or by the slice — come in flavors like s'more, carrot, red velvet, vanilla-almond, chocolate-hazelnut and circus cookie. Yes, circus cookie — the Carmeans, geniuses they are, crush up those pink-and-white-frosted animal cookies and stir them right into the buttercream. It's on the sweet side, as one would imagine, but I still had no problem polishing off that fat wedge of cake all by myself.
If you can pull your eyes away from the colorful icing dripping down the cakes and all the sprinkles — so many sprinkles — there's a row of glass cookie jars above the cake case full of snickerdoodles, oatmeal-butterscotch cookies, oatmeal sandwich cookies with chocolate filling, and something called "Milk's Favorite Cookie." Those taste like the chocolatiest cookies-and-cream confection you've ever tried. (If they've got the strawberry-white-chocolate-chip flavor when you stop by, you must try that, too — it tastes like a lingering summer.)
But don't worry if you're a creature of habit — for many, baked goods represent a familiar comfort, so Baked on 8th also offers some everyday classics among all the rotating experimental flavors.
"There are certain items that we have to have everyday," Leah says. "We have to have chocolate-chip cookies. We have to have banana bread. There are just certain things that we'll do every day, and that's fine.
"It has been kind of a challenge to be like, 'Hey, I promise if you try this, you're gonna like it,' " she continues. "It's exciting when people break free and try something new."
One mainstay walks the line between classic and futuristic — the Galaxy Brownie is a thick and fudgy brownie topped with a generous layer of brightly colored buttercream (sometimes pink, other times blue or purple) and decorated with handfuls of assorted sprinkles and edible glitter. The whipped buttercream is light and airy, working almost like a glass of milk to cut the brownie's chocolate explosion. The sprinkles, pretty as they are, are functional too — they bring the perfect crunchy element to an otherwise very soft and gooey goodie.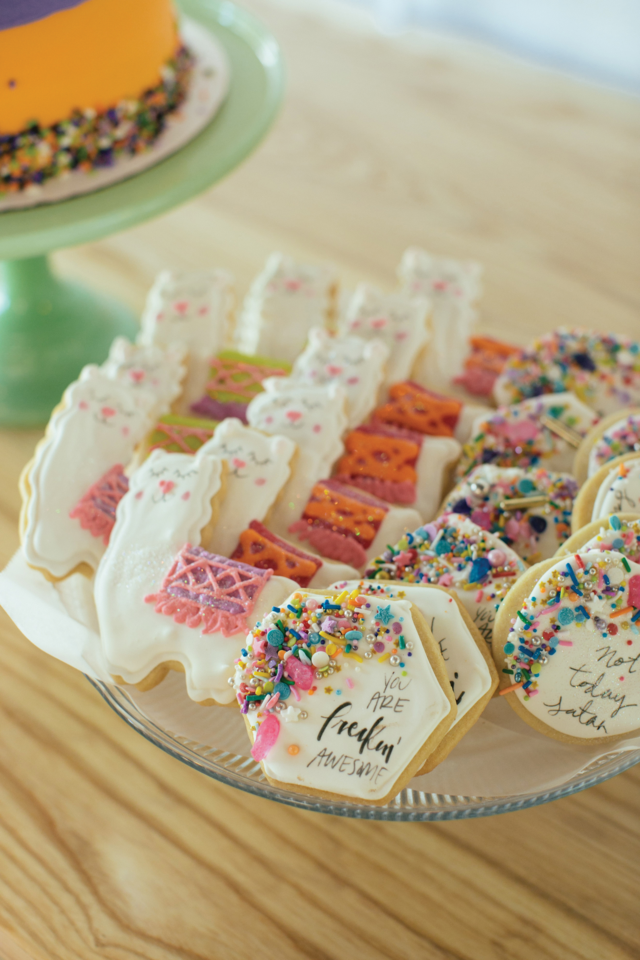 Photo: Daniel Meigs
Another thing the Carmeans have learned to always have on hand is a recipe Leah learned from her grandmother.
"The strawberry bread that we make was something that my grandmother always made — and banana bread," she says. "When we went to her house, those things would be there, or I would make them with her. It would always make two loaves, and she would make one to give to somebody else, and she would keep one. When we first opened, people were like: 'Strawberry bread? I've never heard of that.' And now it's a really popular item. So that's fun to see."
But Leah says Baked on 8th's cakes are what have really captivated the customers. Before the Carmeans opened their shop, you'd have been hard-pressed to find a classic slice of cake available anywhere near downtown Nashville after 7 p.m. Baked on 8th is open until 8 p.m. Monday through Thursday and until 9 p.m. Friday and Saturday. (They close at 4 p.m. on Sundays.)
"When I want dessert, I want a slice of cake, and I want it after dinner," says Leah. "So it was like: 'I'll create that place for other people. I can't be the only one.' I'm shocked at how many slices of cake that we sell. We cannot keep the cake case full enough. We cannot make enough cakes."
Leah says the bakery churned out more than 300 cakes one week, and during another especially busy weekend they also completely sold out of cake, despite the kitchen's best efforts to keep up. Thankfully, they were well-stocked with a variety of other treats to keep sugar-craving customers happy. 
"People come in and they wanna know what our bestseller is, and I'm even leery to say that cake is our bestseller, because our cookies all sell really well," says Leah. "I kind of like that we don't have a bestseller. If we put it out, people are gonna try it. And that's really exciting."