Dude, where are all the Filipinos?
In July, my husband Darren and I decided to take the leap and move to Nashville from Washington, D.C., where we'd been living for more than a decade. And the above question was the first one that popped into my head.
In D.C., I had a circle of kababayan — Tagalog for "fellow countrymen." I was a member of the Young Filipino Professionals Club, hosted Filipino dinner parties at my house and formed a potluck group with Filipino colleagues at the office. Those events had become such an important part of my identity as a Filipino Egyptian American, and a lifeline to my family in Southern California. I didn't want to lose that part of myself.
So I was determined to find the Filipino community in Nashville.
I was skeptical at first. Darren's family is from Brentwood, and in the past decade of visiting the area I didn't encounter any Filipinos — or many Asians, for that matter — and I certainly didn't see any Filipino restaurants and businesses. But I knew this couldn't be true. There are roughly 4 million Filipinos in the United States. Surely there would be some in the city. I just needed to look deeper.
My journey to find my Nashville kababayan started with a phone call a few months before we moved in September. I rang up my friend Stephie Goings. Stephie is a fellow Filipina, and we went to high school together — she came to Nashville a few years ago to start a career as a professional drummer.
Stephie gave me the lay of the land. There's a small group of Filipinos here, she told me, inviting me to a private Facebook group of two dozen Filipinos in the city. There were even a few places where I could get Filipino food, she said: Maemax, a Filipino grocery store and restaurant in La Vergne; Ate's Filipino Kitchen, a pop-up serving favorites like lumpia, pancit bihon and Filipino barbecue; Pandesal TN, which delivers homemade Filipino sweet bread and ube rolls. I made a note to check out these places when I arrived in September.
Still, Stephie was the only Filipino I knew in town. Could I meet others? I sent out a tweet in the hope for more leads: "desperately seeking filipino and arab friends ... POC-friendly resto recommendations welcome, too
I was overwhelmed by the response — 100 replies! Along with suggestions of where to get good banh mi, boba and Thai curry, I learned of K&S World Market, a supermarket with Filipino, Asian and other international ingredients; Sunda, a high-end Asian restaurant that offers a $120 kamayan dinner, a traditional Filipino feast of grilled meats and rice served atop banana leaves and eaten with bare hands; and Kapu Haole, a Hawaiian pop-up out of Babo Korean Bar that sells updated Filipino classics like pork belly adobo and vegan pancit.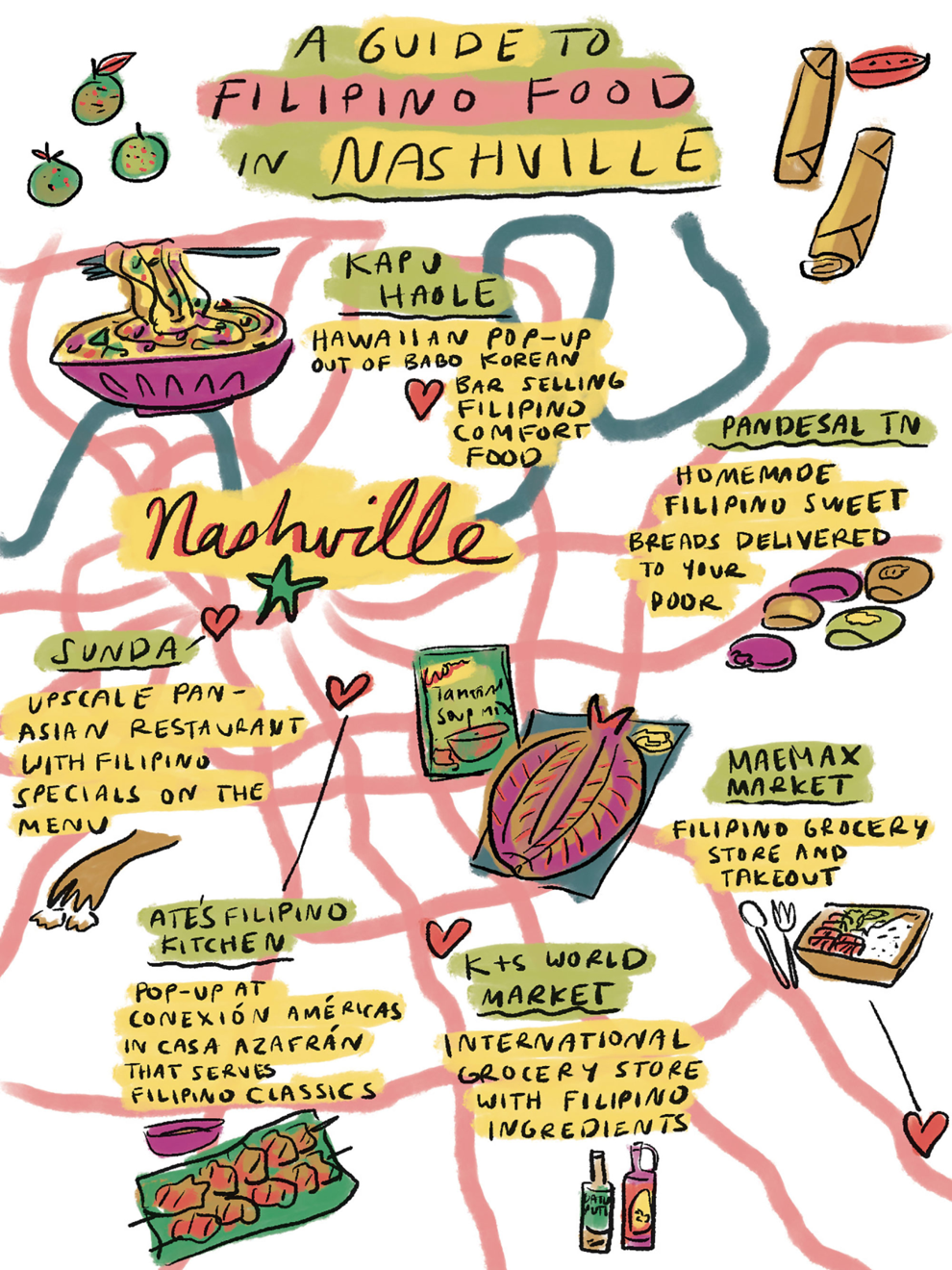 I also heard from Nashville Filipinos across social media: "Filipino filmmaker here!" "My family is moving there soon, would love to connect!" "You should meet my friend, she's Filipino, too!" By the end of the day I knew enough Filipinos to invite to a socially distant potluck at my new house in East Nashville. When the event finally happened in September, we took turns piling paper plates with homemade items — sinigang, a tamarind pork soup; afritada, braised chicken in tomato sauce; fried fish; sauteed vegetables in coconut milk; all kinds of Filipino desserts. We chowed down while six feet apart.
Meanwhile, I wanted to know more about the city's Filipinos. I paid a visit to Maemax to speak with Chriss Goyenechea, who runs the grocery with his wife Malo. He's been living in Tennessee for two decades.
On a screen behind him is a ticker of how many days the store had been running — three years, Goyenechea says proudly. "Before we started Maemax we thought we knew all the Filipinos in the area," he says. "But after we opened, people we'd never seen just started showing up, eating our food and sharing their own stories, saying 'this tastes just like how my lola cooked it.' " ("Lola" is Tagalog for grandmother.)
According to 2018 census data, there are a little more than a thousand Filipinos living in Davidson County. That's not many compared to the nearly half a million Filipinos in Los Angeles, where I grew up. That's part of the reason why Joseph Gutierrez, a 33-year-old Filipino American from Southern California, started API Middle Tennessee last year. The nonprofit aims to bring Asian and Pacific Islanders in the area together, hosting cultural events, getting people to vote and keeping a local directory of Asian businesses. So far, the group has roughly 60 active members — mostly millennials who moved to the city for work.
"After six years of living in the American South, I didn't find space," Gutierrez says. "I just realized that if I was going to live here, I better plant roots and build my own community."
Filipina American Sophia Agtarap started her pop-up Ate's Filipino Kitchen for similar reasons. It was her way of "gathering Filipinos because I wasn't seeing much of it when I moved here from Seattle in 2012."
While Agtarap feels there's momentum around creating a strong Filipino network in Nashville, she says there's an opportunity to do more — and people are eager to get involved. At her pop-ups, she says, she sometimes pulls Filipinos aside and asks whether they'd be interested in collaborating on cultural events. "The answer has always been yes," Agtarap says.
Lorna Young is the Filipina American author of International Flavors: Ethnic and American Favorites, a cookbook of Filipino and Southern dishes. For her, things have changed a lot since she moved to Nashville in 1983.
On the phone, I was charmed by Young's Tagalog-Southern accent — I had never heard anything like it. "When I came, it was a little rough for me," she says. "People often looked at me like I was an alien." She didn't meet another Filipino until a year after she arrived — at the city's only Asian supermarket downtown.
But over the decades, immigrants started moving in — and finally, in the past 15 years came an influx of Filipinos. Young began meeting them at church, started organizing Filipino Christmas parties and eventually became the treasurer of the Filipino American Association of Tennessee.
Young's story was so similar to those of the half-dozen people I interviewed for this piece: They moved to town, connected with other Filipinos and made community. I understand the message they're trying to tell me. They did it, and I would, too. Like all the Filipinos who came to Nashville before me, I'd soon find my own circle of kababayan — and with that, a little home for myself in the South.