Why Paducah?
I got that question every time I told people we were going there. To a point, I get it. If you're a person who doesn't routinely visit Huntsville, Ala., or Byrdstown, Tenn., it feels random. But I assure you: Small towns make for ideal weekend getaways, in part because of their constraints.
Drive instead of fly. Visit one museum instead of three. Walk everywhere. Decide between this brewery or that one, because there are only two. Having to make fewer choices — if the choices are good — takes the stress out of a vacation. Plus, you get to double back to places you like and pretend to be a local.
So it goes in Paducah, Ky. Roughly 140 miles northwest of Nashville, it's a two- to three-hour drive, depending on how bad I-24 traffic is. See our recommended itinerary below. Departure time is 3 p.m. because if you're still working until 5 on Friday, you're COVID-ing wrong.
Friday
5:15 p.m.: Get There, Get a Beer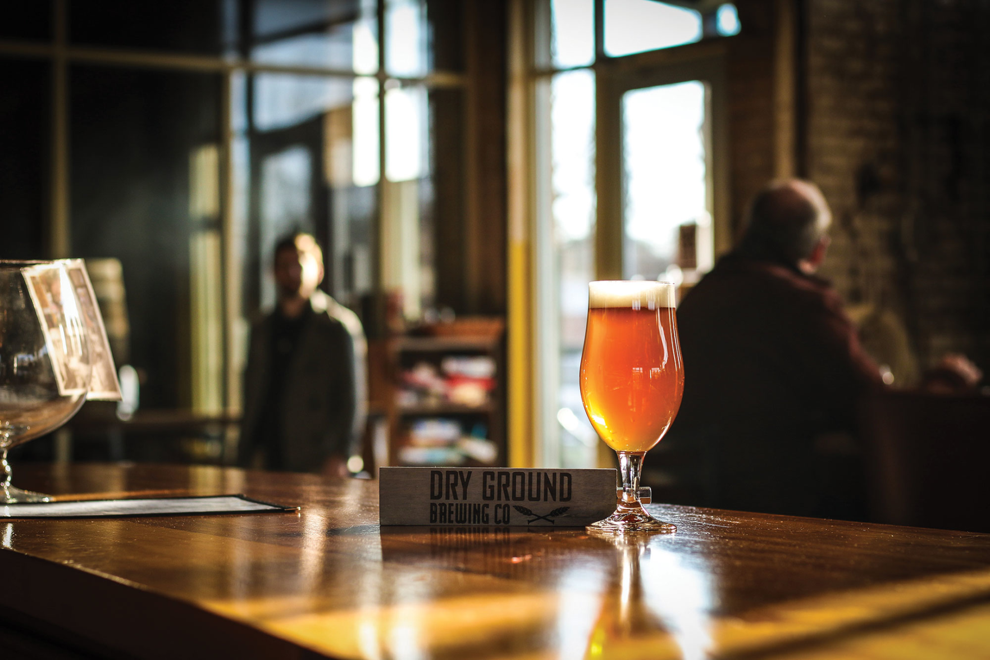 Remember those two breweries? Dry Ground Brewing Company is the first, and it's not downtown, so go before you park. DGB was Paducah's first craft brewery, and their funky, spacious taproom is in an old Coca-Cola bottling plant built in 1939. Try Leonard the Beer (a zippy, lemon-peel pale) or Uncle Luther, an English red "extra special bitter," which just means it's hoppy but balanced.
6:15 p.m.: Check In
A crucial part of small-town tripping is finding a walkable spot in the heart of town. Skip the chains and book a boutique room at the 1857 Hotel, which is decked out with exposed brick, industrial design, a bar and a live-music venue (COVID-pending, yada yada). If you need a few rooms, grab a condo at the 1857 Guest House, a building that was actually built in — you guessed it — 1857. It's smack in the middle of Market House Square, which is as central as you can get.
For something off the beaten path, try the Belle Louise Historic Guest House. It's exactly what it sounds like: a big ol' mansion built in 1879 that's been spun into an absurdly spacious B&B. Think bewickered porches, Corinthian columns, crystal chandeliers — the whole nine. The decor's dated, but that's the friggin' point, and it's comfortable. Tip: Verify your room has an en suite bathroom. It's the only sane way to B&B.
6:30 p.m.: Walk the Wall
The first thing you'll notice about Paducah's riverfront is that you can't see the actual river from most of downtown — because of a big-ass wall. I'm a native Memphian, and so my first question was, "What idiotic tourism board lets someone put a wall in front of a river — or rather, two rivers?" (The Ohio River and Tennessee River converge in downtown Paducah.) This just in: I am the idiot because it is, of course, a floodwall, and a historic one no less.
The Ohio River flood of 1937 was the worst natural disaster in Paducah history. Eighteen inches of rain and sleet fell in 16 days, and the river rose 60 feet. That's the length of a bowling alley — but vertical. More than 27,000 Paducahans had to flee, so a floodwall was a no-brainer. By 1996, the city was sick of staring at the big brown wall, so they commissioned the Paducah Floodwall Murals. Today, it has 50-plus decidedly old-school paintings of Paducah history, from Native Americans and steamboats to labor unions and quilts. (We'll get there.) It's well-lit, even at night, so it's essentially a museum you can visit anytime. It is not, however, an Instagram-inspired, I-need-wings-because-I'm-as-precious-as-an-angel mural, so prepare yourself.
7 p.m.: Get a Brown Drink
Ninety-five percent of the world's bourbon is produced in Kentucky, and Barrel & Bond would appear to house most of it. Try one of the 1,500-plus they stock in a flight or cocktail, starting with a classic Old Grand-Dad. The high-rye, lightly cinnamon-y bourbon is distilled at Jim Beam, but it's better, and it's been name-checked by everyone and everything from M*A*S*H and Veronica Mars to Steinbeck and Skynyrd.
7:45 p.m.: Taste of Top Chef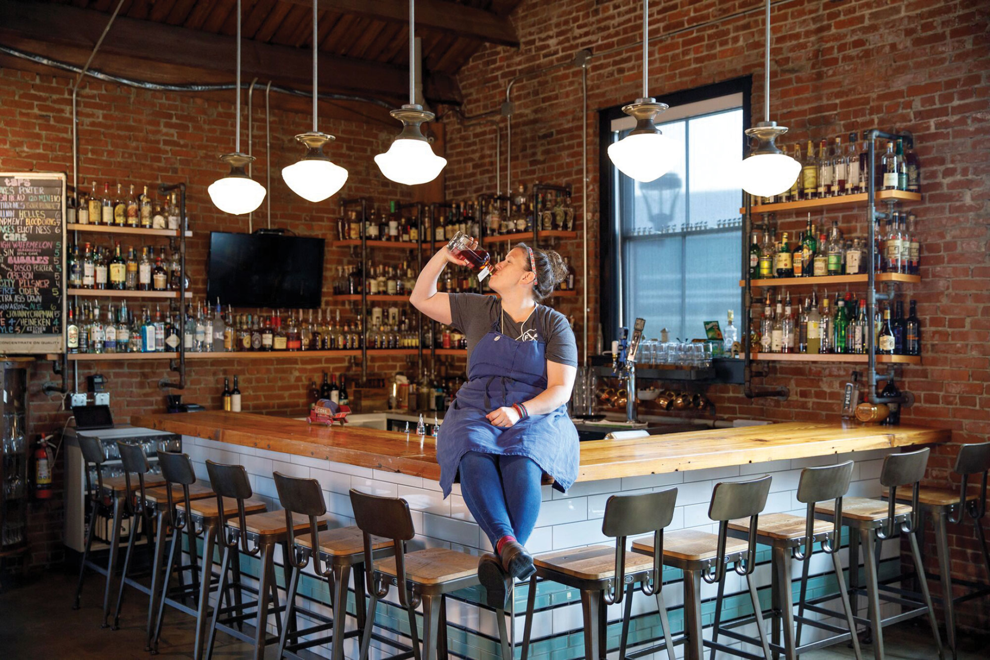 Freight House is the move for dinner. Chef-owner Sara Bradley was the runner-up on Season 16 of Top Chef, and you'll see her running the line and chatting with regulars in this homey-yet-upscale neighborhood joint. Make a reservation, and start with soup. We had warm English pea with ricotta, preserved lemon and lavender croutons. It was spectacular — bright but luxurious, bursting with a few fresh, plump peas. The crudité with beer cheese is sharp and spicy, the pepperoni dip is a rarified version of that thing your mom makes, and the deviled eggs — ours were everything-bagel with crunchy rye bits — are classed-up, expert comfort food. The shrimp-and-grits (pork, 'shrooms, NOLA BBQ sauce, pimento-cheese grits) were good, but for me, the small plates outshone the mains — and that's actually better if you swing by the spot more than once. (We did.)
9 p.m.: Cap Your Night
If you're a Nashville Chad looking to get rowdy, hit The Johnson Bar. It's chicly appointed but was blaring live music that sounded like something one of the Lines — either Florida or Georgia — will burn in hell for spawning, so we headed to The FoxBriar Cocktail Bar. The mezcal margarita at this speakeasy-ish spot is stellar, as are the flights. In addition to the usual whiskey and/or tequila, try rum, amaro and brandy, the latter of which is a knockout nightcap.
Saturday
8 a.m.: Buzzed and Baked
Jump-start your day with Etcetera Coffeehouse's Rocket Fuel, an extra-strong-brewed iced coffee that's smooth and addictive. Pair it with a pastry from Kirchhoff's Bakery & Deli, which was opened in 1873 by Prussian immigrant Franz Kirchhoff. Franz lived above the bakery and would roll an iron cart down to the river to sell his wares to steamboat workers. In 1957, the bakery shuttered for 40 years — until the fifth generation of Kirchhoffs brought it back, reopening in 1997. Today it's full of folks grabbing challah, vollkornbrot (German rye bread), muffalettas, French onion soup or bacon-and-chive potato salad. The day we were there, they also had a three-piece band with a washtub bass, a stringed instrument that uses a tub as a resonator. Its alternate name: a "gutbucket," which obviously rules.
10 a.m.: Tour Time
You don't go to Paducah without visiting the National Quilt Museum. It was started 30 years ago by a non-quilting couple (Bill and Meredith Schroeder) who loved quilting that much. By 2008, Congress had named it the national museum, so you go, Schroeders! The small space is packed with 600 contemporary quilts, which means they were made after 1980 and which also means they're way more fun to peruse than Grandma's patchwork. Think fighter jets, Chinese dragons and Greek gods. The museum also displays kids' quilts — snails, spaceships, sloths! — which honestly stole the show for me. Was my husband the only non-retiree-age man there? Yep. But it was an interesting 20 minutes! (We don't dawdle over art.)
Another option is the River Discovery Center. It's the size of a postage stamp and run by a lovely lady who seems like she came with the building. It has the small-town museum quirk that makes it as informative as it is slightly comical — ring a big bell, play a clown organ, visit "Otterville"! The low-tech simulator where you can "captain" a Coast Guard vessel — aka crash into stuff at decent speeds — was worth the $8 admission.
Noon: Doe It Right
As any Ole Miss Rebel Black Bear Landshark will tell you, Doe's Eat Place is an institution in Oxford, Miss., and in 13 other locations in the Delta. This one's the closest to Nashville. Doe's all-beef tamales — tender, savory, spiced little packages, tied up with string — have been made the same way since 1941. Order a dozen, and add chili. Always add chili.
1:30 p.m.: Pound the Pavement (for Pork)
Walk or bike the Greenway Trail. The 5-mile route links downtown to Bob Noble Park, which has a lake, playgrounds and a skate park. If you don't have a 10-mile round trip in you, Uber there and walk back. While you're there, duck into Starnes Barbecue, where you'll enjoy a smoked bologna sandwich in mint-green cinder-block surroundings, just as Paducahans have since 1955. They're not open Sundays, so get while the gettin's good.
4:30 p.m.: Treasure Hunt
Back in the city, hit Antique Galleria on Jefferson Street. It's crammed full of trash 'n' treasure — old records, vintage Playboys, scary dolls, dainty dishes. It was well worth triggering my claustrophobia to score a T-shirt that reads, "Paducah, City of Quilts: Halfway between Possum Trot & Monkey's Eyebrow." And yes, it is geographically sound.
5:30 p.m.: Monkey Business
Play cornhole in the huge outdoor area at Broussard's Cajun Cuisine, an outpost of a Missouri-based restaurant "serving authentic bayou fare with a Louisiana vibe." The étouffée was pretty good, and the staff was accommodating as hell. To wit: The day we were there, they happily seated a couple with a capuchin monkey, no questions asked. I, on the other hand, had many questions, including where the hell they got the thing. Answer: Trezevant, Tenn. So the weirdest thing in Paducah was our state's fault.
6:30 p.m.: Bus Stop Beer
The last stop on your two-brewery tour is Paducah Beer Werks, which is housed in an old Greyhound Bus Station. Skip the food — you will want the deep-fried pepperoni, but I am here to tell you it's a brilliant concept with a chalky result — and just order suds. The Orange Blossom Special (wheat, orange, honey) and Irish-style beers aged in Kentucky-bourbon barrels are all excellent.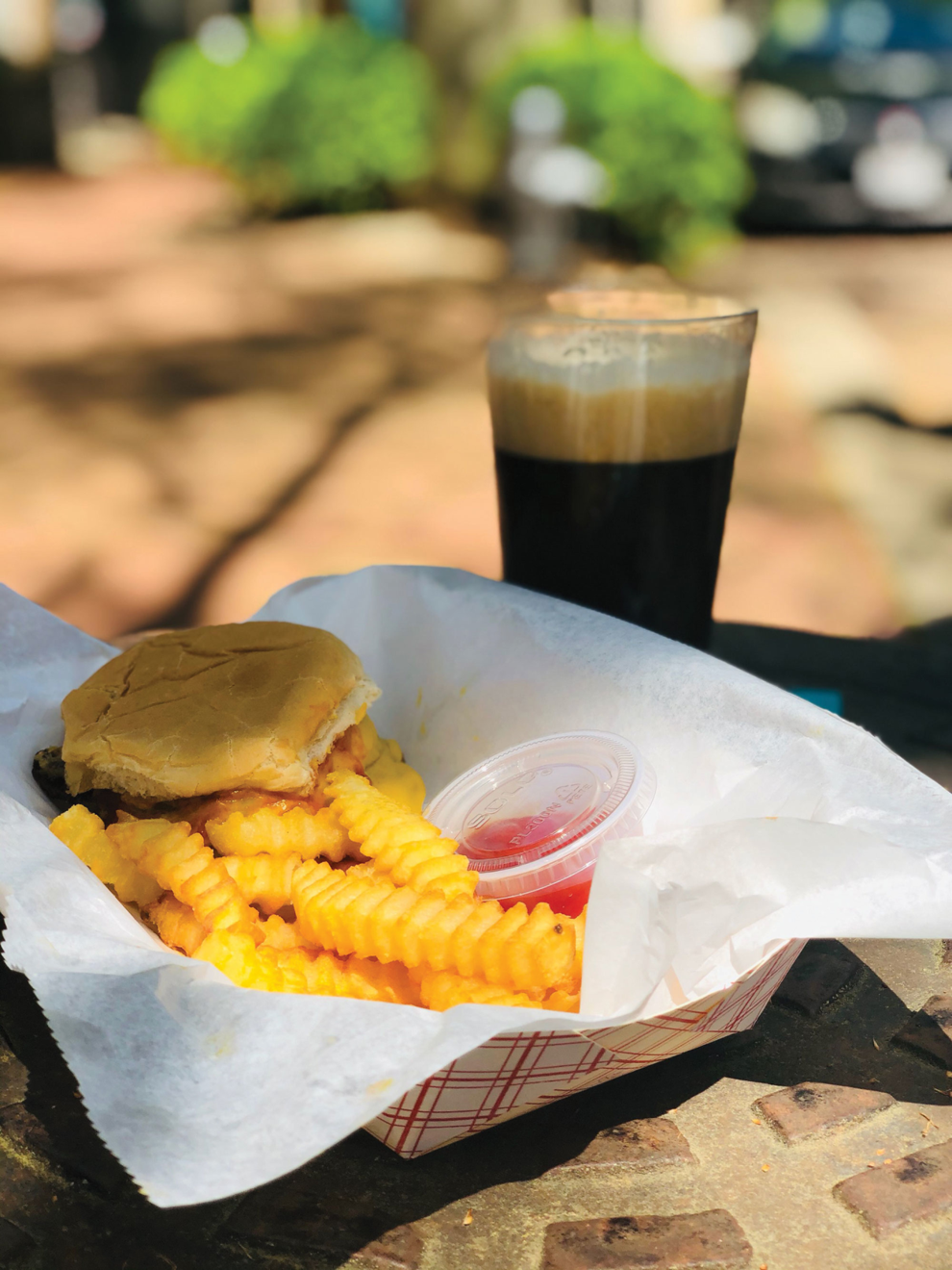 7:30 p.m.: Refined or Relaxed
For finer dining, try Cynthia's Ristorante. The cozy nook is decorated with local goods, and they make all their breads, pastas and desserts in house. Or keep things casual at The Bully Gorilla Bar. Grab a high-top table at the bar (a phrase that only makes sense during COVID) and befriend the bartender who goes by, simply, "Cheese." Now, if a person introduces herself as "Cheese" and says her specialty is burgers, you order them. Cheese's were impeccable — salty, juicy, griddled just until crisp and made using local beef from Hughes Meat Market. It's a burger that could hold its own against Nashville's Bare Bones, and that's no small feat.
Sunday
Paducah is sleepy on Sundays, but so are you. Snooze a while and then swing by Over/Under sports bar for a shockingly great bloody mary. Then walk a block to Knoth's Bar-B-Que for beef brisket — pit-smoked since 1965! — or get the burger, add pork, with hot barbecue sauce. Did I need another burger? Hell no. But the staff recommended this off-menu item, and it sounded nuts, so I had to try it. It was weirdly perfect — super-thin patty, smoky pork, spicy sauce. Not as good as Cheese's, but a solid runner-up, and a surprisingly great road-trip snack to boot.