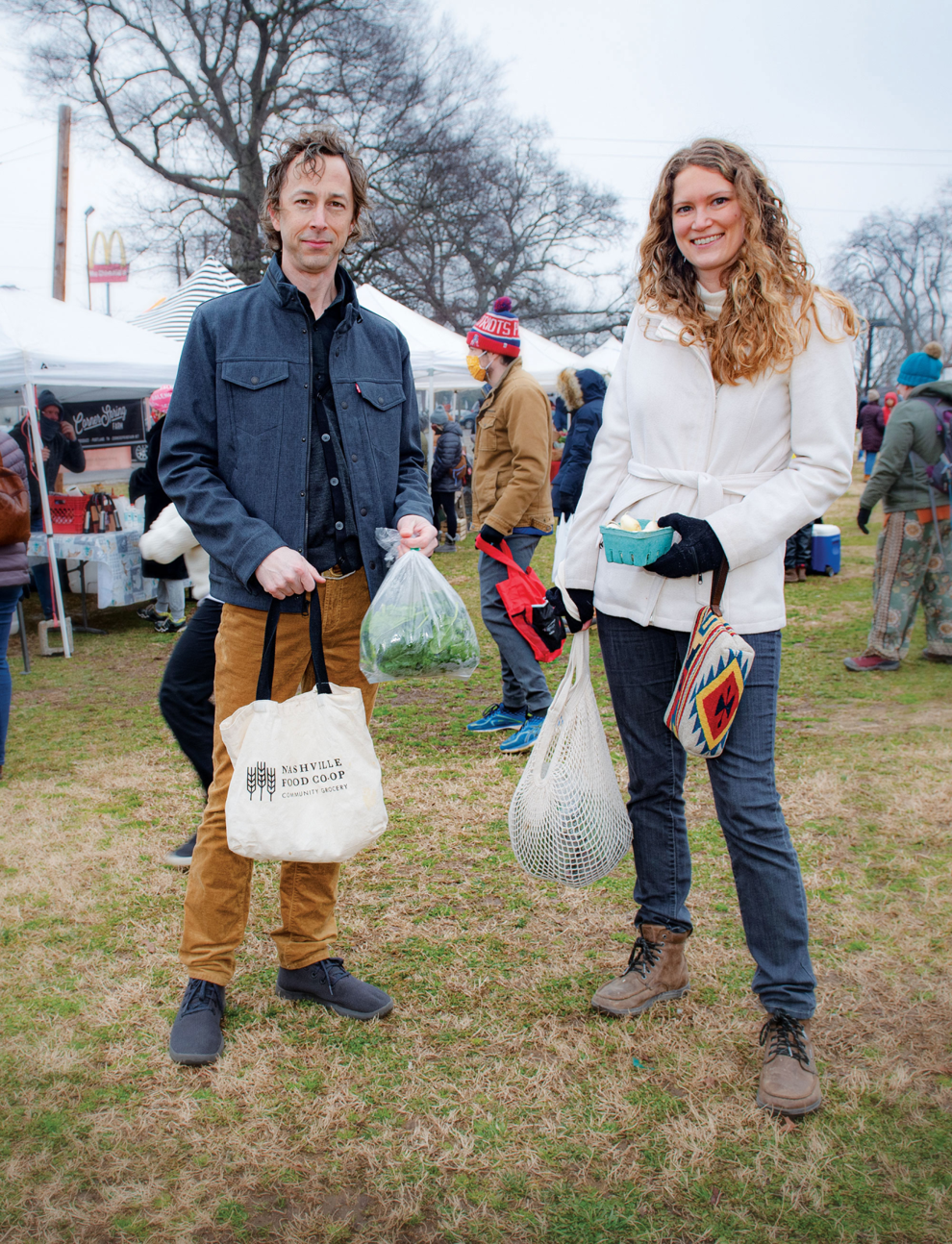 The past 12 months have involved a lot of conversations about groceries. Which stores have the basics in stock? What's the best way to shop safely? 
Two of the major chains that serve Nashville made national headlines in recent weeks — not for toilet paper shortages, but for politics and economic justice issues. Julie Jenkins Fancelli, daughter of Publix Super Markets founder George W. Jenkins, put roughly $300,000 toward the Jan. 6 Trump rally in Washington, D.C., that preceded that day's insurgency at the U.S. Capitol. Kroger has made headlines for closing select stores in municipalities (not Nashville) where hazard pay for grocery workers has been mandated.
Even long before the pandemic, Nashvillians bickered about the supermarket chains in town — it's a popular topic on neighborhood Facebook pages.
Ellery Richardson has long said Nashville needs an alternative — a community-owned, community-run grocery store. She's been saying it since 2015, to be exact. Richardson is the president of the Nashville Food Co-op, leading the effort to open a food co-op in Music City. She shopped at a co-op in the Vermont town where she attended law school, and when she returned to Nashville, she missed the easy access to high-quality, healthy local foods. She missed the feeling of shopping somewhere managed by folks who had the community's best interests at heart. After some prodding by her husband, Richardson decided to build a team to make it happen.
Starting a co-op is a slow process, but not a futile one. Of the communities that follow the processes set out by the Food Co-op Initiative, there's an 80 percent success rate. "This model works, which is why we are doing it," Richardson says.
A food co-op is a brick-and-mortar grocery store cooperatively owned by the people who work there, the people who shop there or a combination of both, explains Jacqueline Hannah, the Urbana, Ill.-based assistant director of FCI. FCI knows of about 150 food co-ops across the country, but Hannah believes there are more than 250, since new, smaller co-ops pop up regularly.
A co-op is a one-stop, seven-days-a-week grocery store, with a meat counter and a dairy section, explains Jon Loyd — a musician, piano technician and board member of the Nashville Food Co-op. It's a place where you can buy laundry detergent and coffee filters and tomatoes. Often, co-ops are also places of joy. Loyd recorded a video walk-through of Knoxville's Three Rivers Market, which is reportedly the only food co-op currently in the state, and noted — with glee — the bike-repair station out front. Sometimes co-ops have coffee bars, flower CSAs, enthusiastic employee greeters or cooking classes. They often smell like fresh-ground coffee and bulk spices. 
The Nashville Food Co-op currently has 201 members with a goal of 1,200 total. When it gets to the 600- or 700-member mark, conversations about store location will begin. While some prospective members have said they want to wait until they know where the store will be located before joining, Loyd points out that the store will be where those first members want it to be. "We are looking for the first 1,000 Nashvillians who are really committed to this model," he says. According to a rough timeline, a store will open in Nashville in 2024. 
In general, Hannah says, it takes five to seven years from incorporation to opening doors for a new co-op. Some can do it as quickly as three, while others take a decade. She says research suggests Nashville is a "robust opportunity" for a co-op, although there are challenges. The local food movement is fragmented, with many organizations doing similar work independently. Richardson adds that Nashville's popularity means there's a lot going on, and it can be hard to get folks' attention. Nashville's transient population can be both an advantage and a disadvantage, according to both Richardson and Loyd. It may be hard for someone who doesn't know if they will live in Nashville in the future to pony up to become a member. But it also means that people who are familiar with the concept in other cities are moving to town.
Richardson concedes that marketing is not her strength, and that slowed down her initial launch. In the early years, fellow board members helped with a market analysis and early steps, but they didn't have the expertise to help explain to the public what a co-op was, why it would benefit the community, and why they needed members before it opens. New board members were recruited with that expertise. 
Co-ops are organized around whatever mission its members decide on, and may include specifics such as reducing food waste, selling all organic or local produce, advocating for economic justice, or reducing food insecurity. Co-ops do not require shoppers to be members — keeping membership "voluntary and open" is one of the seven cooperative principles under which all co-ops operate. Credit unions and farm cooperative businesses use these same seven principles, but the specifics of how that works vary. Loyd worked two-and-a-half hours a month at the co-op he belonged to in New York. Some give members a discount each time they shop. Others offer a year-end distribution. 
Proponents of co-ops note benefits for their communities. They are able to work with local small farmers in a way that farmers markets and large grocery stores can't. Many farmers report they could grow more food, Richardson says, but they need a year-round place to sell it. Most farmers markets can't do this, but even at an increased capacity, the farmers don't grow enough to work with the national chains. There are also environmental benefits to not having to ship food across the country.
Co-ops tend to pay their workers more than chain grocery stories ($14.31 an hour versus $13.35), with more employees eligible for benefits. They also have higher sales per square foot ($10.37 versus $8.55). Co-ops recycle more plastic and cardboard and have less food waste, according to a study from the National Cooperative Grocers. Prices tend to be competitive too. While grocery margins are famously slim, the shareholders of a co-op are the people who work there, so there's no incentive to charge more than is needed, Loyd says.
Food co-ops have gone through waves of popularity. In the 1960s and '70s, many co-ops were focused on providing natural and health foods. In the past five years, FCI's Hannah says, "the phone started ringing off the hook" as communities looked for ways to address food insecurity. Four areas in Nashville are considered food deserts (North Nashville, East Nashville, Edgehill and Napier-Sudekum, according to the Metro government), meaning residents don't have full-service grocery stores near them.
Most co-ops in the U.S. are around 10,000 to 15,000 square feet — significantly smaller than the average U.S. grocery store size of 42,000 square feet. The target for the Nashville store is 12,000 square feet — big enough to be a full-service store (similar to a Trader Joe's or Walgreens), but not a mega-chain grocery. 
Hannah says that Nashville's one-time $250 member fee is in the ballpark of what other co-ops charge, and it can be paid in installments to make the financial commitment easier. 
"As a founding member, I can have a voice in what is brought to the co-op," says Jilah Kalil, executive director of the nonprofit Cooking Up and an early Nashville Food Co-op member.  "This includes promoting local farms and small businesses, and bringing these products to the co-op on a regular basis. Food access for all, rather than only those who can afford to shop local, is very important to me, as a consumer and as a food educator. I believe the co-op would be a place to bring the community together, to gather around the table and break bread together."
Nationally, roughly 20 to 25 percent of co-op members tend to invest further to raise the funds for construction to get the doors open. The average investment is $3,700.
If you're interested in learning more about becoming a Nashville Food Co-op member, the team is offering regular remote information sessions. Follow them on Facebook (facebook.com/nashvillefoodcoop) or Instagram (@nashfoodcoop) and visit their website (nashvillefood.coop) to stay in the loop.