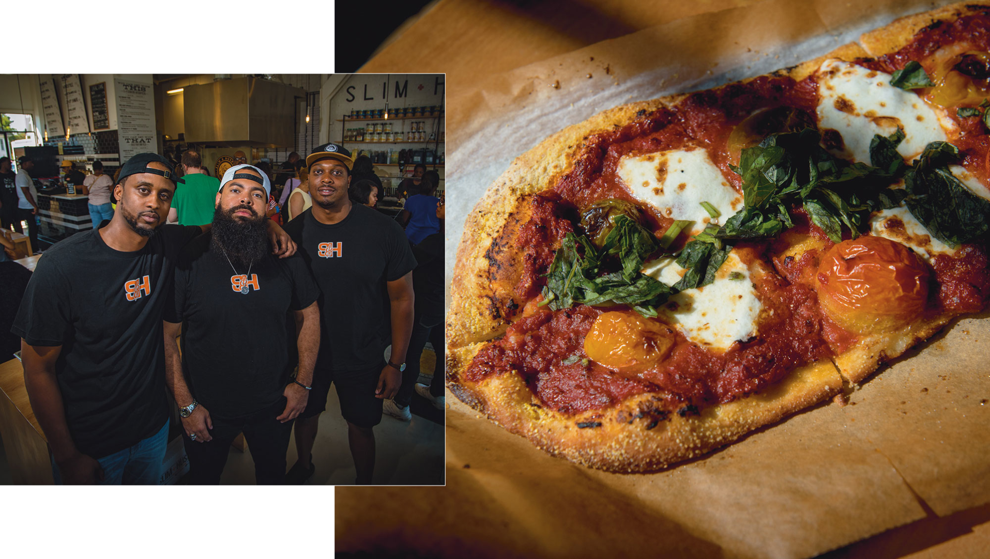 "Without Tennessee State University, there would be no Slim & Husky's," says Clint Gray, co-founder of the wildly successful pizza chain. "There'd be no Guidance Whiskey, no WKND lounge or Minerva Avenue. All of those hospitality concepts that came out of Tennessee State University, there's a bit of those concepts that people learned and experienced while they were in school."
When people think of successful business schools in Nashville, the names that come to mind are likely Vanderbilt University's Owen Graduate School of Management, or Belmont's Jack C. Massey College of Business. But much of the heart and soul of Nashville's hospitality and culinary industries comes not from these private institutions, but instead from another Nashville gem — a historically Black public university.
The graduates of TSU are critical to the success of many local restaurants, bars, hotels and other food-and-drink-adjacent businesses, and part of the reason they're so successful is what they've had to overcome in their own college careers. Without the benefit of the large endowments that many colleges and universities have, the faculty, staff and student body at Tennessee State have faced chronically under-resourced working conditions, developing an entrepreneurial spirit and a dedication to hustle that are unrivaled by the graduates of the ivory towers.
The spotlight rarely shines on these entrepreneurs, in part because they often set up their businesses close to campus — out of range of visiting food writers touring the town for "48 Hours In" roundup lists and foodie Instagrammers pushing out photos of adorbs milkshakes to their millions of followers. Occasionally, though, some TSU grads manage to grab at least a few pixels or ounces of ink from media outlets.
The story of locals Gray, Derrick Moore and E.J. Reed is fairly well known: Three childhood friends started up a moving company while studying at TSU, and then parlayed the sale of that business into Slim & Husky's — which now has seven locations in Tennessee, Georgia and California and plans for even more aggressive expansion. Though not a TSU grad herself, Mignon Francois — who has earned legions of fans for her sweet creations at The Cupcake Collection in Germantown and New Orleans — was awarded the title "Woman of Legend and Merit" by the school, and employs multiple alums.
Other notable TSU alumni thriving locally include Zyhir Baker-Elam of IT'Z A Philly Thing as well as Aqui Simpson, whose hot chicken at 400 Degrees earns an indisputable spot in the pantheon of piquant poultry along with OGs like Prince's and Bolton's. Tiffany and Clifton Hancock are revolutionizing vegan soul food at The Southern V. On the beverage side are Joe Johnson and Adrian Granderson, the entrepreneurs behind a pair of WKND Hang Suite lounges on Church Street and in Memphis. There's also Minerva Avenue owner Robert Higgins, and Jason Ridgel, recently profiled in these pages for his success with Guidance Whiskey, a brand now sold in 44 states.
TSU grads have made major impacts outside of Nashville as well. Rita Mack became the chair and CEO of the National Black McDonald's Operators Association and endowed a scholarship at Tennessee State along with her husband Anthony. Zebbie Carney has popularized a Nashville staple in Alabama with two Eugene's Hot Chicken locations around Birmingham, and Jerri Evans operates a chain of six Natural Juice Bars around Washington, D.C. You can find the school's alums in leadership positions at major national brands as well: Johnathon Washington (regional franchise director of operations at Dickey's BBQ), Nigel James (franchise operations leader for Yum! Brands) and Alex Williams (Moe's Southwest Grill's chief branding officer).
Beyond those well-known alums are others who truly represent the backbone of the industry. "TSU has produced a lot of 'mom and pop' restaurants, food trucks and very successful catering operations too," says TSU president, Dr. Glenda Glover. "Our hospitality program gives students opportunities to build management and operational skills for success in the industry at all levels. All of our programs are designed to teach students to work together in a team environment. You may be a leader or a member of a team, but we like to think that our students are first among equals."
Tennessee State graduates also run food, beverage and banquet operations at major hotel properties and country clubs across the region. Tim and Jewell Winn are a husband-and-wife team who met at TSU and succeeded in several entrepreneurial ventures, including bottled-beverage line Tim's Southern Tea, a booming catering and private chef business, and their newest venture, Lighthouse on the Lake, a wedding/events venue, restaurant and private club that opened in Hendersonville last year. Other smaller operations worth mentioning include John Cathey's popular Smokin' Buttz barbecue food truck and Will Radford's The Local Distro, a neighborhood market and restaurant in Salemtown.
The list goes on and on and on. So what is it about Tennessee State University that has ignited the entrepreneurial spirit in so many hospitality professionals?
---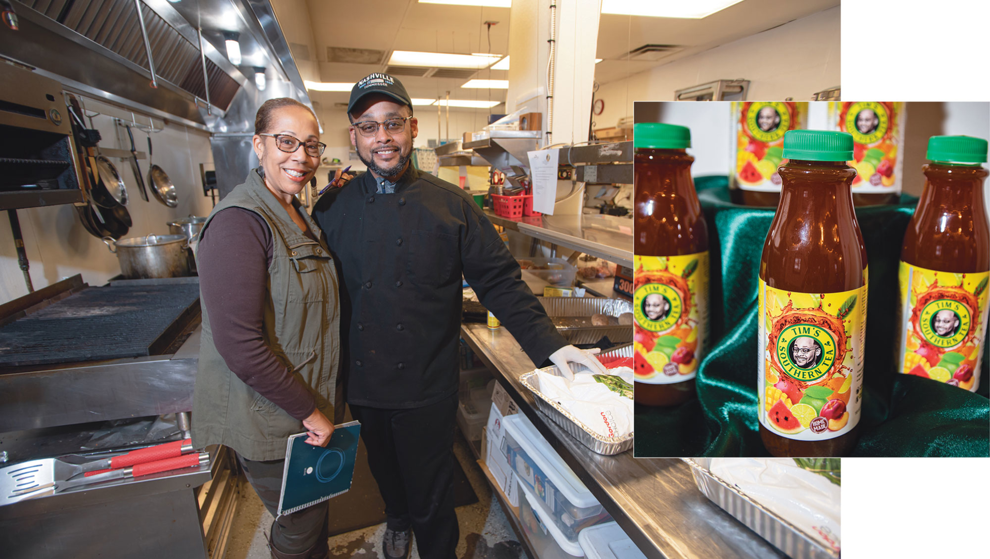 Like at many historically Black colleges and universities, the college experience at TSU is in many ways different than at other schools — often much more difficult. "HBCUs have been traditionally under-resourced and disadvantaged, and you have to catch up," says Jewell Winn. "We started so far back we didn't even hear the gun."
But many TSU graduates speak with a sense of pride about how these difficulties encourage the student body to work harder to come together and succeed. Clint Gray believes that the work ethic he developed in college was the key to Slim & Husky's achievements. "We all pride ourselves for coming from hardworking families," he says. "None of us come from super wealthy families, but we've always, even as kids, been encouraged to focus on the bigger picture. Basically pull yourself up by the bootstraps and get to work.
"Though it's not a huge institution with a massive endowment that can feed it and continue to create resources," he continues, "the beautiful thing about TSU is the people. The thing we learned most in school was how to work with people, how to live with people from different places. Being an HBCU, we are majority African-American. We have different personalities as African-Americans, different assets we bring to the table, different experiences, and we're all able to put that in the pot, work together and learn about how to live, how to build, within America."
That emphasis on teamwork is a necessity, and is quite intentionally developed by the administration at TSU. "So many of our students are first-generation college students, and we have to build each other up to get along," says Glover. "We make sure they know they're not alone. HBCUs teach you how to work with others, and we hope to develop the spirit of togetherness."
"We always say, 'It's not TS-me, it's TS-U,' " says Guidance Whiskey's Ridgel. "We do it together, and that's whether the world knows it or not. Whether you talk about it or not, we've been doing it."
Will Radford was also affected by that spirit early in his college career. "I learned everything I needed to know at freshman orientation at TSU," he says. "They taught us the motto: Think, work, serve." But in order to accomplish those objectives, TSU students have to overcome lots of obstacles along the way. Like, for example, "The Purge."
Ridgel explains this speedbump — an unfortunate fact of life for many students at HBCUs whose school and student budgets operate at the margins. "If you went to TSU, you know about The Purge," he says. "You put all your classes in, have your schedule sweet! You have all your classes done on Tuesdays and Thursdays by 2, or no classes on Friday, [and then on] the first day of class ... your whole schedule [is] gone. You got 'purged,' and you've got to start over again. Going through those trials and tribulations just built you, and that's what you've got to do now."
As a scholarship football player for the TSU Tigers, Gray didn't have some of the logistical and financial concerns of other students, but he certainly saw the effects. "There was a time at the beginning of the year when people were going through admissions or getting their schedules, and you might be sitting in class one day, and the teacher would call your name up and let you know you need to go talk to financial aid," he says. "I witnessed a lot of that in school. That forces you to adapt to make adjustments as an 18-year-old who's been depending on family up until that point. I'm sure that a lot of people gained a lot of valuable lessons to get through life and make a way when things didn't seem like they were there for you. I didn't know that wasn't a thing at other institutions."
Like Ridgel and Gray, Radford pulled positive lessons out of the occasional tribulations. "The Purge is a very TSU experience," he says. "It's a rite of passage. You have to hold your breath until the very last Purge. You may have to start over, but it's a challenge in preparedness. I learned to trust but verify."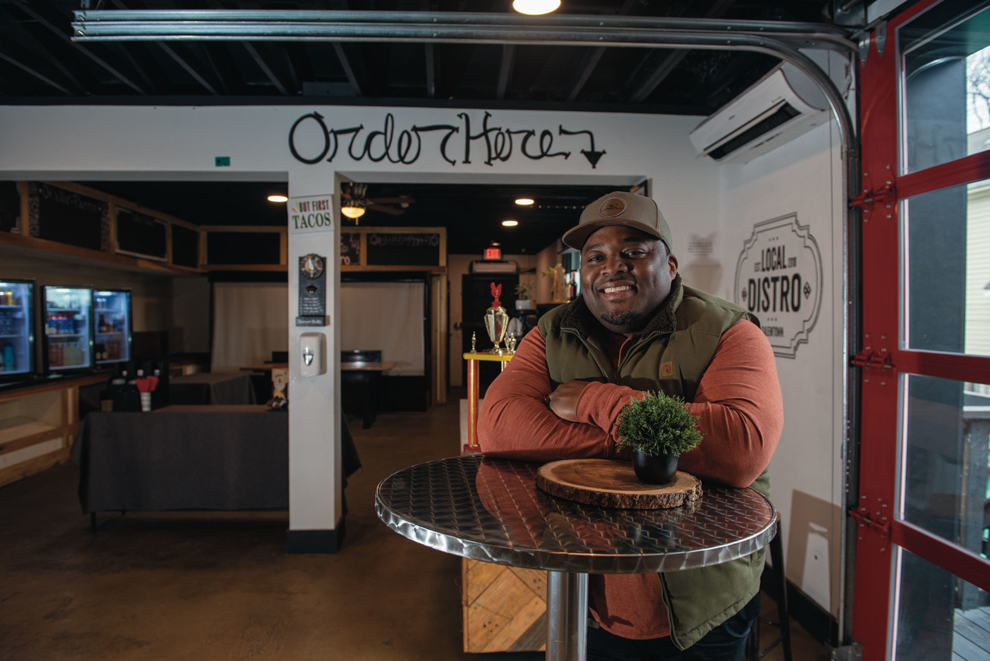 With both students and the university operating on a razor-thin budget, TSU embraces the concept of hustle. "I was in school, and one of my boys had a car," recalls Ridgel. "I was basically Uber Eats and Amazon combined back in college, because I knew the kids didn't have cars. So we would go to Walmart and buy toilet paper and toothpaste and all that stuff, and then come back and sell it to the kids in school. Always hustling from the beginning."
"I got my start in the food business serving beef stroganoff made with venison," says Radford. "It was my way to get people from Detroit to try deer meat. I would bring deer back from Arkansas and make bowls of chili for people to eat while sitting around watching sports. You can imagine what they thought when I told him that they had just eaten Bambi, but it was our way of building community among people from dissimilar communities."
"You worked in the kitchen whether it was washing dishes or cooking food for your classmates, but you earned it and you didn't give up," Gray recalls. "You make sure that you remember those lessons moving on in your career."
TSU's sense of community kept many students close to campus and further built an attitude of self-reliance that served graduates going forward. "TSU was different when we went there," says Ridgel. "It was a very old community. You didn't have to venture outside of TSU to get anything. We had your barber. There were the girls to do nails, and the people that were making stuff in their rooms and selling it. It's like its own little city inside of TSU. You had kids coming from all over the United States that didn't have a car, so what are you going to do? Most businesses are started by people that started doing their stuff in school. It's like they took that little city and just expanded into their own city. I think that the decision to stay here is because the opportunity here has caught up with the hustle." 
---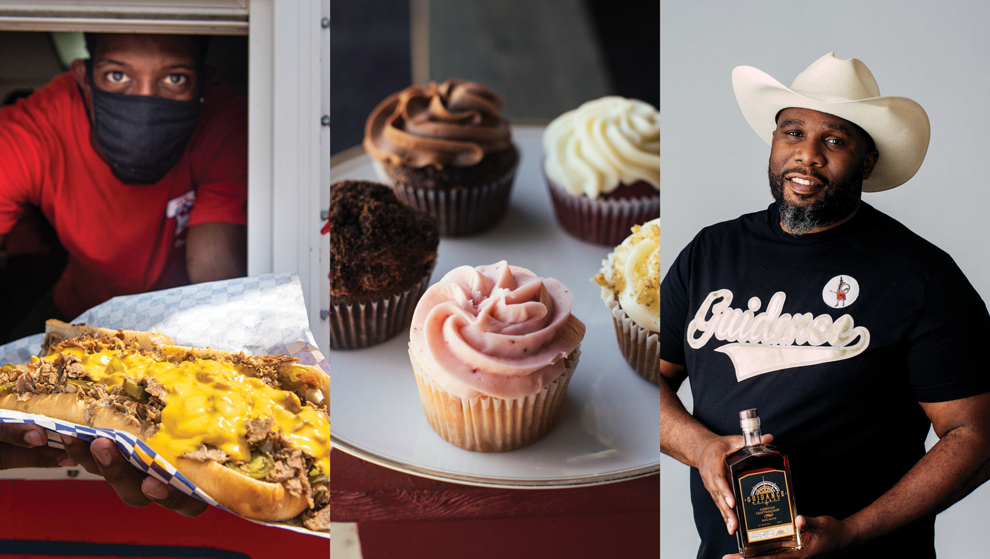 When it comes time to strike out on their own after graduation, many TSU alums stick close to home. Glover attributes this to the overall prosperity of the city, noting that people want to remain in a booming city like Nashville. But Gray thinks it goes deeper than that.
"As we started looking around town for spaces for Slim & Husky's, our love for the community continued to resonate within us," says Gray. "We just felt like instead of going somewhere that doesn't need another pizza restaurant or a business, let's go somewhere that does, and we didn't have to look very far. We could see the differences between one side of Nashville versus the other, and we're the type of guys that don't want any handouts. We just want to be able to have an opportunity to build for ourselves and build for our community. So that's what we did."
Gray continues, referencing the late-1960s interstate construction that displaced many Black-owned businesses in North Nashville.
"A lot of people called us crazy for opening up on the corner of 10th and Buchanan," he continues. "But when we were growing up, there were other Black-owned businesses on that street. There were Black-owned dry cleaners and Black-owned restaurants. We remembered that, and we remembered the sorts of stories that we heard about Jefferson Street in historic North Nashville before I-40 killed the economy. So part of our entire mission is to put that heartbeat back into North Nashville, and if it works here, we feel like it will work in other neighborhoods around the country in different cities that also suffered from the same issues of lack of resources and abandonment from the cities that house them. So that's our mission: Build our communities one slice at a time."
What's more, returning TSU grads — particularly during homecoming season — provide an injection to the local economy.
"Homecoming is a huge piece of hospitality in Nashville," Gray says. "The thing that is overlooked is the power of the Black dollar within Nashville and what we bring, how many hotels we fill up when it comes to that fall season. It's very important that people understand that what you typically see and what the city pretty much promotes the most of is Broadway and downtown — Country Music U.S.A. But Tennessee State University has brought so much heritage through the city of Nashville, and it's not shown enough."
Winn concurs, but also includes fellow HBCUs Fisk and Meharry. "More people need to look at HBCUs and the greatness that comes out of them," she says. "Their stories are rarely told. TSU teaches you to be resilient and persistent. People have to want to hear these stories."
This isn't to say that TSU graduates achieve success in spite of their struggles, but rather as a result of their entire college experience. Despite the paucity of available resources, the administration and faculty at Tennessee State work hard to support their students the best that they can. "When I talk about resources, I mean money provided from the state," says Gray. "We don't have the big alumni donors year in, year out, putting billions of dollars into the university like some of your predominantly white institutions do. But what we do have is a value in our people. And not just our students, but also the educators, the professors and the administration staff.
"People are there at Tennessee State not because they're getting paid hundreds of thousands of dollars," he continues, "but because they really care about what it is they do and the people that graduate through the programs. When I got to Tennessee State, there were professors there that forced me to apply myself and pretty much got the best out of who I was. … We are representations of our families, and if we want our communities to grow and to build them up, then it starts with us. That spirit is something that not only students that come through Tennessee State have, but also the administration as well as professors, coaches, mentors — the whole nine."
"We all want the same thing," Gray says. "We want to create empowerment for our communities and to be self-empowered. These are things that we saw that our communities didn't have. We were able to go to Tennessee State University and continue to build that hunger, so that once we got out into the real world, we put it to work."
Winn is also grateful for the support of the school. "There's a lot of nurturing and extra care offered to the students at Black colleges," she says. "People need to look at the excellence that comes out of TSU. They don't want to talk about what we went through. It wasn't easy, but we made it."
From 1986 until 2017, the Nashville Business Incubation Center was owned and operated by Tennessee State University and housed as part of their downtown campus. The NBIC has been a critical platform for teaching and nurturing the entrepreneurial spirit among prospective small-business owners, providing flexible and affordable office space to startups, networking opportunities, educational seminars covering topics like HR practices and insurance liabilities, and most importantly, a sense of community. In 2017, the NBIC board of directors decided to go in a different direction and moved off campus as a fully separate entity, with TSU's blessing and permission to continue using the name. Tennessee State renamed its on-campus operations the TSU Incubation Center and continues to offer a holistic approach to business startups from across the state.
"I think that one of the resources that we do have that isn't highlighted enough is the Nashville Business Incubation Center," says Gray, who spent time at the NBIC as he and his partners developed their first business together. "Without that program, we really would have been on our own. I think that definitely gave us a boost. That was a pathway to success for us. There's something to be said for getting up in the morning and pulling into a building where it's nothing but entrepreneurs trying to build their businesses. You pull in and you might see two or three cars already there, and you hear about their success stories or contracts that they might have signed, and you're like, 'You know what? I can't let them beat me to work today. I got to get there before them, or I got to leave later than them!' That spirit at the NBIC definitely built several great companies.
"We were there at the same time as The Grilled Cheeserie," he continues. "Even though we weren't in the food business at the time — we were in the moving industry — we saw the hard work that they were putting in. To see the growth that they've had and the growth that we've had, you understand that people build off of people and energy is real. So the energy that was at the NBIC is the same energy that we shared with our classmates at Tennessee State. It was like, 'If you're going to be successful I'm going to be successful!' "
"It's unique and special to Nashville for sure that you have a historically Black college that is putting out businesses," says Ridgel. "And it's all in the same type of industry that can support each other. And with that comes more jobs."
"We're your university," says Glover. "We belong to Nashville, and we want people to know that we are producing talented students that stay as part of the community in which we live."