Update: On Thursday, Mayor John Cooper announced that Nashville will revert to phase two of its COVID-19 reopening plan. This means that limited-service restaurants — or bars that derive less than half of their revenue from food — will be forced to close for at least two weeks. While that does not include most of the places mentioned here, be sure to call ahead to your establishment of choice, and grab your drink to-go when you can.
Rattlesnake pasta and frozen drinks — if you'd told me six months ago that those would be the summer dining trends in Nashville in 2020, I'd have thought you were crazy. (Awesome, but crazy.) Yet here we are. 
In recent months, I've had no less than five upscale iterations of a chain-restaurant-ish Cajun-blackened pasta thing, and I've never been more pleased. From crawfish mafalde at Nicky's Coal Fired to Rolf and Daughters' garganelli in tomato-cream with barbecue chicken, this is a trend I (and my swelling gut) can get behind. Fine food that's also comforting feels good right now, as does returning to frozen flavors of summers past. 
To that end, Nashville bartenders have been using their downtime wisely. You know that pasta maker, panini press or air fryer you "had" to have to "survive" quarantine? For Nashville's bar pros, their can't-live-without-it product appears to have been a frozen drink machine, and they are not playing around. Here are 13 frozen drinks for every taste.  
Aperol spritz, Nicky's Coal Fired
Making a frozen drink with Aperol can be challenging. Nicky's is equal to the task, and their seasonal Italian spritz is now spinning. If you like bitterness and bite with your bubbly and citrus, this slushy's for you.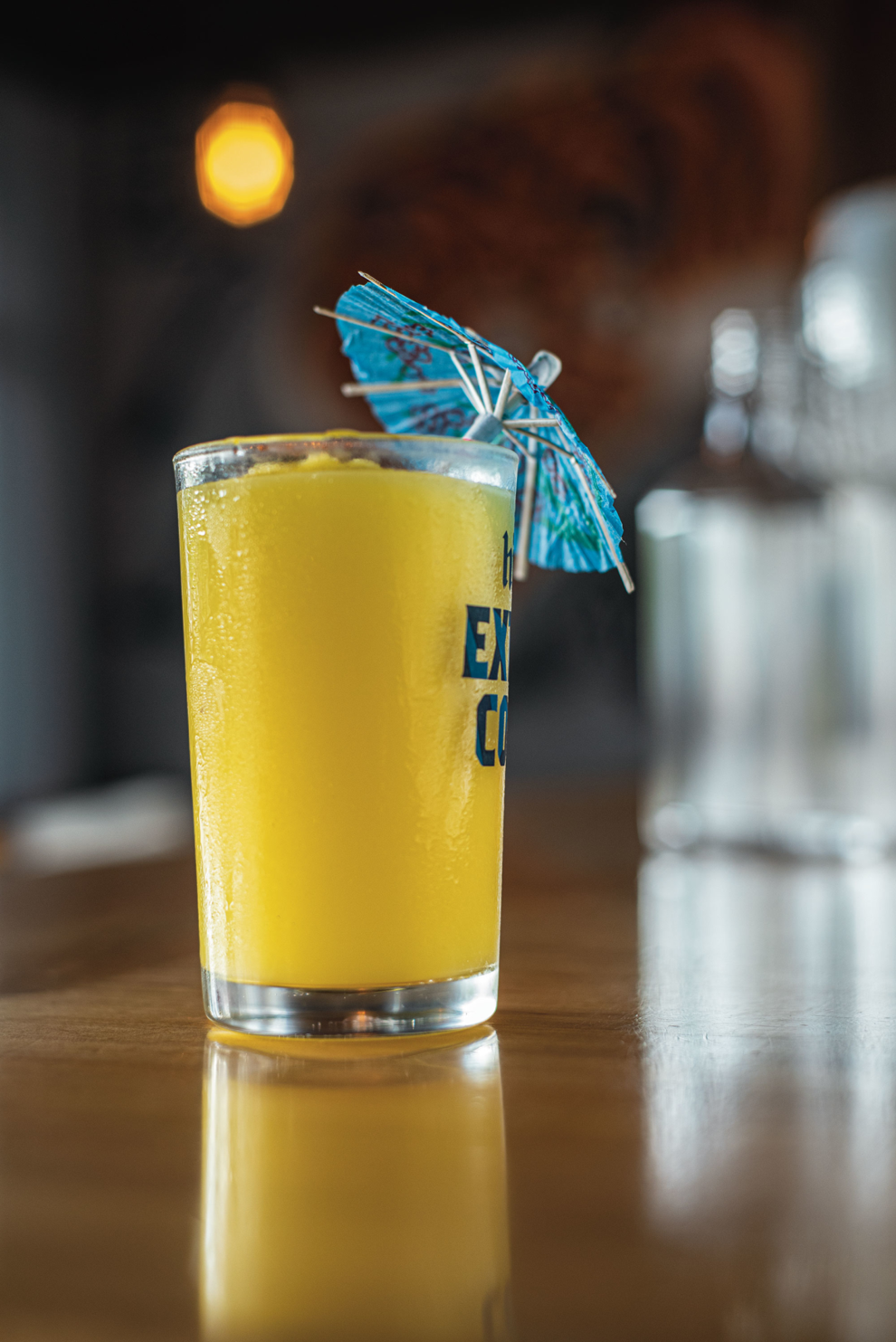 Asian Orange, Babo
For their boozy riff on an Orange Julius, Babo mixes whipped-cream vodka and fresh orange juice with Calpico, a non-carbonated Japanese soft drink that has a milky, tart flavor — kind of like plain yogurt. Think liquid creamsicle by way of Tokyo.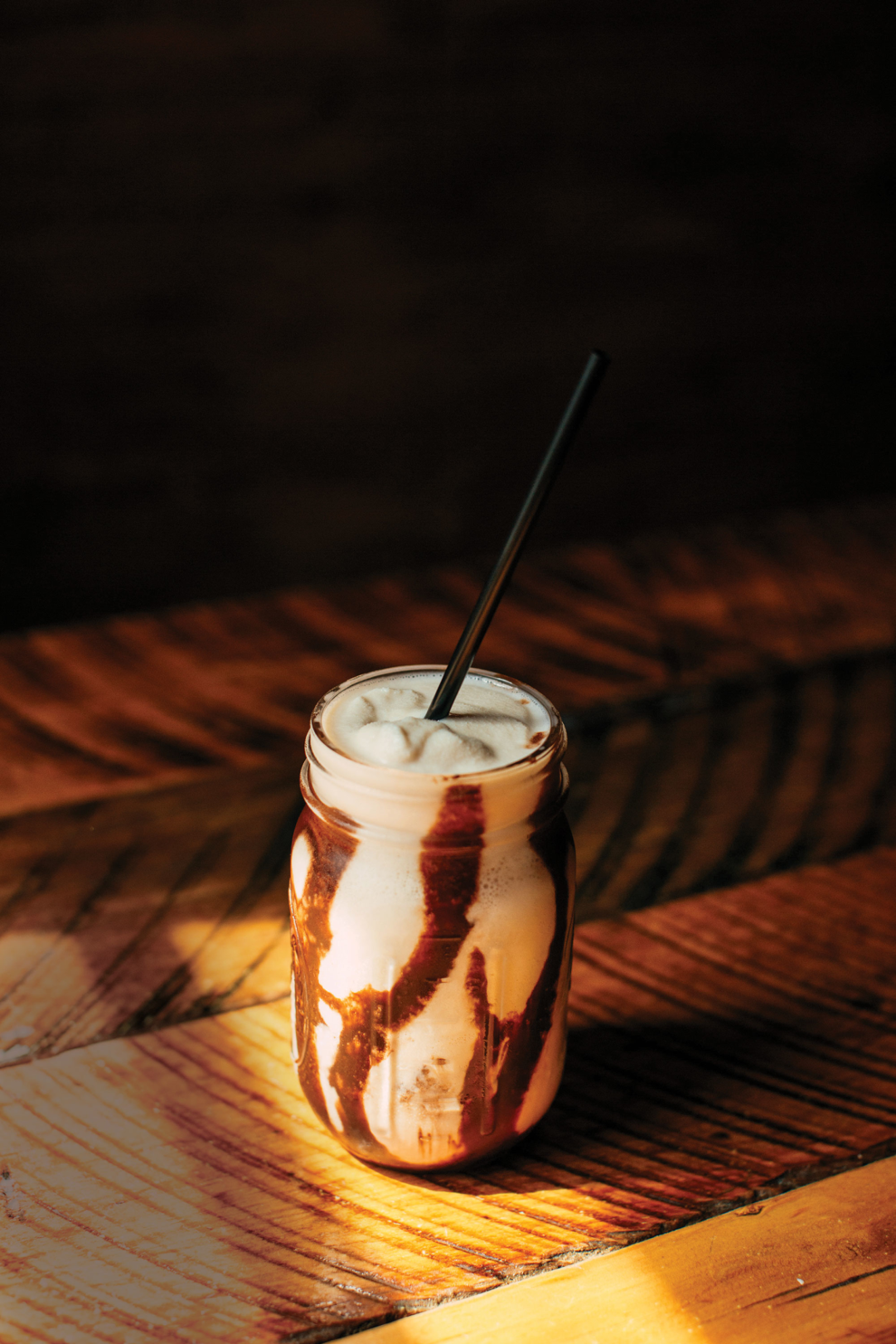 Bushwacker, Edley's Bar-B-Que
If you need a bushwacker explained, let me be the first to say: Welcome to Nashville, Chad! While I'd argue the quintessential 'wacker comes from Broadway Brewhouse, Edley's adult Frosty is right up there: creamy, coconut-y and bursting with booze. The signature chocolate swirl is also festive AF. 
Second sip: Edley's frozen strawberry margarita is also one of the best — and highest-proof — in town. Do not skip it if it's in the spinner. 
Buzzard God, Pearl Diver
If I had to describe the Buzzard God in two words, I'd say pineapple margajito (the latter of which isn't even a word). Pineapple-infused blanco tequila is mixed with lime, fresh mint and syrup made from genepy, aka one of those botanical Italian liqueurs bartenders sneak into everything. 
Second sip: Don't forget the bar's namesake, The Pearl Diver: light and dark rum, fresh orange and lime juices, cinnamon, allspice, vanilla and vegan honey butter cream. This is East Nashville, after all.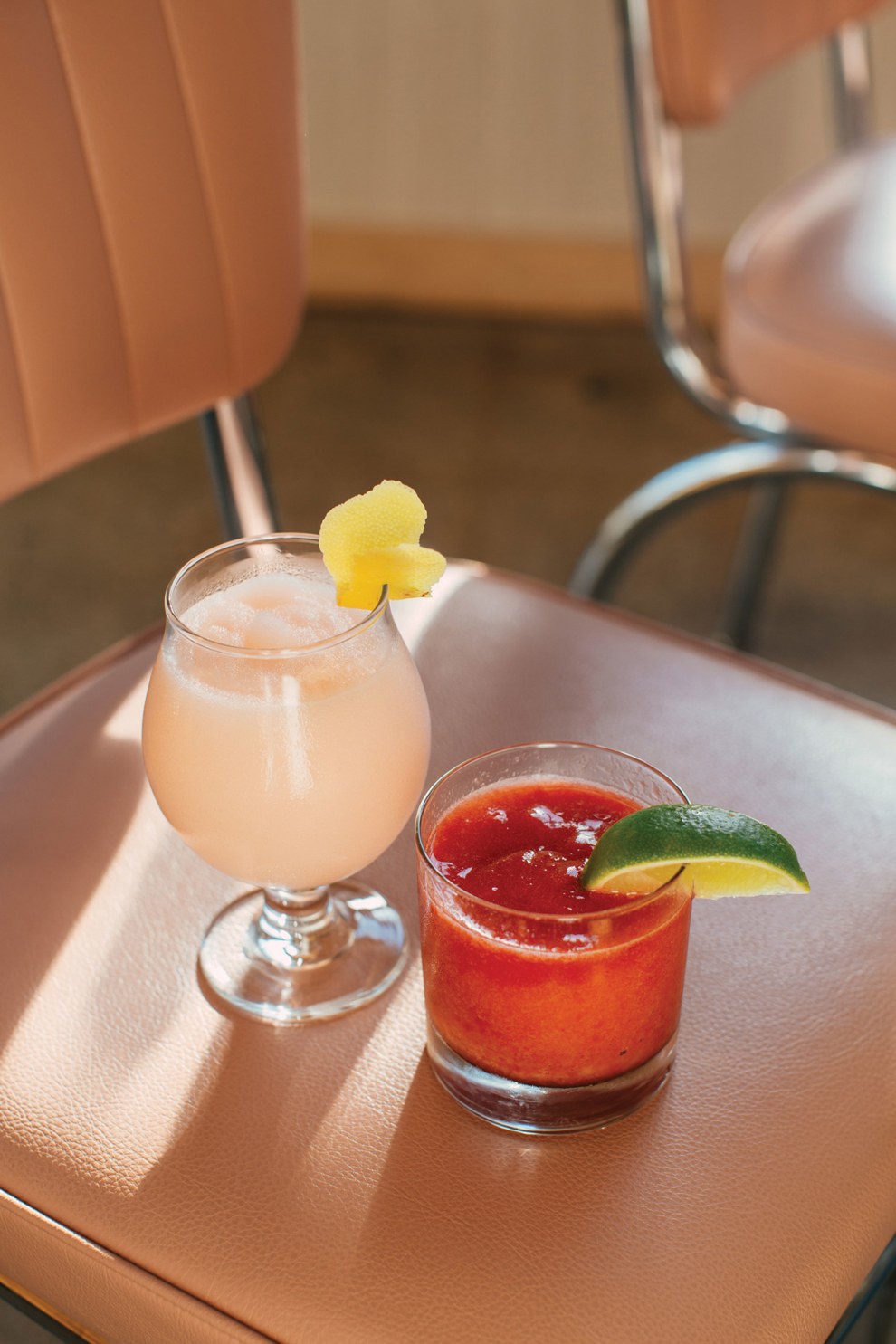 Chill Bill, Redheaded Stranger
With a backbone of vodka and lime, Chill Bill gets an herbaceous, rhubarb-y boost from Aperol and a dash of sweetness from orgeat. The syrup is made from almonds, sugar and orange-flower water, and it's often used in a Mai Tai. If you're looking for something Aperol spritz-y that's also tiki-adjacent, Bill's your guy.
Second sip: The Stranger's frozen margaritas — regular and strawberry — are both titans of industry. Stout and sharp, they're made with orangey dry curaçao, which gives them a tart-not-sweet tenor that's a welcome change from gallon-jug mixers.
Frosé, Midnight Oil
The first time I had a frosé was in Austin. It was delicious and deadly — but deadly I did not know until Midnight Oil unveiled their version. Made with bottles on bottles of rosé and no less than a bathtub's worth of vodka, it makes all other frosé look downright Mormon. 
Second sip: Oil also makes a stellar frozen marg, as well as a peach-jalapeño variety using fresh peppers. Get ready to sweat or pass out; whichever comes first. 
Harry Nilsson, Attaboy at Lakeside Lounge
The only positive about not being able to pull up a stool at the currently shuttered Attaboy is that their Lakeside Lounge partnership yielded something great: slushies. At the top of that list is their piña colada, aptly named in honor of the iconic songsmith and singer of the '70s earworm "Coconut." The drink features the usual suspects — pineapple, rum — but they're elevated by rich coconut cream and zingy lime, which livens up a cocktail that can drink heavy in lesser hands. 
Second sip: Made with scotch, lemon, honey and ginger, The Penichillin is another slushie surprise — sweet, sour and strong.
Loaded Fromosa, Party Fowl
"Champagne with a splash of OJ" — that's the only right way to order a mimosa. Otherwise you're just drinking sugar juice, and ain't nobody got time for that. The bros at Party Fowl have twisted the mimosa even further, freezing it and letting you bump the booze quotient with peach moscato, sangria or lambrusco.
Second sip: Fowl also offers frozen lemonade, cherry limeade and watermelon frosé, which happen to be the exact pairings the James Beard Foundation recommends with hot chicken pre-party barge. 
Negroni, Emmy Squared
If sharp herbal liqueurs are your thing, get to Green Hills, where Emmy Squared spins a frozen Negroni with some twists. In addition to the typical vermouth, they swap Campari for Salers (an earthy French aperitif that's mellowed in oak) and Averell Damson Gin Liqueur. Of course, that's not regular gin either; this sophisticated stuff is aged with heirloom plums from an orchard in upstate New York. Put on your fancy pants and make the pilgrimage. 
Slushy du Jour, Mother's Ruin
As the name indicates, frozen finds at Mother's Ruin change, but I've yet to have one I didn't love. My favorite thus far is The Green Machine: tequila, lime, tomatillo and salsa verde. The last two ingredients give it a savory undertone, just as a salted rim would a margarita. Other slushies du jour have included the Honeydew List (melon, citrus, cucumber, aloe vera) and Cash & Prizes (blueberry, lemon, fig). If variety's the name of your game, Ruin's your spot. 
Spiked Milkshakes, Joyland
If you're tired of bushwackers but still need a high-octane frozen fix, Joyland's got you. Start with one of their decadent homemade shakes — vanilla, coffee, peanut butter cup, chocolate, malt — and add two ounces of Sazerac Rye whiskey or Plantation 5 Years rum. Personally, I find their shakes to be a thing of beauty without booze too, so I keep it classic with vanilla and rum. 
Strawberry Daiquiri, Chopper
Sometimes only a daiquiri will do, and Chopper is the spot for that. Their frozen daiquiri is simple — just lime, strawberry and rum — but at a tiki bar known for freshness and flavor, those are the only ingredients they need. 
Second sip: Be on the lookout for rotating seasonal specials like their peach colada made with Peach Truck peaches.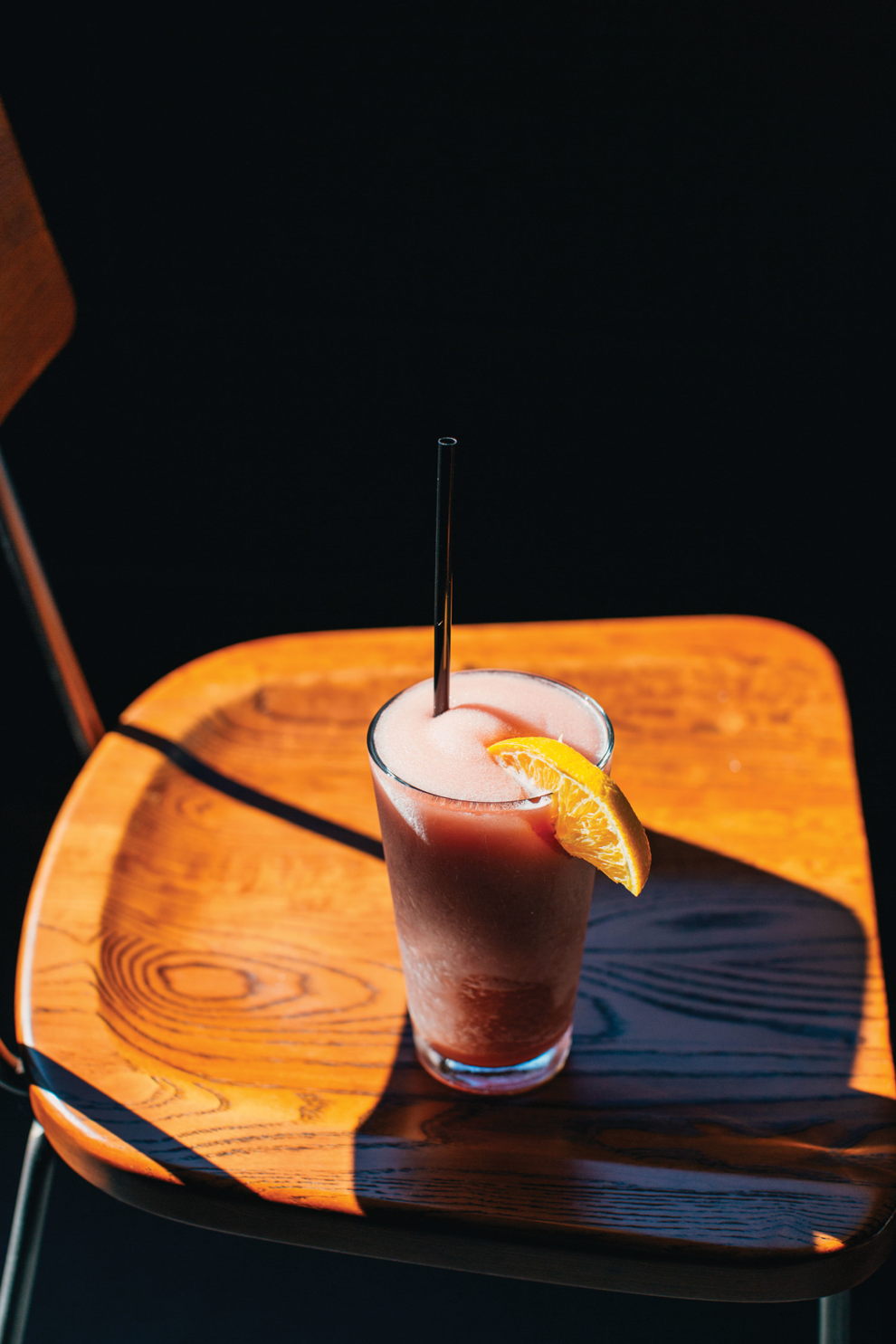 Vodka Breeze, Twilight Tavern
A top-secret blend of fruit juices gives this cocktail grown-up Hawaiian Punch vibes — but not, you know, the gross ones. Fun fact: The full name of Hawaiian Punch is "Hawaiian Punch Fruit Juicy Red Punch," with an emphasis on "punch" because its ingredients, in order, are water, high-fructose corn syrup and less than 5 percent juice. Yum! But this cocktail is not that. It's got the nostalgia factor, but with a punch of pineapple and tang from cranberry that make it sweet and not saccharine.