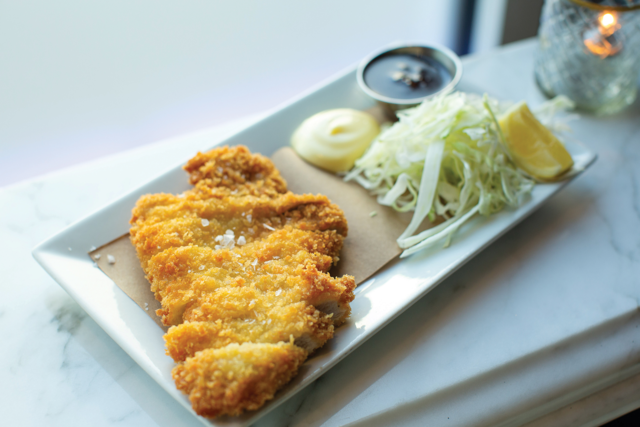 Tonkatsu — Bar Otaku — $8Photo: Daniel Meigs
Everyone remembers the time in their life when chicken nuggets were the best food on earth. For me, it was the summer of '92. After playing outside all day — kids, ask your parents — there was nothing better than walking into an air-conditioned house and sitting down to a piping hot plate of Tysons. If your mom was a baller, they were fresh from the oven (microwaves are bush league), served on a paper towel (for proper drainage and maximum crispiness) with a little bowl of barbecue sauce (which ensured your fingers were just messy enough to destroy her white couch on your way back outside). Fried white meat in sticky sauce was our fuel, and it was glorious.
Recently, that memory surfaced in a surprising place: Bar Otaku. At Sarah Gavigan's izakaya in the former Little Octopus space in the Gulch, tonkatsu was my time machine. The $8 plate is simple, filling and delicious: golden-crusted, deep-fried pork is cut simply into strips and sprinkled with sea salt; crunchy cabbage and fresh lemon keep things bright; and the plate is lined with the all-important brown paper to ensure the crust stays crackling. For dunking, there's Japanese mayo and Bull-Dog Sauce, which is exactly as fun as it sounds: When Western foods first appeared in Japan in the early 1900s, some savvy English dudes decided Worcestershire sauce needed a Japanese makeover. The result was this sweet, slightly spicy, umami-filled dressing that's perfect for fried foods. The bulldog is a beloved symbol of England, so that's what they called it. And that explanation is just like this dish: simple, whimsical and perfect. Just like the summer of '92.