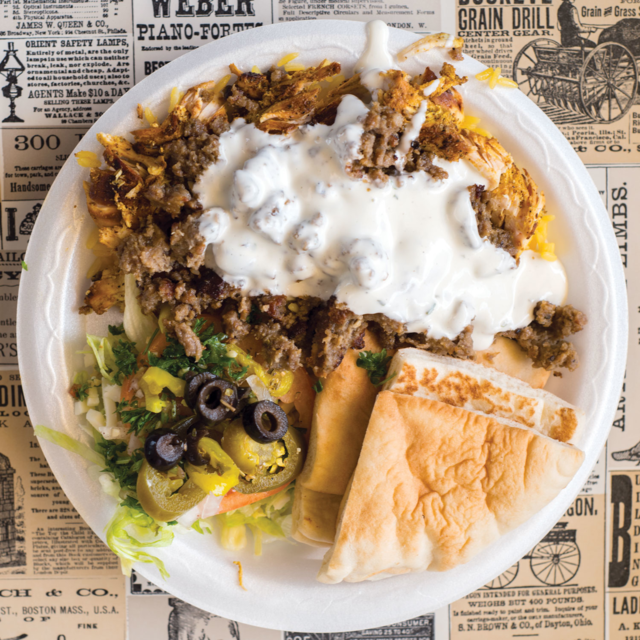 Gyro Plate from Kebab Gyros Authentic Greek and Italian EateryPhoto: Eric England
Kebab Gyros Authentic Greek and Italian Eatery makes arguably the best Greek food cooked by an Ethiopian that you will eat while sitting in a red barn. As you might at many other Greek restaurants, you'll find a hanging menu awaiting you at the counter, listing numbered options. But Kebab Gyros is two steps ahead, with items like lasagna and spaghetti on the menu. Hence the "Italian" portion of the restaurant's name. I'm fond of the gyro plate, with half chicken and half gyro meat. Ringing in at just $7.78, the hearty portions of rice, meat, pita bread and a customizable salad will likely keep you more full than you want for longer than you want.
You can't go wrong with either meat choice. The grilled chicken tenders taste fresh — seasoned, but not spicy. The gyro meat is crumbly, each bite perfectly soft but crispy. Finish the salad to feel a tiny bit better about all the meat and carbs you just ate, and you're left with the pita bread triangles, which act as little bulldozers to push all the remaining rice onto your fork. The price and quick service make it easy to overlook the barn-shaped restaurant's somewhat dated decor. If you're looking for dinner, a warning: The restaurant closes at 6 p.m. on weekdays and at 4 p.m. on Sundays.