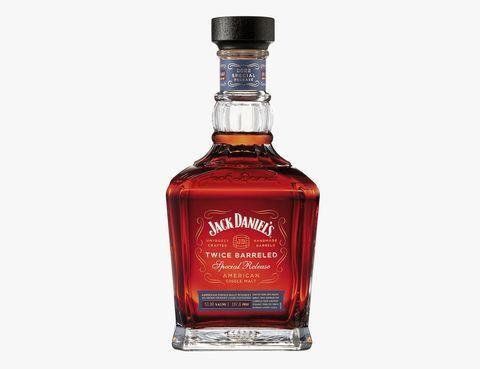 Regular readers probably know I've become a fan of American single malt whiskeys, and the Alcohol and Tobacco Tax and Trade Bureau (TTB) is in the process of officially finalizing a designation of these whiskeys as a new category of spirits. 
So you can imagine that I was like a kid on Christmas when I recently opened a package from Jack Daniel's Distillery that contained a sample of their upcoming release. The fact that Jack had been experimenting with a 100 percent malted barley recipe was not a total surprise, as they had included this mash bill as part of their Triple Mash release earlier this year. But what they have been doing with this new recipe behind the scenes is the real treat!
The result of almost 10 years of experimentation and work is their new Twice Barreled Special Release American Single Malt, the fifth member of their Special Release Series. In early 2013, the distillery started thinking about what they could do that would be different from their usual corn-based whiskey, but that would still be undoubtedly a Jack Daniel's product. Making a whiskey without the traditional sweetness from corn and spice from rye requires finesse, because barley is a lot more delicate than those other grains.
Barley by itself can exhibit earthy, grass-like notes that are reminiscent of oak and which would be quite different from what the regular Jack drinker might be looking for. One part of the process the distillers at Jack Daniel's insisted on was that any new malted barley product would undergo charcoal mellowing through the Lincoln County Process, because that's an important element of everything that Jack does.
Master Distiller Chris Fletcher described the process during an exclusive Zoom tasting for whiskey writers recently. "We gave it the full ten feet of charcoal," he says, pointing at the depth of charcoal in the vats that Jack Daniel's whiskey passes through as part of mellowing. "I feel like that really softened the grassy backbone and heightened the softer sweet tones. The red fruit really pops out on the nose and was accentuated after mellowing."
Fletcher and his team distilled the 100% malted barley whiskey in 2015 and allowed it to rest in Jack's prototypical toasted and charred oak barrels for five years. "It took several batches to figure out how we wanted to make a single malt at Jack Daniel's. This was a lot of work and a challenge. It certainly took us out of our comfort zone," Fletcher recalls.
"We spent the time learning and pushing the flavor where we thought we could push it. We analyzed it and scrutinized it, and it's not something you'd expect from a Tennessee whiskey distillery. We knew that the team here in Lynchburg is darned good at making whiskey, no matter what the style!"
Fletcher accompanied some other Brown-Forman on an exploratory tour of distilleries in Scotland while the whiskey was lying in repose and tasted some ancient casks of Scotch while on the trip. Fletcher recalls, "We figured out pretty quickly that we needed some sweetness and richness to build on the complexity of the malt." The team realized that they could add these characteristics through cask-finishing, a common practice in Scotland. Working with some of his European Brown-Forman compatriots, Fletcher ordered several hundred used oak casks that had previously held oloroso sherry to use in the finishing process.
This was no small expense, as sherry casks (known as "butts") are much larger than traditional bourbon barrels, and the 330-plus containers cost more than a thousand dollars each. They are also too large to fit in a traditional rickhouse, so the already packed Jack warehouses had to find places to store all these big butts while the single malt whiskey inside spent an additional 2-plus years finishing.
That's a long time for post-barrel finishing, a process that many distilleries accomplish in about six months lest the character of the sherry casks overwhelms the original nuances of the whiskey inside. Fletcher was very intentional about this decision. "We wanted a big impact from this finish," he explains.
He definitely got his wish, because as soon as Jack Daniel's Twice Barreled Special Release American Single Malt hits the glass, it's immediately apparent that this is completely different from anything the distillery has ever produced. The sherry from the casks adds a lovely ruby-red streak through the soft brown of the malted barley. Sherry lovers will appreciate the concentrated raspberry and chocolate-covered strawberry notes on the nose, and a deeper sniff might reveal some of the malty toast aromas hiding beneath the fruit bomb.
The first sip is sweet on the tip of the tongue, with the hints of apple and banana that characterize Jack Daniel's proprietary yeast strain. As the whiskey rolls back across your tongue, it becomes obvious that this is different from your usual Scotch. Yes, there are the expected malty flavors and slightly viscous mouthfeel that you'd expect from a European single malt, but the extra exposure to the sherry-soaked used oak adds sweetness and complex fruits in a very intentional way. One of the other whiskey writers on the Zoom call noted a "cherry cola" character, a phrase I wish I'd come up with because it's right on the nose.
"We knew we wanted to add sweetness and richness," explains Fletcher. "But we didn't want it to be cloying or syrupy sweet. Our 'watch out' was to keep it from becoming all sherry and lose the whiskey in the process."
Fletcher's goal was to achieve a balance of the original grain and the effects of the cask-finishing. "We're pretty darned proud of it," he happily shares. "All the work was worth the effort! It's definitely sweeter than a traditional Scottish whiskey, but we're not trying to re-create what they're doing in Scotland. We have great respect for their traditions, but we're creating a whiskey in a way that we're proud of here at Jack Daniel's."
Fletcher had more than Scottish traditions to be worried about. His grandfather was Frank Bobo, also a head distiller at Jack Daniel's from 1966 until 1989. "I would want my grandfather and Mr. Jack to be proud of this, and I think they would be," Fletcher shares.
Because the large sherry butts were spread around different parts of the Jack Daniel's campus, they didn't all affect the whiskey inside the same way. Some gained proof while others lost some alcohol during the finishing process. The final products are each taken from a single barrel instead of being blended, so your proof may vary. It's a small variance, though, ranging between 106.1 and 107.8 proof. Jack Daniel's Twice Barreled Special Release American Single Malt should be rolling out to selected retail outlets nationwide any day now, and it will be packaged in 700 ml bottles, slightly smaller than a traditional fifth of Jack Black, but not unusual for the distillery's special releases. 
Retail pricing should be somewhere around the $70 range, and if you're looking for a unique gift for the Jack Daniel's, single malt or sherry fan in your life, this one is definitely worth seeking out.