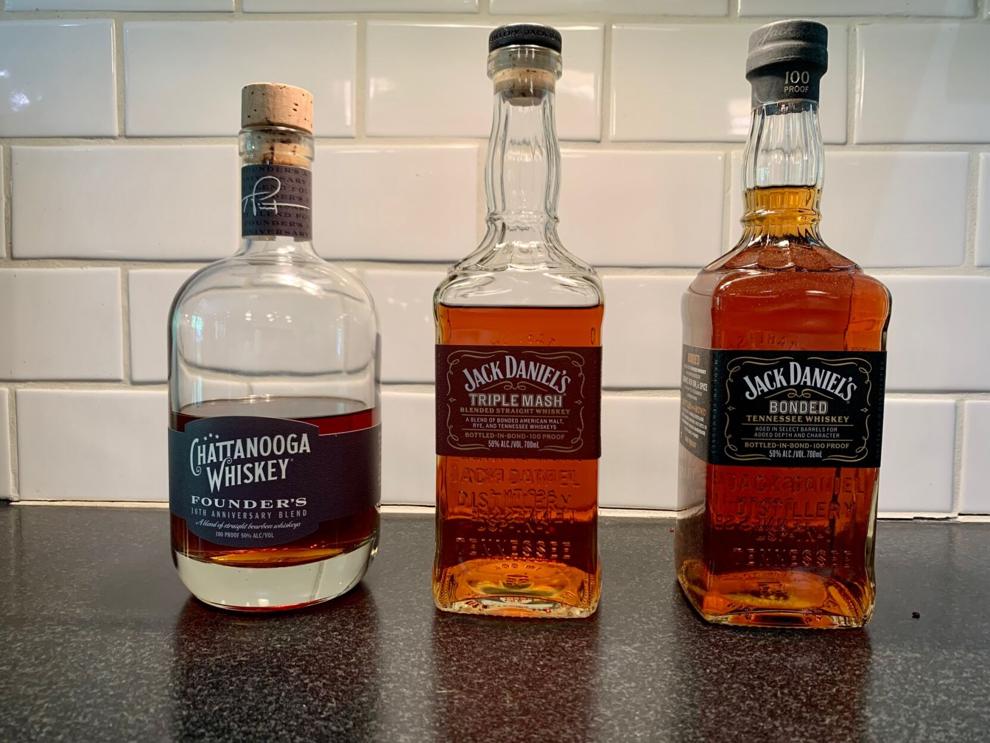 In the world of whiskey, often single malts and straight whiskeys get a lot of the attention from collectors and media, but blended whiskeys also demonstrate an additional talent among distillers. Single barrels are great and all, but after the spirit enters the barrel, the only major decision is when to bottle it. However, if a master blender picks different barrels and combines them in such a way as to bring out the best of all the different nuances of the spirit, that can make for something very special.
Chattanooga Whiskey and Jack Daniel's Distillery have both recently released novel blended whiskeys that are definitely worth your attention. Here's the skinny on them.
Chattanooga Whiskey is celebrating 10 years of operation with their new Founder's 10th Anniversary Blend, a nod to a decade of innovation at the experimental distillery and large production facility in downtown Chattanooga.
After years of work pushing legislation to legalize distilling in Hamilton County, Chattanooga Whiskey opened in 2012 with 1816 Whiskey, a surprising, affordable release of sourced bourbon from an Indiana distillery. Lots of companies open using MGP juice, but many of them offer it at inflated prices and are less than transparent about the provenance of their whiskey. Chattanooga Whiskey was very straightforward about the fact that they needed time to produce and age their own whiskey, and 1816 was a way for them to introduce themselves to the market in a similar way that the local heroes of Nelson's Green Brier did with their Belle Meade Bourbon.
The distillers at Chattanooga Whiskey spent their first couple of years experimenting with different recipes and techniques to create their innovative Tennessee High Malt style of whiskey. They finally settled on a master recipe known internally as SB091, the 91st batch that became the official mash bill of Chattanooga Whiskey's flagship products.
With Founder's 10th Anniversary Blend, they have bottled a blend of their original Indiana whiskey with SB091 and another favorite experimental smoked malt recipe they call B002. The final product is a combination of 51 percent B002, 9 percent SB091 and 40 percent 1816 RES (the original MGP whiskey). Each individual whiskey spent three to four years in charred oak before coming together in Chattanooga Whiskey's 650-gallon charred oak 1816 barrel.
Bottled at 100 proof and retailing at about $50 a bottle, Founder's 10th Anniversary Blend is a totally unique product compared to the rest of their offerings. Since the SB091 is the smallest component of the blend, there's more smoke than malt in the final product, and the sweeter toffee of the MGP bourbon contributes more traditional Tennessee or Kentucky whiskey character to the blend.
Is it my favorite Chattanooga release? Not really, but that's OK. That's like saying that Kate Jackson was not my favorite Charlie's Angel. They were all spectacular. Chattanooga puts out so many unique and inventive whiskeys. I appreciate this one for its historical significance in addition to its intrinsic character, and it's a welcome addition to my home bar's top shelf.
Over in Lynchburg, Jack Daniel's Distillery has also been tinkering with some new products. In addition to a bold 100-proof, bottled-in-bond version of their iconic Tennessee Whiskey, the distillery has come out with something that is quite out of character for them. Their latest product is called Triple Mash, a blend of three different bottled-in-bond whiskeys made in their Lynchburg facility.
Twenty percent of the final blend is the champion "Black Jack" Tennessee Whiskey — made with 80 percent corn, 12 percent malted barley and 8 percent rye. To this, Jack Daniel's has added 60 percent of their Rye Whiskey and 20 percent Jack Daniel's American Malt.
Wait, what? Jack Daniel's is making an American Malt, a 100 percent malted barley whiskey? Way to bury the lede, Jack! As a big fan of American malts and high malts like at Chattanooga Whiskey, I'm excited by this development. I'd only heard rumors of this product as an upcoming small-batch release of an American single malt that will be aged in oak and then finished in Oloroso sherry casks. That bad boy is rumored to be bottled at 108 proof, so I can only imagine how good it will be.
But if you don't want to wait, you can experience it as a part of this remarkable blended whiskey. My sample bottle won't last long, because I'm really digging on the combination of slightly tannic oak, smooth honey, winter spices and toasty malt in the Triple Mash. 
As far as MSRP and release dates go, it's Derby Week in Louisville, so the odds of actually speaking to anyone at Brown-Forman headquarters are as slim as In Due Time finishing in the money in the Run for the Roses. I haven't seen it out in the wild at liquor stores yet, but when I do, you can bet I'll be stocking up! Then I'll let you know where to find it.
[Late Breaking Info: I actually did get through to someone with Jack between pre-Derby parties, and the Jack Daniel's Bottled-in-Bond and Triple Mash should hit store shelves by the end of this week.  It will initially be available in 700mL bottles for suggested retail prices of $29.99 and $32.99 respectively.]