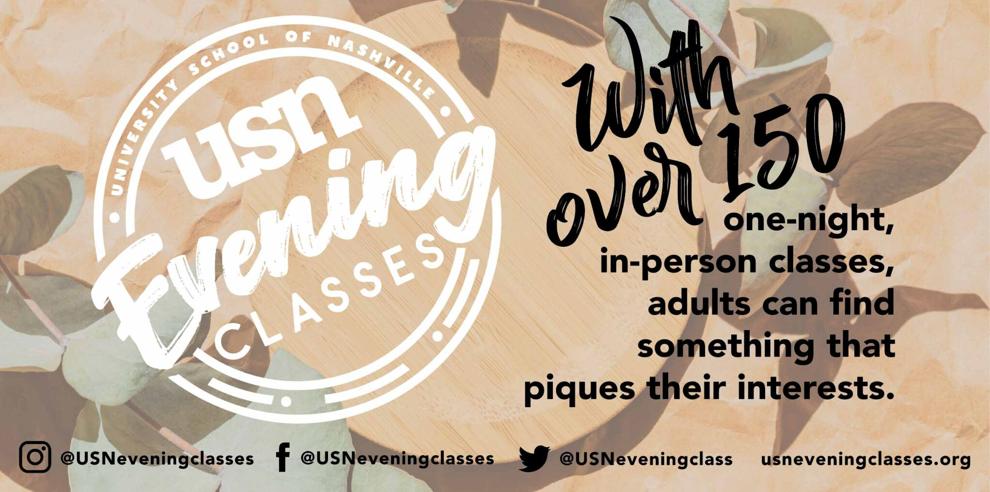 The University School of Nashville has come up with a full lineup of food and drink-related classes for the return of their annual Evening Classes program. And it looks like after a couple of years on a very limited schedule and more online and hybrid classes than the in-person variety, there has been a real hunger for these classes to come back — many of them have already sold out before I could even do my annual rundown of the options, but luckily there are still some great opportunities available.
I should start with my annual disclaimer that I am a proud alum of USN and a member of the school's board of trustees, so you know I'm already in the bag for these classes which help raise money to support my alma mater's K-12 need-based scholarship endowment. Most importantly, these classes are all taught by talented volunteers, and many of them are hosted in some gorgeous houses with fantastic kitchens, so they are worth attending just to steal some design ideas. The courses are scheduled from late January until mid-March, so hopefully you can find something that will fit in your calendar.
On the cooking front, the first class with availability will be on Wednesday, Feb. 1, when chef Charles Hunter III of The Salted Table presents his take on Comfort Food 101. Charles has been featured on the Magnolia Network, and I've taken several of his entertaining classes over the years. I can attest that when he's telling you how to make cream biscuits, chicken and gravy, herb beans and garlic toast, and iced London fog with one-bowl cookies, you'll add some great new dishes to your repertoire in the kitchen.
Skylar Bush is the executive chef of Edible Nashville magazine, and he has graciously volunteered to teach two classes this year. The first is Southern Cooking on Saturday, Feb. 4, in a private home, and it will focus on recipes for how to make flaky biscuits, updated collard greens, fried chicken and gravy, and pepper vinegar. His second class will be on Saturday, Feb. 18, featuring Cajun Cooking and recipes for étouffée, dirty rice, stewed okra and tomatoes, and shrimp cakes. And don't forget you get to eat what you learned at the end of the evening!
Kevin Jackson is the pizzaiolo at Hometeam Pizza, a carryout operation in Sylvan Park. He will be sharing his pizza skillz with students at his class at Citizen Kitchens on Monday, Feb. 6. You'll learn how to make a proper dough and then how to shape a dough ball, toss out a crust, sauce it and customize it with toppings of your choice. He will also reprise the class the following Monday, Feb. 13.
Don't let Mardi Gras slip by without learning how to bake and decorate your own king cake from beloved baker Sam Tucker of Village Bakery and Provisions. On Saturday, Feb. 11, Tucker is teaching a Mardi Gras King Cake class at his Thompson Lane location. He'll discuss the history and traditions behind the pastry that's a Carnival classic. Bonus: You'll have dessert for the Super Bowl party the next day!
If you have concerns about how much packaging and food waste is involved in cooking at home, Patrick Overton of Dry Guys Pantry Supply will address those issues in a class called Low-Waste Plant-Based Cooking on Wednesday, Feb. 15. He'll lead students through a winter-inspired menu of sweet potato and chickpea stew with vegan sour cream, cranberry cornbread biscuits and a cinnamon brown sugar vanilla bread pudding for dessert. 
Reigning Iron Fork champion Hrant Arakelian of Lyra is joining up with mushroom magnate David Wells of Henosis for a class called Growing and Cooking Mushrooms at Home at Lyra on Sunday, March 5. In addition to home-growing tips, students will prepare a menu of shawarma-spiced mushroom socca, which is a chickpea flour-based cake and a spicy zhoug sauce to go along with it. You'll also take some of the shawarma spice home with you to make the dish again.
On the drinks side, Miel's Seema Prasad is teaching a French Wine 101 class at her restaurant on Sunday, Jan. 22. Taste wines from some of France's premier wine-making regions and go home with a headful of knowledge.
On Wednesday, Feb. 8, I'll be leading a panel at Tennessee Brew Works titled Meet the Brewers — The Stories Behind Nashville's Craft Beer Boom. I'll be joined by Christian Spears of Tennessee Brew Works, Joel Stickrod of Barrique Brewing and Blending, Ryan McKay from Living Waters Brewing, Kevin Antoon from Southern Grist, Anthony Davis of East Nashville Beer Works and Adler Lentz of Smith & Lentz Brewing who will share their stories and offer up samples of their beers along with some snacks from the TBW kitchen. It should be a great time, so come join us!
If that's not enough beer and knowledge for you, Steve Wright of Jackalope will open up his brewery for a class called Brew-U the next night, Thursday, Feb 9. As the brewery's president and head of operations, Steve is the ideal person to teach you about brewing in a commercial setting as he leads students on a grain-to-glass tour that includes a behind-the-scenes tour of Jackalope, with an insider's perspective on the science, creativity, logistics and hard work it takes to get a beer into your glass. You'll also get to taste plenty of their brews!
On Wednesday, March 1, wine expert Phillip Patti of Subvino will teach a class on The Wines of Rioja, a region of Spain that produces many of my favorite bottles. Settle around the table at a private home and enjoy an educational evening of tasting and learning.
Classes are filling up quickly, so don't dawdle if you want to attend any of these!