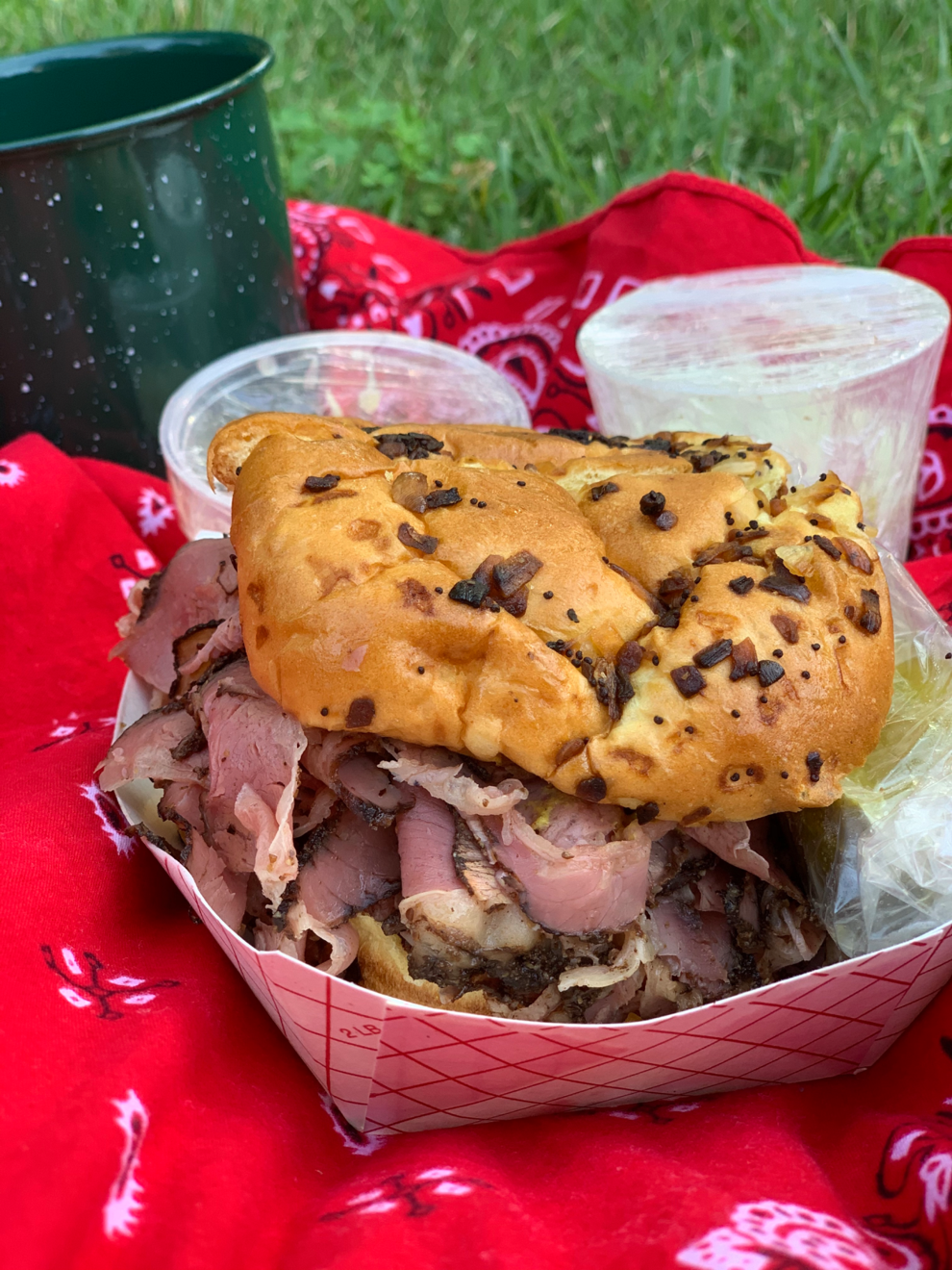 Much of the restaurant industry had to rapidly change its business model due to COVID-19, and we're highlighting the Nashville places that are attempting to stay open. As we hang out here in Phase 2.0, we're continuing to give you a critic's pick for a restaurant and a dish, as well as a running list of restaurants offering takeout and delivery that you can support. Today: Mac's Cornedbeef
Longtime readers know about my ongoing quest for a real deli sandwich in Nashville (heck, this piece is from way back in 2015). So when I heard about a spot called Mac's Cornedbeef and its offerings of kosher meat imported directly from Detroit, I added it to my "must-eat" list. (What? Not everyone has a list saved in Google maps titled "Must Eat?") I've been waiting for an opportunity to go and, unlike most of 2020, this place did not disappoint.
The fact that the meat was kosher was just the cherry on the top of what was looking like a deli sundae as I perused the menu: turkey, corned beef or pastrami, on their own or in various specialty combinations. The Henry Mac, for example, has all three meats (!), plus coleslaw, Russian dressing and Swiss cheese. (Yes, ordering your sandwich with Swiss cheese on it negates the whole kosherness of the meat; The restaurant itself is not kosher, only the Detroit-imported meats.) Sandwiches are available in 5-ounce ($5.99), 8-ounce ($8.99), and 15-ounce ($13.99) sizes. 
Mac's also makes Detroit-style Coneys, which are hot dogs topped with no-bean chili, mustard and onions on a steamed bun, plus corned beef egg rolls, which are exactly what they sound like: corned beef and cheese hand-rolled into an egg rolls and deep-fried (another Detroit delicacy). Mac's also sells Better Made chips and Faygo sodas, two more Detroit favorites.
Mac's owners are also the brains behind Surreal Spice Creations next door, a salad joint where you choose your lettuce, vegetables and meats and they mix it in a bowl or a wrap. It looked fresh and delicious, but I didn't drive from Inglewood to Antioch for a salad, so that'll have to wait for another day. 
I drove from Inglewood to Antioch for kosher pastrami with sweet and spicy brown mustard, because I am a purist. But because I am also open to new ideas I did a last-minute switch from rye bread to the onion roll. My pastrami was perfection; spicy but not overly so; salty, but not so much that I was thirsty the rest of the day; cut thin (my preference. I know, some of you like thick slabs. Don't @me); and fatty enough to be tasty, but not at all tough. 
I tried both the sauerkraut and the coleslaw ($0.50 each), which were good accompaniments to my made-to-order sandwich. My usual preference is for coleslaw that is less creamy than Mac's, but this cut the spiciness of the sandwich in the right way. Everything was packed well to go, so nothing spilled in transit, not even the pickle spears. Mac's is just a few minutes from Percy Priest Lake, so taking the goods on a picnic is an easy option.  
Both Mac's Cornedbeef and Surreal Spice Creations are located at 2940 Murfreesboro Pike and right now are open Monday through Friday only. You can call ahead (615-366-3337) to place your order if you want to limit waiting indoors. Tuesdays offer $2 Coneys. So plan a weekday picnic, and if you happen to be headed back to the east side when you're done, pick me up a pastrami to go, please.
---
Below is a list of Nashville restaurants (with links) that are open for takeout and delivery. While some may have had existing relationships with delivery providers, many of this list are offering the service for the first time. Most offer curbside pickup, but check when you order. Many may also have outdoor dining. As this list is a moving target, please leave any changes, suggestions or omissions in the comments.
Places with takeout or delivery as of Friday, July 10
12South Taproom (Postmates)
312 Pizza Co. (Grubhub)
51st Deli (Uber Eats, Grubhub, Postmates)
51st North Taproom (11 a.m.-8 p.m., Thursday-Sunday)
Adele's/The 404 Kitchen (Friday-Sunday)
Arnold's Country Kitchen (Most delivery services)
B1281 (Uber Eats)
Barista Parlor (Postmates)
Barr's Music City Soul Food (Uber Eats, Tuesday-Sunday)
Big Bad Breakfast (DoorDash, Uber Eats)
Biscuit Kitchen by Loveless Cafe
Black Dynasty via Bar Sovereign
The Bluebird Cafe (Grubhub)
BoomBozz West (DoorDash)
Brightside Bakery (Ordering open at 3 p.m. Tues.-Sat. for next-day pickup Wed.-Sun.)
Burger Joint (Uber Eats, Grubhub)
Caffé Nonna (Uber Eats, Postmates)
Carniceria y Taqueria Don Juan
Central BBQ (DoorDash, Postmates)
Cinco de Mayo (9 locations)
Char (Postmates)
Cilantro Mexican Grill (Eighth Avenue location)
City Winery (Grubhub, Uber Eats)
Corner Pub (DoorDash)
Cupcake Collection (Sunday-Friday)
Doll's Family Cafe (Postmates, DoorDash)
Double Dogs (Uber Eats, Grubhub, Postmates)
Eastern Peak (Uber Eats, Grubhub)
Ed's Fish House (Thursday-Saturday)
Ellington's Mid Way Bar & Grill
Far East (Postmates)
Farm Burger (DoorDash)
Fat Kat Slim's (Uber Eats, Grubhub)
Fido (ChowNow)
Five Points Pizza (Postmates)
Folk (Postmates)
Frothy Monkey (Postmates, Uber Eats)
Ghot Wingz (Tuesday-Saturday)
Green Chile (Friday-Sunday)
Hattie B's (Uber Eats)
HoneyFire Barbeque Co. (Grubhub, DoorDash)
Hugh Baby's (DoorDash)
Hunters Station (The Grilled Cheeserie, Vui's Kitchen, Hugh Baby's, Tacos Aurora, Citizen Market)
IT'Z A Philly Thing (Wednesday-Sunday)
Jack's Bar-B-Q (Trinity Lane location only)
Jamaicaway (DoorDash, Grubhub, Postmates)
Jonathan's (Grubhub)
Josephine (Postmates)
Korea House
Lafayette Soup Company (Richland Park Farmer's Market)
Las Palmas (DoorDash)
Local Distro (Tuesday-Saturday)
McDougal's (Hillsboro Village only)
Miss Saigon (All delivery services)
M.L. Rose Craft Beer & Burgers (Postmates)
Moto (Uber Eats)
Nicky's Coal Fired (Postmates)
North Italia (DoorDash)
Nectar Urban Cantina (Grubhub, Uber Eats, Postmates)
Nomzilla! Sushi Et Cetera (Uber Eats, Postmates)
Pancho & Lefty's (Uber Eats, DoorDash)
The Party Line (Julia Sullivan's catering service through Strategic Hospitality)
Party Fowl (Uber Eats)
PDK Southern Kitchen and Pantry
Pinewood Social (Postmates, Grubhub, Uber Eats)
Pork Belly Cafe (Uber Eats, Grubhub, Postmates)
Prince's Hot Chicken (Nolensville Road)
Proper Bagel (Takeout & delivery only)
Red Bicycle (Postmates)
Red Perch Monday-Friday, 11 a.m.-2 p.m.
Red Phone Booth (DoorDash, Grubhub, Postmates)
Riddim N Spice (Postmates,DoorDash)
Rolf and Daughters (Postmates)
Rosemary & Beauty Queen (Postmates, Uber Eats)
Rosepepper Cantina (Postmates)
Saint Anejo (Uber Eats)
San Antonio Taco Co. (DoorDash)
Seafood Sensation (DoorDash)
Shugga Hi Bakery & Cafe (Friday-Saturday; Uber Eats) 
Slim & Husky's (DoorDash)
Southside Grill (DoorDash)
StrikeOut Wingz (Grubhub)
Subculture Urban Cuisine & Cafe (Uber Eats, Grubhub, DoorDash, Postmates)
Sushi Circle
Sweet 16th (Tuesday-Saturday, 8 a.m.-1 p.m.)
Tacos y Mariscos Lindo Mexico
Taj (Uber Eats)
TailGate Brewery (Postmates)
The Tasty Wheel (Postmates, Grubhub, DoorDash)
Taziki's (Postmates, Grubhub)
TennFold (Grubhub, Postmates)
TKO (Postmates)
Tower Market and Deli (Grubhub, Postmates, DoorDash, Bite Squad)
Union Teller (Uber Eats, DoorDash, Grubhub)
Vege-licious Cafe (Tuesday-Saturday; Chow Now)
Virago (Uber Eats)
Von Elrod's Beer Hall & Kitchen 
VN Pho & Deli
Walden (Postmates)
The Wild Cow (Postmates, DoorDash and Chow Now)
Wildman Smoothies, Soups & Salads
'Za Wood Fired Pizza (Grubhub)