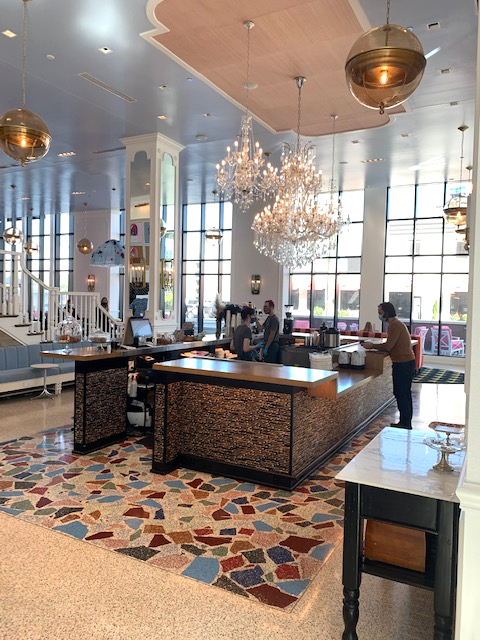 Much of the restaurant industry has had to rapidly change its business model due to COVID-19, and we're highlighting the Nashville places that are attempting to stay open. We will give you a critic's pick for a restaurant and a dish, as well as a running list of restaurants still open that you can support. Today's pick: Poindexter.
I live on the No. 7 Hillsboro line for the public bus system, which is great if I'm going to Green Hills or downtown. But Nashville's hub-and-spoke system doesn't make it easy to get anywhere besides the locations directly adjacent to the route. I have discovered, though, that the ol' No. 7 does also offer easy access to most of Midtown, as long as you're willing to walk a couple of blocks across the Vanderbilt campus where Division and 21st Avenue come together — which I am.
So rather than spending money to park in that crowded neighborhood, I'd much rather mask up and let WeGo do the heavy lifting for me. While it may be weird to jump back on the bus with a case of wine and spirits from Midtown Cork Dorks, I figure I'll never see any of my fellow bus riders again socially, so I'm immune to their slightly derisive inquisitive looks.
I'm always looking for quick lunch spots in Midtown, and the choices are legion, including last week's takeout option, Jasper's. But just a block away, I found another fun choice on the ground floor of the riotously-decorated hotel, Graduate Nashville. Their lobby cafe is named Poindexter, and it offers a surprising range of fine carryout or dine-in options for a little coffee shop.
First of all, the Graduate is a darned entertaining spot to do a little people-watching over lunch. The lobby decorated with all sorts of fun country-music-inspired design elements, including a veritable shrine to Dolly Parton, the patron saint of the hotel's gestalt. The airy ceilings make the space seem even more socially distanced than you'd expect for a lobby, and there are plenty of places to grab a spot on a sofa and do some work, sit at a table with great lighting for reading a copy of the Scene, jump on a Zoom call or to set up an Instagram photo shoot for your traveling party of bachelorettes, complete with multiple costume changes in the nearby restrooms. I saw all these things happening during my half-hour visit. (Well, not the costume changes.)
I was there to check out Poindexter, and I was duly impressed by what I discovered. The open coffee bar where you place your orders was actually a deception, because there's an entire hotel kitchen feeding dishes for the grab-and-go options or for dining in at any of multiple seating options in the lobby. The baristas were also part of the production process, including whipping up a fine seasonal latte that I enjoyed with my lunch. Made with brown sugar and vanilla with a hint of bourbon-smoked sea salt, it was a delightful mix of sweet, smoky, bitter and salty, pretty much my flavor wheelhouse.
In addition to coffee and tea drinks, the coffee counter will also take your order for the entire menu of kitchen specialties, including pastries, breakfast bowls and biscuit sandwiches. (More on them later.)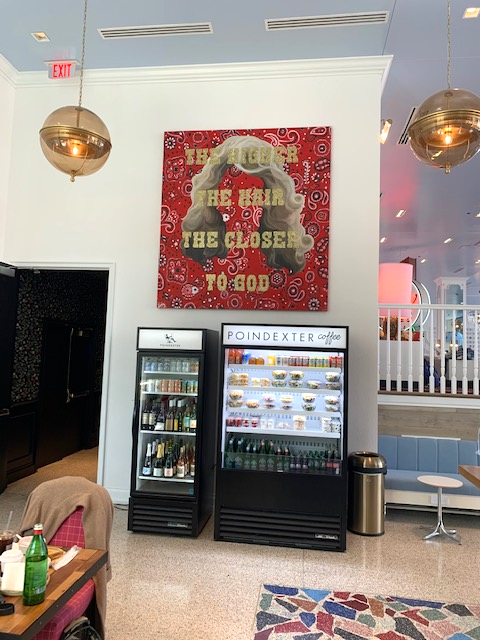 The kitchen also stocks a couple of refrigerators filled with quick to-go items, not the least of which is a cooler stocked with bottles of wine, sparkling wine and canned beers (which would probably be frowned upon if I enjoyed one on the bus ride home ... it stinks to be a rule follower sometimes). The other cooler features sweet and savory items that would make for a great grab-and-go lunch if you didn't want to wait for something hot from the kitchen. Items in that case include turkey muffuletta and smoked-pork-loin sandwiches, a fruity ambrosia parfait and a few really interesting salads that rise high above your typical prepared bowls.
I sampled a seasonal breakfast bowl made with a base of kale mixed with cucumbers, red onions, butternut squash and grains and then topped with a rich and syrupy balsamic dressing and the perfect accompaniment of a soft boiled egg. I really should add that to my weekly lunch rotation to get a little more healthy food in my diet.
Of course, me being me, I blew all those good intentions by topping off my meal with a biscuit sandwich from the kitchen, a decision I regret not a single iota! Developing a biscuit for sandwich use is always a tricky proposition, as the biscuit should be characteristically fluffy but also substantial enough to hold up to being stacked with toppings and enduring multiple bites without disintegrating. The biscuit sandwich at Poindexter held up to that standard at what I'd say would be about a B+ level, and that's good enough for me.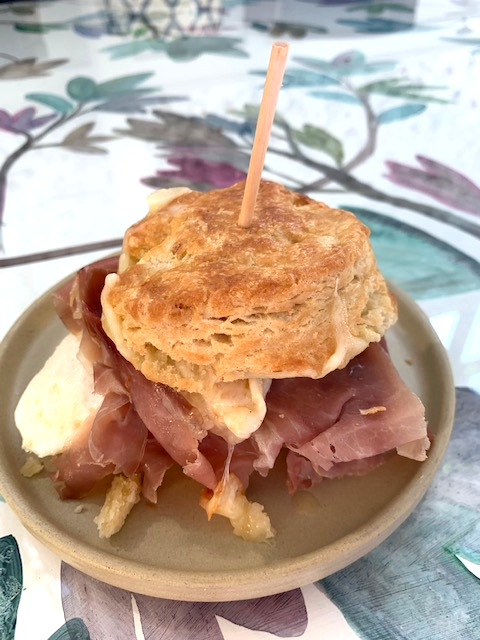 The flaky biscuit was topped with a scrambled egg and white cheddar cheese plus the headliner of thin slices of salty ham from Benton's Smoky Mountain Country Hams. Admittedly, by about 75 percent of the way through the sandwich, it had crumbled into a bit of a mess on my plate, but it wasn't like any of those bachelorettes were planning to ask me to be part of their photo shoot anyway. I just plunged on, oblivious to the artistic pursuits taking place around me, and happily jumped on the bus for the return trip home.
Those women didn't know what they were missing. The biscuit, not me.
#CarryOutandCarryOn
---
Below is a list of Nashville restaurants (with links) remaining open for takeout and delivery during the COVID-19 shutdown. While some may have had existing relationships with delivery providers, most of this list are offering the service for the first time. Most offer curbside pickup, but check when you order. As this list is a moving target, please leave any changes, suggestions or omissions in the comments.
Places with takeout or delivery as of Wednesday, Nov.18
12South Taproom (Postmates)
312 Pizza Co. (Grubhub)
51st Deli (Uber Eats, Grubhub, Postmates)
51st North Taproom (11 a.m.-8 p.m., Thursday-Sunday)
615 Deli (DoorDash. Grubhub, Postmates, Uber Eats)
Adele's/The 404 Kitchen (Friday-Sunday)
Arnold's Country Kitchen (Most delivery services)
B1281 (Uber Eats)
Barista Parlor (Postmates)
Barr's Music City Soul Food (Uber Eats, Tuesday-Sunday)
Big Bad Breakfast (DoorDash, Uber Eats)
Biscuit Kitchen by Loveless Cafe
Black Dynasty via Bar Sovereign
The Bluebird Cafe (Grubhub)
BoomBozz West (DoorDash)
Brightside Bakery (Ordering open at 3 p.m. Tues.-Sat. for next-day pickup Wed.-Sun.)
Burger Joint (Uber Eats, Grubhub)
Caffé Nonna (Uber Eats, Postmates)
Carniceria y Taqueria Don Juan
Central BBQ (DoorDash, Postmates)
Cinco de Mayo (9 locations)
Char (Postmates)
Cilantro Mexican Grill (Eighth Avenue location)
City Winery (Grubhub, Uber Eats)
Corner Pub (DoorDash)
Cupcake Collection (Sunday-Friday)
Doll's Family Cafe (Postmates, DoorDash)
Double Dogs (Uber Eats, Grubhub, Postmates)
Eastern Peak (Uber Eats, Grubhub)
Ed's Fish House (Thursday-Saturday)
Ellington's Mid Way Bar & Grill
Far East (Postmates)
Farm Burger (DoorDash)
Fat Kat Slim's (Uber Eats, Grubhub)
Fido (ChowNow)
Five Points Pizza (Postmates)
Folk (Postmates)
Frothy Monkey (Postmates, Uber Eats)
Ghot Wingz (Tuesday-Saturday)
Green Chile (Friday-Sunday)
Hattie B's (Uber Eats)
HoneyFire Barbeque Co. (Grubhub, DoorDash)
Hugh Baby's (DoorDash)
Hunters Station (The Grilled Cheeserie, Vui's Kitchen, Hugh Baby's, Tacos Aurora, Citizen Market)
IT'Z A Philly Thing (Wednesday-Sunday)
Jack's Bar-B-Q (Trinity Lane location only)
Jamaicaway (DoorDash, Grubhub, Postmates)
Jonathan's (Grubhub)
Josephine (Postmates)
Korea House
Lafayette Soup Company (Richland Park Farmer's Market)
Las Palmas (DoorDash)
Local Distro (Tuesday-Saturday)
McDougal's (Hillsboro Village only)
Miss Saigon (All delivery services)
M.L. Rose Craft Beer & Burgers (Postmates)
Moto (Uber Eats)
Nicky's Coal Fired (Postmates)
North Italia (DoorDash)
Nectar Urban Cantina (Grubhub, Uber Eats, Postmates)
Nomzilla! Sushi Et Cetera (Uber Eats, Postmates)
Pancho & Lefty's (Uber Eats, DoorDash)
The Party Line (Julia Sullivan's catering service through Strategic Hospitality)
Party Fowl (Uber Eats)
PDK Southern Kitchen and Pantry
Pinewood Social (Postmates, Grubhub, Uber Eats)
Pork Belly Cafe (Uber Eats, Grubhub, Postmates)
Prince's Hot Chicken (Nolensville Road)
Proper Bagel (Takeout & delivery only)
Red Bicycle (Postmates)
Red Phone Booth (DoorDash, Grubhub, Postmates)
Riddim N Spice (Postmates,DoorDash)
Rolf and Daughters (Postmates)
Rosemary & Beauty Queen (Postmates, Uber Eats)
Rosepepper Cantina (Postmates)
Saint Anejo (Uber Eats)
San Antonio Taco Co. (DoorDash)
Seafood Sensation (DoorDash)
Shugga Hi Bakery & Cafe (Friday-Saturday; Uber Eats) 
Slim & Husky's (DoorDash)
Southside Grill (DoorDash)
StrikeOut Wingz (Grubhub)
Subculture Urban Cuisine & Cafe (Uber Eats, Grubhub, DoorDash, Postmates)
Sushi Circle
Sweet 16th (Tuesday-Saturday, 8 a.m.-1 p.m.)
Tacos y Mariscos Lindo Mexico
Taj (Uber Eats)
TailGate Brewery (Postmates)
The Tasty Wheel (Postmates, Grubhub, DoorDash)
Taqueria Andrea and La Mini Michoacana
Taziki's (Postmates, Grubhub)
TennFold (Grubhub, Postmates)
TKO (Postmates)
Tower Market and Deli (Grubhub, Postmates, DoorDash, Bite Squad)
Vege-licious Cafe (Tuesday-Saturday; Chow Now)
Virago (Uber Eats)
Von Elrod's Beer Hall & Kitchen 
VN Pho & Deli
Walden (Postmates)
The Wild Cow (Postmates, DoorDash and Chow Now)
Wildman Smoothies, Soups & Salads
'Za Wood Fired Pizza (Grubhub)