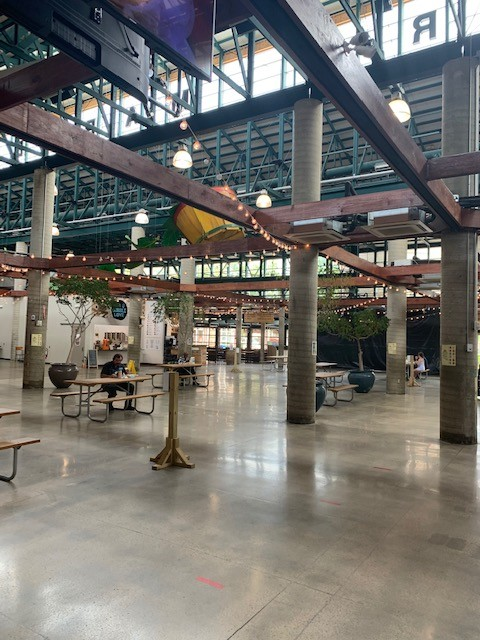 Much of the restaurant industry has had to rapidly change its business model due to COVID-19, and we're highlighting the Nashville places that are attempting to stay open. We will give you a critic's pick for a restaurant and a dish, as well as a running list of restaurants still open that you can support. Today: The Market House at the Nashville Farmers' Market
What if I told you there's an extremely convenient spot that offers lots of free parking and an impressive variety of almost 20 locally owned dining options where you can enjoy lunch with a view of a lovely park? You'd probably consider it an excellent option for lunch, either for dining in or carrying out. But here's the thing: You haven't been, at least not since we entered the state of pandemic-monium. 
I'm talking about the Market House of the Nashville Farmers' Market, an elevated food court of local options that has been a popular dining spot for years. Unfortunately, many of the reasons why I would have suggested it in the past are the same reasons why folks have been avoiding it in droves lately. The variety of available cuisines made (and still makes) it easy to grab a group from work and wander from from one restaurant-ette to another, looking for something to strike your fancy — burritos, Asian, Jamaican, gyros, pizza, barbecue or Indian food. Then the group could reassemble at the market's large communal tables to enjoy a relatively rapid lunch.
But that's not the way people currently eat. The Market House does see pretty decent business on Friday through Sunday, when shoppers visit the NFM to pick up their CSAs and browse the produce and protein booths under the Market Shed. But on two recent visits, the scene I encountered was downright uncomfortable, with struggling business owners standing idly behind their counters hoping that someone would patronize their restaurant, at least enough to pay the rent for an hour. It felt a tiny bit like wandering through a deserted animal shelter, puppies staring at me with their big eyes from each crate, hoping I'd take one of them home.
The Nashville Farmers' Market has gone above and beyond in terms of safety, especially because they are officially a government-run entity. The spacing between those once-convivial long Viking tables has been increased well past the mandated distancing limits. They've tucked picnic tables into every nook and cranny of their attractive outdoor space to offer even more al fresco dining options, and despite the chance that there would still be plenty of room at those tables, they still strictly enforce seating limits. Employees are constantly sanitizing every area between services, and the individual vendors are fastidious about cleanliness as well.
I mean, where else in town could I have the choice of two different goat curry dishes (at Jamaicaway and Swagruha)? Where else can you treat yourself to an after-lunch treat of Jeni's ice cream without having to wait in a line? In what other epoch could you go from ordering your wood-fired pizza at Bella Nashville to tucking into it in less than five minutes? Where else will you soon be able to enjoy exotic delicacies like legit Mississippi Delta tamales and vegan tacos?
I get it. Lots of restaurants in Nashville need your patronage and your help right now. But the Nashville Farmers' Market is truly a symbiotic ecosystem where the produce vendors need the restaurants to succeed and vice versa if this institution is to survive. If you want to continue to enjoy the convenience of picking from fantastic food items from local farmers, the shed needs the Market House to thrive. Grab three friends and head down there today for lunch. And tomorrow, too. There are so many different options to choose from, you won't get bored of the food for a long time, and we need it to last for a long time. Please don't tell me that at the end of all of this we will have discovered that damned Sonic and Chick-fil-A were the ones who had the right model all along, because I see their drive-thrus filled up with cars every time I pass by!
#CarryOutandCarryOn
---
Below is a list of Nashville restaurants (with links) remaining open for takeout and delivery during the COVID-19 shutdown. While some may have had existing relationships with delivery providers, most of this list are offering the service for the first time. Most offer curbside pickup, but check when you order. As this list is a moving target, please leave any changes, suggestions or omissions in the comments.
Places with takeout or delivery as of Wednesday, Sept. 16
12South Taproom (Postmates)
312 Pizza Co. (Grubhub)
51st Deli (Uber Eats, Grubhub, Postmates)
51st North Taproom (11 a.m.-8 p.m., Thursday-Sunday)
615 Deli (DoorDash. Grubhub, Postmates, Uber Eats)
Adele's/The 404 Kitchen (Friday-Sunday)
Arnold's Country Kitchen (Most delivery services)
B1281 (Uber Eats)
Barista Parlor (Postmates)
Barr's Music City Soul Food (Uber Eats, Tuesday-Sunday)
Big Bad Breakfast (DoorDash, Uber Eats)
Biscuit Kitchen by Loveless Cafe
Black Dynasty via Bar Sovereign
The Bluebird Cafe (Grubhub)
BoomBozz West (DoorDash)
Brightside Bakery (Ordering open at 3 p.m. Tues.-Sat. for next-day pickup Wed.-Sun.)
Burger Joint (Uber Eats, Grubhub)
Caffé Nonna (Uber Eats, Postmates)
Carniceria y Taqueria Don Juan
Central BBQ (DoorDash, Postmates)
Cinco de Mayo (9 locations)
Char (Postmates)
Cilantro Mexican Grill (Eighth Avenue location)
City Winery (Grubhub, Uber Eats)
Corner Pub (DoorDash)
Cupcake Collection (Sunday-Friday)
Doll's Family Cafe (Postmates, DoorDash)
Double Dogs (Uber Eats, Grubhub, Postmates)
Eastern Peak (Uber Eats, Grubhub)
Ed's Fish House (Thursday-Saturday)
Ellington's Mid Way Bar & Grill
Far East (Postmates)
Farm Burger (DoorDash)
Fat Kat Slim's (Uber Eats, Grubhub)
Fido (ChowNow)
Five Points Pizza (Postmates)
Folk (Postmates)
Frothy Monkey (Postmates, Uber Eats)
Ghot Wingz (Tuesday-Saturday)
Green Chile (Friday-Sunday)
Hattie B's (Uber Eats)
HoneyFire Barbeque Co. (Grubhub, DoorDash)
Hugh Baby's (DoorDash)
Hunters Station (The Grilled Cheeserie, Vui's Kitchen, Hugh Baby's, Tacos Aurora, Citizen Market)
IT'Z A Philly Thing (Wednesday-Sunday)
Jack's Bar-B-Q (Trinity Lane location only)
Jamaicaway (DoorDash, Grubhub, Postmates)
Jonathan's (Grubhub)
Josephine (Postmates)
Korea House
Lafayette Soup Company (Richland Park Farmer's Market)
Las Palmas (DoorDash)
Local Distro (Tuesday-Saturday)
McDougal's (Hillsboro Village only)
Miss Saigon (All delivery services)
M.L. Rose Craft Beer & Burgers (Postmates)
Moto (Uber Eats)
Nicky's Coal Fired (Postmates)
North Italia (DoorDash)
Nectar Urban Cantina (Grubhub, Uber Eats, Postmates)
Nomzilla! Sushi Et Cetera (Uber Eats, Postmates)
Pancho & Lefty's (Uber Eats, DoorDash)
The Party Line (Julia Sullivan's catering service through Strategic Hospitality)
Party Fowl (Uber Eats)
PDK Southern Kitchen and Pantry
Pinewood Social (Postmates, Grubhub, Uber Eats)
Pork Belly Cafe (Uber Eats, Grubhub, Postmates)
Prince's Hot Chicken (Nolensville Road)
Proper Bagel (Takeout & delivery only)
Red Bicycle (Postmates)
Red Phone Booth (DoorDash, Grubhub, Postmates)
Riddim N Spice (Postmates,DoorDash)
Rolf and Daughters (Postmates)
Rosemary & Beauty Queen (Postmates, Uber Eats)
Rosepepper Cantina (Postmates)
Saint Anejo (Uber Eats)
San Antonio Taco Co. (DoorDash)
Seafood Sensation (DoorDash)
Shugga Hi Bakery & Cafe (Friday-Saturday; Uber Eats) 
Slim & Husky's (DoorDash)
Southside Grill (DoorDash)
StrikeOut Wingz (Grubhub)
Subculture Urban Cuisine & Cafe (Uber Eats, Grubhub, DoorDash, Postmates)
Sushi Circle
Sweet 16th (Tuesday-Saturday, 8 a.m.-1 p.m.)
Tacos y Mariscos Lindo Mexico
Taj (Uber Eats)
TailGate Brewery (Postmates)
The Tasty Wheel (Postmates, Grubhub, DoorDash)
Taqueria Andrea and La Mini Michoacana
Taziki's (Postmates, Grubhub)
TennFold (Grubhub, Postmates)
TKO (Postmates)
Tower Market and Deli (Grubhub, Postmates, DoorDash, Bite Squad)
Vege-licious Cafe (Tuesday-Saturday; Chow Now)
Virago (Uber Eats)
Von Elrod's Beer Hall & Kitchen 
VN Pho & Deli
Walden (Postmates)
The Wild Cow (Postmates, DoorDash and Chow Now)
Wildman Smoothies, Soups & Salads