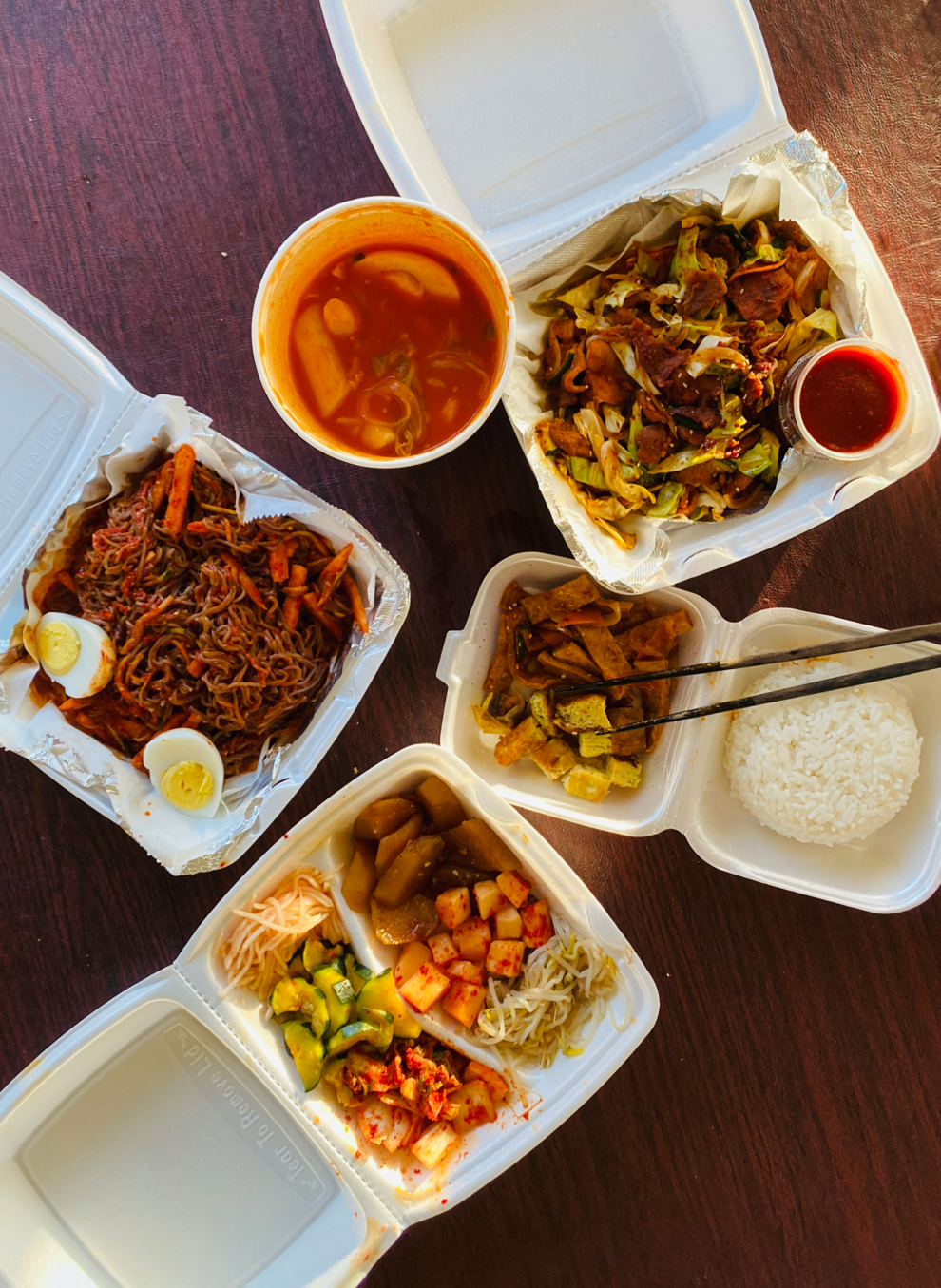 Much of the restaurant industry has had to rapidly change its business model due to COVID-19, and we're highlighting the Nashville places that are attempting to stay open. Each day we will give you a critic's pick for a restaurant and a dish, as well as a running list of restaurants still open that you can support. Today: Korea House.
Making the pivot from traditional dine-in service to a carryout/delivery model isn't as easy as you might imagine. You need to develop a secure online ordering system, ideally with secure, contactless payment options. You have to make sure there's a clear menu offering online to make it simple for patrons to choose what they want. You should have a robust social media presence to drive traffic to your ordering pages and to alert potential customers of any daily specials to encourage impulse purchases.
But let's face it — Korea House doesn't have any of these. The neighborhood favorite at 6410 Charlotte Pike is decidedly old-school, depending on their outstanding Korean cuisine and warm hospitality to keep their loyalists faithful. Even with language barriers (much of the staff doesn't speak much English), I've never felt less than completely welcome eating in their cozy dining room — and the fact that there are usually many native Korean speakers dining at nearby tables is comforting and makes it easier to order by just pointing at somebody else's meal.
You may notice that there isn't the usual hyperlink attached to Korea House's name in the previous paragraph. That's because they don't have a website, much less online ordering or any semblance of social media presence. (Someone has taken the initiative to post photos of their menu on the Zmenu.com website, so that's helpful.) 
So I'll admit that I had forgotten about Korea House as a carryout option until I was reminded about it by a friend, Matt Leff of Rhizome Productions. He's a regular guest at the restaurant, so I relied on him to do the scouting work for me on this one. (All photos were provided by his fellow diner Matt Segal, btw.) They don't necessarily make it easy to order, but taking the time to find and peruse the menu and call in your order (615-352-2790) pays off big time!
Here is Leff's recount of his power order:
"

Tteokbokki - spicy stir-fried rice cakes with vegetables ($11.99)

Dweji bulgogi -Korean BBQ Pork ($14.99)

Bibim Naemyung-Spicy cold buckwheat noodles with cucumber, pear, and boiled egg ($12.99)

 Not pictured but highly recommended: Kimchi Pancake (Secret Menu Item), Seafood Pancake, Goodmandu (Dumplings), Bibimbap with Tofu (Beef also offered), and Soonduboo Chigae (Spicy Seafood Soup)."
One of the examples of hospitality that traditionally accompanies a Korean meal is the selection of complimentary snacks set out before your order even arrives at the table. These lagniappes are referred to as banchan, and Korea House never skimps on the freebies, even including them with every carryout order. Leff said he received the following bounty of goodness: "Kimchi, pickled cucumber, kimchi radish (two ways), fish cake, omelet, soy potato and seasoned soy sprouts." 
Leff offered a few other power-user tips for ordering carryout from Korea House, noting: "All orders are plentiful, and leftovers are perfect. Next day take your leftover rice, kimchi, and gochujang (fermented Korean red pepper paste) and make some amazing fried rice! Call ahead to place an order, usually takes about 20 minutes to be ready, and pro tip — pack a cooler (no ice) to keep your food piping hot!"
It's great to see a small local business keep paddling through these turbulent COVID-laden waters, even without the benefit of much technology. Hopefully, we've removed some of the barriers to help you navigate the ordering difficulties — continue to support the good people of Korea House!
#CarryOutandCarryOn!
---
Below is a list of Nashville restaurants (with links) remaining open for takeout and delivery during the COVID-19 shutdown. While some may have had existing relationships with delivery providers, most of this list are offering the service for the first time. Most offer curbside pickup, but check when you order. As this list is a moving target, please leave any changes, suggestions or omissions in the comments.
Places with takeout or delivery as of Thursday, May 28
12South Taproom (Postmates)
312 Pizza Co. (Grubhub)
51st Deli (Uber Eats, Grubhub, Postmates)
51st North Taproom (11am-8pm, Thursday-Sunday)
Adele's/The 404 Kitchen (Friday-Sunday)
Arnold's Country Kitchen (Most delivery services)
Barista Parlor (Postmates)
Big Bad Breakfast (DoorDash, Uber Eats)
Biscuit Kitchen by Loveless Cafe
Black Dynasty via Bar Sovereign
The Bluebird Cafe (Grubhub)
BoomBozz West (DoorDash)
Burger Joint (Uber Eats, Grubhub)
Caffé Nonna (Uber Eats, Postmates)
Carniceria y Taqueria Don Juan
Central BBQ (DoorDash, Postmates)
Cinco de Mayo (9 locations)
Char (Postmates)
Cilantro Mexican Grill (Eighth Avenue location)
City Winery (Grubhub, Uber Eats)
Corner Pub (DoorDash)
Double Dogs (Uber Eats, Grubhub, Postmates)
Eastern Peak (Uber Eats, Grubhub)
Ellington's Mid Way Bar & Grill
Far East (Postmates)
Farm Burger (DoorDash)
Fat Kat Slim's (Uber Eats, Grubhub)
Fido (ChowNow)
Five Points Pizza (Postmates)
Folk (Postmates)
Frothy Monkey (Postmates, Uber Eats)
Green Chile (Friday-Sunday)
Hattie B's (Uber Eats)
HoneyFire Barbeque Co. (Grubhub, DoorDash)
Hugh Baby's (DoorDash)
Hunters Station (The Grilled Cheeserie, Vui's Kitchen, Hugh Baby's, Tacos Aurora, Citizen Kitchen)
Jack's Bar-B-Q (Trinity Lane location only)
Jamaicaway (DoorDash, Grubhub, Postmates)
Jonathan's (Grubhub)
Josephine (Postmates)
Korea House
Las Palmas (DoorDash)
Miss Saigon (All delivery services)
M.L. Rose Craft Beer & Burgers (Postmates)
Moto (Uber Eats)
Nicky's Coal Fired (Postmates)
North Italia (DoorDash)
Nectar Urban Cantina (Grubhub, Uber Eats, Postmates)
Nomzilla! Sushi Et Cetera (Uber Eats, Postmates)
Pancho & Lefty's (Uber Eats, DoorDash)
The Party Line (Julia Sullivan's catering service through Strategic Hospitality)
Party Fowl (Uber Eats)
PDK Southern Kitchen and Pantry
Pinewood Social (Postmates, Grubhub, Uber Eats)
Pork Belly Cafe (Uber Eats, Grubhub, Postmates)
Prince's Hot Chicken (Nolensville Road)
Red Bicycle (Postmates)
Red Perch Monday-Friday, 11 a.m.-2 p.m.
Red Phone Booth (DoorDash, Grubhub, Postmates)
Riddim N Spice (Postmates,DoorDash)
Rolf and Daughters (Postmates)
Rosemary & Beauty Queen (Postmates, Uber Eats)
Rosepepper Cantina (Postmates)
Saint Anejo (Uber Eats)
San Antonio Taco Co. (DoorDash)
Shalimar (Uber Eats, Postmates, DoorDash, Grubhub, Bite Squad)
Slim & Husky's (DoorDash)
Southside Grill (DoorDash)
Subculture Urban Cuisine & Cafe (Uber Eats, Grubhub, DoorDash, Postmates)
Sushi Circle
Sweet 16th (Tuesday-Saturday, 8 a.m.-1 p.m.)
Tacos y Mariscos Lindo Mexico
Taj (Uber Eats)
TailGate Brewery (Postmates)
Taziki's (Postmates, Grubhub)
TennFold (Grubhub, Postmates)
TKO (Postmates)
Tower Market and Deli (Grubhub, Postmates, DoorDash, Bite Squad)
Union Teller (Uber Eats, DoorDash, Grubhub)
Virago (Uber Eats)
Von Elrod's Beer Hall & Kitchen 
VN Pho & Deli
Walden (Postmates)
The Wild Cow (Postmates, DoorDash and Chow Now)
'Za Wood Fired Pizza (Grubhub)