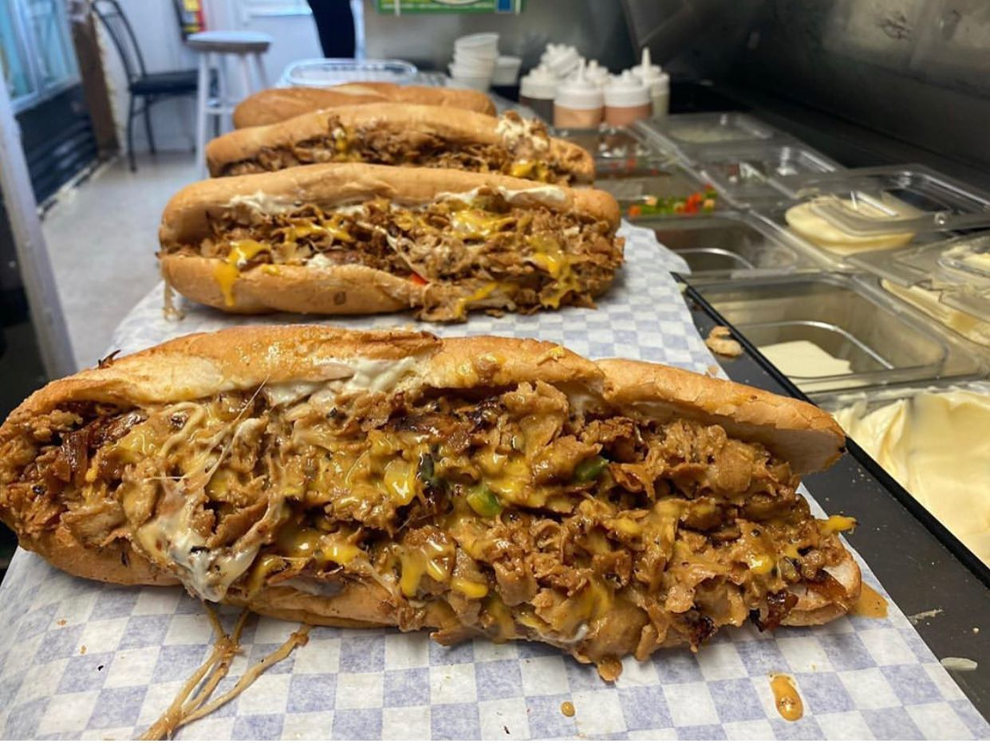 Much of the restaurant industry has had to rapidly change its business model due to COVID-19, and we're highlighting the Nashville places that are attempting to stay open. We will give you a critic's pick for a restaurant and a dish, as well as a running list of restaurants still open that you can support. Today's pick: IT'Z A Philly Thing.
I think that sometimes it's OK to make a recommendation even if you're not an expert on a particular subject. (Except when it comes to science and public health questions. Listen to the experts!) This is definitely the case when it comes to cheesesteak sandwiches. I mean, yes, I've been to Philly and eaten at both Geno's and Pat's, but that doesn't make me an expert on the subject. Hell, I loved them both, but I'm not confident or competent enough to declare one the best, especially when including all the other under-the-radar options like John's or Dalessandro's — those are the spots that people in the know would probably send you to, instead of the most popular choices. (Sound familiar, hot chicken fans?)
I don't even know exactly how to order one, much less have a regular order. "Whizz wit?" "Provolone widout?" They speak a funny language up there in Philly, and all I know is that cheesesteak sandwiches are delicious. So if you have a strong opinion on the authenticity of today's takeout pick, IT'Z A Philly Thing, feel free to try to set me straight in the comments section below. But don't think that you'll be able to convince me not to order another one of these decadent delights! (For what it's worth, fellow Scene contributor Cory Woodroof named IT'Z A Philly Thing Nashville's Best New Philly Cheesesteak in our recent Best of Nashville issue.)
Starting out as a food truck in 2018, IT'Z A Philly Thing has permanently parked at 7609 Highway 70 South across the street from the Publix in Bellevue. You might have to search a little to find the bright red trailer/storage container tucked in the back corner of the parking lot behind Walgreens, but it'll be worth the effort. Young owner Zyhir Baker Elam is a TSU grad who has made it his mission to bring Philly to the people, and his menu of sandwiches offers a great cross-section of what you might order at Geno's, if you knew what you were doing.
Open from noon until 5:30 p.m. on Wednesdays and Thursdays, and until 7:30 p.m. on Friday and Saturday, IT'Z A Philly Thing serves up beefy, cheesy sandwiches on 10-inch Amoroso bread rolls from the homeland. Choose from a menu of traditional beef/cheez whiz/provolone/onions or more esoteric options like Philly chicken, BBQ chicken, buffalo chicken or even Philly egg rolls, and you'll go home happy and not hungry.
The parked trailer offers walk-up or drive-through service, and there's a pleasant little patio set up with a few chairs for dining in in case you don't think you can wait until you get your bounty home and don't want to mess up your car's upholstery. (There's a 99% chance that will happen if you try to eat it while driving!)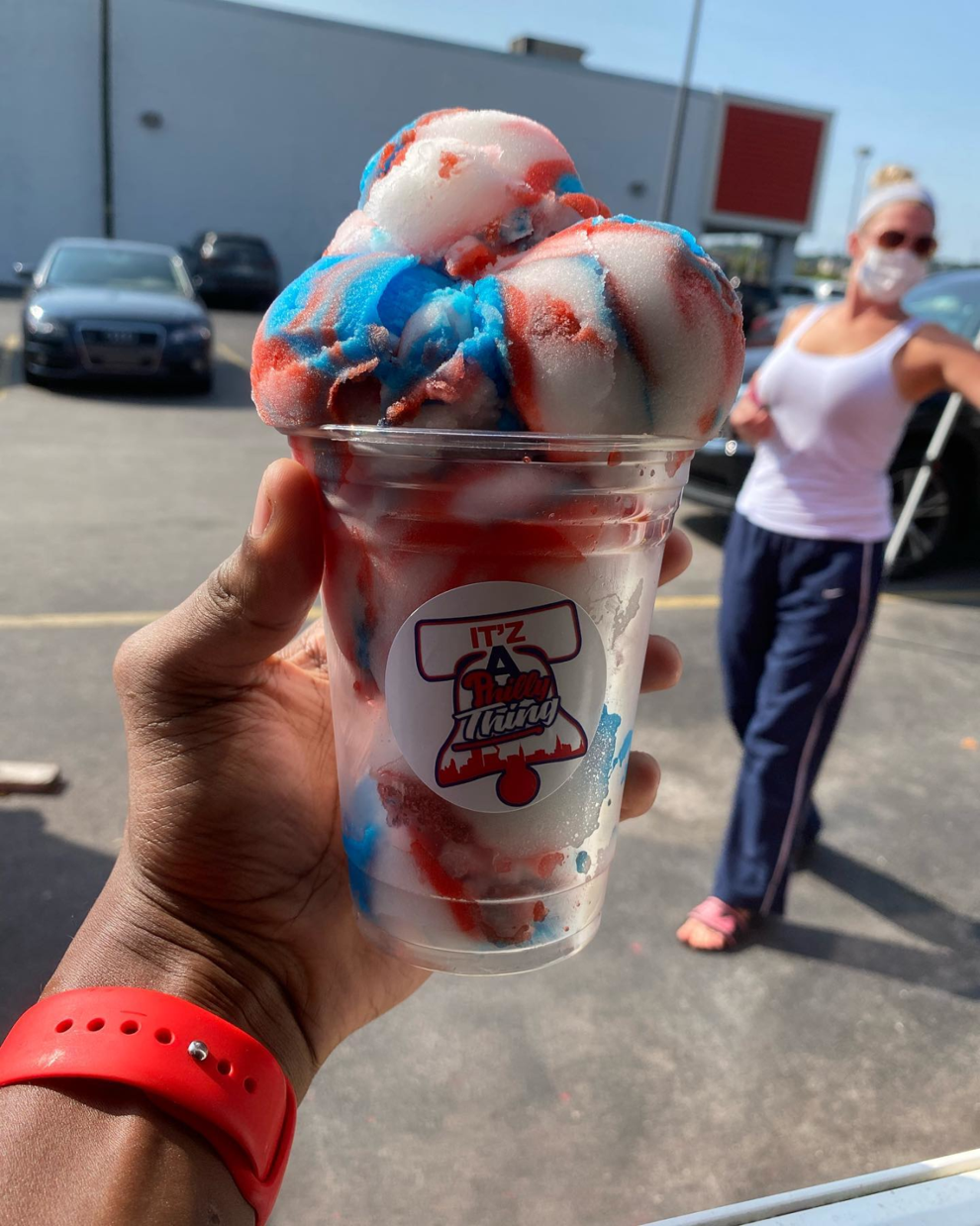 Elam also offers another iconic treat from the City of Brotherly Love, Philly Water Ice. The frozen treat is basically an Italian ice, a slush of water, sugar and fruits that is mixed and then frozen into a slush. It's a delicious summertime treat, and IT'Z A Philly Thing offers multiple flavors and sizes to accompany your sandwich. I recommend five scoops of the strawberry lemonade, which equates to a medium. That's just about the perfect size to last as long as your sandwich, and the tartness of the drink cuts nicely through the rich fattiness of the beef and cheese. If my doctor didn't already follow me on Twitter, I'd probably make the trip out to Bellevue once a week to get one of these sandwiches. But I couldn't handle the public online scolding — whether I deserved it or not.
#CarryOutandCarryOn
---
Below is a list of Nashville restaurants (with links) remaining open for takeout and delivery during the COVID-19 shutdown. While some may have had existing relationships with delivery providers, most of this list are offering the service for the first time. Most offer curbside pickup, but check when you order. As this list is a moving target, please leave any changes, suggestions or omissions in the comments.
Places with takeout or delivery as of Wednesday, Oct. 21
12South Taproom (Postmates)
312 Pizza Co. (Grubhub)
51st Deli (Uber Eats, Grubhub, Postmates)
51st North Taproom (11 a.m.-8 p.m., Thursday-Sunday)
615 Deli (DoorDash. Grubhub, Postmates, Uber Eats)
Adele's/The 404 Kitchen (Friday-Sunday)
Arnold's Country Kitchen (Most delivery services)
B1281 (Uber Eats)
Barista Parlor (Postmates)
Barr's Music City Soul Food (Uber Eats, Tuesday-Sunday)
Big Bad Breakfast (DoorDash, Uber Eats)
Biscuit Kitchen by Loveless Cafe
Black Dynasty via Bar Sovereign
The Bluebird Cafe (Grubhub)
BoomBozz West (DoorDash)
Brightside Bakery (Ordering open at 3 p.m. Tues.-Sat. for next-day pickup Wed.-Sun.)
Burger Joint (Uber Eats, Grubhub)
Caffé Nonna (Uber Eats, Postmates)
Carniceria y Taqueria Don Juan
Central BBQ (DoorDash, Postmates)
Cinco de Mayo (9 locations)
Char (Postmates)
Cilantro Mexican Grill (Eighth Avenue location)
City Winery (Grubhub, Uber Eats)
Corner Pub (DoorDash)
Cupcake Collection (Sunday-Friday)
Doll's Family Cafe (Postmates, DoorDash)
Double Dogs (Uber Eats, Grubhub, Postmates)
Eastern Peak (Uber Eats, Grubhub)
Ed's Fish House (Thursday-Saturday)
Ellington's Mid Way Bar & Grill
Far East (Postmates)
Farm Burger (DoorDash)
Fat Kat Slim's (Uber Eats, Grubhub)
Fido (ChowNow)
Five Points Pizza (Postmates)
Folk (Postmates)
Frothy Monkey (Postmates, Uber Eats)
Ghot Wingz (Tuesday-Saturday)
Green Chile (Friday-Sunday)
Hattie B's (Uber Eats)
HoneyFire Barbeque Co. (Grubhub, DoorDash)
Hugh Baby's (DoorDash)
Hunters Station (The Grilled Cheeserie, Vui's Kitchen, Hugh Baby's, Tacos Aurora, Citizen Market)
IT'Z A Philly Thing (Wednesday-Sunday)
Jack's Bar-B-Q (Trinity Lane location only)
Jamaicaway (DoorDash, Grubhub, Postmates)
Jonathan's (Grubhub)
Josephine (Postmates)
Korea House
Lafayette Soup Company (Richland Park Farmer's Market)
Las Palmas (DoorDash)
Local Distro (Tuesday-Saturday)
McDougal's (Hillsboro Village only)
Miss Saigon (All delivery services)
M.L. Rose Craft Beer & Burgers (Postmates)
Moto (Uber Eats)
Nicky's Coal Fired (Postmates)
North Italia (DoorDash)
Nectar Urban Cantina (Grubhub, Uber Eats, Postmates)
Nomzilla! Sushi Et Cetera (Uber Eats, Postmates)
Pancho & Lefty's (Uber Eats, DoorDash)
The Party Line (Julia Sullivan's catering service through Strategic Hospitality)
Party Fowl (Uber Eats)
PDK Southern Kitchen and Pantry
Pinewood Social (Postmates, Grubhub, Uber Eats)
Pork Belly Cafe (Uber Eats, Grubhub, Postmates)
Prince's Hot Chicken (Nolensville Road)
Proper Bagel (Takeout & delivery only)
Red Bicycle (Postmates)
Red Phone Booth (DoorDash, Grubhub, Postmates)
Riddim N Spice (Postmates,DoorDash)
Rolf and Daughters (Postmates)
Rosemary & Beauty Queen (Postmates, Uber Eats)
Rosepepper Cantina (Postmates)
Saint Anejo (Uber Eats)
San Antonio Taco Co. (DoorDash)
Seafood Sensation (DoorDash)
Shugga Hi Bakery & Cafe (Friday-Saturday; Uber Eats) 
Slim & Husky's (DoorDash)
Southside Grill (DoorDash)
StrikeOut Wingz (Grubhub)
Subculture Urban Cuisine & Cafe (Uber Eats, Grubhub, DoorDash, Postmates)
Sushi Circle
Sweet 16th (Tuesday-Saturday, 8 a.m.-1 p.m.)
Tacos y Mariscos Lindo Mexico
Taj (Uber Eats)
TailGate Brewery (Postmates)
The Tasty Wheel (Postmates, Grubhub, DoorDash)
Taqueria Andrea and La Mini Michoacana
Taziki's (Postmates, Grubhub)
TennFold (Grubhub, Postmates)
TKO (Postmates)
Tower Market and Deli (Grubhub, Postmates, DoorDash, Bite Squad)
Vege-licious Cafe (Tuesday-Saturday; Chow Now)
Virago (Uber Eats)
Von Elrod's Beer Hall & Kitchen 
VN Pho & Deli
Walden (Postmates)
The Wild Cow (Postmates, DoorDash and Chow Now)
Wildman Smoothies, Soups & Salads
'Za Wood Fired Pizza (Grubhub)