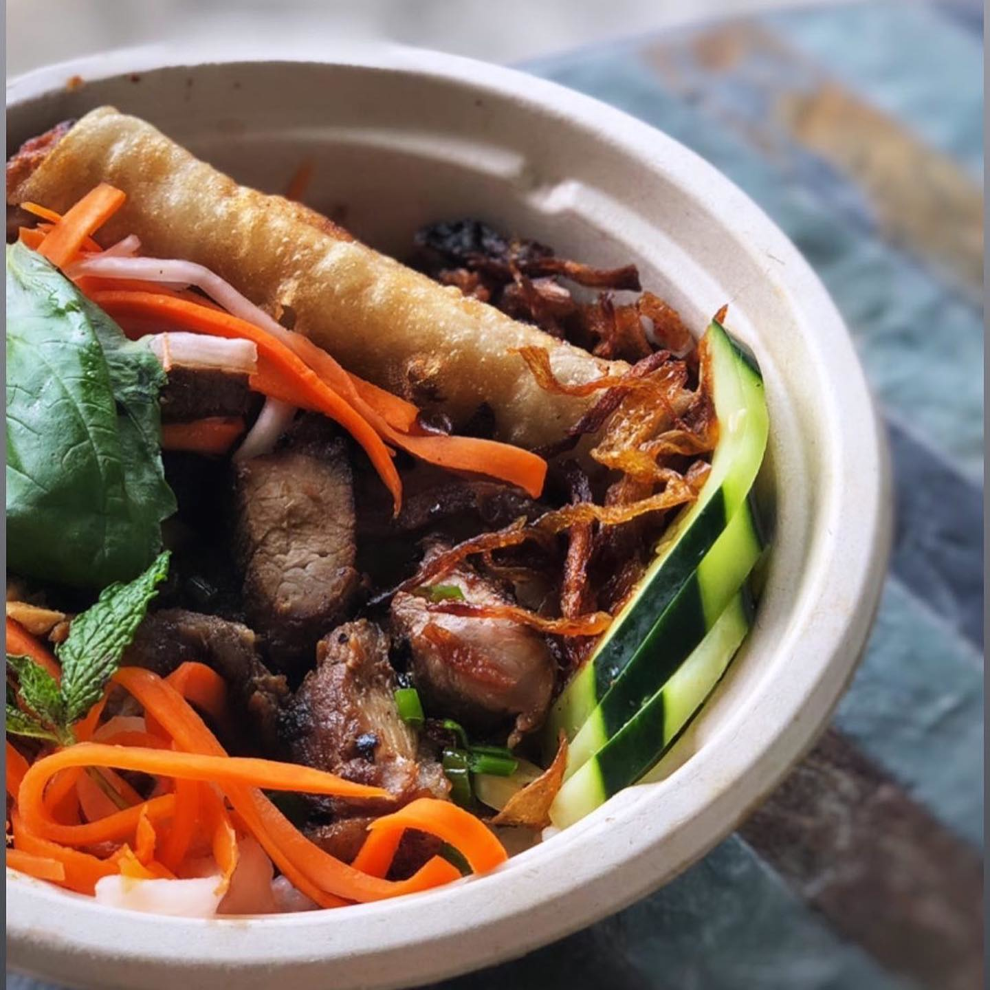 Much of the restaurant industry has had to rapidly change its business model due to COVID-19, and we're highlighting the Nashville places that are attempting to stay open. We will give you a critic's pick for a restaurant and a dish, as well as a running list of restaurants still open that you can support. Today: East Side Banh Mi
This particular Takeout Pick is a bit of a hybrid as it can also serve as one of our First Bites. From the day I first heard about East Side Banh Mi, I've been looking forward to Chad Newton and Grace Nguyen intrepidly opening their new restaurant in the middle of a global pandemic. As of last weekend, all my dreams have come true!
Their attractive little eatery is located in the former home of Pepperfire Hot Chicken next to Nomzilla Sushi at 1000 Gallatin Ave. There are only a few tables — I was planning to carry out anyway —  and the space is attractive and spare. Oversized clipboards hang on the wall near the front door, cleverly displaying the menu of sandwich, bowl, beverage and side dish options, thankfully in very large print for my very old eyes.
They serve eight non-traditional styles of banh mi — I picked No. 1, probably the closest thing to the sandwich you'd expect from any Vietnamese restaurant, but with some key variations. In lieu of the usual pork and pate version, the No. 1 substitutes a slab of Gifford's bologna and ham-hock terrine, both of which contributed a nice smoky character to the sandwich. Toppings of fried shallot mayo, pickles, cilantro, cucumbers, jalapeños and Maggi seasoning sauce offered more familiar flavors to banh mi lovers and were much appreciated.
Nguyen has worked especially hard to create the ideal baguette for her sandwiches, but she is still adjusting to her new commercial ovens. Nashville's August heat and humidity may have contributed to the roll being a tad crunchier than I'd prefer, but it did help the sandwich survive the trip back to my house. I'm confident she'll nail her final recipe soon, if she hasn't already done so since my first visit during the soft opening.
An exceptional starter was the shrimp-and-pork spring roll, accented by a nicely funky fish sauce for dipping. Out of curiosity, I ordered the crispy pork sticks. To my surprise, they were actually more like a Vietnamese egg roll, and I was pleased with my pick.
Probably my two favorite parts of the order were the broken rice bowl and, surprisingly, my beverage. The rice bowl was made using what Lowcountry-rice fans would call "middlins," the cracked rice that was traditionally left to more frugal shoppers after all the higher quality stuff had been claimed for restaurant use and by more affluent customers. Those hoity-toity customers didn't know what they were missing by leaving the broken rice behind, because it cooks to a creamy consistency that is closer to grits or porridge than traditional rice. Topped with lots of fresh vegetables and some delectable black-pepper-caramel pork, it made for a great dinner and excellent lunch the following day.
To drink, I chose the featured seasonal limeade. Newton told me that it's their take on a traditional Vietnamese soft drink made using fruit jams and limes. A lovely, sweet-and-tart roasted cherry marmalade is drizzled in a glass over ice and topped with fresh-squeezed limeade. I would be lying if I didn't admit that I wondered how it would taste with rum or vodka, but it was delicious all by itself.
Service was quick and efficient, even as the kitchen staff was still training in the open kitchen. If you get there to taste through the rest of the menu before we do, feel free to share your impressions in the comments below.
---
Below is a list of Nashville restaurants (with links) remaining open for takeout and delivery during the COVID-19 shutdown. While some may have had existing relationships with delivery providers, most of this list are offering the service for the first time. Most offer curbside pickup, but check when you order. As this list is a moving target, please leave any changes, suggestions or omissions in the comments.
Places with takeout or delivery as of Wednesday, Aug. 19
12South Taproom (Postmates)
312 Pizza Co. (Grubhub)
51st Deli (Uber Eats, Grubhub, Postmates)
51st North Taproom (11 a.m.-8 p.m., Thursday-Sunday)
615 Deli (DoorDash. Grubhub, Postmates, Uber Eats)
Adele's/The 404 Kitchen (Friday-Sunday)
Arnold's Country Kitchen (Most delivery services)
B1281 (Uber Eats)
Barista Parlor (Postmates)
Barr's Music City Soul Food (Uber Eats, Tuesday-Sunday)
Big Bad Breakfast (DoorDash, Uber Eats)
Biscuit Kitchen by Loveless Cafe
Black Dynasty via Bar Sovereign
The Bluebird Cafe (Grubhub)
BoomBozz West (DoorDash)
Brightside Bakery (Ordering open at 3 p.m. Tues.-Sat. for next-day pickup Wed.-Sun.)
Burger Joint (Uber Eats, Grubhub)
Caffé Nonna (Uber Eats, Postmates)
Carniceria y Taqueria Don Juan
Central BBQ (DoorDash, Postmates)
Cinco de Mayo (9 locations)
Char (Postmates)
Cilantro Mexican Grill (Eighth Avenue location)
City Winery (Grubhub, Uber Eats)
Corner Pub (DoorDash)
Cupcake Collection (Sunday-Friday)
Doll's Family Cafe (Postmates, DoorDash)
Double Dogs (Uber Eats, Grubhub, Postmates)
Eastern Peak (Uber Eats, Grubhub)
Ed's Fish House (Thursday-Saturday)
Ellington's Mid Way Bar & Grill
Far East (Postmates)
Farm Burger (DoorDash)
Fat Kat Slim's (Uber Eats, Grubhub)
Fido (ChowNow)
Five Points Pizza (Postmates)
Folk (Postmates)
Frothy Monkey (Postmates, Uber Eats)
Ghot Wingz (Tuesday-Saturday)
Green Chile (Friday-Sunday)
Hattie B's (Uber Eats)
HoneyFire Barbeque Co. (Grubhub, DoorDash)
Hugh Baby's (DoorDash)
Hunters Station (The Grilled Cheeserie, Vui's Kitchen, Hugh Baby's, Tacos Aurora, Citizen Market)
IT'Z A Philly Thing (Wednesday-Sunday)
Jack's Bar-B-Q (Trinity Lane location only)
Jamaicaway (DoorDash, Grubhub, Postmates)
Jonathan's (Grubhub)
Josephine (Postmates)
Korea House
Lafayette Soup Company (Richland Park Farmer's Market)
Las Palmas (DoorDash)
Local Distro (Tuesday-Saturday)
McDougal's (Hillsboro Village only)
Miss Saigon (All delivery services)
M.L. Rose Craft Beer & Burgers (Postmates)
Moto (Uber Eats)
Nicky's Coal Fired (Postmates)
North Italia (DoorDash)
Nectar Urban Cantina (Grubhub, Uber Eats, Postmates)
Nomzilla! Sushi Et Cetera (Uber Eats, Postmates)
Pancho & Lefty's (Uber Eats, DoorDash)
The Party Line (Julia Sullivan's catering service through Strategic Hospitality)
Party Fowl (Uber Eats)
PDK Southern Kitchen and Pantry
Pinewood Social (Postmates, Grubhub, Uber Eats)
Pork Belly Cafe (Uber Eats, Grubhub, Postmates)
Prince's Hot Chicken (Nolensville Road)
Proper Bagel (Takeout & delivery only)
Red Bicycle (Postmates)
Red Phone Booth (DoorDash, Grubhub, Postmates)
Riddim N Spice (Postmates,DoorDash)
Rolf and Daughters (Postmates)
Rosemary & Beauty Queen (Postmates, Uber Eats)
Rosepepper Cantina (Postmates)
Saint Anejo (Uber Eats)
San Antonio Taco Co. (DoorDash)
Seafood Sensation (DoorDash)
Shugga Hi Bakery & Cafe (Friday-Saturday; Uber Eats) 
Slim & Husky's (DoorDash)
Southside Grill (DoorDash)
StrikeOut Wingz (Grubhub)
Subculture Urban Cuisine & Cafe (Uber Eats, Grubhub, DoorDash, Postmates)
Sushi Circle
Sweet 16th (Tuesday-Saturday, 8 a.m.-1 p.m.)
Tacos y Mariscos Lindo Mexico
Taj (Uber Eats)
TailGate Brewery (Postmates)
The Tasty Wheel (Postmates, Grubhub, DoorDash)
Taqueria Andrea and La Mini Michoacana
Taziki's (Postmates, Grubhub)
TennFold (Grubhub, Postmates)
TKO (Postmates)
Tower Market and Deli (Grubhub, Postmates, DoorDash, Bite Squad)
Vege-licious Cafe (Tuesday-Saturday; Chow Now)
Virago (Uber Eats)
Von Elrod's Beer Hall & Kitchen 
VN Pho & Deli
Walden (Postmates)
The Wild Cow (Postmates, DoorDash and Chow Now)
Wildman Smoothies, Soups & Salads
'Za Wood Fired Pizza (Grubhub)