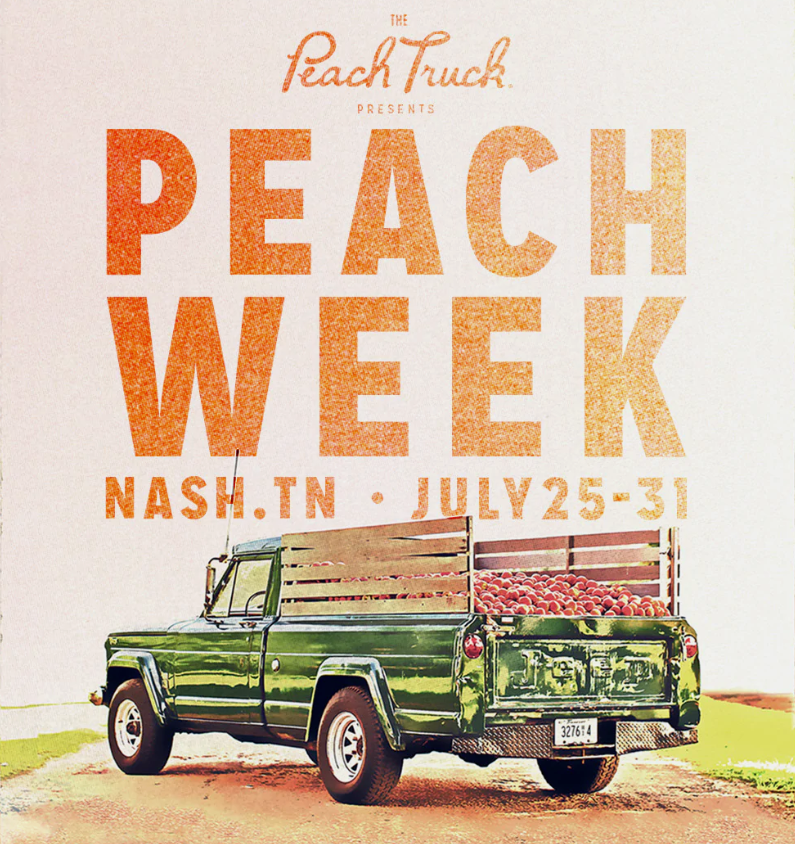 It's probably hard to believe for some newer Nashville transplants, but there was once a time when we couldn't just pull up to a tent in a parking lot to pick up fresh, juicy, perfectly ripe peaches. We had to settle for store-bought peaches that could be hard as a baseball or well past their prime by the time they made it from Georgia or South Carolina to Tennessee.
Fortunately, a decade ago Stephen and Jessica Rose had a dream: to transport fresh peaches from a farm in Stephen's hometown to his new home in Nashville, where the couple would sell them in brown paper bags out of their 1964 Jeep Gladiator. They named their new operation The Peach Truck, and the rest is history.
In fact, it's 10 years of history — of fresh-faced, friendly vendors parking in lots around town selling bags of peaches at their peak of freshness. Restaurants jumped on the Truck as well, adding peach dishes to their menus and helping publicize the brand. So it's fitting that to celebrate The Peach Truck's 10-year anniversary, Nashville restaurants (and one in Chattanooga) are saluting prunus persica by adding special peach dishes to their offering as part of Peach Week from July 25 to 31.
Here's who will be participating:
5 Daughters Bakery

Burger Up (12South)

Butcher and Bee

Caity Pies

Caliber Coffee Co.

City House

Culture + Co.

East Park Coffee & Donuts

East Side Banh Mi

Edley's Bar-B-Que (Nashville + Chattanooga Locations)

Flora & Fauna Nashville

Franklin Bakehouse

Frothy Monkey (12South, Franklin, Downtown)

Fryce Cream

Host & Toast Luxury Concierge

Margot

The Continental Nashville

Turnip Truck (East Nashville, West Nashville, The Gulch)

Walker Brothers Kombucha
Over the course of the week, The Peach Truck's booths will also be offering surprises, including new merch and special deals. Peach Week will culminate with a grand celebration on Sunday, July 31, at imogene + willie, the 12South denim boutique where the Roses fist parked their Jeep to sell their wares. The party will kick off at noon with peach dishes, live music from Thad Cockrell and refreshments from Desert Door, a Texas-based spirits company. To commemorate the occasion, imogene + willie has created a limited-edition T-shirt, priced at $68, to celebrate the 10th anniversary. The T-shirts feature a custom peach design and are currently available for preorder on The Peach Truck website.
In addition to being an entrepreneurial success story, The Peach Truck has become a local institution. Taking a niche product and turning it into a powerhouse brand with a national tour and an acclaimed cookbook is definitely something worth celebrating!