"It was pretty exciting for me to have the opportunity to make a kids' meal," laughs Sean Brock. "That was fun, and that was not something I saw happening in my career."
Brock laughed a lot, in fact, during an exclusive interview about his East Nashville restaurant Joyland becoming one of the first in the country to have Impossible Chicken Nuggets Made From Plants (yes, that's the full name) on the menu. The dish will appear both on the regular adult menu and in a new kids' meal at Joyland starting Tuesday, Sept. 7.
"When we laid the groundwork for Joyland, we said that we were not done editing a recipe until you laugh because it is so delicious," Brock says. So, when he was laughing, sampling the Impossible nuggets and reliving his own memories of eating chicken nuggets in middle school, he thought he was on to something. "As chefs, those are the menus we like to create." Brock says he ate 18 nuggets the first time he tried them.
The new Joyland kids' meal features the Impossible nuggets with a sweet-and-sour dipping sauce Brock made with peaches and yuzu, plus a mac-and-cheese with pimento cheese. There are also Impossible nuggets on the regular menu (they will not be seasoned like the chicken on a stick), but Brock says the kids' meal is so good that's what he'll be ordering it himself.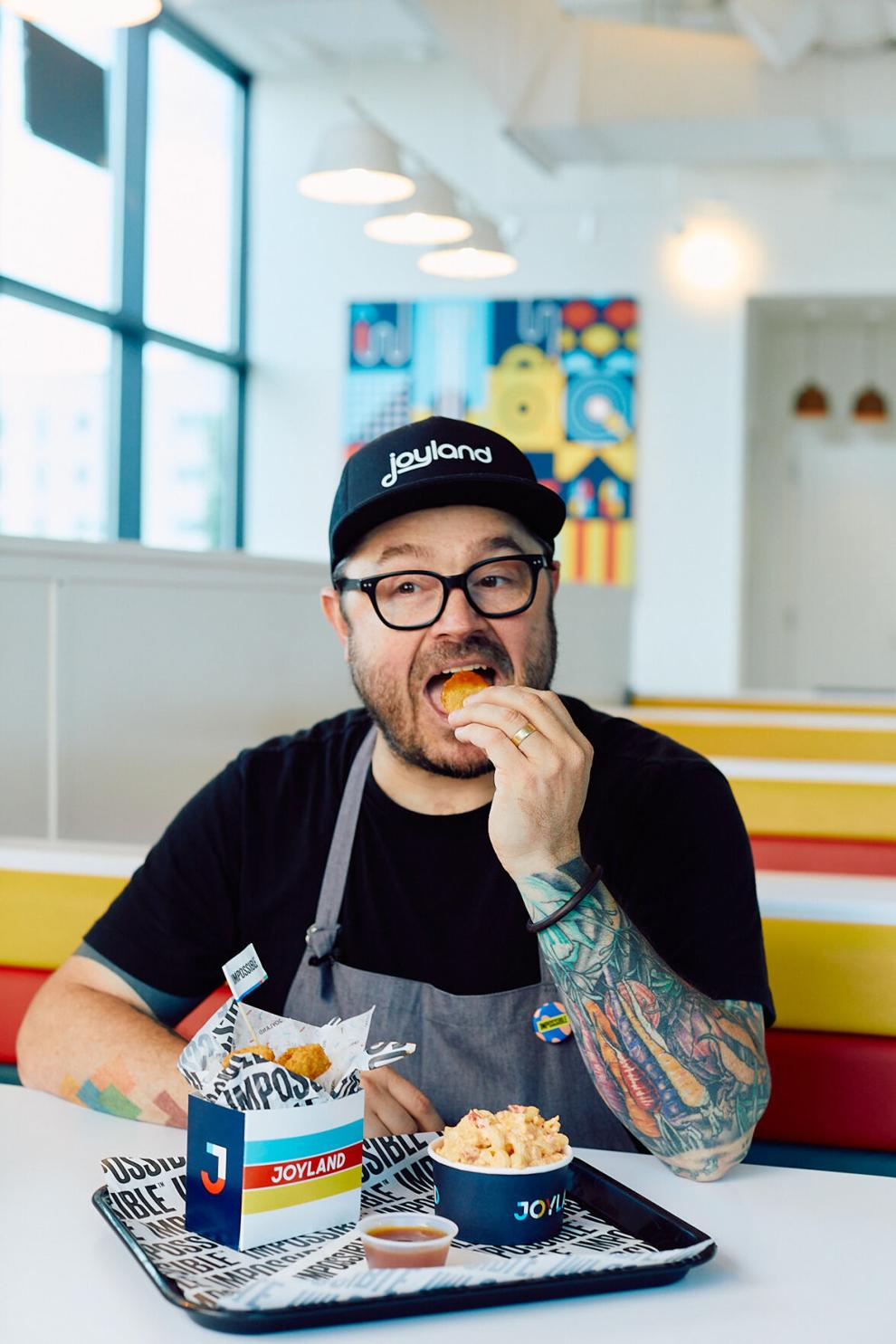 The Impossible Foods burger has been on the menu since Joyland opened, and it has been a good seller for the restaurant. The nuggets, which are made from texturized soy and sunflower oil, are intended — like the burgers — to be a plant-based alternative that mimics the taste of the dishes that carnivores love. While Brock likes the idea of making healthier items and offering more dishes for those interested in vegetarian fare, he is also drawn to the environmental benefits of plant-based eating. Brock, a father of two, thinks having plant-based foods in a kids' meal will help connect the dots in encouraging kids to think about the ways in which their decisions affect the planet.
Joyland is located at 901 Woodland St. The Impossible Chicken Nuggets Made From Plants will be available Tuesday, Sept. 7.