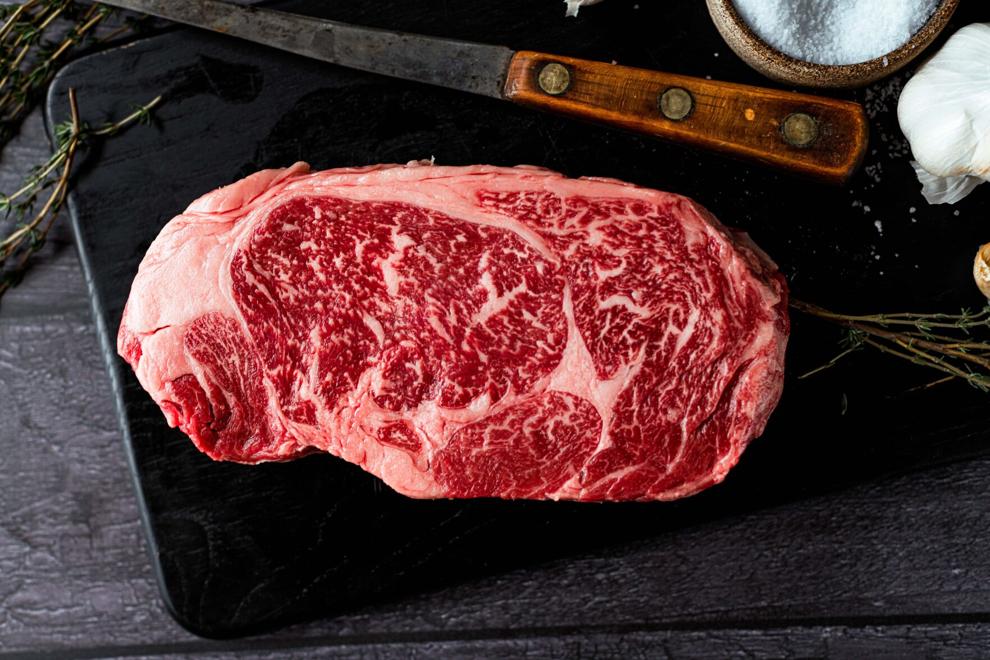 The Fourth is one of the biggest outdoor grilling opportunities of any year, and the fact that it falls on a weekend this year means you should definitely take advantage of the chance to do a little open-fire cooking. I've run across a few food and drink options lately that I thought could really up your grilling game, so I figured I'd share them in a little roundup for you.
First off, we have the meats! Or rather, Black Hawk Farms does. I've written before about their succulent American wagyu beef that they raise from their herd in Princeton, Ky., and their streaks should be a welcome addition to any cookout. In addition to selling online, Black Hawk also appears a couple times per month at the Richland Farmers Market, and that's where I ran into former M Street chef Andrew Whitney who was really excited about a new product line Black Hawk Farms is offering.
Like all beef producers, Black Hawk Farms depends on a USDA inspector to grade their meat before sale. Whitney meets weekly with the inspector who examines the meat specifically between the 12th and 13th ribs to determine the degree of intramuscular fat marbling to determine if the carcass should be graded as Select, Choice or Prime. On average, only about five percent of all beef is graded at the top Prime level, but at Black Hawk Farms, that number is closer to 80 percent.
Whitney then culls through the Prime cuts to pick out the top five percent of all of their products to sell under the Black Label Reserve line. Whitney has a pretty good idea of which animals will end up with this designation, because unlike most beef processors that process their cattle after 18 to 24 months, Black Hawk Farms usually waits 26 to 28 months to allow their animals more time to develop that luscious marbling. Those that are identified as premium cattle early in their lives are often allowed up to another six months to reach their peak, or separated from the herd to contribute their quality to the breeding gene pool.
For another comparison, the storied A5 wagyu from Japan must score 8 or better on the 12-point Beef Marbling Scale. While American wagyu is not generally measured that way, inspectors have told Whitney that his Reserve would probably score regularly in the 7-to-8 range on the BMS. What we're saying is that this is some pretty darned special beef.
Black Hawk Farms sells the Reserve line on the website along with the company's other products, but you have to act fast because it usually sells out almost immediately, even at premium prices like $68 for a huge 22-ounce boneless ribeye or $52.50 for a 10-ounce filet. Because this meat is so marbled, slow cooking is pretty much mandatory to allow the fat to melt into the meat to contribute its lovely unctuous flavor to the steak.
Whitney recommends either cooking it to about 125 degrees via sous vide/immersion circulator or as part of a reverse sear over an indirect heat on the grill. Finally, sear the surface of your steak over the hot side of the grill or in a screaming hot cast-iron skillet. It's also imperative to let these steaks rest after searing for at least 30 seconds per ounce to allow the juices to be reabsorbed into the meat, but you'll be rewarded for your patience with a piece of steak so tender you could cut it with a tongue depressor. It will also remind you what beef is really supposed to taste like, free of the grassy or grainy qualities that lower quality steaks try to convince you is normal. If you can find some of this Black Hawk Farms Black Label Reserve, buy it, cook it, sear it, serve it and eat it! You'll be invited to any future cookout you would ever want to attend.
Along with this, or any other grilled steak, red wine is always a good choice as a pairing. With that in mind, I've spent the past month cooking out as often as I can and trying different reds to suggest for your next meat fest on the grill. Here are four particular favorites that I've sampled recently. 
Cakebread Cellars 2018 Cabernet Franc
Cab franc is usually only seen as a small portion of the blending grapes in a traditional Bordeaux blend as a way to add a little structure to the proceedings. Often overlooked as a stand-alone varietal, it's always a treat to get to try a 100 percent cab franc, and this offering from Napa's Cakebread Cellars is a lovely example. Fresh and floral on the nose, the wine offers up dark berry notes in the glass that would pair nicely with some more exotic spice blends that you might choose to rub on your steak before grilling. I'm thinking a little harissa sprinkled on a hunk of tri-tip would be spectacular with this.
Olivet Lane Vineyard 2017 Pinot Noir
Pellegrini Wines source their grapes from the Russian River and Sonomas Valleys of Northern California, and their most notable vines grow in their Olivet Lane Vineyard. The gravelly soil of this plot and the marked influence of the maritime fog produces some amazing fruit, and Pellegrini raises some amazing pinot noir on this heritage acreage. This estate-grown pinot noir is an extremely graceful wine with a sultry mouthfeel. I've read that some experts believe it could improve with age over another decade of cellaring. Oops. Sorry, I was on a deadline. But I really enjoyed the subtle spice and oaky vanilla of this wine, and served with some smoked pork brisket, it was a winner even without the extra age.
Rodney Strong Brothers 2016 Single Vineyard Cabernet Sauvignon
This is another California red that could stand up to extended cellar time, but it drank beautifully with the Black Hawk Farms ribeye mentioned above. The chocolate and mocha notes nicely complemented the slight funk of the steak, and the tannins played well with the luscious fattiness. Palate entry slanted more to dark berries before a long and complex finish that evolved in the glass and in the mouth. If you've only tried Rodney Strong's less expensive retail wines, this one is worth the splurge and could change the way you look at the winery.
Rodney Strong 2016 Symmetry Meritage Red
And if that last wine doesn't convince you that Rodney Strong belongs in the conversation of some of the best reds coming out of Sonoma, I offer this special red blend. Although it's another bit of a splurge at about $55 a bottle, this meritage of traditional Bordeaux grapes is cab sav-forward for sure, but the blending grapes all pitch in to make for a lovely steak dinner accompaniment. Tight tannins and a rich mouthfeel make it a great pairing with just about any roasted or grilled meats, and a little plummy sweetness would probably work with barbecue as well.