The inbox overfloweth this week with all sorts of great food and bev news, so take good notes, kids!
---
First up is a reminder about the big Tennessee Tasting event coming up Sunday, April 23, at The Bedford at 4319 Sidco Drive from 5 until 9 p.m. The evening is an important fundraiser for Giving Kitchen, an organization that is near and dear to my heart and, I hope, yours. Giving Kitchen has become an indispensable safety net for many local hospitality workers since graciously choosing to enter the Nashville market from their home in Atlanta, and they are very worthy of your support.
To make it easier to fill the room and share their mission with the community, organizers have dropped the cost of the event to just $50, a real bargain when you consider that includes cocktails, beer, wine, mocktails and small-plate tastings from some of the city's best restaurants and chefs who share Giving Kitchen's mission.
Since I first told you about Tennessee Tasting a couple weeks back, not only have they lowered the price of the ticket, but they have added even more participating restaurants. Here's the latest roster of generous talent:
The Bach Bar • Alyssa Gangeri of The Butter Milk Ranch • Tandy Wilson of City House • Leigh Smith of Eastleigh Desserts • Chase Ingalls of Frothy Monkey • Tyler Alkins of Love & Exile • Julio Hernandez of Maíz De La Vida • Julius Gilbert of Mere Bulles • Jarvan Springer of Ole Red • Gerard Craft of Pastaria • Ben Tyson of Patchwork Nashville • Adriana Ortega of Succulent Tacos • Taziki's
I really hope that a lot of Bitesters will take the opportunity to give a little back to an organization that gives so much to our community and asks so little in return. Fifty bucks for dinner, drinks and entertainment courtesy of Brassfield is probably what you would have spent on a Sunday supper anyway, so come join us! Your tickets await here.
---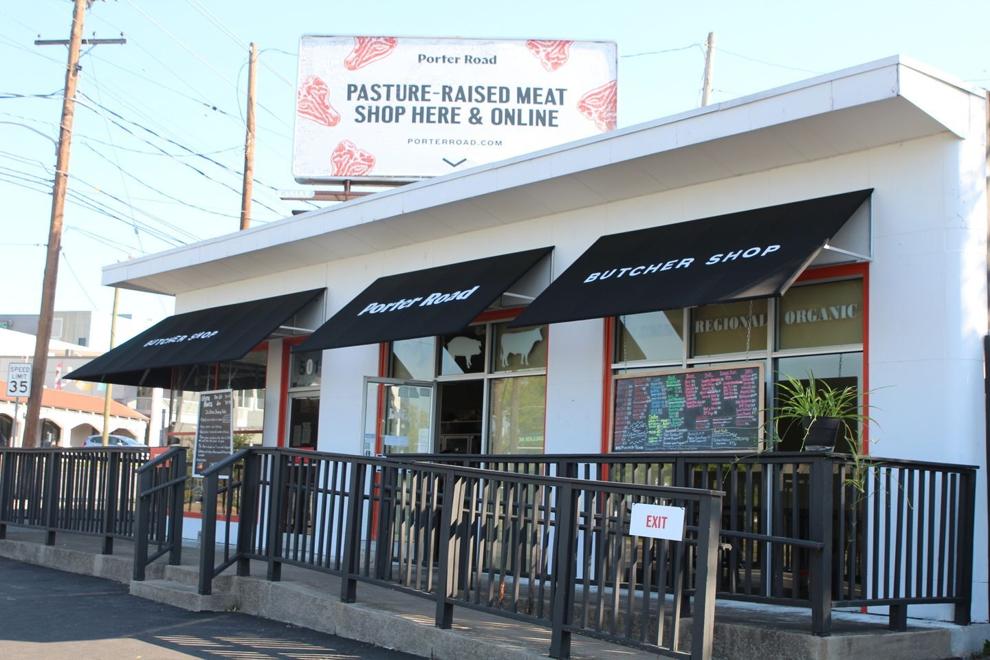 Speaking of joining, Porter Road Butcher is actively looking for folks to become part of their team at their East Nashville butcher shop at 501 Gallatin Road. Earlier this month, the folks at PRB announced via Facebook that they were taking a little pause from their retail operation while they worked to reimagine their business model.
If this causes concern to you, fret not, because Porter Road isn't going anywhere. Their online meat delivery system is still thriving, and they continue to source sustainable beef, chicken and pork that they process and ship from their large facility in Kentucky. The simple problem with their East Nashville retail butcher shop is that they are facing the same problem as most of the food and beverage industry: They can't find enough people to hire.
As part of their reorganization, Porter Road Butcher isn't even looking for people with meat-cutting experience anymore. We'll share more about the new model soon, but for now all they need is people who are enthusiastic, interested in food, dedicated to customer service and mainly, who show up for work. I know that there have to be a lot of Bites readers out there who probably fulfill those qualifications, so if you'd like to earn a competitive wage, attractive benefits and work with some really cool people who are genuinely working to change the way that the world thinks about the concept of sustainable meat, check out their hiring link at Indeed.com. I hope to see some of y'all behind the counter soon so that I can stand on the other side and conveniently order some of that delicious PRB product!
---
Back in the early 2010s, IPAs were the booming beer of choice among many craft brewers. In fact, the category grew so quickly that availability of hops was severely limited. It got to the point that if a brewery didn't already have a yearly contract with a supplier for Cascade, Citra, Centennial, Chinook and the rest of the popular IPA hops varieties (that happen to begin with the letter C), it was really difficult to acquire enough to grow your business.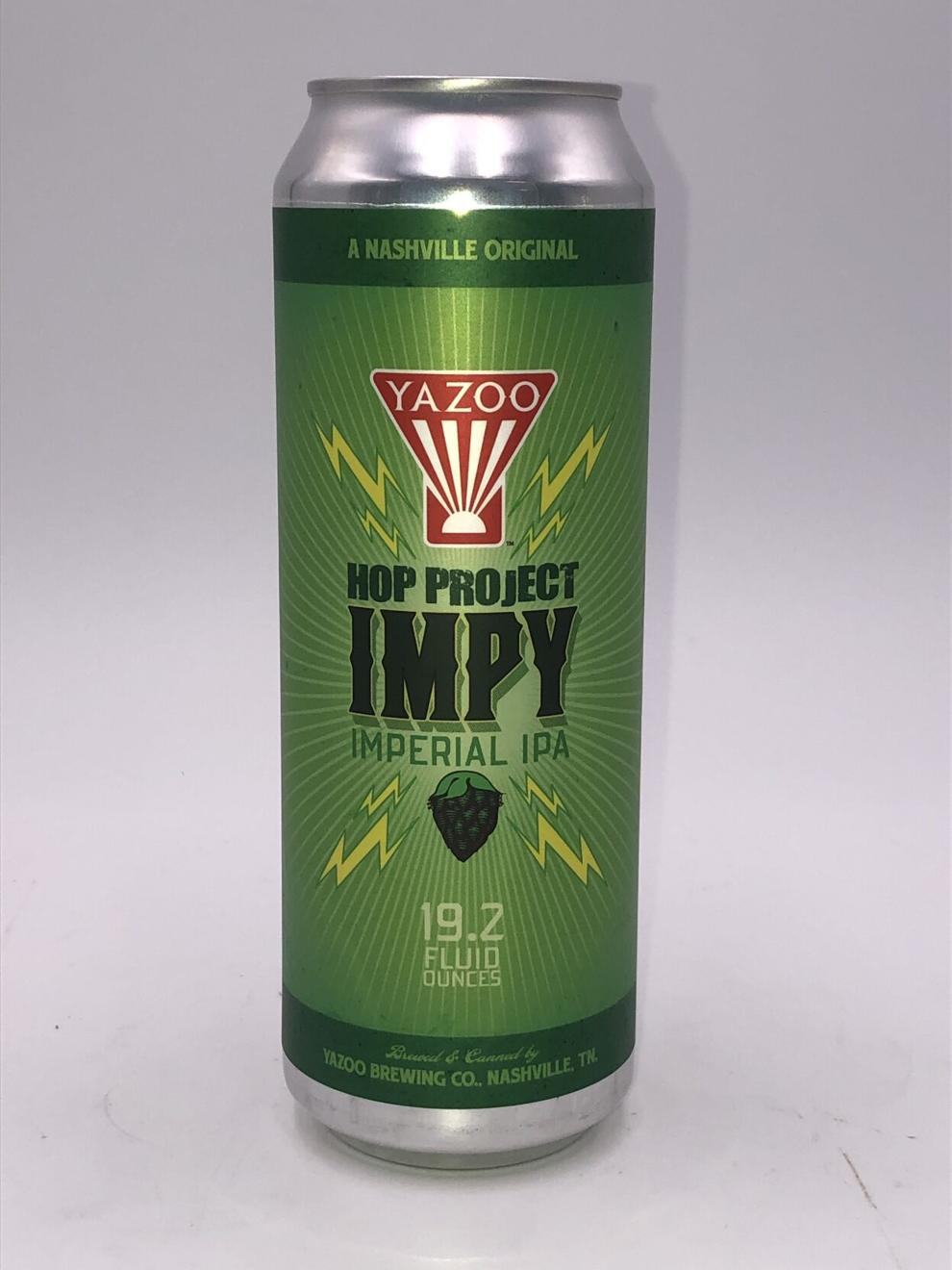 Linus Hall at Yazoo Brewing Co. found himself encountering exactly those sorts of issues with the hops supply chain. Always one of the smartest brewers in any room, Hall — rather than settle on a flagship IPA recipe and scramble to gather enough ingredients to continue brewing larger and larger batches as popularity grew — introduced what he called "Hop Project," an ongoing series of different IPA recipes that took advantage of hop varieties that he wanted to experiment with and could actually find enough to buy.
After 10 years and 86 versions of the Hop Project series, Yazoo finally settled on the recipe they wanted to go to the big dance with as their year-round IPA, and they appropriately named it Hop Perfect. In truth, the series allowed Yazoo to demonstrate their creativity and talent at brewing IPAs while they put together a consistent supply of Citra and Mosaic hops to ensure year-round availability.
But now, Hall is going back to his experimental days with a brand-new edition to the Hop Project series! Retailers have been asking him for a higher-ABV IPA in a 19.2-ounce "stovepipe" can format, and Hall is more than happy to oblige.
The result is the new Impy Hop Project, an Imperial IPA that clocks in at a heady 7 percent ABV and is now available only on draft and in those larger cans. Linus explains that changes in the industry have made this possible after taking a break from the Hop Project for a few years.
"The world of hops has continued to evolve, with new varieties from all over the world — not only Oregon and Washington in the U.S., or Germany or England, but places as far-flung as Australia, New Zealand and South Africa," Hall shares. "Plus, new developments in yeast selections can bring amazing new flavors from traditional hops. We had so many new ideas that we decided to bring back the Hop Project series."
Another technological development that will be showcased as part of Hop Project 2.0 is the use of QR codes on the cans, which drinkers can scan to see a description of the special blend of hops, or the novel process or ingredients that went into the creation of that particular addition to the series.
Impy Hop Project will soon be available everywhere Yazoo is sold, but is initially rolling out in Middle Tennessee Kroger stores. Go getcha some!
---
In more beer news, The Nashville Food Project is bringing back its collaboration fundraiser with local breweries, The Nashville Brew Project. On Saturday, April 22, several brewers will join NFP at Nectar Urban Cantina at 206 McGavock Pike from 1 until 4 p.m. to celebrate how, like the Food Project, beer can bring the community together.
Each brewery has been encouraged to come up with beer that highlights NFP's efforts to fight insecurity in Middle Tennessee, which might include flavored-by-community garden-grown herbs and veggies like the organization uses to grow food for clients, or "recovered" fruits such as the items NFP employs to create delicious and nutritious meals that they distribute across the region.
Every Food Project-inspired beer will be accompanied by a paired bite created by a local restaurant. This all-ages event will also include live music and yard games, and all food and drink is included in your ticket, which is available at the event website.
---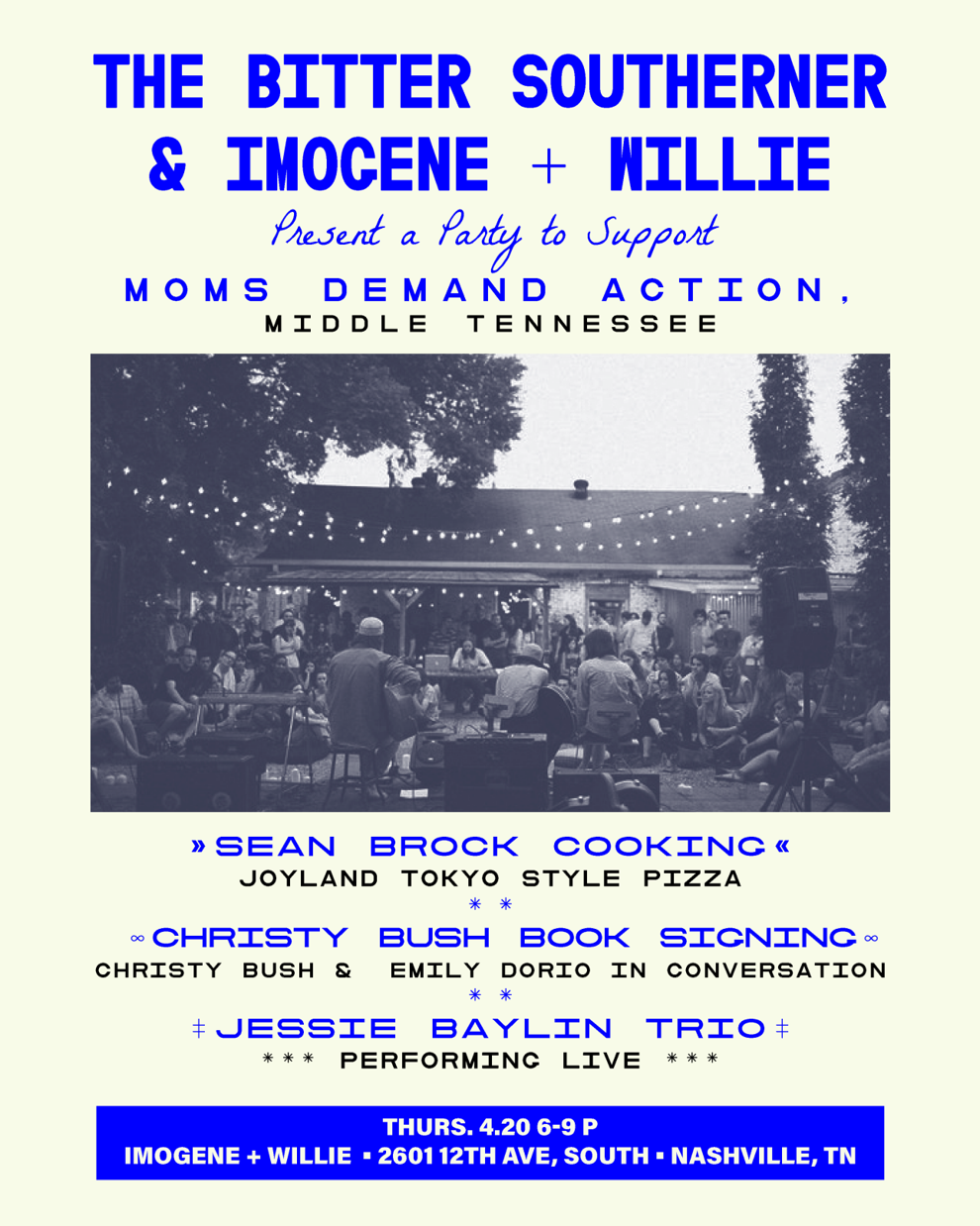 Finally, in another collaborative event for a good cause, Southern literary and commentary website The Bitter Southerner is coming to Nashville on Thursday, April 20, to host an event called FAMILIAR — a party to support Moms Demand Action of Middle Tennessee in the aftermath of the tragic Covenant School shooting.
The event will run from 6 until 9 p.m. at Imogene + Willie (2601 12th Ave. S.), harkening back to a simpler day when the luxury denim boutique used to throw neighborhood music shows and parties in their backyard — before buzzkill neighbors (who may have since sold their houses for a healthy profit and moved away anyhow) complained about the noise.
FAMILIAR photographer Christy Bush will be on hand to sign books and to conduct a short talk with talented Nashville photographer Emily Dorio about balancing their careers as  photographers with being moms and making art as a protest. Afterward, the great Jessie Baylin will perform with her trio, noise ordinances be damned.
As a special treat, chef Sean Brock will be in attendance showing his support for the cause by making Joyland Tokyo-style pizzas. What is that, you might ask? I did ask. Chef Brock explains: "I love trying to re-create the experience of Tokyo-style Neapolitan margherita pizza. These pizzas in Japan are minimalistic masterpieces. We ember smoke the tomatoes and shave garlic razor-thin. The pizza is cooked at very high temperatures with hickory wood. The dough is pinched a special way creating a crunchy and fluffy crust that is very elegant."
I recalled visiting chef Brock at The Continental in advance to that restaurant's reopening, and as excited as he was at the time to finally welcome guests into the space after months of pandemic-related delays, he was positively giddy when I asked him how he had been passing the time while waiting out COVID. He described his efforts to perfect the perfect pizza and showed me some of his dough experiments and the ovens at The Continental that he was playing with.
Perhaps this is the realization of his Platonic pizza ideal, so you don't want to miss out on this one! In addition to the pizzas, conversation and music, the event will also feature drinks and a few different ways to contribute to Moms Demand. See you in 12South!