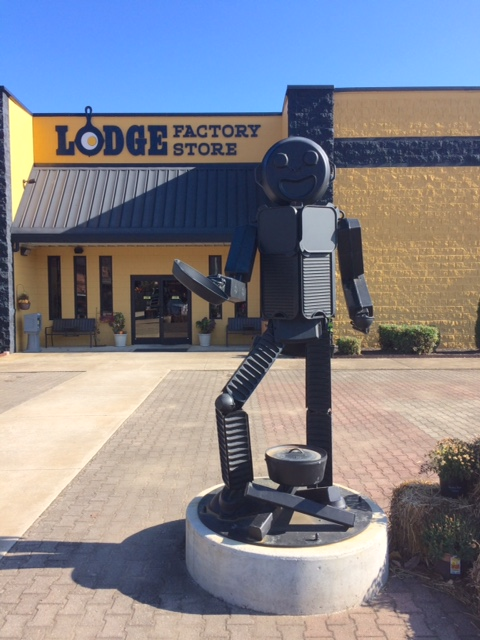 A couple of weeks ago, I visited the Lodge Cast Iron foundry and factory in South Pittsburg, Tenn., just outside Chattanooga (along with some other Nashville-based foodbloggers). We were led on a guided tour of the foundry where the iconic cookware is made. Lodge has been making cookware since 1896 and in this particular foundry since it was built in 1910. It is the oldest cast-iron cookware manufacturer in the country.
At the end of the tour, we were told about how the marketing team has engaged in product design in order to expand. I was curious to know if there had been any product failures rectnly, and I was told a very interesting story about a product that was truly innovative, but not widely available via retail: Lodge's heat-treated line of cast iron that is easy to care for and rust resistant.
Long story short, the ultra-high heat treatment changes the molecular composition of the metal and makes it resistant to rust — one of the major downsides to using cast iron is rusting. But the heat-treated products can even be put in the dishwasher. The dishwasher!
I don't have any cookware I can put in the dishwasher, so they definitely had my interest. And it just so happens that the most versatile piece of the line is now available via QVC. It's scheduled to be featured on the channel this week, but you can buy it online (along with a very handy silicone handle cover and silicone trivet/pot holder) for cheaper than you can buy it direct from Lodge. However, you can purchase the entire line of heat-treated cast iron on the Lodge website as well as all of the other pieces of their extensive lineup of cookware and accessories. My favorite is the magnetic trivet — it travels with the pan or pot as you move it, so you don't have to worry about accidentally setting it on a surface that won't melt or scorch (like your wood table).
If you're wondering what the big deal is about cast-iron cookware, it's the versatility, ease of use, and toughness. You can use it on the stovetop or in the oven and it gets very hot, which helps cook food more evenly (though a skillet on a gas flame should be pre-heated and turned to avoid hot spots). A well-seasoned pan is also naturally nonstick. And the cookware is tough (which is why it's often handed down for generations; it lasts forever).
You can check out the entire Lodge product line in their factory store in South Pittsburg, which also has a good selection of factory seconds at discounted prices.