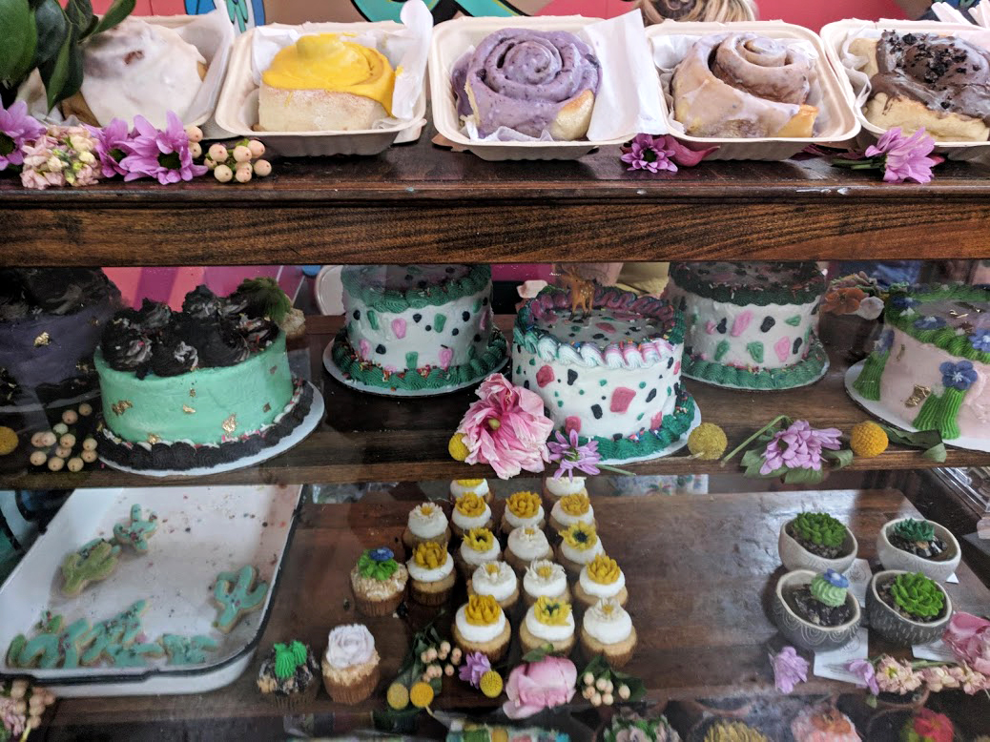 I first fell in love with Leeuw Bake Shop's treats over a year ago after spotting baker Beca Lewis Skeels' stunning succulent cupcakes on Instagram. Then when I profiled her for the June 2017 installment of Sugar Shock, I learned she was capable of so much more, from making texturally impressive vegan macaroons with the magic of aquafaba (bean water!) to simultaneously running a cat sanctuary while juggling the ups and downs of starting a new bakery business. 
And it's with that unflinching motivation that Skeels has become one of the city's most prolific vegan bakers — she's a Porter Flea staple and her stockists include Terminal Cafe, Falcon Coffee Bar, Atmalogy, Mewsic Kitty Cafe, High Class Hillbilly and the Fountain of Juice. She's expanded her enterprise to include cake-decorating workshops and vegan baking camps and her menu has grown, deliciously, from simply cakes, cupcakes and cookies to also include scones, hand pies, cinnamon rolls (with a literal rainbow of flavored icings like lavender, matcha peach and espresso) and even CBD cookies.
This week Skeels announced her next big project — she and business partner Anna Talaga are opening a brick-and-mortar shop in East Nashville this fall. The Catio will open at 1603 Riverside Drive, in the former Atomic Nashville spot, and it will be a combination of all of Skeels' favorite things — a vegan bakery, a cat lounge and a plant shop. She posted the news on Instagram, saying: "Leeuw is now The Catio - East Nashville's one and only vegan retail bakery, cat lounge and cat safe plant shop! ... We will be partnering with local rescues to bring adoptable cats into the lounge and to ultimately provide homes for these wonderful animals."
They're aiming for an October opening and if you're cat adverse, do not worry — the bakery and the cat cafe will have separate entrances so you don't have to interact with the kitties to enjoy the baked goods.
Follow Skeels and Talaga on Instagram for updates on the space.