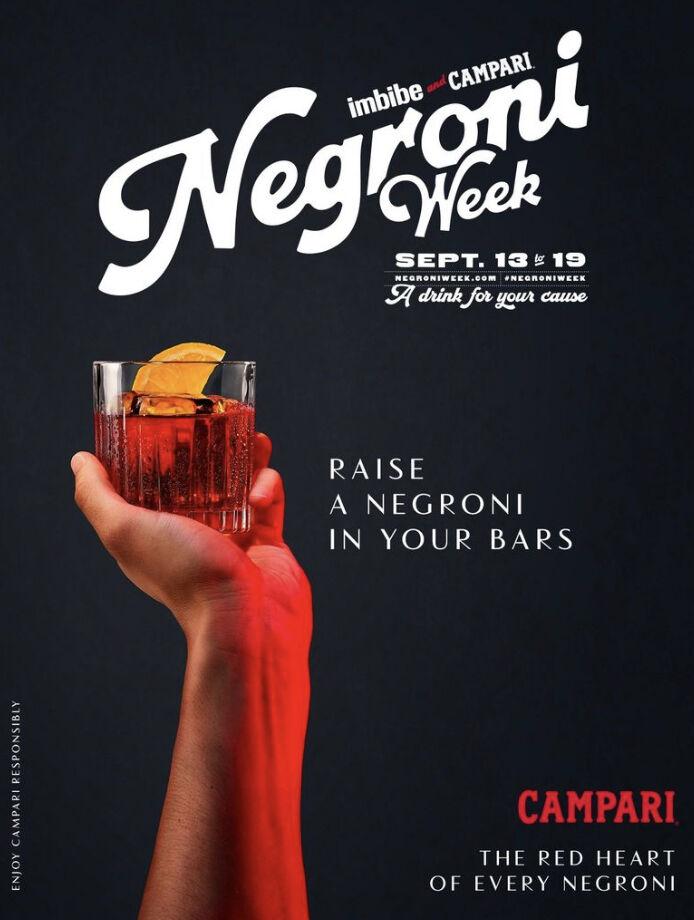 Once a year for a week, bars across the country pay homage to the Negroni, a classic cocktail made from one part gin, one part Campari and one part sweet vermouth. With such a simple recipe, you'd think there's not a lot one could do with the Negroni, but au contraire! 
For the annual Negroni Week presented by Imbibe magazine and Campari, mixologists offer up their own takes on the classic alongside the old reliable. Tied to charities, Negroni Week has raised more than $3 million since the first iteration in 2013. This year's celebration will run from Sept. 13 through 19, and will feature quite a few Nashville participants.
The list is still being compiled, but a geographic search on the official event website reveals some Nashville favorites who have already signed up. Among the spots to add to your Negroni Week itinerary are Denim and Yolan at The Joseph downtown, The Fox Bar & Cocktail Club, Lakeside Lounge, Chopper and Lyra in East Nashville, City House in Germantown. L.A. Jackson in the Gulch, Ergo at Union Station and Sinema in Melrose.
A newcomer to Negroni Week will be The Continental, where beverage director Jonathan Howard has a really special experience planned for guests during Negroni Week. Reservations have been really tough to get at the Sean Brock restaurant since it officially opened after a pandemic pause, so this might be your best chance to peek inside the doors at the Grand Hyatt and find out what has everyone so excited about this restaurant and bar that are committed to creating forward-thinking cuisine within classical constructs.
Chef Brock is passionate about supporting charities, and a portion of the proceeds from their Negroni Week activities will go to his company's charity, Patchwork as well as The Roots Fund. If you've been inside The Continental, you might remember an underutilized bar area with seven seats right inside the front door. From Wednesday through Sunday during Negroni Week, this prime area will become The Negroni Bar along with three smaller tables near the entrance.
Beginning at 6 p.m. each evening, patrons will be seated on a first-come-first-served basis to go through Howard's premium Negroni Experience. While they won't be taking reservations, you can put your name on a waiting list when you arrive and enjoy some time at the other bar in The Continental or wander around the Grand Hyatt and its food and bev venues until they notify you that it's your time to take the ride.
The experience should take about a half-hour, making it an ideal pre- or post-dinner activity at The Continental or anywhere else downtown. Once seated, Howard and his staff will present each guest with a flight of three Negroni variations made using absolutely top-shelf ingredients. The entire flight will amount to somewhere between one or two full cocktails, so don't worry about being overserved as you sip your way through a classic Negroni, an Americano, the precursor of the Negroni made with soda instead of gin and a whiskey-based Boulevardier. I haven't found out about Howard's particular recipe for a Boulevardier, but it traditionally involves rye or bourbon. Non-alcoholic versions of the experience will also be available, something that may be even more exciting than the traditional flight!
Howard promises some surprises in the drinks' presentations, and I'm looking forward to experiencing his usual panache and gift for storytelling through cocktails. You can also expect a fun finish of a Negroni-inspired sweet treat and some bubbles. The last seating each night for The Negroni Experience at The Continental will be at 9 p.m., so plan your fun accordingly. And save me a seat at the bar!