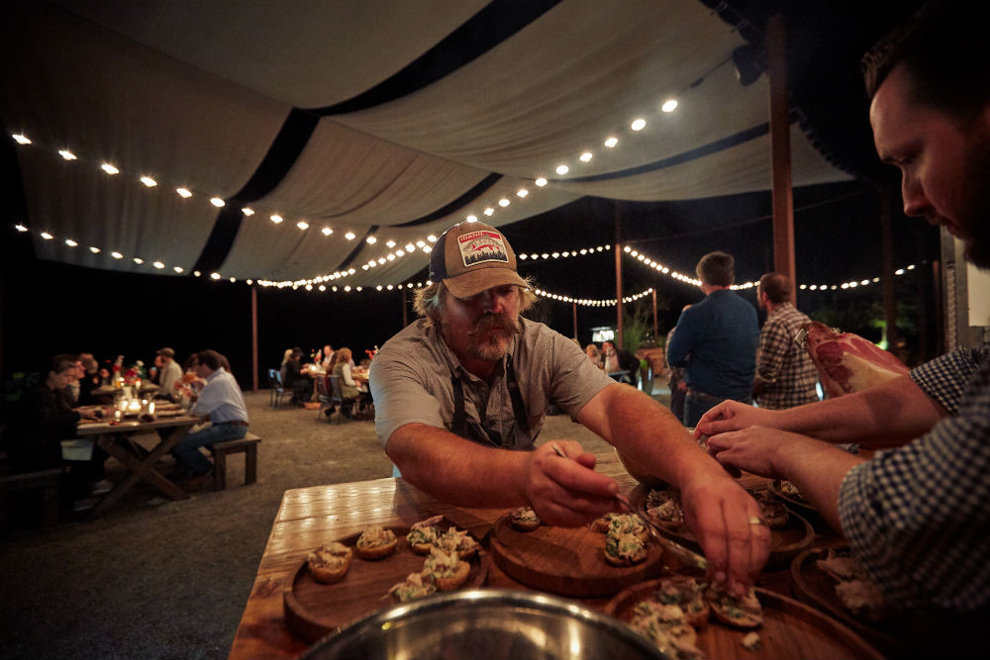 Ever since chef Tyler Brown left his role leading the culinary and farm operations at Capitol Grille at the Hermitage Hotel, his fans have been wondering what he's been up to. Then news came out that he had signed on with a new project in rural Franklin at Southall. Designed as a farm-based culinary destination, Southall fits right in Brown's wheelhouse, combining the sort of fine food and agricultural focus that earned his a reputation as one of Nashville's most talented and beloved chefs at the Hermitage.
Plans for Southall include what has been described as a "Blackberry-esque" lodging and dining environment, with acres of farmland, a picturesque pond, greenhouses, barns and gardens. Construction at the site has been slow going since the developers have been responsible for running gas, sewer and electric lines way out in the sticks where the farm is located. But now they are at least ready to welcome some visitors to show off what they've been working so hard on.
After a few shakedown friends and family events, Southall is now opening up their property to guests for a series of convivial outdoor dinners they are calling "The Rambling." Each Thursday through Saturday evening until Nov. 3, you can head to the series website and sign up for a seat at the table for a multi-course meal prepared by Brown and his kitchen staff. Working over open fires and out of a cooking trailer, Brown is putting out the sort of seasonal fare that we all remember him for, and an evening at The Rambling is like being invited to the greatest cookout ever.
After the pleasant drive out into the country, guests park in a field (wear boots) and arrive at a lovely setting for a meal. Complimentary local craft beers and wines are served out of the back of an 1940's Ford converted to hold a draft system with taps sticking out of the back of the truck. Eventually, this truck will be an amenity that guests will be able to pull up to their own private parties once all the lodging is completed. Roaring fire pits are natural spots to gather around while you enjoy your welcome drink, and strangers become friends before they even sit down to share a family-style meal served at communal tables.
While there is a little bit of cover in the form of a rough fabric roof over the dining area, it is definitely an outdoors dining experience, so dress appropriately. If it looks like a gullywasher is coming, the organizers will notify the guests the day of the event if they decide to cancel. The dinner I attended started with a gentle mist, but it was completely comfortable under the tented roof, and the female guests appreciated the chance to show off their kicky Wellie boots. I just wore crappy shoes and everything was fine.
The entire event exuded the sort of rustic hospitality that should be familiar to anyone who has ever been lucky enough to visit Blackberry Farm in East Tennessee, even though the venue is still pretty much a construction site. Despite the limited cooking facilities, Brown fixed a fantastic meal for us, and here's a sample of the menu, although it will change frequently:
Charcuterie

Shrimp Toast with Espelette, Yuzu, and Pickled Peppers

Everything Bagel Bite with Smoked Trout Salad

Mixed Greens

Roasted Blue Barley Rolls

Smoked Prime Rib with Horseradish Creme Fraiche

Pepper Chicken

Roasted Potatoes with Black Garlic and Ramp

Salad of Tomato, Eggplant, Cucumber, and Buttermilk Ricotta

Anson Mills Grits with Asiago and Bay

Vanilla Buttermilk Ice Cream with Pumpkin Caramel and Ember Roasted Pecans
For just $95, the experience is equivalent to any fine dining meal you'll have around town, but with the bonus of communing with nature while you eat. It's great to see chef Brown cooking again, and if you can't wait for him to have a full kitchen to work out of, take advantage of this opportunity!