Have you heard? It's a new year. Fitness centers across the city are packed. There's been a run on dental floss at Kroger. Livers are recovering across the county.
We at the Scene would like to suggest a New Year's resolution that will positively impact motorists, pedestrians and cyclists alike. We have some thoughts about the specialty license plates that arts enthusiasts can proudly display on their motor vehicles.
Getting a specialty plate requires a $56.50 annual fee, and $35 of that fee is allocated in part to the Tennessee Arts Commission. Our state arts commission provides year-long support for the arts through programming in underserved and rural communities, fellowships for artists and writers, arts conferences, cultural presentation and preservation, grants for some of our best arts institutions — and far more.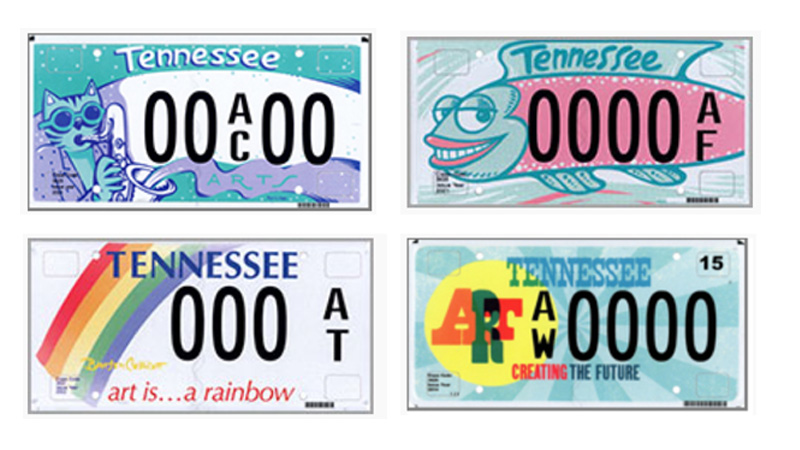 But here's the thing: The plates are in desperate need of a revision. Observe them. The one on the bottom right is great — bold and eye-catching, the plate uses actual design principles. It's designed by local artist, graphic designer and educator Leslie Haines. The lettering recalls Hatch Show Print's iconic wood-block designs, and it's distinctly Nashville without screaming "Nashville!" This is an A+ plate. 
So what in the world is happening with these three other plates? There's a jazz cat in Elton John glasses. "The cat looks afraid of his sax," notes Scene associate editor Alejandro Ramirez. What's that flowing out the cat's sax tho? ARTS. Music editor Stephen Trageser notes that he knew someone with this license plate in high school, which would date the design at least 17 years.
Next up: "art is … a rainbow." Let's talk about that often abused punctuation mark: the ellipsis. According to AP Stylebook and English teachers everywhere, these three little dots are used to indicate a missing word or words in a quotation, or to indicate a thought that the speaker or writer does not complete. For example: "The … looks afraid of his sax," says Ramirez. Here's another example, using the second rule: "The cat looks afraid ...." says Ramirez. 
But, let's be real: Nothing says "art" like a cartoon of a fish. 
"It looks like Charlie the Tuna," posits Trageser. Tennessee is known for at least five things more than its fish (its horrendous carp infestation, which should never be celebrated, notwithstanding). 
"Don't trust the fish at all," Ramirez says. 
Our art director Elizabeth Jones has rounded up some better ideas to accompany Haines' A+ one. Using the designs of four Tennessee artists, the Scene presents the following options to inspire. We hope the folks at Tennesseans for the Arts will reconsider whether art is … a rainbow, because I do not want to roll into Brooklyn to visit my fam with Charlie the Tuna representing our great state — and neither should you. 
The artists, clockwise from left. 
Xavier Payne is a Scene favorite, and his pop-art-inspired works center and celebrate black culture. 
Emily Elizabeth Miller's "coyote at the mirror" captures that rapturous morning when a coyote was discovered in a restroom at the Music City Center. 
Lauren Lowen's illustrations are eclectic, whimsical and full of life. 
Joanna Dee's "Classic Ladies of Country Music" includes Patsy Cline, Loretta Lynn, June Carter and DOLLY motherfucking PARTON. 
Let's head into 2020 with some license plates that all Tennesseans would be proud to display.