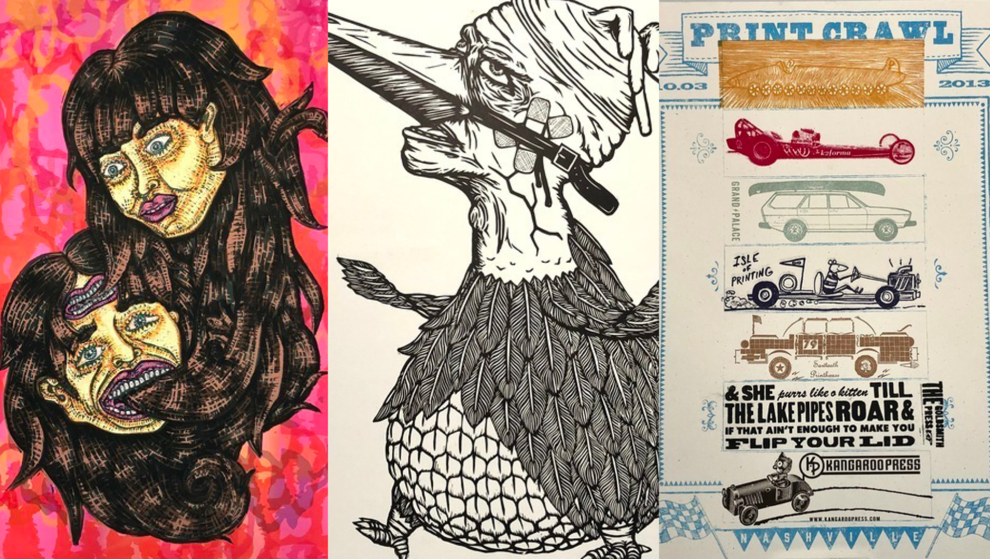 It's no secret that arts organizations are hurting — between decreased patronage and the unemployment crisis, a lot of our faves are struggling to stay afloat. News of two nonprofits expanding and securing a stable storefront and workspace is welcome indeed. Turnip Green Creative Reuse has launched a capital campaign, the proceeds of which will be used to buy a building to house the organization in 2022 — and printmaking studio Platetone will live there too. 
Turnip Green (407 Houston St.) will host an exhibition of prints from the Platetone archives that will be up for auction, both in the gallery and online. Called Combination Print, the exhibition and auction includes artists Oscar Quintanilla, Lesley Patterson-Marx and Julia Curran, as well as print shops Hatch Show Print, Isle of Printing and Sawtooth Press. You can visit the Green Gallery during business hours Friday, Jan. 29, through Sunday, Jan. 31. The online auction runs longer, until Friday, Feb. 5. 
Turnip Green is a go-to spot for used art supplies, textiles, building materials and more. Customers can browse the warehouse and make an offer on everything from floor tile to pom-poms, paints, canvases and much more. Everything is stocked through donations. Turnip Green and Platetone have always been good friends — sharing buildings both on Fourth Avenue South and Woodland Street over the years. Most recently, they've been neighbors, albeit a bit farther apart, with Turnip Green on Houston Street in Wedgewood-Houston and Platetone a few blocks away on Nolensville. Platetone, which was founded in 2004, provides studio access to members and (during non-pandemic times) opens its doors for exhibitions, workshops and community printmaking. 
In December, the Scene's Kelsey Beyeler reported that Turnip Green "collaborat[ed] with Metro Nashville Public Schools, Second Harvest Food Bank of Middle Tennessee and PENCIL to distribute thousands of educational art kits, meals and school supplies to underserved children across Nashville." The organization also took part in a new child care program called Turnip Sprouts, teaching art classes to kids of working parents at the Adventure Science Center. Many of the works in the auction are priced at $10-30. It's a perfect way to snag something for your wall and support the arts.