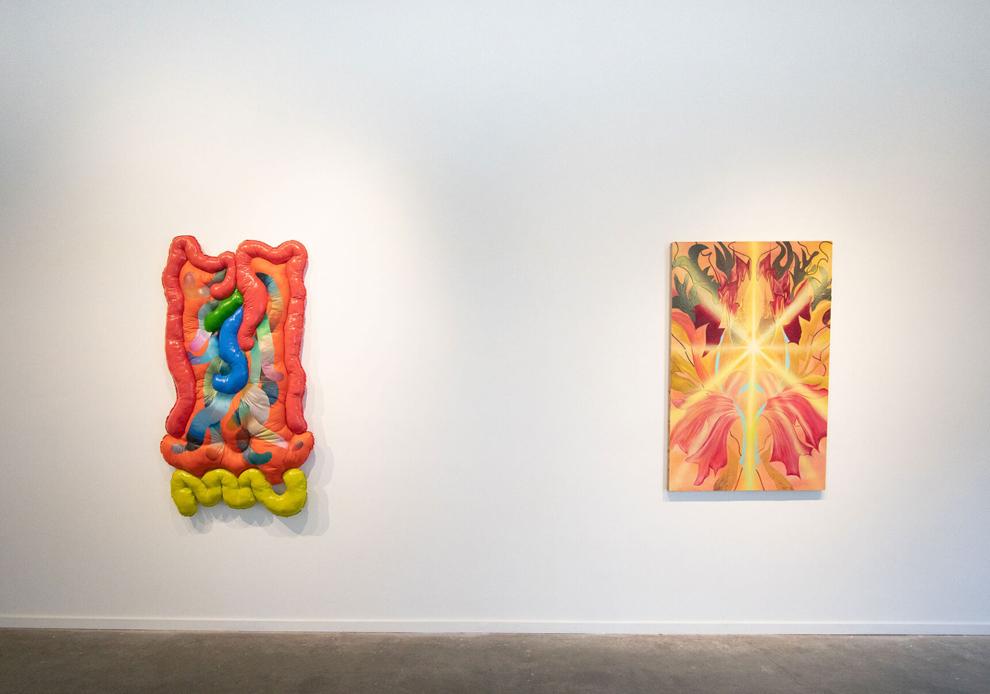 Alternative Medicine at Red Arrow Gallery is a two-woman abstract painting exhibition full of big, colorful works that are organized next to each other along the spacious walls of the East Nashville gallery. The layout ensures that viewers notice the similarities and the differences between the two artists' paintings — the congruous palettes and compositions make the show feel almost collaborative at turns. But noticing those likenesses simultaneously highlights their dramatic textural differences and understandings of what a picture plane — or even a substrate — can be. 
Both artists also emphasize the connections between the mystical and natural worlds, but they come to that conversation from opposite ends. This is an exceptional display of art-for-art's-sake that should have formalist art nerds making multiple visits — snapping pics, making notes and taking part in the painterly conversation at the core of the show.  
Nashville-based artist Amelia Briggs'  signature artworks float in a sometimes unsettling space, occupying sculpture, textile art and painting simultaneously. Her sewn and stuffed pieces recall the inflatable rafts and pool toys we often associate with carefree summer days, but they take on visceral and even alien-seeming forms, conjuring mortal and existential anxieties along with the sting of chlorine and the smell of coconut oil. If I had to name the best contemporary painter in Nashville, Briggs would automatically make the short list, and Alternative Medicine includes a predictably strong new selection from the artist.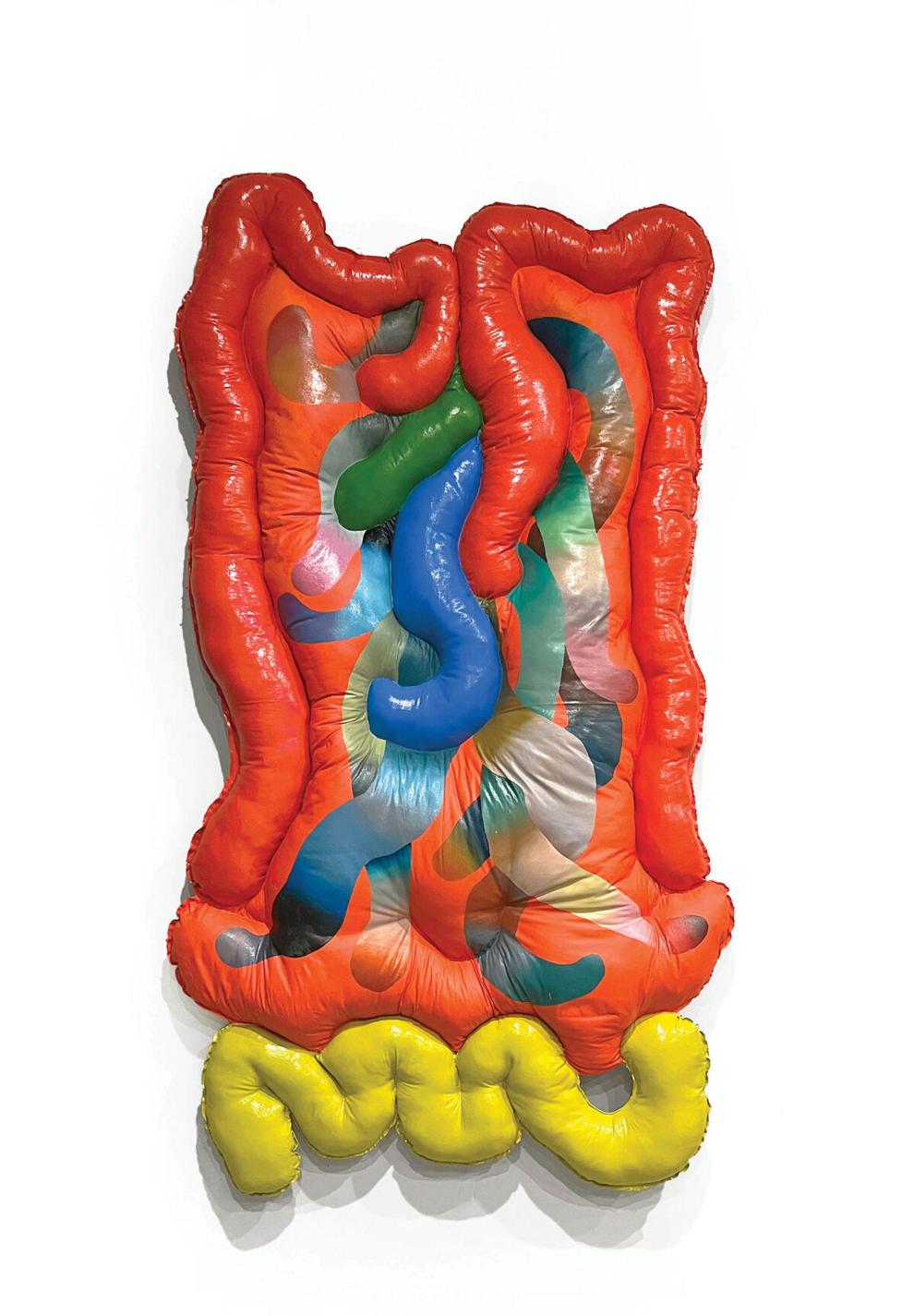 "Prance" is 5-and-a-half feet tall by almost 4 feet wide, and it's the most eye-catching work in the show. It's made of reclaimed materials, latex, fiber, oil and acrylic, constructed in the familiar style that makes so many of Briggs' works look like inflated vinyl in the summertime. The basic composition includes a rusty-orange rectangle balanced upright on a slab of yellow — it's almost Rothko-esque, aside from the slimy squirming lines. The whole form feels gooey and undulating like a living system, and the reddish rectangle that makes up the larger part of the composition resembles a large intestine, while also acting as a picture frame for the puffy, striated, wrinkled and glossy forms that ooze inside it. "Prance" reflects the history of American abstract painting, questions the aesthetics of traditional gallery display, and probes at the slippery fundamentals of existence — all in one painting that I want to take cliff diving at Percy Priest. This is why Briggs is one of our best.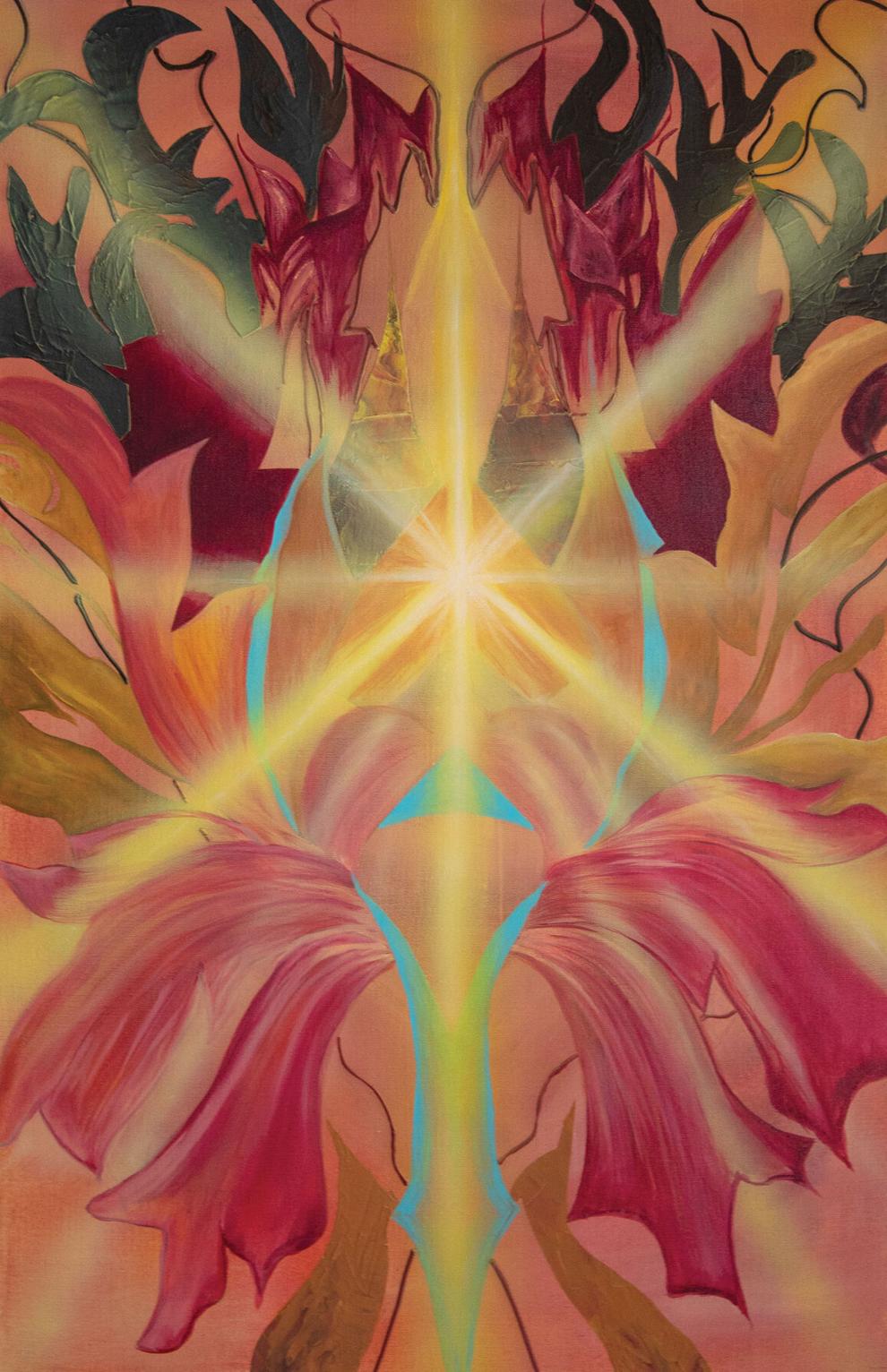 Brooklyn-based artist Calli Moore's "Flaming Jasper" hangs alongside "Prance" in a pairing that's so dramatic it acts as the exhibition's default introduction wall. The painterly duet engages a dialogue that expands throughout the rest of the display. "Flaming Jasper" is rendered in oil and acrylic on taut stretched linen. Moore applies her paint in thin, sometimes almost transparent layers. She doesn't seem to use gesso or other primers, and the texture of the linen fabric is readily visible throughout the work. There are a few spots of heavy application of paint that leave gooey lines of opaque pigments above the surface of the image, but these are only occasional accents in a mostly very flat and very dry painting. Moore uses traditional substrates, and doubles down on flat picture planes with very spare applications of paint. Briggs' substrates are contemporary and idiosyncratic, and her painted imagery actually occupies the 3-D spaces implied by Cubist deconstructions.  
Briggs and Moore had never met until a week before the show opened, but the works in Alternative Medicine often play together so nicely that the show sometimes feels like an active collaboration. The palettes of "Prance" and "Flaming Jasper" are so nearly identical that it's a bit eerie, and the same can be said for the pair's paintings on the opposite wall — Moore's "Anthuria Aqua Blossom" and Briggs' "Patricia" — which share gold, blue, green and chilly whites. Briggs' sewn and stuffed pieces make up abstract compositions that sometimes recall natural biomorphic or even anatomical forms. Moore's compositions aren't so fully abstracted, but they're highly stylized renderings of plant forms and crystal shapes, and their mostly symmetrical compositions bring a sense of design and artifice to her natural subjects. The painters wind up in roughly the same place, but one makes abstractions that flirt with naturalism while the other abstracts and stylizes natural subjects.  
All these leaves and crystals, organisms and body parts pull the strikingly contemporary works into art historical conversations with Romantic ideas. Edmund Burke's A Philosophical Enquiry Into the Origin of Our Ideas of the Sublime and Beautiful (1757) named awe, terror and danger as earmarks of sublime experience, and proclaimed nature to be the most sublime subject, influencing generations of Romantic artists who sought to capture the transcendent in the wild world. Moore and Briggs both touch on the sublime in their works, but each in their own unique manners. Briggs' more visceral works ("Patricia"), the ones that look like bacteria ("Fiona"), the ones that look like off-world creatures ("Flourish"), all hit the terror note of the sublime — their float-toy forms and candy-shop colors only make them more clownishly freaky. 
On the other hand, Moore uses an airbrush to blast flares of light off the edges of her crystals, and her foliage forms move with a deliberate grace, implicating the sentience surging through them. Moore's works focus on the awesome aspects of the sublime, flirting with psychedelic art aesthetics and techniques (airbrush), and resulting in a series of works that could almost directly translate into divination-card designs.  
Alternative Medicine features two new series by a pair of fantastic painters, but more importantly, it offers a conversation about what painting has been and what it can be. It's a contemporary art show that speaks to art history, and an abstract display that puts viewers in touch with a transcendent experience of the natural world.