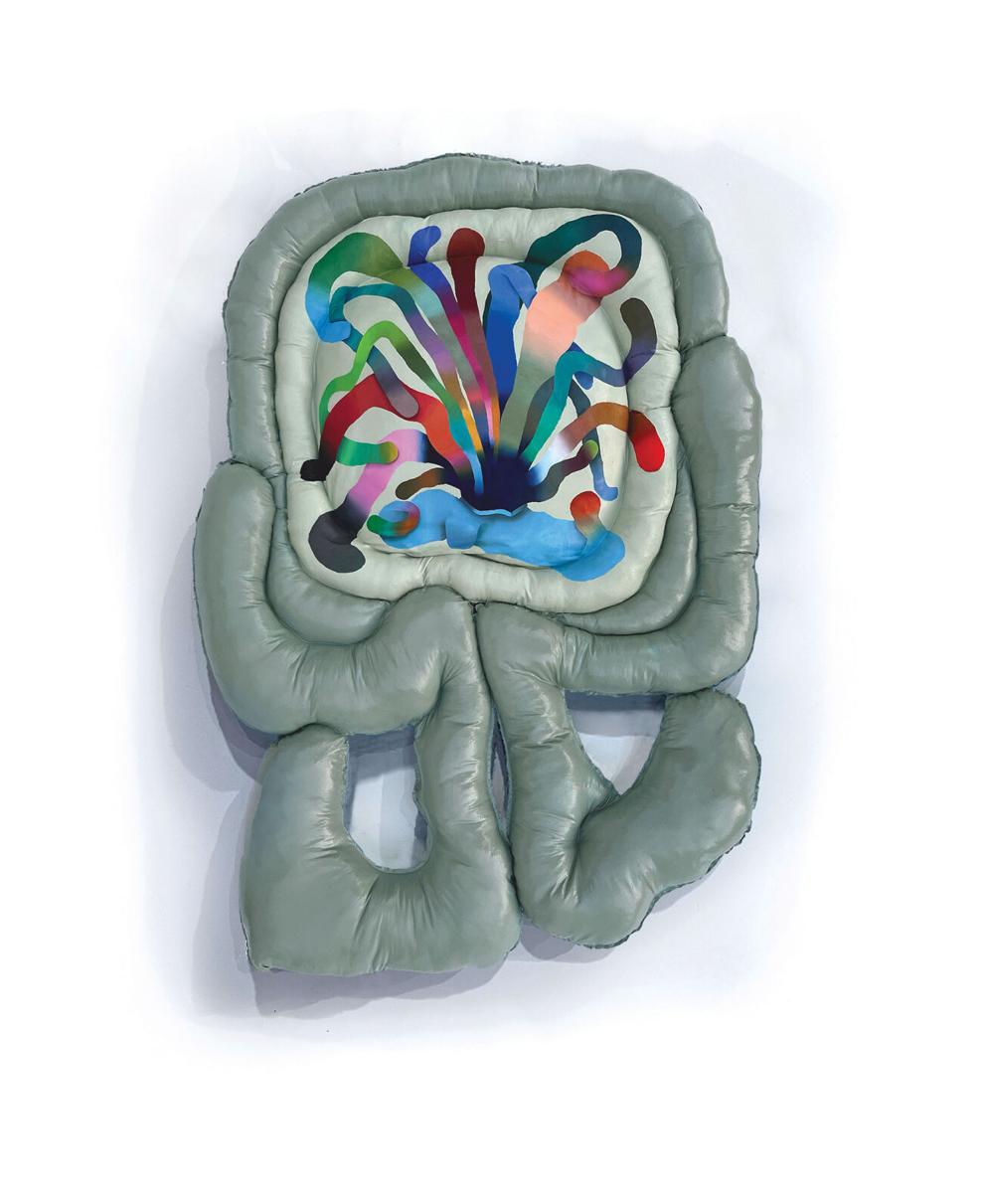 Off-Site is an ongoing series of features about Nashville-based artists whose work is being exhibited elsewhere.
Gardens might not be the first things that come to mind when considering the recent work of Amelia Briggs, but once you consider the similarities between her puffed-up sculptural paintings and, say, the winding topiary landscapes of Mt. Doi Inthanon in Thailand, or a city fountain lit up by neon at night, the connection is hard to shake.
It's that unexpected but undeniable link that makes Briggs' work at home in Manscaping, a major exhibition of more than 60 artists that's currently hanging in New York and L.A. spaces as part of The Hole Gallery's yearly "thematic group extravaganza." 
The Hole's owner Kathy Grayson is irreverent and insightful in her curatorial statement. "Landscape today may not be the most snazzy genre," she says. "Landscape is the slow burn, where our contemporary world is reflected but with less flash. 'Manscaping' I liked because when studying landscape, gender trouble always made me wanna barf; anything earth mother, any rolling boob and butt hills, any enviro-gendering of our 'assaulted' female earth."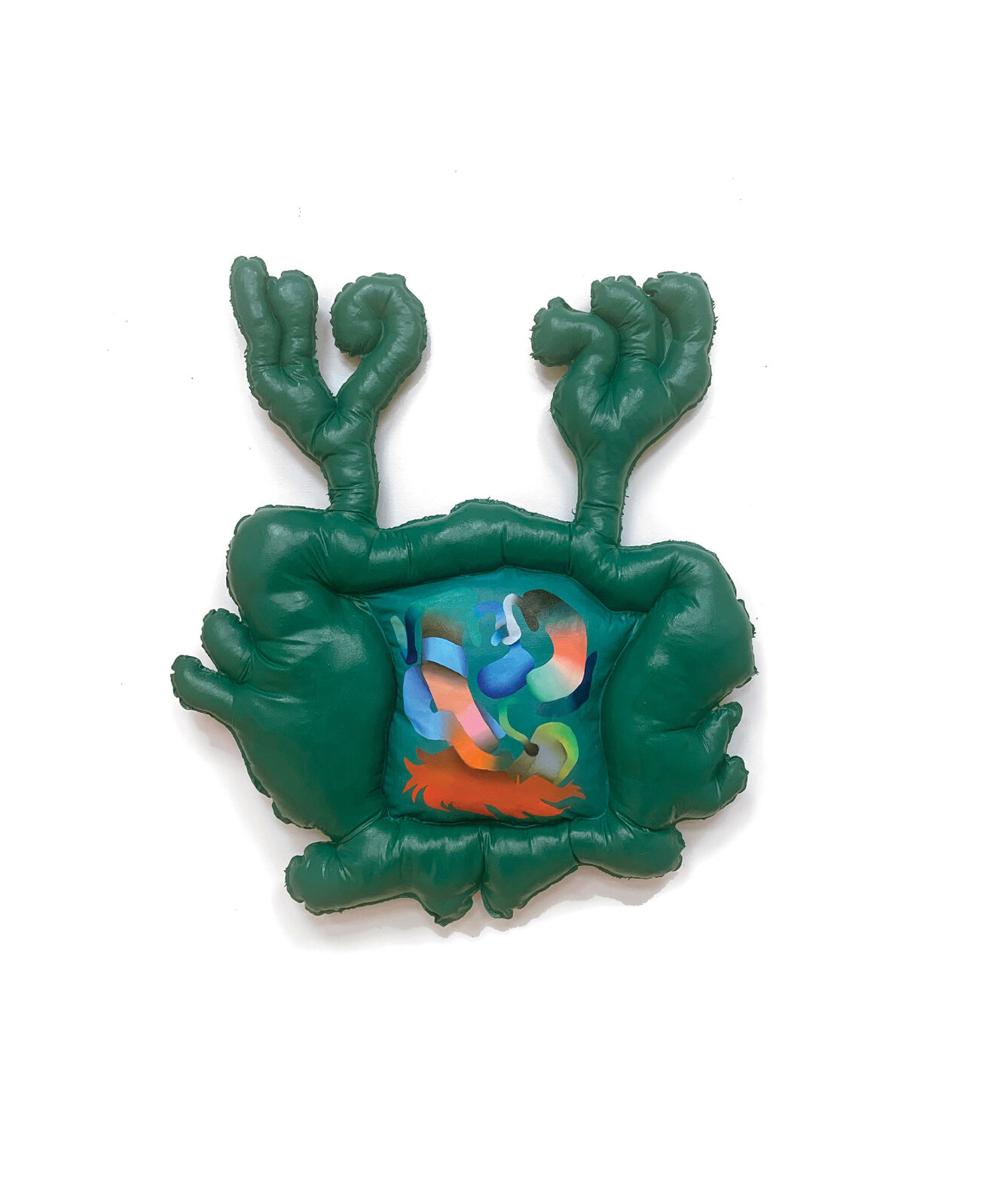 The show posits that the landscape is still alive and well in contemporary art — it's just that, as Grayson writes, "the idea of raw and rugged untouched nature is an anachronism." We're simply thinking of landscape incorrectly — these gardens are less J.M.W. Turner and more Edward Scissorhands.
That's a perfect entry point for Briggs, whose most recent works have evolved in the past year to incorporate sewing skills that have made her previous practice of working within a traditional panel structure nonessential.
"Panels have a lot of limitations," Briggs explains. "Before I knew how to sew, I had a hard time making shapes that weren't beholden to the panel. This new process has opened up so many possibilities — and also gives me the ability to work really large."
Previous large-scale works, like the Christmas-tree-size "Smokestack," which was a highlight of her 2019 show at Elephant Gallery, were both cumbersome to install and expensive to transport. The 2022 work "Ghost," at 36-by-27 inches, is a comparative cakewalk.
Briggs' new process has also freed her up to make more complex shapes that include painterly elements. It's these painted surfaces that separate Briggs' works from the shaped-canvas paintings of Lauren Clay, or the post-Koons sculptures of Hole Gallery mainstay Adam Parker-Smith. With "Oven," tendrils of hunter green reach up from a fat, amorphous shape. Without the context of the exhibition's concept, it might seem more like a cartoon sea creature, but through the lens of contemporary landscape, "Oven" is wild and silly, beast and bush. The panel at its center, which acts sort of like an oven's window, has fiery orange elements, but also carnival-colored worms making their way through a rotting apple slice. This is the psychedelia that is literally happening underground — right where contemporary landscape painting has been hiding.