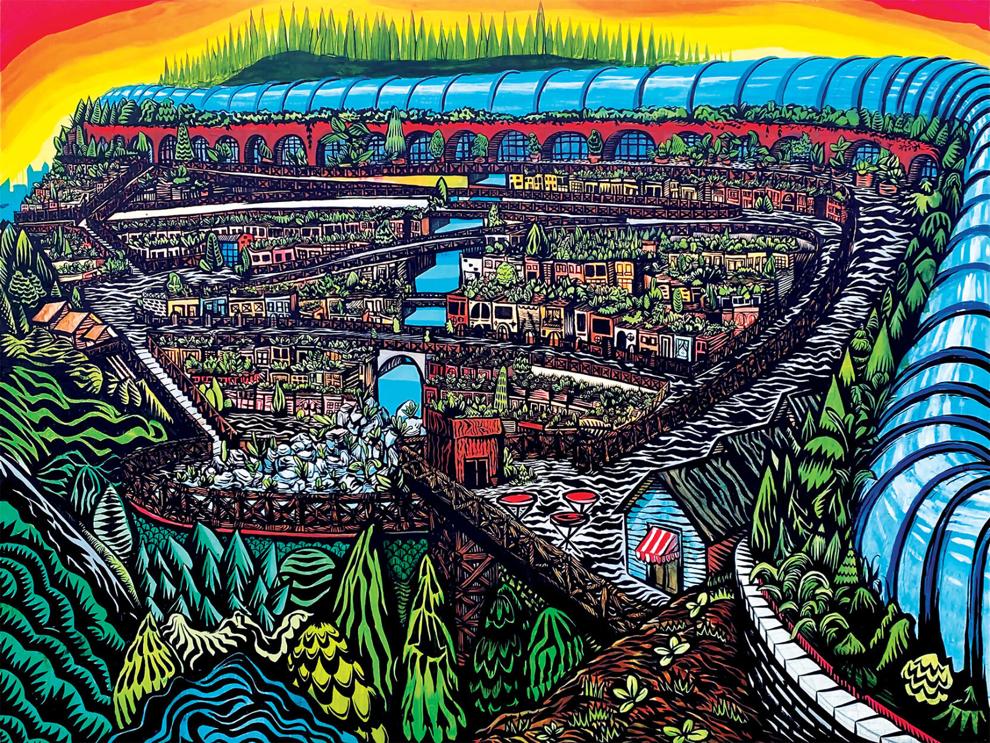 Downtown 
Paul Roden is a former Nashvillian who now lives and operates his art studio in the heart of the Rust Belt renaissance in Andy Warhol's hometown of Pittsburgh. Roden draws and paints, and he's spent years as a printmaker with a signature style that's heavily influenced by traditional woodcuts. Roden was born in Nashville, and after earning an MFA from the University of South Dakota he returned to town for a short time in the mid-Aughts. Back then, Roden's work was more narrative and often spoke to environmental and anti-corporate themes. In our current era of activist art overload, Roden has smartly shifted his practice toward unique individual expressions that are more purely formal, emphasizing the vibrant colors and energetic lines that have always been a highlight of the artist's work. Roden's latest works eschew direct political and social messaging to deliver more metaphorical, poetic and meditative imagery. I'm especially into the artist's recent Cave Painting series, which reflects his work as a designer and pictures prehistoric animals against colorful geometric backdrops. Roden has recently been added to Chauvet Art's artist roster, and his landscape painting "Pittview" is one of the highlights of the gallery's current Balance: Order Out of Chaos show, which runs through October. Chauvet will be open for the downtown crawl on Saturday from 6 until 9 p.m.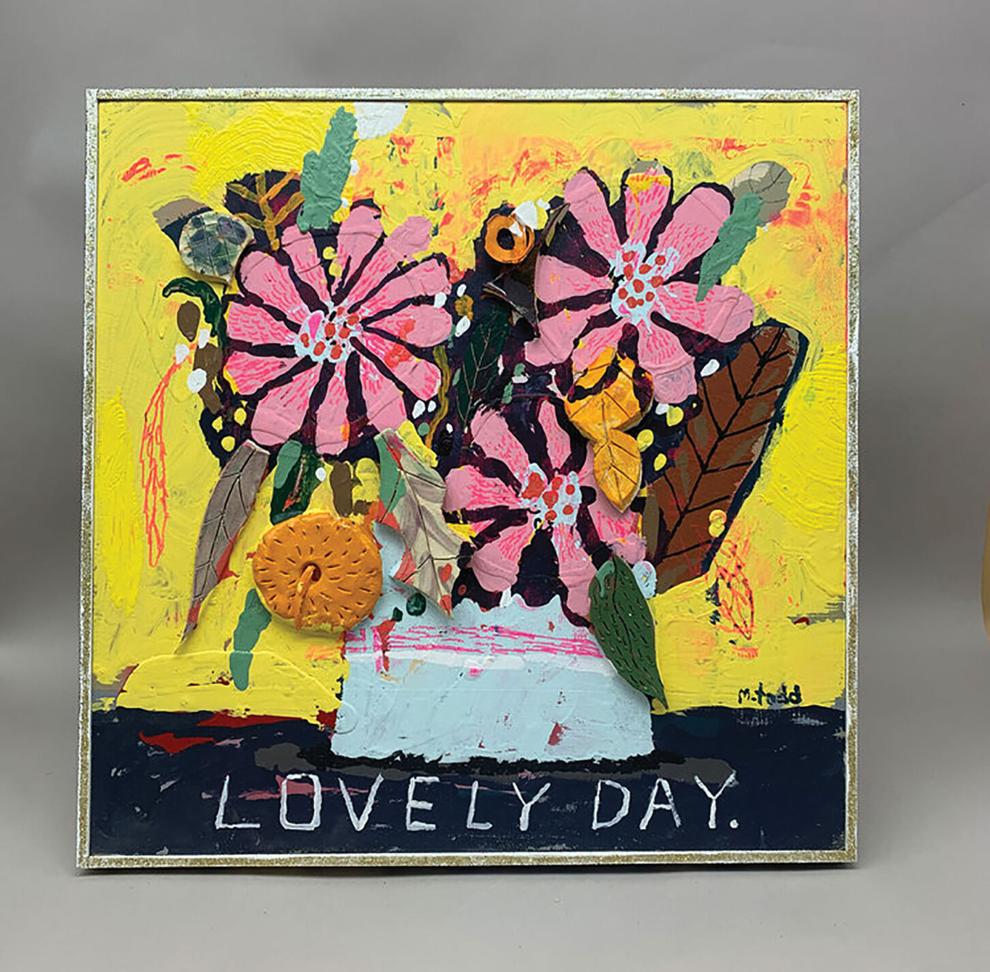 Wedgewood-Houston  
Zeitgeist Gallery opens a brand-new two-artist show in September, and it's an intriguing pairing of painting and photography that juxtaposes themes of conflict and calm to sizzling effect. Jeremiah Ariaz has used photography to document private and public spaces in a way that delivers social and political messages about poverty and myths of the American West. His We Hold These Truths exhibition at Zeitgeist in 2020 pictured people and places from across the country in the days before the election of Joe Biden, and this new display reads like a bookend to that work. Talking Hard Traveling Battleground Blues captures dystopian scenes of urban ruins, protest and civil unrest in so-called "battleground states" from the same period. Photography's capacity for magnifying the mundane and charging everyday people and places with meaning makes it a powerful tool for political and social messaging. Ariaz smartly uses the medium's objective, documentary capabilities to make activist art that's never preachy or overly pedantic, leaving viewers to make meanings for themselves. Local painter Megan Lightell was all set to do a new series of Western landscape paintings when Nashville's 2020 tornado and the pandemic put an end to her travel plans. Instead, the artist doubled down on her documenting of the natural spaces here in Nashville, finding longtime subjects renewed with deeper meaning, as parks and greenways became places of health and liberation for many Nashvillians during the time of social distancing. Lightell's paintings of vibrant local spaces like Bells Bend are gauzy and gorgeous impressionistic works — equal parts document and daydream. Both shows open Saturday, and the gallery will be open from noon until 6 p.m.  
I love shows that pair painting and photography almost as much as I love displays that blur the line between painting and sculpture, and Nick Fagan's exhibition at Coop uses one of the lowliest materials you can find in any gallery and makes it fine art. Go into the storage area of any art gallery or institution, and you'll likely find moving blankets everywhere — lining cardboard moving bins, wrapping sculptures, rolled up as padding to keep gilded frames from scraping hard floors when arranging a gallery layout. Of course moving blankets can also be found in our own home storage, where they protect fragile and valuable objects while they themselves are strictly utilitarian, plain and unadorned, and often damn near cheap enough to be disposable. Nick Fagan borrows from Joseph Beuys' ideas of charged objects, and turns these humble blankets that have been draped over and wrapped around masterpieces into a massive painted tapestry installation that's decorated by the artist's whimsical geometric abstract designs. Coop will hold an opening for Labor and Its Large Souls on Saturday from 4 until 7 p.m.  
Converge will host the last of its Grassroots Art Park series with a full evening program of arts and music. Converge deploys creative placemaking projects using art and design, and this series brought music to Wedgewood-Houston's summertime art events, helping fill the gap left from the closing of Infinity Cat. This Saturday's lineup includes music from Canadian singer-songwriter Joel Guptill, whose latest single "How Do I Break" combines Paul Simon-esque lyricism and bluesy guitar runs into slow dance-folk-pop. Guptill opens for Makena Hartlin, whose recent video on the Pitch Meeting YouTube channel finds the singer covering "The Tracks of My Tears" to give-you-the-chills effect. In this age of breathy, mumbling singers, Hartlin's vast range and idiosyncratic phrasing is refreshingly unique, and she makes the Smokey Robinson classic all her own, backed only by some deft picking on her trusty Taylor. After the tunes, Converge's resident artists will culminate their projects when Hannah McCarthy leads a group of dancers through an improvisational performance within Beth Reitmeyer's illuminated installation,Thunderstorm. Music starts at 5 p.m. at 1231 Martin St.  
Mark Todd's signature flower paintings have given him an international following, and he's done illustration work for clients like MTV, The New Yorker and Rolling Stone. Todd's Love Songs exhibition opened at Julia Martin Gallery last month, and runs through Sept. 25. The exhibition includes a varied display of wooden and ceramic vinyl record replicas that the artist painted in his signature style, mimicking favorites from his family's large music collection, which includes sides from his grandfather-in-law's discs from his days as the owner of a Texas radio station. Art for music fans is always a hit in Nashville, and you can crank it up all day at Martin's gallery from noon until 9 p.m., with refreshments starting at 6.