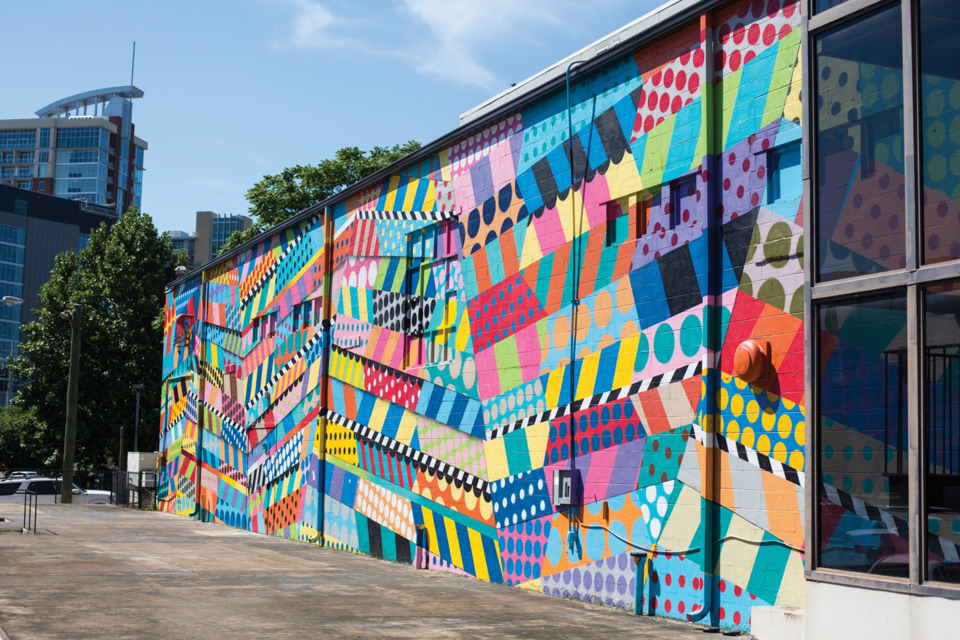 MarketStreet Enterprises is soliciting pitches from artists to adorn the wall of the newish Gulch dog park. MarketStreet — a prominent developer of the Gulch responsible for the Bohan building, Pine Street Flats, the Thompson building and, indeed, our newspaper's humble offices — will choose six of these artists to lend their talents to Gulch Beautification™️, ostensibly for free.
At first, MarketStreet offered winners exactly zero dollars. But a MarketStreet spokesperson tells the Scene that "after some feedback over the weekend MarketStreet added an award of $500 for each of the six winners of the contest."
In a since-deleted @thegulchnashville Instagram post advertising the contest, plenty of people called the group out. Kristin Luna, who makes murals happen all over the place, wrote: "Shame on you for not only asking artists to work for free but to COMPETE to work for free and sign over their copyright in the process. This is embarrassing to your company on so many levels."
Artists, who often rely on events for income — art shows, performances, etc. — and who are very likely to work in the service industry, will be excited to learn that the winners will receive 500 whole dollars for their efforts. 
"By entering the contest," writes MarketStreet in a press release, "each artist warrants that the submission is artist's own original work. Artists will be responsible for own supplies, travel costs, materials, housing, and personal liability insurance. Artists will be responsible for applying a UV sealant and anti-graffiti coating."
A quick online search and a few chats with local muralists revealed the expenses for an 18-by-8-foot mural — the dimensions MarketStreet is looking for. I've low-balled it, looking at the minimum costs to complete the job. Let's break this down by the dollar. 
Paint, brushes and rollers and other materials at $5 per square foot: $720
UV sealant: $85 
Anti-graffiti coating: $250
Personal liability insurance: You'll need a rate from your insurer, but The New York Times estimates it costs $500 per year — and is sold by the year. But you can roll it into your homeowner's insurance if you've got it. 
Let's say we're generous about the hours an artist spends designing, executing, shopping for supplies and insurance, and meeting with MarketStreet. Let's say it takes 40 hours. One exceptionally difficult week of work, if any artist under the sun could fit it all into five days. Let's say, for the sake of argument, that they were paid $12.34, the living wage in Nashville estimated by MIT for an adult without children — a paltry rate for such a commission. 
Labor: $494
Estimated total cost of designing, creating and insuring a 18-by-8-foot mural: $2,049
If you're able to roll the cost of insurance into an existing plan, you're still at $1,549. 
This doesn't account for out-of-town artists coming to the city and accruing travel costs, lodging and transportation. Why hire out-of-town artists when Nashville is teeming with talent, you ask? ¯\_(ツ)_/¯
Originally, MarketStreet also noted that no artist would make a profit from their work in the future. Can you imagine Kelsey Montague — had she handed over her rights — not being able to reproduce her popular "What Lifts You" pieces in Nashville, or Adrien Saporiti not receiving a cent from his "I Believe in Nashville" merch (and beer cans?!). 
Thankfully, according to another change MarketStreet made "after some feedback over the weekend," artists will not have to sign away the copyright of their design. 
Have at it, artists. And hopefully those unemployment checks are rolling in by now.