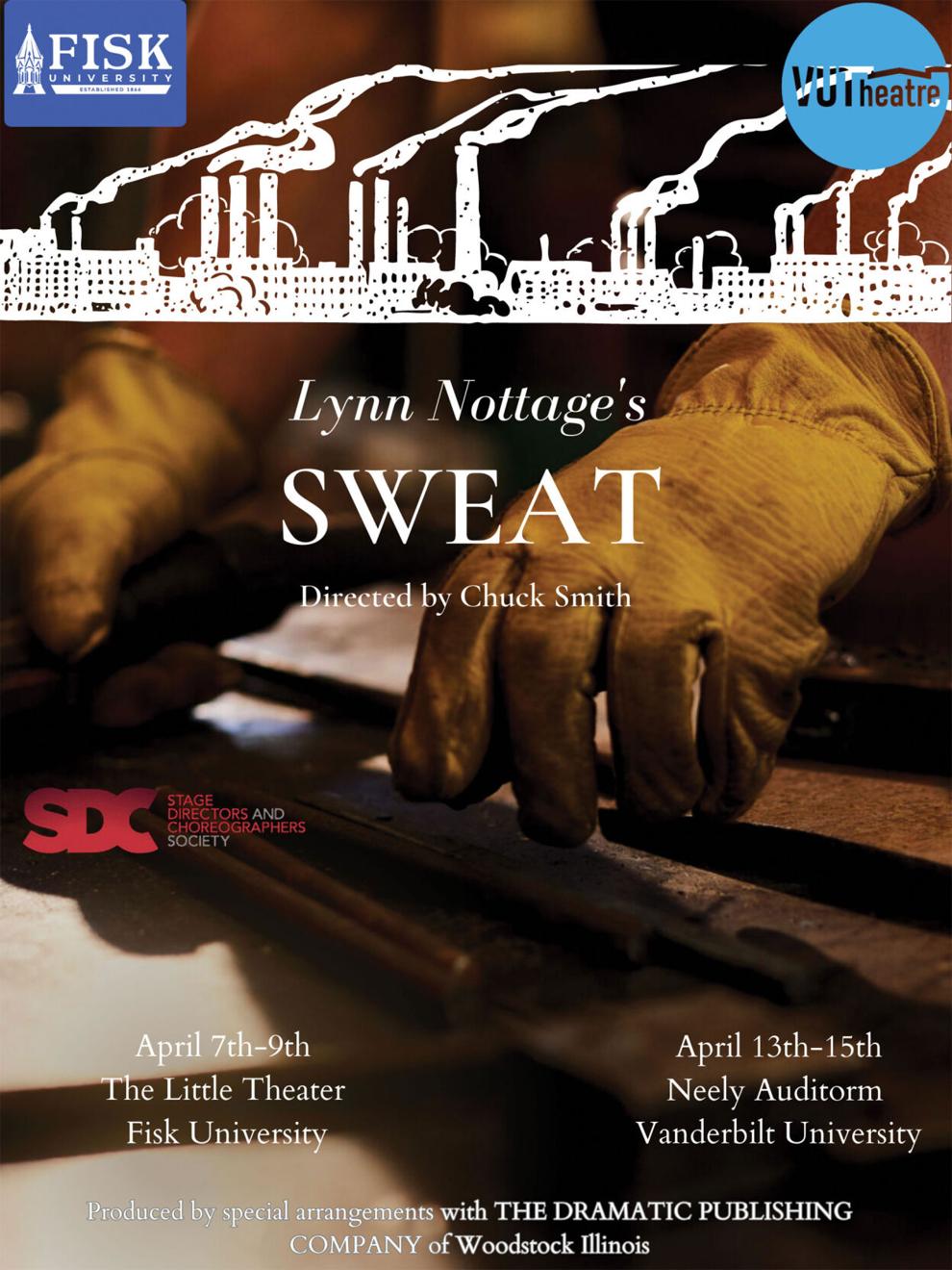 It's not uncommon to see creative partnerships among local theater companies flourish here in Nashville. Still, there's something especially gratifying about seeing young artists working together on a joint production. That's exactly what's happening with a group of students at Fisk and Vanderbilt universities, who are teaming up to present Lynn Nottage's Pulitzer Prize-winning play Sweat. 
It all started in the summer of 2021, when the acclaimed Chicago-based director Chuck Smith was in town to direct Jitney for the Nashville Shakespeare Festival and Kennie Playhouse Theatre. Smith was already well-acquainted with Vanderbilt's outgoing theater department chair Leah Lowe — the two had worked together in Minneapolis back in the 1990s. Lowe had expressed an interest in having Smith direct a play for Vanderbilt, but as conversations continued, Smith proposed something different — a joint production between Vanderbilt and Fisk.
"We'd never really done anything like this before, but when I reached out to professor Persephone Felder-Fentress at Fisk, she was immediately interested," says Phillip Franck, current chair of Vanderbilt's theater department and a well-known scenic, lighting and audio designer. "We asked Chuck to suggest some plays, and quickly settled on Sweat.  Lynn Nottage is such an important playwright, and this is really a great play with a good mix of roles."  
Sweat, which examines the "collision of race, class and friendship set in America's Rust Belt," first premiered on Broadway in 2017, and would go on to earn the Pulitzer Prize for Drama. It's a gritty piece, providing plenty of opportunity for discussion among both students and the community at large. In fact, Franck and Felder-Fentress co-hosted a panel discussion in November, in which participants discussed the play's significance and historical setting.  
The universities have also worked closely to coordinate performances on both campuses — Sweat opens on April 7 at Fisk's Little Theatre (as part of the university's 94th annual Spring Arts Festival), and moves to Vanderbilt's Neely Auditorium on April 13.  
"It's been an interesting challenge logistically," Franck says. "We had to look at everything from how to get students back and forth between campuses, to navigating the universities' different cultures and administrative practices. But it's been really wonderful to see students working so well together. Persephone and I keep saying, 'Why didn't we think to do this sooner?' I guess we just needed Chuck to be the catalyst to make it all happen. Coming from Chicago's Goodman Theatre, he certainly brings a lot of gravitas to the project. And it's such an amazing opportunity for the students to work with this incredible director." 
There are several other professional artists involved with the production. David Wilkerson, an accomplished Nashville theater artist, is staging the play's fight scenes; Grammy nominee Joseph Wooten is composing incidental music for the production; and Franck is designing the production's set and lighting — no small feat when you consider the two venues' differing features. 
As an associate professor of humanities and director of the Fisk University Stagecrafters, Felder-Fentress says the project offers an important reminder that "learning is not just about what happens within the four walls of the classroom."  
"These students have absolutely flourished," Felder-Fentress says. "It's been so exciting to see them coming back and forth between the campuses, working on sets, costumes and props. The students in my theater appreciation class have been working with our dramaturg Dr. Khalid Long from the University of Georgia, digging into the meat of what this play is really about, and learning so much. It's been a beautiful journey — both academically and artistically. I'm just thrilled with the growth that I'm seeing.  
"And the students are getting together outside of rehearsal as well," she continues. "These young people come from all different walks of life, but you'd think they've known each other all their lives. It's been wonderful to watch. But that's what the arts do, don't they? They bring people together." 
At a time when Americans are polarized, Smith is hoping that the project will resonate with audiences as well.
"In my many years of theater, I've discovered that every production creates a new family," he says. "Everyone involved shares both good and embarrassing memories of precious time spent with others in the creation of art. The Vanderbilt-Fisk Sweat family is, to me, something special. Watching the respective students travel to and from each university, sharing their talents with each other, is a beautiful sight and experience to behold. Our currently divided country should take note of this particular American family — we could use a lot more of this."