Multidisciplinary artist Jennifer Whitcomb-Oliva loves playing roles that are as comedic as they are dramatic. She recently appeared in Nashville Children's Theatre's production of Charlotte's Web as the goose. Over the past four years, she's been doing a lot of character work. 
"I enjoy it because I can say that in my early career, especially as a Black actress, that's not something that was ever really an option for me," Whitcomb-Oliva tells the Scene. "Now, all of a sudden, I'm playing animals and really awesome, goofy parts that I never thought I would play. I'm enjoying every second of it." 
A graduate of the Austin Peay State University theater department and a native Nashvillian, Whitcomb-Oliva balances lightness and darkness. We may see her cutting up in comedic roles, but her solo work is anything but light. She's not afraid to take on serious subject matter with challenging work, and her newest project is no exception. Seven is her first film, and it will screen as part of Kindling Arts Festival, an annual fest that includes everything from aerial dance performances to experimental films and original plays. Whitcomb-Oliva's solo effort The Darkness and Other Black Things was easily the most provocative and strongest act of the 2019 festival. Seven, which was supported by a THRIVE award from the Metro Arts Commission, explores the seven deadly sins through the lenses of Blackness and fatness.
"I'm not afraid of confrontation," Whitcomb-Oliva tells the Scene. "I've never been afraid of it. For me, it's more effective to take the issue head on — to not sugarcoat it, because that is confusing to people. How can we learn about Black culture and learn about Blackness as a whole? We really need to sit down and talk about it, the good with the bad. I don't know how to be anything other than myself. And I am a fat Black woman."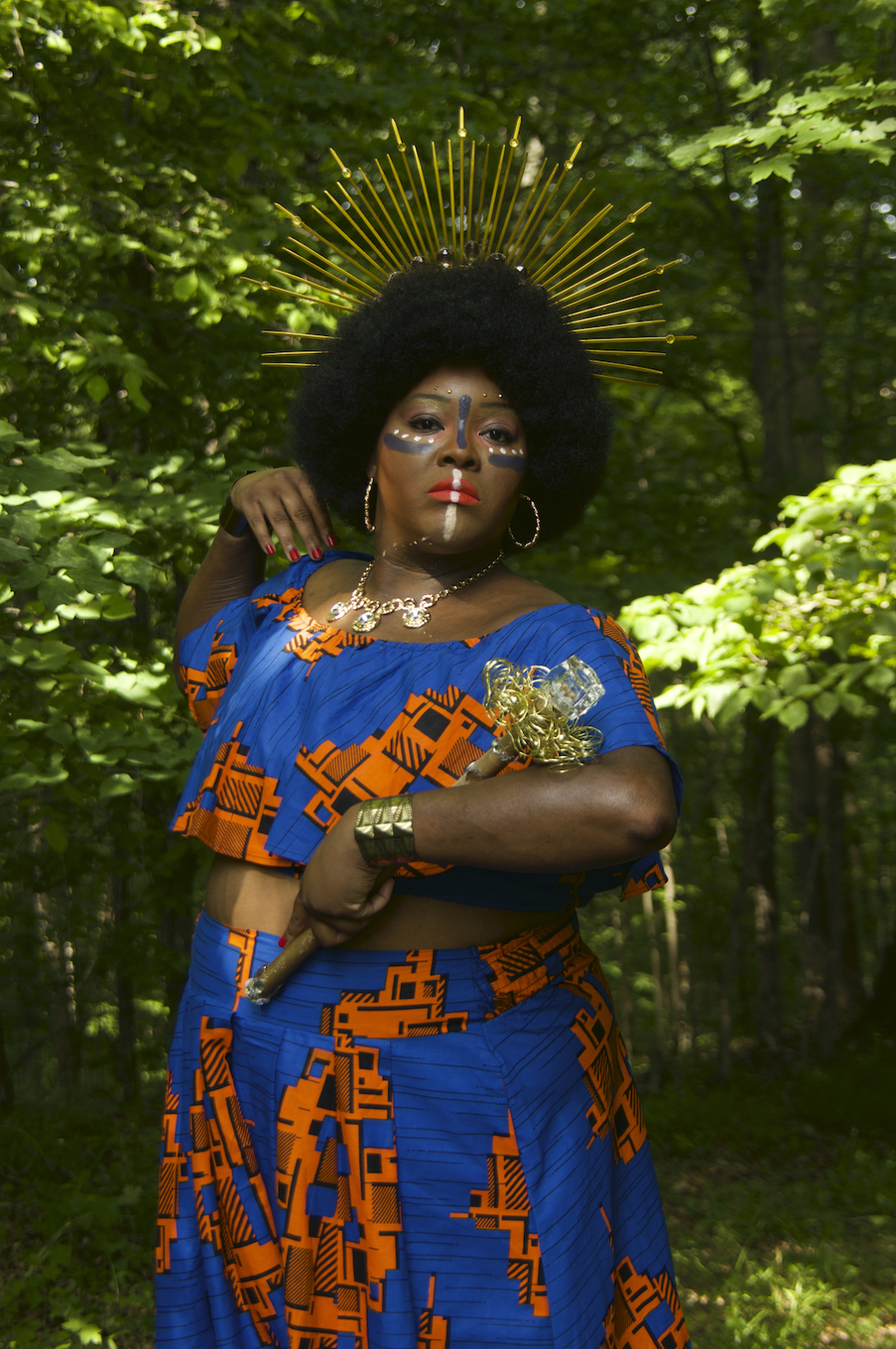 We should note that Whitcomb-Oliva and the Scene do not use the word "fat" pejoratively. Much like other derogatory words that have been reclaimed by the people meant to be harmed by their use, we use "fat" as a neutral adjective no different in function from "tall" or "pale." 
In seven vignettes, Whitcomb-Olivia turns each of the seven deadly sins on its head. Pride is embodied by an African queen, wielding a scepter and striking regal poses. "I reclaim my title forthwith," Whitcomb-Oliva narrates. "Queen. Descendant of greatness. Born into excellence. Brown skin is the resplendent example of sublime blessings. Bow down in the presence of triumph." In the vignette titled "Gluttony," she merrily ices a cake in a kitchen, only to turn somber when it is time to eat it. In a choreographed dance, she goes back and forth, trying to decide if she will deny herself the pleasure of her own creation. 
Because of the pandemic, Whitcomb-Oliva turned to a new medium in film. She relied on her mother, documentarian Valerie Whitcomb, to work behind the camera and help bring her project to fruition. She also prepared to write the script by engaging in conversation with other women who identify as fat or plus-size. Whitcomb-Oliva hosted "story circles" with women from the groups Fashion Is for Every Body and Women of Color Collaborative. By talking with other women, she was able to explore what the experience of moving through the world in a larger body is like for others, and her film explores not only fatness and Blackness, but also sexuality and mental health. 
Whitcomb-Oliva tells the Scene that the fun of performing The Darkness and Other Black Things was in watching the audience react. It was "exhilarating and mind-blowing," she says. "It's funny that you guys are coming to see a show, and for me, it's the exact opposite. … I'm not the show. It's everyone else."
But Seven feels "so risky," she says. "I've always been comfortable in my own skin. I've always been comfortable in my body that is ever-changing, ever-moving and resilient. But letting people see it for what it actually is, is scary." 
Whitcomb-Oliva plans to enter Seven into film festivals, and Kindling seems the perfect venue for its premiere. The festival rewards artists who are willing to take risks and produce new work. This year's festival will take place around town — at OZ Arts, The Barbershop Theater, Nashville School for the Aerial Arts and Centennial Park. Our other picks for the festival include Nate Eppler and Jonathan Alexandratos' The Small Parts Playset (7:30 p.m. Friday and 3 p.m. Saturday at The Barbershop); Alicia Haymer and Cameron L. Mitchell's Blackbird (8 p.m. Thursday and 4 p.m. Saturday at The Barbershop); and Shabaz Ujima's Soul/Sky Moving Spirit (7 p.m. Thursday and Friday at Centennial Park, near Cockrill Spring and Musicians Corner). 
With the rise of the Delta variant, Kindling has announced new protocols. Seating capacities will be reduced by 20 percent at all venues, and masks will be required at all times inside venues when guests are not actively drinking. All artists, staff members, technicians and volunteers will be vaccinated and masked, except when they are performing onstage. Due to The Barbershop Theater's small size, proof of vaccination will be required for all audience members.