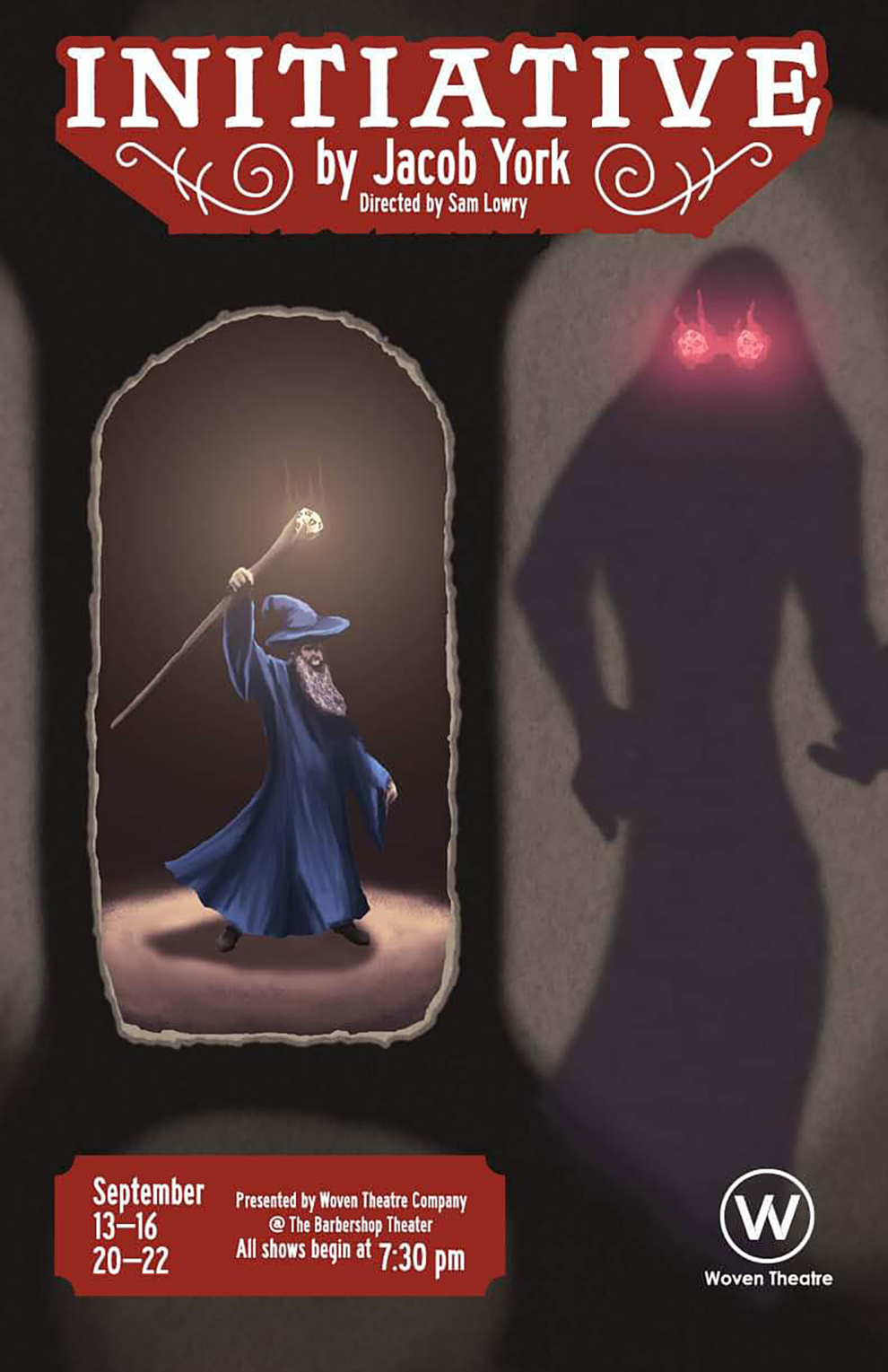 Thanks in part to the gamer-geek characters in Netflix's Stranger Things, Dungeons & Dragons is experiencing a revival in the popular imagination. And why shouldn't it? The influence of the quintessential role-playing game is evident in even our most advanced modern technological gameplay. In Atlanta-based playwright Jacob York's Initiative, now showing at The Barbershop Theater, a close-knit group of adult friends uses D&D to come to terms with some of life's greatest challenges: illness, death and acceptance. It's a celebration of nerddom and friendship that's relatable, heartrending and a ton of fun. 
Produced by small local company Woven Theatre and directed by Sam Lowry, Initiative begins with bad news. Twenty-eight-year-old Dave has just been diagnosed with cancer. He and his girlfriend Meg attend his long-standing game night with friends Tyrone, Sky and Benny. Dave has already hatched a plan with Dungeon Master Tyrone. They'll play D&D through the life he probably won't get to live, casting spells and vanquishing enemies so that he might imagine the experiences he'll never encounter. He'll see the ocean, go to grad school and experience a host of milestones within a couple months' time. 
Jonah Jackson is relatable as Dave, communicating a range of emotions. He goes from hope to anxiety to despondency as he endures what he calls "one humiliation after another" in the cancer treatment process. Jackson is at his best in scenes that involve the entire cast. He reacts to their often buoyant energy, but he can stand alone too. Sarah Zanotti — who's married to Jackson in real life — plays Meg. Both performed well in Pipeline-Collective's The World Over in July, but Initiative — though a much simpler play — gives the actors room to explore greater emotional depth. Zanotti lends Meg a steadfast earnestness as the supportive girlfriend at first, but she proves her mettle when Meg demands that Dave treat her with respect, no matter how despondent he's feeling. 
J.R. Robles plays Tyrone, Dave's even-tempered best friend and the Dungeon Master who acts as a sort of man-behind-the-curtain. Tyrone makes everything happen, designing Dave's dreams for the campaign. It's a serious task, but it's also D&D, so Robles gets to have some fun with the role. As Dave's treatment makes him feel more and more disconnected from the things he loves — and his relationship with Meg suffers as a result — Tyrone also must start teaching Dave lessons through gameplay. 
Dave's inner conflict is embodied by The Shade, a monster fashioned from sheets of black fabric that hang from a rectangular frame. The other actors move within the frame, pressing their faces up against the fabric so that the beast appears to be a many-faced god of death that speaks — with eerily pitched voices by Alyssa Borg and Diego Gomez — about Dave's worst fears: No one will remember him after he's gone; his life has been unremarkable; death is inevitable. The beast, designed by Lowry and his team, is comically constructed, but also shockingly effective as a dark talisman. Dave must battle The Shade the D&D way to exorcise his real-life demons. 
All of this is very somber, and the play might land too heavily if not for York's supporting characters. Borg, who also plays Sky, has great comic timing, infusing scenes with humor and playfulness. But the performer who really stands out in Initiative is Gomez as Benny. Benny's enthusiasm for the campaign and his terrible luck nearly every time he picks up his die provide hilarious comedic moments. Gomez is charismatic onstage; he flirts with the audience with a sense of self-possession that makes you forget you're watching an actor. In March, Gomez excelled in Humanity Theatre Project's production of Sweat. Also playing a supporting role there, Gomez stood out among a fantastic cast. Our local companies will do well to find a leading role for Gomez, and soon. 
After intermission, Act 2 shifts gears. As Dave's cancer worsens, the campaign races to encompass the life he won't live, and some of the depth of the first act is lost. There's also a lot less for Gomez and Borg to do, and they are missed. But York's script leads to catharsis, making the inevitable ending a moment of joyful rapture that, as Dave says of Meg, tends to and magnifies the light in our leading man and his friends. 
In D&D gameplay, initiative is the first die roll in a battle scene. It determines who will strike first and when the other players will react. It's a fitting metaphor for walking someone you love through death and filling the hole he leaves behind. Lowry writes in his director's note that D&D is "a way of being bigger than yourself." I left The Barbershop feeling stronger, taller and more enchanted with the world around me.