The extraordinary cultural and inspirational impact of the Fisk Jubilee Singers has been recognized since the early days of their existence. The original group was created as both ambassadors and fundraisers for Fisk University and champions of and advocates for vintage Negro spirituals — a powerful and evocative musical form whose message of salvation and deliverance has resonated with audiences from the 19th century to the present day.
2021 is proving to be a special year for this acclaimed group. Their latest LP Celebrating Fisk! (The 150th Anniversary Album), produced with Curb Records, earned a Grammy for Best Roots Gospel Album. It features superb renditions of vintage Negro spirituals and is enhanced by guest appearances from such stars as Ruby Amanfu, Keb' Mo' and CeCe Winans, among others. In addition, a wonderful performance film Walk Together Children: The 150th Anniversary of the Fisk Jubilee Singers will be shown Sunday and Wednesday on NPT-1, with several other showtimes scheduled for NPT-2 throughout October.
The film represents a cinematic collaboration between the Tennessee Performing Arts Center, producer-director Jon Royal and current Fisk Jubilee Singers musical director Dr. Paul T. Kwami. It includes marvelous vocal performances and equally moving spoken re-creations by the contemporary Fisk Jubilee Singers who reenact the life experiences of the original members in monologues. "It was absolutely critical that we went back to the original singers for this film," Royal tells the Scene. "Dr. Kwami really wanted to drive home to the audience how these singers saw themselves, their mission and the importance of what they were doing in terms of the spirituals and presenting them to the world."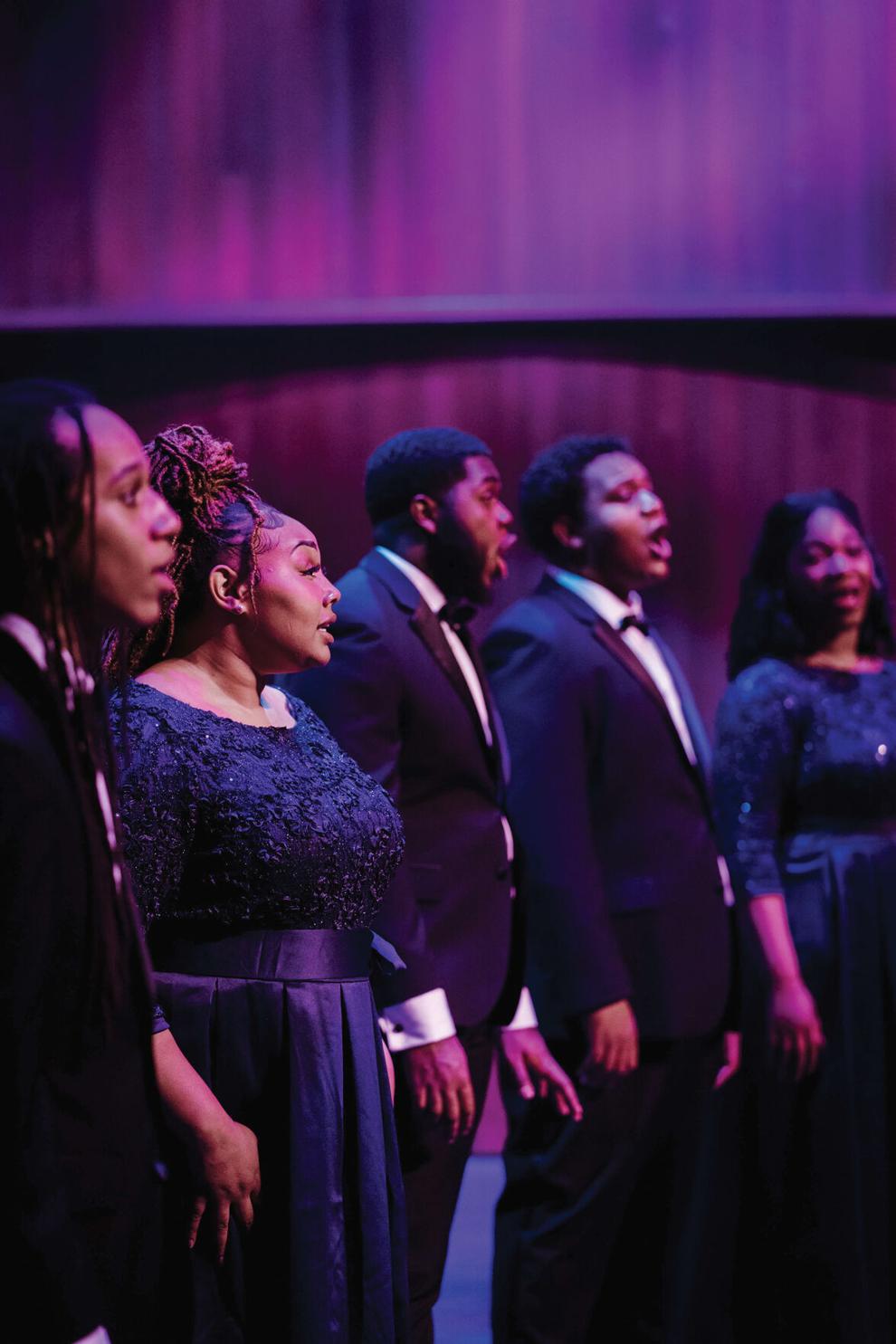 TPAC presented the film this spring for free to student audiences across Tennessee and to the public via Vimeo on Demand, with proceeds split between TPAC and the Fisk Jubilee Singers Scholarship Fund. Royal and Dona Spangler co-produced Walk Together Children, with narration by Persephone Felder-Fentress and costume design by Loretta Harper. The nearly hourlong project also incorporates ample narrative and historical perspective and context. "We did a lot of work in terms of filming and completing the project in a condensed period of time," Royal says. "I think the singers were really enthused and moved by the occasion, and I feel the 'portrait concept' as conceived by Dr. Kwami really came together well throughout the film."
There were nine members in the original Fisk Jubilee Singers, all of whose lives and experiences are commemorated throughout Walk Together Children. The roster of songs performed by the present-day singers spans the gamut from extremely familiar to rarely heard. The list includes Kwami's arrangements of "Down by the Riverside" and "Swing Low, Sweet Chariot"; William L. Dawson's "Talk About a Child"; H.T. Burleigh's "Heav'n, Heav'n"; Moses Hogan's "Walk Together, Children"; and John W. Work III's "Done Made My Vow," "Run, Mourner, Run," "Rock My Soul in the Bosom of Abraham" and "Rockin' Jerusalem."
The roster of contemporary Fisk Jubilee Singers includes Eren Brooks, Jeffrey Casey, Allen Christian, Andrew Davis, Kennedi Hall, Trinity Hervey, Kemani Iwu, DeJuan Jackson Jr., Kristen Oguno, Ariana Okhuozagbon, Hezekiah Robinson, Micah Showers, Jada Spight, Cortney Towns and Tory Westbrook. 
"I really thought I knew a lot about the Fisk Jubilee Singers," Royal says. "I'm a native of Nashville and have heard about them all my life. But once I really got into the preparation and research for this film, I found out that there were plenty of things that I didn't know. Perhaps the most surprising for me was learning that none of the original singers ever earned a degree. They were so busy performing and raising money to help keep Fisk going that they had to neglect their education.
"But the sacrifices they made and the hardships they endured, as well as the acclaim and fame that they earned, not only helped save Fisk and helped it and Nashville become known all over the world, they also showed everyone through their performances the greatness of the Negro spiritual and its importance," he continues. "I think everyone who sees Walk Together Children will get a better understanding not only of the group's history and origins, but its standing as one of this nation's greatest cultural institutions."