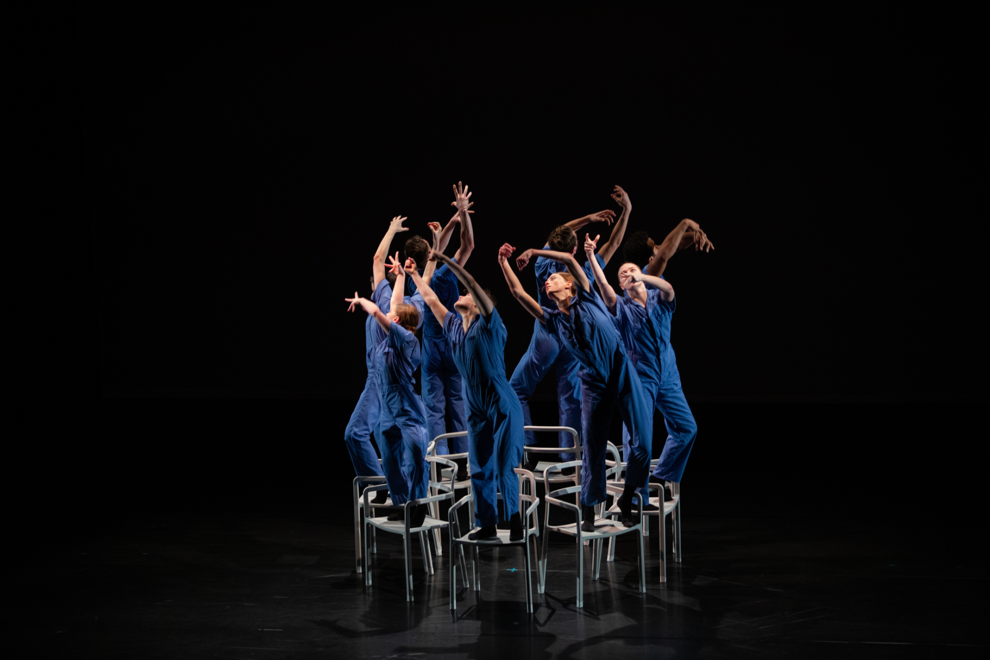 Prior to Thursday evening's performance of The Triangle, New Dialect artistic director Banning Bouldin spoke to an enthusiastic group of patrons at OZ Arts Nashville about the origins of the piece, which she created in response to a life-altering diagnosis of multiple sclerosis. 
"The point of origin is about me," she said of The Triangle, which enjoyed a sold-out premiere at OZ last season, along with a successful run at the esteemed Jacob's Pillow Dance Festival in Becket, Mass. "But it quickly became much larger than me."
In fact, it is Bouldin's uncanny ability to translate such a deeply personal work to a broader audience that makes The Triangle so powerful. Exploring themes of weakness, strength, physical limitation and courage, The Triangle balances high-flying elements of "conceptual fashion, sculpture and powerful imagery." But as the dancers move through each scene, we recognize our own experiences and stories within the work.
The performance opens in striking fashion, with a lone towering figure dressed in a billowing black skirt. A group of dancers emerges from beneath her oversized train, all bound together by an intricate system of elastic straps. Initially, they struggle against one another, each straining to go in a different direction. But eventually, the dancers begin to work in unison, discovering new ways to move forward together. 
The straps are just one of several devices and props Bouldin uses to tell the emotional story. Chairs figure prominently in the production, alternately aiding and constraining the dancers. I was also struck by the use of flowery masks, suggesting the way we strive to hide our vulnerability from others — and sometimes even ourselves.  
One particularly thought-provoking segment finds the dancers sitting onstage, watching a filmed version of themselves moving and laboring against the elastic straps. It's a fascinating bit that seems to question the way we as a society view physical limitations and otherness. In another more poignant moment, we meet a devoted caregiver who works to assist and encourage his partner. Cradling her head and supporting her body, he places her feet one in front of the other, willing her forward. It's a stunningly intimate portrait of love and the brutal reality of caregiving. 
The Triangle is presented as part of a double bill, paired with the world premiere of Miami-based dancer-choreographer Rosie Herrera's First Fruit. It's a playful and often passionate study in human connection and control, featuring vibrant colors and a seemingly endless supply of Post-it notes. The debut of First Fruit represents the culmination of Herrera's creative residency with New Dialect, which included everything from a weeklong dance intensive and a free master class to a workshop at the Hispanic Family Foundation's Baila Dance Studio.
But the evening belongs to Banning Bouldin and the incredible dancers of New Dialect. Marked by universal themes and stirring performances, The Triangle offers an unforgettable evening of dance.