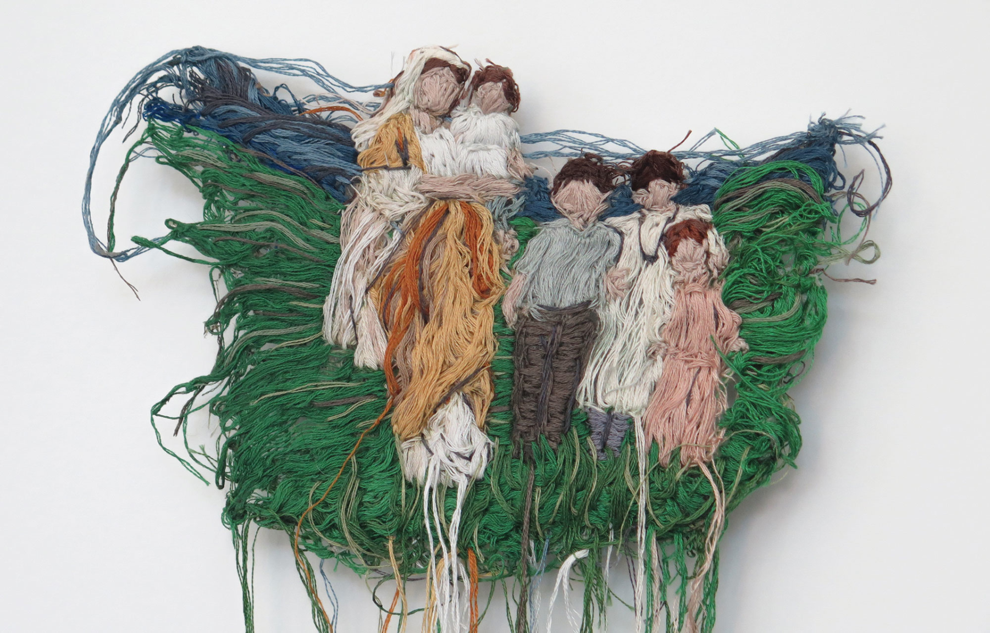 Our understanding of language is informed by our experiences. For the four women with work in Take Refuge, on view at Coop this month, the titular phrase references each artist's unique experiences as immigrants and refugees. With Take Refuge, artists Beizar Aradini, Nuveen Barwari, Aram Han Sifuentes and Tshab Her investigate women's traditional roles as caregivers, and use textiles to create feminine metaphors as well as bold statements about the U.S. Constitution.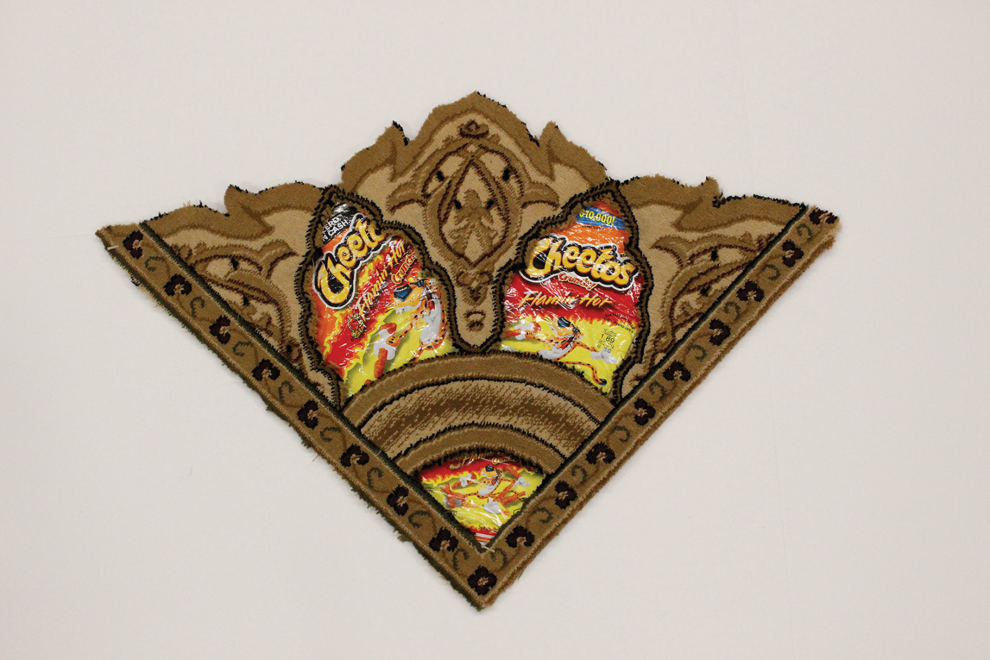 Upon entering the small gallery inside The Packing Plant, viewers are confronted by an imposing red banner covered with white text — the piece takes up most of the gallery's back wall. Aram Han Sifuentes' declarative sculpture of felt appliqué on curtains is part of her Messages to the Authorities series. The work reads like one big banner, but the slight split between the closed curtains makes it feel like a super-cozy painted diptych. The text spells out a passage that an American immigrant or refugee, possibly facing a language barrier, might memorize in case of a confrontation with authorities. The white letters spell out a proclamation of constitutional rights in all caps. The Fourth Amendment's protections against unreasonable search and seizure are evoked, along with the Fifth Amendment's protections against self-incrimination. Frankly, it's good advice for every citizen to be able to recite this for themselves or to help a neighbor, but many of us take these rights for granted.  
Sifuentes was born in Seoul, South Korea, and immigrated to California in 1992. Sifuentes' mother was a seamstress, and she introduced the artist to her craft when she was still young — not as an art form, but as a way to help provide for their family. The notion of sewing as a feminine, domestic skill is an important aspect of this exhibition, which specifically reflects the immigrant and refugee experiences of women.  
Tshab Her was born to refugee parents in Winfield, Ill., in 1991. She is a Hmong American, descended from an ethnic minority group originally from Southern China. Most Hmong Americans emigrated from Northern Laos at the end of the Vietnam War. "Returning" is a display of embroidered drawings of objects like a golf club, an airplane and an outline of Laos. Along with the piece's title, an embroidered rendering of a couple dressed like tourists suggests that this work commemorates a family's return trip to visit Laos. She also sewed "A Flag for the Hmong" — it juts from a staff at the gallery door.  
There's lots of history and big questions about justice and human rights here, but this show is also admirably irreverent. Nuveen Barwari's "Flaming Hot 1/2" is a section of a rug cut in a decorative triangular shape and inset with bags of Flamin' Hot Cheetos. Barwari is a Kurdish-American, born in Nashville to immigrant parents. She grew up here, but spent most of her teen years back in Iraqi Kurdistan. Barwari often incorporates rugs in her work — they're heavy with references to Middle Eastern decor and Islamic prayer rugs. Barwari's inclusion of snack bags is visually absurd, but she told me that the bright-red Cheetos were what she missed most while she was away from Nashville. She instructed visitors from the States to collapse the bags by poking them with pins, making as much room as possible for all the snacks that might fit in a suitcase.  
The most intricate works in the show are Beizar Aradini's dazzlingly detailed thread portraits. Aradini is also Kurdish American — she was born in Mardin, Turkey, but grew up in Nashville. Aradini's pieces re-create photographs of friends and family members. "Family Ties" is a small wall sculpture that evokes three young kids and a mom holding a baby. This portrait is full of energy, and the expressive gestures Aradini captures in her twisted and woven threads offer gorgeous displays of painterly texture. "Three Women" is just as impressive for its representational precision: The titular women are the centerpiece of a design sewn on canvas. Aradini lovingly re-creates the colors and textures of their traditional clothes, and even captures thoughtful facial expressions —  complete with highlights on cheeks and noses — with nothing but needle and thread. Take long, close looks at these.