Writer-director Kelly Reichardt's films are deliberate. Intentional. Slow. In fact, hers is a brand of neorealism that is at times too slow for many audiences. And though Reichardt's brand-new Showing Up is indeed among the slowest efforts in a filmography that stretches back three decades, it's through its hyper-realistic, deliberate pace that the film achieves its power.
The fourth collaboration between Reichardt and Michelle Williams, Showing Up stars Williams as Lizzy, a cold, dour sculptor preparing for a major exhibit. Though she's surrounded by free-spirited, Croc-wearing artists, teachers and administrators at the small Portland, Ore., arts college where she works, she rarely seems to make connections with any of them. Among her colleagues are her distracted mother Jean (Maryann Plunkett) and laid-back lothario and fellow artist Eric (André 3000, billed here as André Benjamin, who also contributes flute to the film — because yes, playing an instrument known as the Mayan double flute is something the enigmatic rapper and actor is known to do now.)
There's also Lizzy's landlord, neighbor, frenemy and fellow artist Jo, a sculptor with more acclaim and a seemingly much larger capacity for joy than Lizzy. Jo is played by the exceptional Hong Chau, whose recent run of work also includes performances in The Menu, the Peacock original Poker Face and The Whale — the latter of which got her an Oscar nomination for Best Supporting Actress. (And with all due respect to the iconic Jamie Lee Curtis, Chau probably should've taken home the trophy.) Jo is often frustratingly flighty and insouciant, failing to restore Lizzy's hot water and insisting upon nursing back to health a maimed pigeon. For what it's worth, it's probably not too much of a stretch to infer that the pigeon, which sticks around for the duration of the film, is a metaphor for creating a work of art — something that must be nurtured and finally released.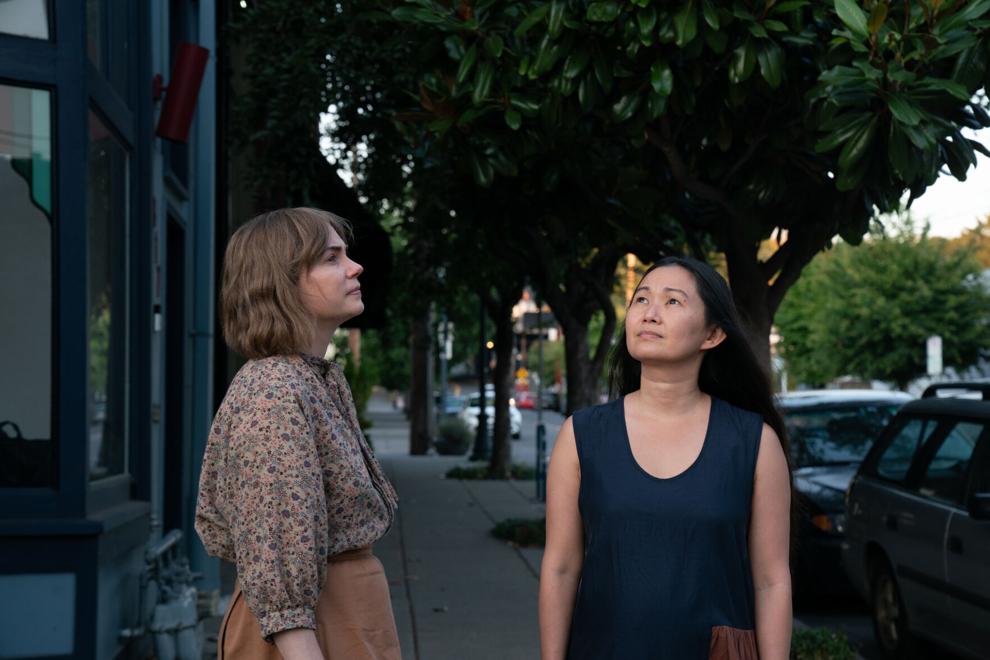 Lizzy's family dynamic is a troubling one. Her father, himself a retired sculptor, is played by Judd Hirsch, last seen as Williams' character's uncle in Steven Spielberg's The Fabelmans. Lizzy's younger brother Sean (John Magaro, great in Reichardt's First Cow but iffy as a young Silvio Dante in Sopranos prequel The Many Saints of Newark) is showing clear signs of severe mental illness. They all bicker. Lizzy, the worrier of the family, carries everyone's burdens as her own. She is plagued. She is lonesome. She is, frankly, incessantly unpleasant. But perhaps her troubles will give her art more meaning.
None of this is to say Showing Up is an overall depressing film. As with the Coen brothers' Inside Llewyn Davis, it's a movie about the isolating, soul-crushing slog of life as a starving artist. But like that film, it also finds a good bit of humor in the slog. (Bonus points: Both films also prominently feature an adorable but mischievous orange cat.) Showing Up isn't the masterwork Reichardt's First Cow is, or an absolute heartbreaker like Wendy and Lucy, another Reichardt-Williams collab. But it transmits so well the unease and obsession and anxiety of creating art.
As Reichardt's films so often do, Showing Up manages to slowly unfold in a manner that ratchets up tension. Will some terrible fate befall Lizzy? Her art? Her family? Or will she manage to finally, mercifully, let go — of her work, her troubles and her self-imposed isolation? It's in the small details of Lizzy's relatable journey where Showing Up shines the brightest.