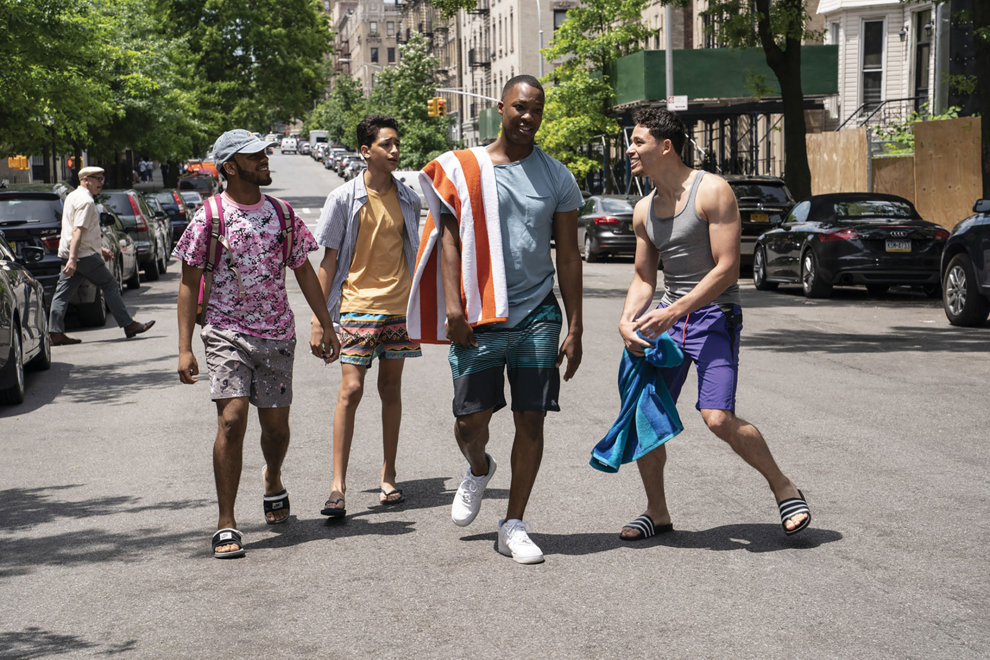 There are times when speech does not suffice — when emotions and secrets and boundaries and deeply held convictions gain so much strength and momentum that the only two possible outcomes are a Scanners-style explosion or to break into song and dance. And while no one explodes in the joyous musical extravaganza that is In the Heights, I'd like to think that those who would deny the humanity of others might at least get a pronounced nosebleed at the kindnesses offered herein.
I was already won over by the film's smartly directed, thrilling approach to staging its musical numbers. But then In the Heights one-upped itself in the salon-set "No Me Diga," when a crèche of bewigged mannequin heads becomes a lo-fi Greek chorus, displaying an understanding that a meme-able moment has a reach that is unbound by focus groups or the bonds of time. A quality wig moment is something expansive, and it's one of the many intersections that writer Quiara Alegría Hudes, composer/lyricist/piraguero Lin-Manuel Miranda and cinematographer Alice Brooks find a place for in this festive dive into all the feelings. It's a refreshingly polyglot experience, defiantly alive and determined to make the viewer feel connected to everyone.
Director John M. Chu knows what he's doing. He's a veteran of the Step Up series (including its majestic 2010 3-D chapter) who knows how to stage the hell out of a musical number, as well as the guy who helped Crazy Rich Asians become a box-office phenomenon (and yes, there are set pieces in this film that comfortably sit beside that film's jaw-droppingly gorgeous wedding sequence). This is an exceptional marriage of director and material. A Broadway smash in the Aughts, In the Heights is best known as Miranda's pre-Hamilton endeavor. But it's so much more.
When a trip to the municipal pool becomes a 21st-century Busby Berkeley extravaganza with regimented water ballet, Fossefied (say it like Clarence Carter) tangles and even Cirque du Soleil-style mass isolations, it's electrifying. The translation from musical theater to film is so often a battle between fantasy and realism, between visceral immediacy and resonant endurance. The tendency in recent years to rely on giant green-screen environments and CG everything makes these tactile apartments, stoops and streets of New York City (and those that production designer Nelson Coates reconstructed on a backlot) into something that reassures our collective sense of space.
Abuela Claudia (Olga Merediz) is the incarnation of the community. Cuban by birth, and without children, she has helped care for seemingly everyone in the neighborhood. A source of meals and understanding for whichever of the neighbors might need it, she's a strong-willed woman who has borne decades' worth of struggle to remain standing when the chaos and oppression momentarily relents. She has a number (let's call it the Act 1 finale, even though it isn't, really — the film has no act break, and it wasn't the pre-intermission closer in the play) that utilizes New York City's subway system as an Expressionist journey through history. It is one of the most amazing achievements in any film this year. If you see In the Heights and this sequence doesn't make you feel something overwhelming, then I'm worried about you. If the foundation of the global-pandemic narrative is human empathy, "Paciencia y Fe" illustrates it perfectly.
What's utterly maddening, though, is that even at the film's moments of triumph, the outside world can't help but rob In the Heights of its transformational power. No matter how hopeful a sweeping piece of entertainment can make you feel about the process of helping the undocumented population become citizens, the banal horrors of what is happening in state legislatures and American homes all over the country can't help but unmake hard-won joy. Roger Ebert rightfully said that movies were an essential tool for teaching empathy — but empathy has to be a two-way street, and it feels like so much reinforced hatred, classism and racism have gone into whatever you want to call the current right-wing movement that not even the biggest-hearted musical-theater feelings can help.
But damn if In the Heights doesn't try extra hard. For the majority of its runtime, the film finds and maintains an effervescent tonal balance that lets grit, glam, magical realism and sweeping feelings play nice together, bringing something for everyone to the table. As Broadway prepares to take to the stage once again, this gift of a film lights the way, understanding the healing power of a big ol' musical when it comes to metabolizing tragedy and getting back in touch with the humanity we share, gathered in the dark.