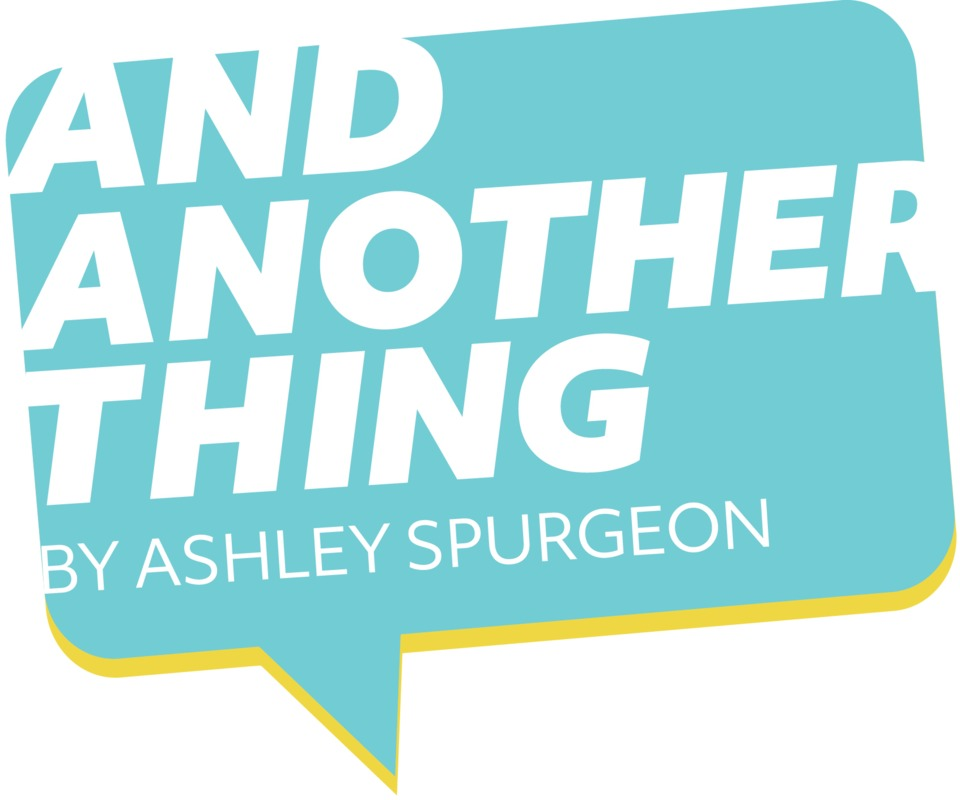 Ashley Spurgeon is a lifelong TV fan — nay, expert — and with her recurring television and pop-culture column "And Another Thing," she'll tell you what to watch, what to skip, and what's worth thinking more about. 
---
My fellow Americans — it's time to play the music. [Dramatic pause, crowd goes wild.] It's time to light the lights. It's time to meet the Muppets, on The Muppet Show — tonight! If I were Kermit the Frog, host of The Muppet Show, here's the point where I'd announce the special guest, and flail my skinny little green arms around with joy. I look at The Muppets the same way The Muppets look at Gene Kelly ("Euguene," per Miss Piggy) — with love, awe and deep respect. Will the weird, grand experiment that is the United States of America be worth it, on the whole, when all is said and done? I mean, probably not, but a big ol' check in the "PLUS" column as far as I'm concerned is the fact that the U.S.A. begat Jim Henson, who gave the world The Muppets.
The very same people whining that Disney+ is politely suggesting to grown adults that they consider "context" for five seconds before enjoying racist little song-and-dance numbers are, in fact, the very same people who would have been apoplectic in 1969 when Sesame Street debuted and the opening showed Black and white kids playing together. Those people are to be safely ignored in almost all contexts. They're like sad little Sam the Eagles (only evil): taciturn, grumpy birds who really, really dislike weirdos. 
Like, 0 percent chance those Statler-and-Waldorf asses ever liked The Muppet Show in the first place. I mean, it's about theater! The Muppets are just a deeply vaudevillian creation (and because The Muppet Show was produced in the U.K., there's a heavy strain of not-dissimilar British music-hall traditions in there, too), most obviously personified through Fozzie. But so many of the jokes — one might say especially the racist little song-and-dance numbers! — all come from a fairly standardized English-language theater tradition. 
You know that cool Muppet cat with an eyepatch? He lives backstage and his name is Gaffer. Scooter's uncle owns the theater, which why he gets to hang around and be involved. I love the layers: The Muppet Show is a television variety show of "The Muppet Show," which is a "real" theater revue that takes place in a world where puppets are in the audience and Kris Kristofferson is onstage. In every single show, something falls apart. Sometimes it's the actors' egos, sometimes the roof is caving in, sometimes Dr. Bunsen Honeydew creates a machine that zaps objects through time and space — as anyone who's ever dealt with live performance knows, it's always something. 
Musical guests and their numbers aren't replacements for people who miss live music (though there is a pretty lit version of "Stayin' Alive" as performed by a bunch of pigs at Versailles — subtle communist messaging for the kids from Hippie Henson there). But they do kind of scratch that itch, especially the performances in which superstars of the day are chased around the stage by enormous, two-manned Muppets. The variety of puppets is part of what makes this show so fun: We've got our standard "Advanced Socks," à la Kermit and Miss Piggy, but there are full-size fursuits for people to wear, blackout stages so you can get five weird little accordion puppets up there at once, enormous squiggly things, some of which surely require more than two people to wrangle. You know what's funny? When multiple chicken puppets smash their fake beaks into a piano to play "Chopsticks." The Muppet Show is kind of a live version of Fantasia, but better. 
The Muppet Show ran from the mid-'70s to the early '80s, and the guest stars form an impressive array, from Who's-Who to Who's-That? Like, everyone in the world of The Muppets knows who Gene Kelly is, but even backstage they needed a primer on Loretta Swit. There's Edgar Bergen with Charlie McCarthy and Mortimer Snerd; Señor Wences; Shields and Yarnell; Mummenschanz. Who? What? Exactly. There are lots of episodes hosted by the day's television stars: Florence Henderson, Valerie Harper, Lynda Carter, Cheryl Ladd, Jean Stapleton. I love it when the fake audience *gasps!* with excitement when they learn who the guest will be: "He's very good, yeah," Fozzie deadpans for Hal Linden of TV's Barney Miller. 
Again, I'm not sure the haters were really going to watch much Muppets in the first place, what with the show's camp-theatricality DNA (Ethel Merman! Liberace! Carol Channing! Phyllis Diller! Joel Grey! Zero Mostel! Bernadette Peters! Elton John! Alice Cooper!); have they even noticed that the show's offending shit, like, stayed in? The Peter Sellers episode LEADS with gypsy brownface! (Sorry, I mean "the grand and exalted art of British theater tradition.") If you want to see Johnny Cash sing in front of a Confederate flag, you can! And it's not even like all the weird stereotypes are gone, because the Swedish Chef is still out there borking his little heart out. Anyway, I like it. The Muppets are good. And Gonzo: Keep fucking that chicken.