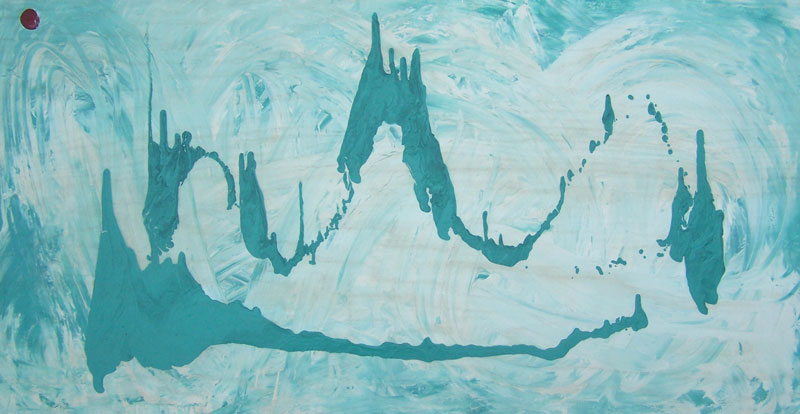 The first First Saturday of spring is in full bloom this weekend, and gallerygoers should expect fashionable femmes fatales, all-American scenes and second chances to catch some of March's best shows.
Fifth Avenue of the Arts
At The Arts Company, sculptor John Petrey touches on architecture, fashion, art and new technology to create work that is both lighthearted and allegorical. Petrey's Rethinking Sculptural Forms will share the gallery with a pop-up exhibition by fashion photographer Brett Warren, who also contributed to this week's fashion-themed Scene cover story.
Nashville native Adam Schulman's Gold of Africa opens at Tinney Contemporary. The photographer, who is also a medical physicist, combines the aesthetics of fashion photography with a narrative about the still-developing medical systems in parts of Africa. It's always a slippery path when privileged artists take marginalized populations as their subjects, and here's hoping this show is more evocative than exploitative. 
The Arcade
Grayson Ravenhurst's abstract paintings at Corvidae Collective bring a verdant palette to the first First Saturday of spring, although her anti-capitalist theorizing might be better suited for a May Day opening. Sometimes it's the ideas behind the work that capture the imagination, and Ravenhurst offers colorful chaos as an analogy for escaping the rigid, stratified, codified, commodified hierarchies of capital. 
Blend Studio is hosting an exhibition of new paintings by Jared Freihoefer. The artist's multimedia works use collage and illustrative elements to create recursive narratives about the origins and evolution of our species — as well as those of our own developing selves. At his best, Freihoefer offers a light take on heavy subjects, and he's full of sly surprises.
Kevin Dietz and Michael Hampton's energetic drawing experiment, Dog Pile, opens at Watkins Arcade Gallery. In WAG's press release, the pair's punk process is described like this: "The eraser is the killer, and the pencil a knife! Cut and carve, mark and erase. Stack and stack." The artists' no-holds-barred drafting is driven by visual storytelling, but the display results in a sculptural confusion of paper, not unlike the titular canine jumble. Also, Titular Canine Jumble will be my code name at this month's crawl. 
David Onri Anderson has been working his way to the center of Nashville's art scene: He's co-director and curator of Mild Climate, he operates the alternative gallery space Bijan Ferdowsi in the basement of the house he rents, and the prolific painter's latest show Hum is the April opening at The Browsing Room in the Downtown Presbyterian Church. At first glance, Anderson's paintings look like meticulous geometric abstracts. But his penchant for painting on found materials like cardboard and raw wood gives his work an invitingly casual, quietly offhand quality. And Anderson's work is often more figurative than it might appear — a recent series of works featuring triangle forms was actually an ongoing study of Anderson's memory of a Japanese lantern pictured in a book of erotic prints. I don't know if Anderson is the future of Nashville's art scene — he's a bright, talented guy with a lot of allies and options — but I can tell you he's one of the artists creating and contextualizing the visual conversation in this city right now. If you're not following Anderson, his work and his projects, you're being left behind. 



Wedgewood-Houston 
Nearly everyone who goes to the Arts & Music at Wedgewood-Houston events stops at Zeitgeist Gallery first — they have the best parking in the neighborhood. This month, the gallery continues its At Home exhibition, which is a really fun group show featuring affordable works on paper along with some small sculptures. There's a lot to look at, and a common thread of chromatic abstraction runs through most of the work, and makes Sarah Boyts Yoder's offerings stand out. At Home is a solid show, but Yoder is the crazy diamond shining at its center. 
Photographer Jack Spencer already had a book signing at David Lusk Gallery to celebrate the opening of the coffee table volume's accompanying exhibition This Land: An American Portrait. The book and the show feature Spencer's signature style of subjects — from Civil War battlegrounds and foggy mountaintops to mainstreet Americana and industrial landscapes. Spencer's snaps offer a vision of the country that is just in time, and reminds us of its beauty in the face of cultural and political uncertainty.
Mild Climate's Corner Palace opened in March, and I'm happy to see it running through April 29. This small group show features work by Douglas Degges, John Dickinson and Nashville native Bridget Bailey, whose colorful pile of miniature modeling-clay socks steals this show. 
The Clark House Initiative is a curatorial collective and artists' union based in Mumbai. Its members use creative image-making practices and curatorial processes to reimagine histories, explore alternative economies and ask questions about the limits of freedom. It does all this while drawing from a pantheon of indispensable radical forbears — including the Black Panther Party, Fluxus Group, Richard Wright, John Cage and Joseph Beuys. Clark House brings The Stories My Country Told Me to Coop Gallery this month to examine India's version of the global rise of populist nationalism. 
Sage Dawson's tent installation, Brick Myth, at Seed Space takes its aesthetic cues from the Persian pleasure pavilions that protected outdoor parties from the desert sun as late as 1900. The show is also a tribute to St. Louis' history as a center for ornamental brick manufacturing. Step inside the installation to explore this unique meeting of disparate-seeming cultures. 
David Hellams and David King's latest installment of their Crappy Magic Experience will be at Abrasive Media. We've given Crappy Magic's interactive displays of thrift store items a Best of Nashville award, and this latest version includes an installation of video art, and the latest issue of Crappy Magic magazine. 
Nashville Public Television will hold its Big Yellow Bird Bash fundraiser at Houston Station. Proposed federal budget cuts make supporting public broadcasting more important than ever, so grab your tickets at wnpt.org before the crawl.
Email arts@nashvillescene.com