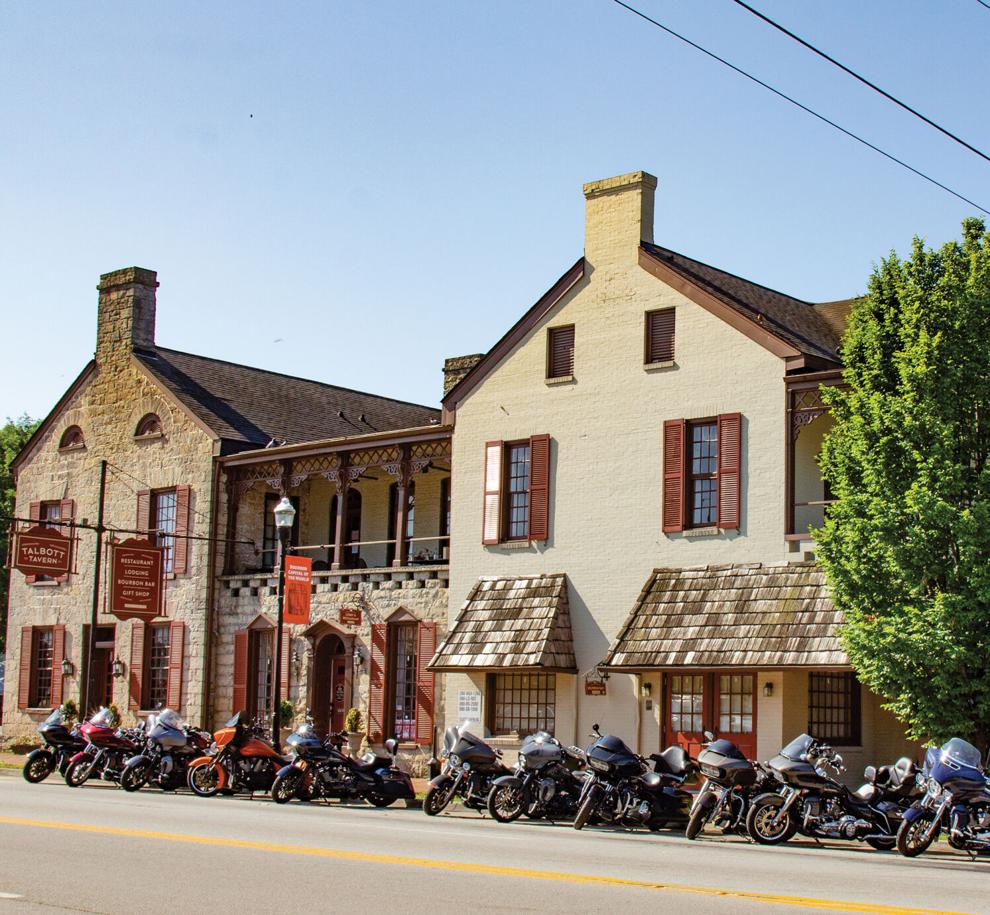 Whiskey connoisseurs and history buffs probably already know Bardstown, Ky., a small town about 45 minutes south of Louisville on I-65. Europeans crossed the Appalachians and settled in the area in the 1770s, and the town's incredibly charming and walkable downtown area incorporates a significant amount of historic construction. Bardstown is also home to or within a short drive of a ton of distilleries, including those where some of the biggest names in bourbon make their spirits: The self-ascribed moniker The Bourbon Capital of the World is pretty accurate. Like a lot of small towns, Bardstown is more rewarding for early risers than night owls. If you're looking to get away and take it easy for a couple of days, or for a home base for your pilgrimage along the Kentucky Bourbon Trail, this is the spot.
---
Stay
Your options for lodgings in Bardstown run the gamut from chain hotels to centuries-old establishments. Some portions of the original 1779 structure housing The Talbott Inn, on Court Square in the heart of downtown, are still in use; a larger section dates to 1913. Among other historic figures, the inn and its tavern (now a restaurant and bar called Old Talbott Tavern) hosted Daniel Boone, Abraham Lincoln and Jesse James.
The Airbnb we chose for our weekend stay is much more modest, but like so much else in the city, it's a well-preserved link to the past. The home is called The Little House — quite appropriate for a kit house, purchased from a Sears Roebuck catalog and delivered to Bardstown by rail in 1920 or 1921. The amenities are somewhat limited (no Wi-Fi), but it's got what really counts (up-to-date plumbing and central HVAC) and is well-suited for a single person or a couple. Plus, you've got the whole place to yourself at a very reasonable rate, within walking distance of a bevy of shops and eateries.
---
Do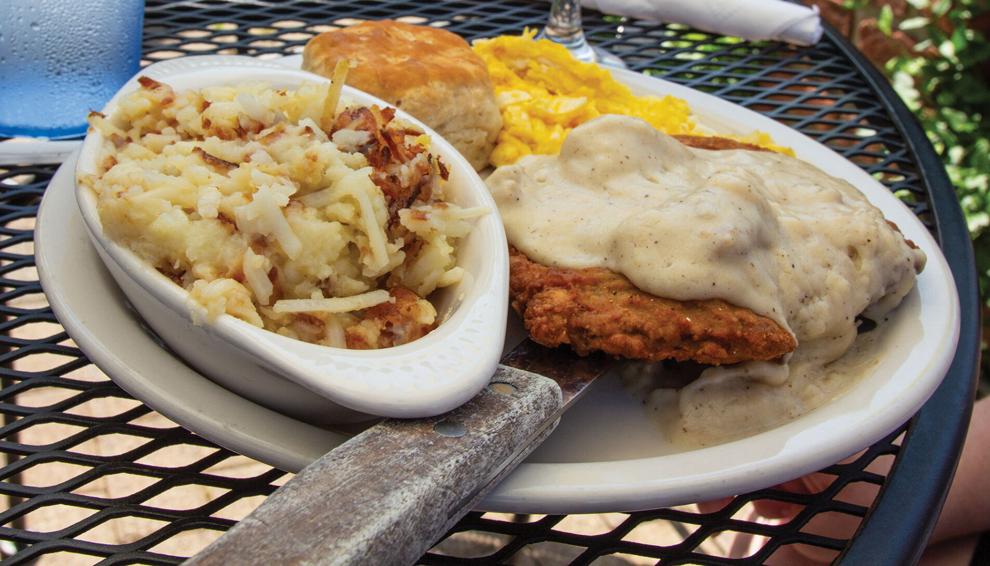 The Little House is about four blocks from Mammy's Kitchen and Bar. While you can eat well at any meal, breakfast (served starting at 6:30 a.m. most days) is the ringer. The staples of the menu are country kitchen fare like flapjacks and perfectly crisp and tender country-fried steak. Portion sizes teeter on the edge of decadent. You could argue that the breakfast hot brown (they also offer a traditional suppertime take on the Kentucky specialty) falls right over that edge. But it lands softly in a small lake of parmesan cheese sauce and eggs atop a mouth-watering mountain of country ham, roast turkey and Texas toast.
If you need to chase off a hangover or lay down a foundation for a day of bourbon drinking, Mammy's has you covered. Other spots offer meals that are hearty but not quite as hedonistic — the bacon-and-egg sandwich at Pat's Place tastes like you made it at home, always a plus. Cafe Primo had a knockout tiramisu, balancing all the rich flavors of chocolate, mascarpone, coffee and wine in a magic trick of a dessert that eats almost as light as Cool Whip. It's a shame we didn't have time to try one of Cafe Primo's pizzas, because the one being shared by the family across the aisle from us looked and smelled amazing. We travel to Ohio to visit family several times a year, and we're going to try and plan future trips around stops at Hadorn's Bakery, a Bardstown institution offering doughnuts that are hard to beat anywhere. If you're going to have just one, make it a Yum Yum — a sort of cinnamon bun that's braided instead of rolled, then glazed and topped with streaks of gooey icing.
As you might expect, most bars around town have walls lined with shelf upon shelf of bourbon, and most barkeeps we encountered were adept at showcasing the local spirit. If you're going to pick by atmosphere, The Blind Pig Bourbon Speakeasy was the coziest we found, feeling relaxed even when it was near capacity. There's a little bit of a ritual to get in — you're supposed to phone from outside and answer the bartender's trivia question — but no one was overly precious about it. The Blind Pig closes at midnight, which is pretty late by Bardstown standards, and it's the kind of place where you could dress up if you felt like it, but you're not going to feel self-conscious if you don't.
Bourbon, as you might know, has developed a cult following that can be kind of intimidating for a casual drinker like myself. Distillery tours are a good way to get up close and personal with the beloved oak-aged liquor. Though you'll want to book tours well in advance, by staying in Bardstown you're roughly a half-hour drive from Jim Beam, Maker's Mark and Four Roses, and slightly less from Nashvillian Wally Dant's Log Still. You're practically spoiled for choice right in Bardstown, as well: The Barton 1792 distillery is a stone's throw from downtown, while Lux Row (which produces Rebel Yell, Ezra Brooks and more), Willett and the Heaven Hill Bourbon Heritage Center aren't much farther.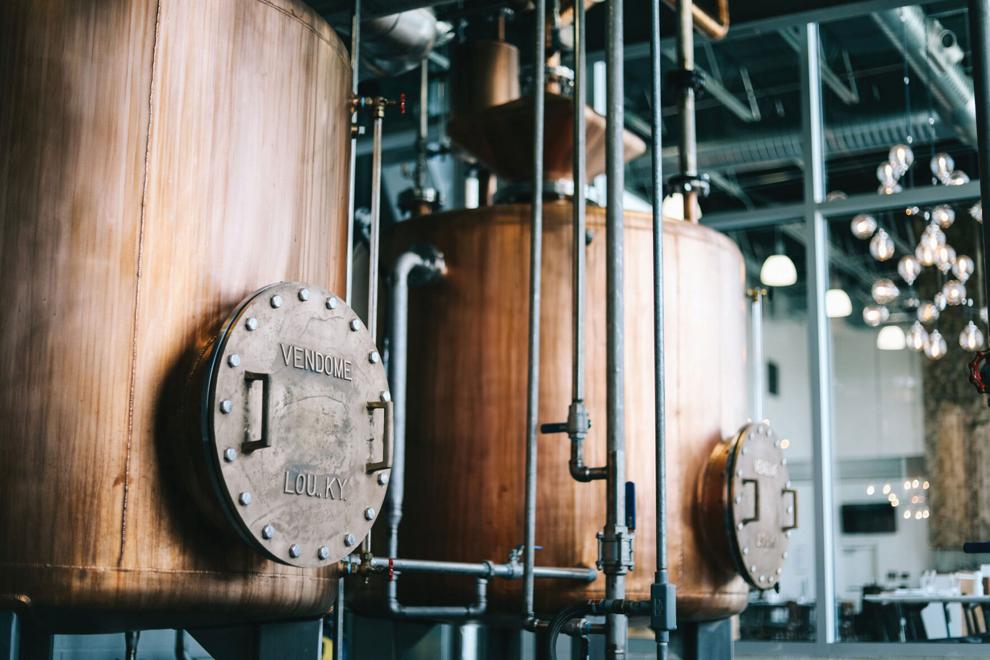 Many of these firms have been distilling for decades or longer. The massive operation at Bardstown Bourbon Company, 10 minutes from downtown, was launched in 2016. We stopped in for the one-hour From Distillate to Barrel Tour, in which our knowledgeable and personable guide led us through a tasting that included fresh distillate (aka moonshine) as well as aged whiskeys. She also took us through the distilling plant and then out to one of the company's rickhouses, where she thieved (that's a technical term for dipping with a giant copper straw-like device) some samples from a barrel of BBC's own bourbon. It's been aging since 2016 and won't go to market until next year. (Bardstown Bourbon Company has sold very little whiskey under its own label so far, but through its custom distilling program, you've probably tasted some of their handiwork in what Belle Meade Bourbon and other newer distillers offer while their own whiskey ages.) In addition to being fun and delivering the mildest hint of a buzz, the tour left us with some more tools in our kit for deciding what we truly enjoy in a bourbon rather than going on reputation.
You can easily fill a weekend with distillery tours and meals in Bardstown. But while you're walking off the calories around downtown, you could pay a visit to the Old Bardstown Colonial Village, featuring a collection of frontier cabins spread over a verdant park. It's very close to Museum Row, which includes the Women's Museum of the Civil War, chronicling an array of contributions that don't get talked about enough. It's worth noting that Museum Row is aware that a key part of the story remains underrepresented: They've got an open call for artifacts representing the experiences of both free and enslaved Black people during the war. If a nature hike is more your speed, the beautiful and expansive Bernheim Arboretum, which Scene editor-in-chief D. Patrick Rodgers visited on his Louisville road trip in 2019, is very near as well. If you have a car or motorcycle that you enjoy driving on a country road, you've got those for miles and miles all around Bardstown — if you have the luxury of time, taking a detour off I-65 on the way from Nashville is highly recommended. And if nothing else, bring that book you've been meaning to read, plop down on a bench off the square for a while and bask in the pleasure of watching the world go by.