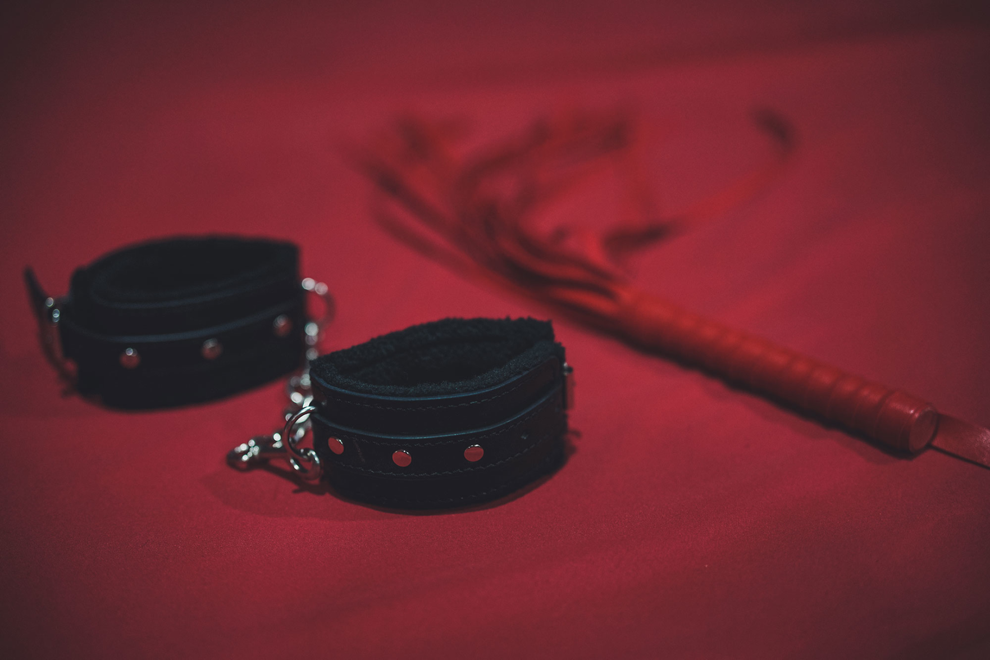 Before the pandemic, the fireplace at The Mark was a cozy, sexy gathering place for Nashville's most dedicated sex-positive community members. It's a sleek in-wall unit, the kind you might see in high-end hotel lobbies. Members would gather around it as if it were the office water cooler.
Now you can visit The Mark's YouTube page and view a two-hour stream of the fire crackling, like a Yule log for the BDSM scene. Still, it's just not the same.
"It's a struggle for me right now," says Mercury, The Mark's executive director. The usually dapper kink kingpin is dressed down in a color-coordinated tracksuit and matching sneakers as he leads a truncated tour through the space. Its usual equipment — a massive St. Andrew's cross, monkey bars, chains — is pushed into a corner to make enough space to allow a small gathering of people to maintain safe distance. A display of masks is on the wall — not the patent-leather doggy masks more commonly associated with kink, but rather plain cotton ones with The Mark's branding and the line "Wearing a Mask for Your Safety!" That might seem an unlikely slogan, but people familiar with The Mark will recognize the club's long-standing adherence to community safety — that's one of the core concepts of The Mark, and a big reason why its closure during the pandemic has felt so seismic to its members.
"The whole reason to start The Mark was because we wanted a real community that was real life — not virtual," says Mercury. "Virtual communities existed when we opened, but we were the ones who were taking the next step. This is how you're safe. You're not safe online."
The pivot to virtual programming might seem like a no-brainer — the internet is, if nothing else, a hedonist's playground. But as Mercury explains, that's both good and bad. As noted by a recent article by British magazine i-D about kink videos on TikTok, clips with the hashtag #Freak have more than 1.2 billion views. Clips with the hashtag #ChokeMe have 45.3 million. Kink isn't going away just because people can't access the physical communities, but that means the line separating kink and abuse may risk being blurred even further.
"We are doing nothing here but growing a culture of consent," he says. "That's important not only in the world of sex, but in the real-life world too."
"Are you familiar with Maslow's Hierarchy of Needs?" Mercury asks with a laugh. He explains that kink and even sex depend on things like personal security. "But the thing is — during the Great Recession, our business was booming. The financial recession wasn't about anything but money. But now, people are scared, people are stressed, and they're just trying to get by."
Similar clubs are closing or have closed already — a club in Louisville, Ky., closed, as did one in Columbus, Ohio. Clubs in Memphis, Atlanta and Birmingham, Ala., are all down to skeleton crews. The Mark spent its three-month emergency fund early in the summer, and Mercury says they've been relying on savings that had originally been intended for purchasing the building they lease. 
Still, The Mark hopes to reopen when the Metro health guidelines indicate that it's safe to do so — even if it's only for a small number of members. And who knows what kind of new kinks will have arisen with the pandemic? Mercury wonders if people will start role-playing as Dr. Fauci, for example. Because when you're a dedicated member of the BDSM community, there's nothing hotter than safety.
"Kink aside, we are Nashville's largest provider of adult sex education and sex positivity," Mercury says. "We're all better people when we have that on our side."