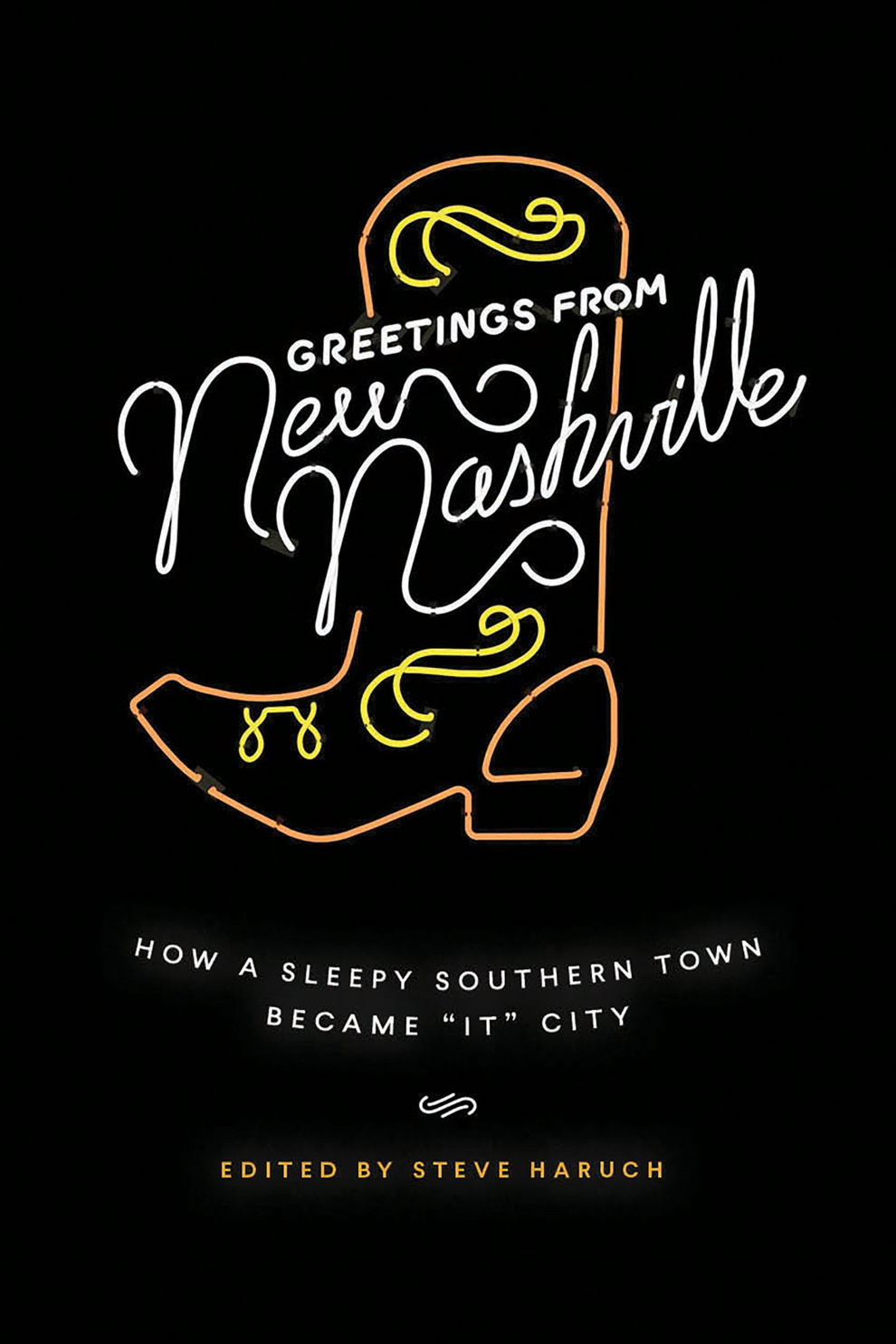 When did Nashville become new? In Greetings From New Nashville, editor (and former Scene staffer) Steve Haruch and 17 other contributors nominate various watershed years. Was it 1998, when a tornado's destruction offered the city an opportunity to modernize and diversify? Or was it 1999, when the Titans began playing in Adelphia Coliseum? Music historians point to the opening of Third Man Records in 2009 as the moment when Nashville became everyone's Music City.
Whatever its origin, the newer, shinier Nashville had certainly arrived by the mid-2010s. GQ dubbed the town "Nowville" in 2012, and a 2013 article in The New York Times announced that it was Nashville's turn to be the nation's "it" city. ABC launched a prime-time drama set in, filmed in and named after Nashville, and waves of bachelorette parties descended on Lower Broadway.
The essays in this collection — some of which were first published in the Scene — come from contributors including Ann Patchett, Tiana Clark, Meribah Knight and Ron Wynn. They share a cautionary theme: Nashville may have woken up from its sleepy decades, but it has a long way to go. The city enjoys a revitalized urban core, but traffic remains vexing. Nashville's entertainment and tourism industries are rewriting the region's economic profile (or they were, before the COVID pandemic), but affordable housing is hard to find. When Nashville loses the sheen of its "golden hour" (in Jon Meacham's phrase), how will it redefine itself?
Haruch answered questions via email.
What factors would you highlight as critical in the transformation of Nashville into an "It City"?
It's really impossible to point to any one factor and say, "This is the one." I think it's ultimately the confluence of so many things. That's what makes the whole thing so fascinating and why we like to argue about it. The global financial crisis of 2007, I think, is a big factor, because it really shakes up the housing market in profound ways. There's also a kind of flattening of daily life that happens as we all start to spend so much time online, where people really start to fetishize new experiences in new locales. Cue listicles of "13 Places You've Never Heard of Because They Aren't New York or Los Angeles!"
And feeding into that, there were all those articles in national publications that we liked to nitpick and roll our eyes at. But when a city gets that kind of visibility, and just enough of it rings true with visitors' experience of a place, there's a kind of X factor that starts to set in, I think.
Greetings From New Nashville provides an insider's look into a number of local institutions. My favorite tidbit comes from Zach Stafford's "Burned Out," on Prince's Hot Chicken Shack and its reverse segregation in the 1950s and '60s: Black customers ate in the front section, while whites ate in the back. What details from this collection stand out to you personally?
I love Zach's story. (This is neither here nor there, but did you know that Zach is an Abercrombie model now? Beauty and brains — seems kind of unfair, no?) Anyway, there are so many. Richard Lloyd's dramatic reenactment of the inaugural Tomato Arts Fest, in which some of the neighborhood's newer residents hurl rotten tomatoes at an infamous sketchy convenience store just before it's torn down, is darkly funny but also a fascinating microcosm of the East Side's transition. The fact that T Bone Burnett keeps appearing as a background character is a fun subplot.
Throughout Greetings, contributors remind us that Nashville's boom has been a bane to Black residents. What are your own thoughts on the state of Nashville's race problem at this moment?
The protests of recent months are, of course, rooted in problems that predate the killing of George Floyd — problems that predate the killings of Jocques Clemmons and Daniel Hambrick here in Nashville, for that matter. In August, the legislature passed new laws to criminalize peaceful Black-led protests on the plaza. Meanwhile, crowds of tourists had been roaming Lower Broadway for weeks without masks, and the first person the police arrest for not complying with the rules is an unhoused Black man? It's not subtle.
There is a lot of love in this city that reaches across all kinds of divisions, but when the structures in place are profoundly inequitable, love can only do so much. If there is anything good about 2020, maybe it's that the light has been thrown back on these problems and people are finding their voice in the midst of it.
If Steve Haruch were made emperor of Nashville, what current trend would you eliminate by imperial fiat?
Emperor, you say? If I could shoot lightning bolts from my fingers, I'd aim them in the general direction of public-drunkenness transpotainment and at pedal taverns in particular. If not, I would stop evictions for the foreseeable future.
To read an extended version of this interview — and more local book coverage — please visit Chapter16.org, an online publication of Humanities Tennessee.