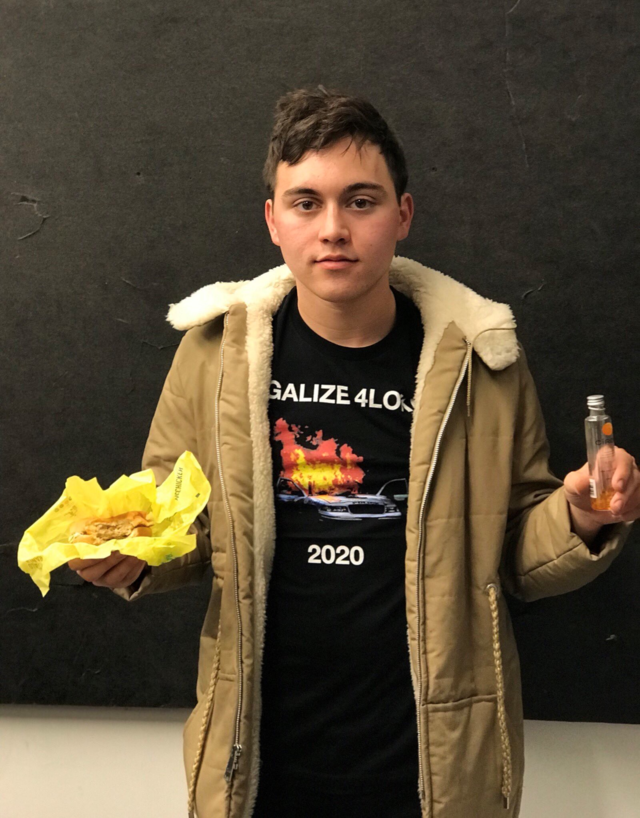 After a childhood in a military family spent bouncing around the country and starting his stand-up career at age 17, Brandon Wardell has been finding unconventional ways to perform comedy for almost a decade.
Maybe you've seen him playing Skrillex on Viceland's What Would Diplo Do? His podcast appearances (as well as Yeah, But Still, the podcast that he hosts with Jack D. Wagner) are propulsive and deeply funny, often manic and often magical. He knows modern media management and preaches the gospel of aux-cord DJing. He's already lived through the experience of coming up with something viral that hits a peak (picked up and boosted by actor/icon/restaurateur Danny Trejo) and then a valley (co-opted by Milo Yiannopoulos) in a shockingly compressed timeframe, so he was ready for the hyperdense news cycle that has defined the past couple of years. And he just released an ASMR comedy album produced by Kesha/Kevin Abstract producer Ricky Reid. And he's making his Nashville debut this week.
The Scene talked to Wardell via phone just a few days after Pusha T's "The Story of Adidon" hit, so we started there.
Is Drake going to be OK?
Oh yeah, absolutely. They're both gonna be great. Drake could have said whatever, but he's big enough that it doesn't matter. No matter how devastating the Pusha T song was.
Which it was.
Yeah, but he'll be fine. He's gonna put out another "Nice for What" and everyone will forget about it.
Do you think that comedy beef is messier than rap beef?
Well, generally speaking, most beef is fake — in any field. Everything becomes professional wrestling.
So, I have to ask this, but given how so much of how you've developed your career and brand, have you ever had other artists or companies approach you in order to organize or run their social media presence?
Umm.
That's probably something you can't really talk about in a public forum, I'm realizing.
I can't name any names, but there was, recently — let's just say yes.
Let me dig into my hackier questions for this one; I ask it of every comedian that I talk to. If there was a restaurant with a sandwich named after you, what would be on it?
Honestly? Grilled cheese. In my day-to-day life, that's one of the few things that I can cook myself. I can be a pretty useless person. But yeah, it would just be a grilled cheese sandwich, but a good one. The way I make it is to put one slice of cheese down, and then place the top slice of bread at an angle, so it makes an octagonal shape.
So it's a mystical grilled cheese. Like an opened Lament Configuration. Or a compass rose or Dharma Wheel.
Yeah.
Was there a specific approach to the current tour you're taking across the country? It seems like a pretty even mix of cities you've played before and new cities.
Yeah, we started with the first few bookings, and then decided to expand outward where shows would fit. Like, I haven't been to Nashville before. I haven't been to Atlanta for comedy yet. And I'm excited.
We're glad to have you here. You've made quite a name for yourself through podcasts, and especially now that you have your own thing, Yeah, But Still. Is it easier or more satisfying to do your own podcast or just to do as many other podcasts as possible?
As far as which is easier? The latter. It's like: Which is easier, owning a house and all that comes with that, or just renting a place. If I'm lucky enough to guest on a podcast, I don't feel any kind of overwhelming pressure; I'm an element. But if I'm hosting someone as a guest on my podcast, I have a responsibility to make it good. But it's just much easier to just pop in.
I'm fascinated by how podcasting has become this thing where, especially in the world of comedy, everybody does both, and you can hear and feel what kind of stress comes with which approach.
With everyone hosting podcasts, and appearing on other podcasts, it can seem homogenous, or even incestuous. But I really think there's something pure about them.
Is Todd Glass as energetic and awesome as he seems in his podcast? Your appearances on his show (in episodes 179, 181 and 213) are some of its best episodes, and I've been dying to know.
Thank you, that's very kind. He is such a sweetheart, and he is never "off." But in the best way.
I'm fascinated by his persona on his show, because sometimes you think "he has to have a gun on his guests," because there's so much chaotic and fertile energy at all times on his show.
He's like a very pure person. I love his new special, because he's doing a very nice and pleasant kind of comedy, and you get a feel for how empathetic he is. Most great comedy specials, you come away with the feeling that "that was really funny, but that person could be a sociopath." And there's no hint of sociopathy with him.
So how exactly do you prepare to play Skrillex?
It was fun. It was the kind of thing where they asked me the week of, they asked on a Tuesday and I was filming it on Thursday. At one point, I spent like 30 minutes watching Skrillex videos, trying to get the voice right, and then I gave up. I just talked to a bunch of people who are friends with him, and they all said he was just a really nice guy. Their instructions to me were "just be a nice guy." And people seemed to go for it. Also,  [Viceland's What Would Diplo Do?] comes out on Hulu next week.
I would be remiss if I didn't ask you how you make an ASMR comedy album. I mean, other than being deliberate and, you know, taking lessons in the dynamics of the Ying Yang Twins' "Wait (The Whisper Song)."
[Laughs] Well, we recorded it over the span of one night at Ricky Reed's studio, so it was inherently funny to record such a niche, dumb thing in a space where the new Halsey song was recorded. It was a space where, you know, actual stuff gets recorded all the time, and we did this album on a whim. But people were nice enough to give me the resources to do stuff.