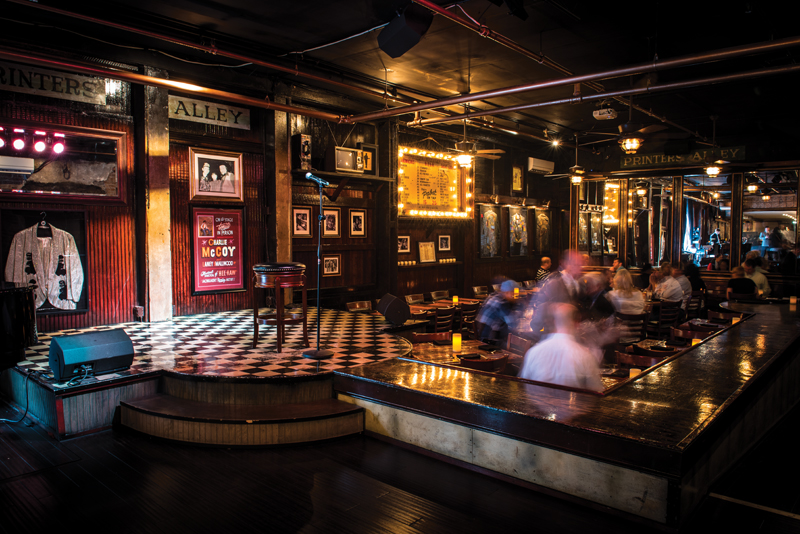 The joke about Nashville's rapid growth is that the city skyline now consists solely of tower cranes.
Traffic is a major issue. Former Mayor Karl Dean was so concerned about the city's outdated public transportation system he tried to take buses to work — but locals stopped to pick him up in their cars.
Things in the rearview mirror are larger than they appear.
"The preservation of historic landmarks in Nashville is in crisis mode," Robbie Jones, past president and current board member of Historic Nashville Inc. told me in January. "The city is growing so fast developers are tearing down historic buildings as quickly as they can, and they're replacing them with condos and office towers. We are under assault."
Recently, the legendary Skull's Rainbow Room — once frequented by the likes of Elvis Presley and Johnny Cash — reopened in the formerly seedy downtown Printers Alley. That same area is now the planned site of a boutique hotel, but it was once a part of town that was a hotbed of music, murder and burlesque — even home to a brothel by the name of the Climax Saloon.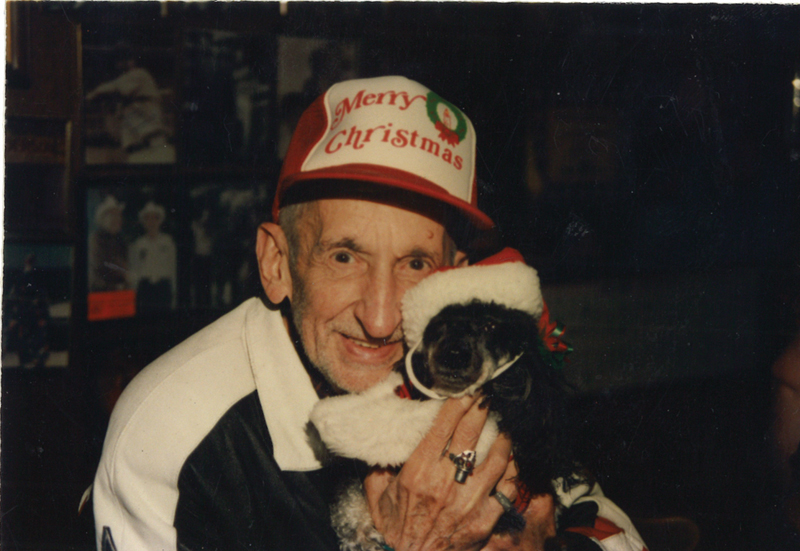 David "Skull" Schulman opened his nightclub in 1948 in Printers Alley, the ribald shadow of Nashville's publishing and printing businesses, a narrow two-block jaunt that stretches from Union Street to Church Street. Andy Griffith was a house comedian at Skull's, and the club featured exotic dancers. Nightclubs populated the Bourbon Street-like strip, and entertainers on the circuit included Waylon Jennings, Hank Williams and The Supremes. In 1963, Jimi Hendrix played with bassist Billy Cox at the Jolly Roger next door to Skull's. Country saxophone player Boots Randolph ran a club just down the alley. Country-jazz guitarist Hank Garland was the headliner at the nearby Carousel Club.
Schulman was known as "The Mayor of Printers Alley" and later became a regular on Hee Haw, sometimes wearing his faded blue Hee Haw overalls behind his beloved bar. Skull also loved poodles. At Christmastime, he'd dye his poodles — dogs with names like "Sweetie" or "Sugar" — red and green. Elvis once sent him one of the dogs, and Skull was often seen walking his poodles on rhinestone leashes down Printers Alley.
But on Jan. 21, 1998, a cigarette vendor found the 80-year-old Schulman lying on the floor of Skull's, his throat slit and his head bloody after being hit with a liquor bottle. One of his poodles was wandering around the bar.
Skull died the next day. He was 80.
Schulman was born in North Nashville, several blocks from the since-razed Sulphur Dell ballpark, where the Sounds' First Tennessee Park now stands. He worked as a batboy for the Nashville Vols, a minor league team that was ultimately dissolved in the early '60s. Vol players gave him the nickname "Skull" after he suffered a fractured skull in an automobile accident. Schulman froze baseballs in the meat freezer at Swift & Company to deaden the rubber inside. He once got locked inside the freezer on the Fourth of July.
The horrific 1998 murder shook the Nashville entertainment industry to its soul. Country singer Tanya Tucker rushed to Schulman's bedside before he died. Skull's friend Willie Nelson appeared on America's Most Wanted in an effort to catch the killer or killers. In 2001, American drifters James Cavaye and Jason Pence were charged with robbing and murdering Schulman.
Pence was working a carnival at the Tennessee State Fair, and Schulman had once hired him for part-time help. Pence told police he knew Schulman carried large wads of money in the bib of his overalls.
Cavaye got a life sentence, while Pence pleaded guilty to facilitating a murder, which carried a prison sentence between 15 and 25 years. Skull's Rainbow Room closed several months after Schulman's death.
Most of the neighboring joints have since closed. Nearby, Lower Broad was revitalized after the 1996 opening of Bridgestone Arena — honky-tonks like Tootsie's and Robert's Western World were reborn.
And Printers Alley became old news.
Then, in June 2015, Skull's Rainbow Room quietly reopened.
The 140-seat club is all dressed up these days, and retains none of the funky aspects of the original place — mildewed carpet on the walls, for instance. The restaurant-slash-bar features heartfelt homages to Schulman, including two of his classic Manuel Western jackets and two Nudie jackets, which are framed and hanging on a wall over a dining area. The small black-and-white television set on which Schulman liked to watch wrestling matches is on a nearby shelf. The original checkerboard stage is still in use, and yes, tasteful burlesque dancers still perform twice nightly. Executive chef and business partner Gannon M. Leary trained at Commander's Palace in New Orleans. His lobster bisque is the best in town.
The new ownership group is led by Phil Martin, a Nashville businessman who also owns neighboring Bourbon Street Blues and Boogie Bar and two other downtown bars. In January 2015, Martin purchased the entire building housing Skull's for $2.25 million. Martin is a member of the board of directors of The District, an organization composed of business owners in Printers Alley as well as the Broadway and Second Avenue entertainment areas.
Martin had used the Skull's space for storage for several years before he convinced the building owners to allow him to take on the task of renovating and reopening the restaurant. After a year of work on the space, Martin hired David Wileman, a 40-year-old native of Sheffield, England, to assist with the renovation. He later made Wileman a working partner in the restaurant. Wileman grew up in the hospitality world — his family ran bars and restaurants — and he left for America to play soccer at Hofstra University in New York. He later developed an eye for the historic by managing The Beekman Pub, established in 1936 near Wall Street.
"Glory days and bad times in Printers Alley," says Wileman. "And David 'Skull' Schulman was there all the way through it. He was here rain or shine. It was his life. He never married. He had a sister who auctioned off all the music memorabilia, and we actually bought some of the stuff back.
"The club had been empty for 16 years when we got it. It had flooded, it had been on fire. The only thing missing was a plague of locusts. The damage was almost biblical. But certain things were ridiculous, like the original stage, and learning who all played here. Willie Nelson was part of the house band. Elvis, Johnny Cash and Bob Dylan all played on that stage. Paul McCartney wrote songs here when he moved to Nashville [to record "Junior's Farm" in 1974]. He took a shine to a girl who was onstage, and that was 'Sally G.' "
"Sally G," the B-side to Paul McCartney and Wings' "Junior's Farm," was a country-tinged ballad featuring playing by Nashville session guys Vassar Clements and Johnny Gimble. Says Wileman, "Linda McCartney got pissed, and he had to change the name. It was originally 'Diane G.' [after the real-life Sally G., Diane Gaffney]."
Among Skull's personal friends was the Man in Black himself, who in 1969 and 1970 was filming The Johnny Cash Show at the nearby Ryman Auditorium.
"Johnny would bring down whoever had been on the show," says Wileman. "One night, Johnny Cash, Willie Nelson, Bob Dylan and Joni Mitchell were all on that little stage."
Schulman also liked to create his own version of Hee Haw in his club.
"Skull had dancers, comedians, singers and bands," Wileman says. "He'd be on the show from time to time popping up in the cornfields. He wore the Nudie and Manuel jackets with the rhinestones. We have two sets of his Hee Haw overalls. He was famous for wearing elaborate outfits. I tried them on. They're horrible."
Country Music Hall-of-Famer Charlie McCoy was musical director of Hee Haw between 1969 and 1987. The new Skull's honors McCoy with a vintage poster promoting a live appearance from McCoy with Laney Smallwood.
"It was the 1960s," says McCoy. "The Rainbow Room was upstairs. That was the strip club. We played downstairs at the Black Poodle. We became friends with Skull because he hung out on the Hee Haw set. Skull was a character. He was on Printers Alley a very long time. He had live country music, and there was no country music in the alley."
For a time after Skull's Rainbow Room closed — while Martin was using the space for storage — some employees claimed to have seen an eerie shape resembling Schulman. Nashville ghost tours now stop at the club.
"The walls are nearly 2 feet thick," says Wileman of Skull's. "Solid stone. When we were doing renovations, there was no air conditioning, no heat in here. Pretty much what the temperature was outside is what the temperature was inside. There were nights when it was 80, 90 degrees outside, and the temperature would plummet in here. It was very strange."
Skull's Rainbow Room is in the basement of the Southern Turf building, constructed in 1895 and which is on the National Register of Historic Places. Historic Nashville Inc. owns a preservation easement on the building, and the new Skull's had to work with the nonprofit group to restore the space with integrity.
"We consider Skull's a success story," Historic Nashville's Jones says. "They've done it the right way. In 1982 [Nashville attorney] Bob Tuke invented the first preservation easement program in Tennessee. He has his offices in that building, so that building is protected."
Schulman would be speechless.
The original Turf building included a bordello on the third and fourth floors, and the office of The Tennessean faced Fourth Avenue North on the opposite side of Printers Alley. The alley is subterranean at the bottom of a steep hill.
"This area was big during Prohibition," Wileman says. "There was a famous bar upstairs called The Southern Turf Saloon. This was the gentlemen's quarter, a place where the 'nice ladies' never came. Skull's had been a casino. There's bootlegging tunnels underneath here and catacombs that go down to the Cumberland. The club that Boots Randolph had, there's an actual entranceway into the tunnel system. The Underground Railroad ran around here."
In its heyday, Printers Alley thrived in part because cocktails didn't become legal in Nashville until 1967.
"In the mid-1960s we played at the Captain's Table, downstairs in the alley," says McCoy. "I was in a band I had with Kenny Buttrey and Mac Gayden. It was the funniest thing — at that time liquor by the drink was illegal in Nashville, and four blocks from the state Capitol they're selling booze down there like it was going out of style. Someone got paid off."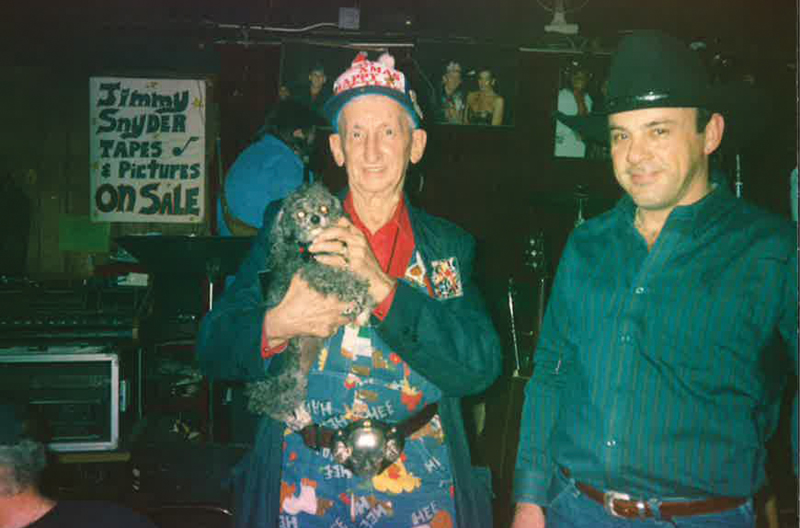 "Printers Alley didn't really close down during Prohibition," says Wileman. "High-end politicians drank down here. It was off the radar. But in the last few years, the word got out Printers Alley was closed. It's kind of bizarre. They're rebuilding the Utopia Hotel, a famous hotel at the corner of Printers Alley. A couple bars and restaurants are closed while they are doing renovations. It looks kind of decrepit leading up to Printers Alley."
The six-story Utopia has a stone facade that was designed by the same architect who worked on the Ryman. The Utopia was a hangout for horse-racing fans, and in the late 1800s it was known as the "resort of the sporting classes."
Keeping historic burlesque was a no-brainer for the new Skull's ownership. Rotating pianists play supper-club era music on a black Baldwin baby grand during dinner time.
"It ties in nice with the whole place," Wileman said. "We lean more towards jazz, although there is a country music influence at times. We wanted to do something different than Lower Broadway. We wanted to roll back the years — a speakeasy, jazz-burlesque. Even the menu reflects that. We got our hands on some of the menus from the old alley restaurants and we did a twist on that. Prime rib. Escargot." The crawfish tomato risotto with gorgonzola cheese and arborio rice is particularly good.
Kitana Louise is a regular Skull's dancer who moved to Nashville in 2005. She left her native Houston to be a country singer, and in 2012 she began studying burlesque under Freya West, the headmistress of Nashville's "burlesque finishing school" Delinquent Debutantes. Louise met Martin at a 2013 private singer-dancer gig for a member of Prince's backing band.
"It's an amazing thing to be part of this movement of empowering women to own their sexual experience and have fun with it," says Louise. "Bringing Skull's Rainbow Room back has definitely helped solidify the burlesque presence again in Nashville. Printers Alley was always intriguing to me. When you walk down the alley, there's a big mural with the picture of a showgirl. This is Bettie Page's hometown, this is Music City. Live dancing belongs here."
Louise has seen all kinds of reactions as she's danced to big band and classic blues onstage and atop a runway adjacent to the dining area. The runway pays homage to the original Skull's, where strippers danced on tables.
"I've had people walk out," says Louise. "People say things that I would consider inappropriate. They don't know. A lot of people don't know whether they should clap, if they should holler. The tipping thing is interesting as well. 'Do I put a tip in her bra? Do I put a tip in her underwear? Do I throw some money on the stage?'"
Tips for Skull's showgirls are accepted in a large glass jar.
Louise explained, "It's different than a strip club experience. It's different than a drag queen experience. Here you are in a club that serves escargot and foie gras, and there's a person taking off their clothes. How do you socially behave?"
Wileman says, "The burlesque show is a very mild, fun show. It's a throwback to that whole Sally Rand era with girls and the feather downs. It's tasteful."
I've been a big fan of preservation and restoration," says Wileman. "I salvaged what I could do. We redid the drains, the electric, the plumbing, then brought a lot of pieces back in and tried to put the puzzle back together. It took us 18 months to redo it. There was water damage behind the stage. I took the back of the stage off and found the original food menu, 5 feet by 8 feet. It was actually patching a hole behind the wall. Why go buy good wood when you can use that?
"We brought back the [25-seat] bar. The basic layout of the room is very similar to what it was," he continues. "The location of the stage is in the same place. About two weeks before we opened, this lady walks in with a box. She was a bartender at Skull's for 27 years. She gave us all these photographs. Skull lined the walls with pictures of everyone who had been through here: Sammy Davis Jr., Paul McCartney, Elvis."
"We had a party for Tim McGraw. He got his break in here. Apparently he was ready to throw in the towel, and Skull gave him some money and told him to 'stick around.' He brought some record guys to come see him, and the rest is history. Skull touched people on all levels from the top to the bottom. People still talk about him, and it was nearly 20 years ago this place closed.
"This guy was obviously something very, very special."
Dave Hoekstra is a Chicago-based author and weekend host at WGN radio in Chicago.