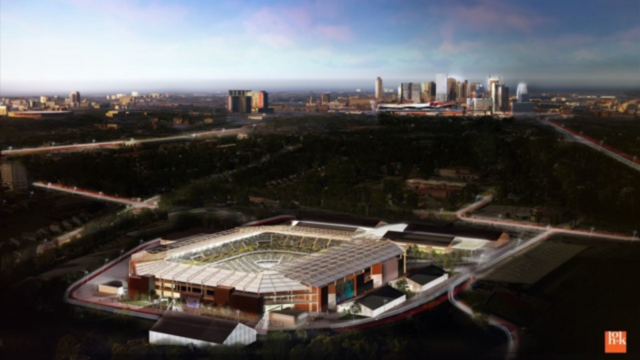 MLS2Nashville Rendering
Much of the public discourse surrounding plans for Nashville's Major League Soccer stadium has revolved around the proposed location at The Fairgrounds Nashville and the $275 million price tag, paid mainly by the team through revenue bonds issued by the city. Meanwhile, one advocacy group has been working to design a plan that would advance equity and benefit the neighborhoods surrounding the site.
Stand Up Nashville, a coalition of labor unions, community organizations and churches, is negotiating a community benefits agreement with the stadium's ownership group, Nashville Soccer Holdings. A community benefits agreement is a contract, typically made between a community and a real estate developer, that promises resources in exchange for the community's buy-in. The group drafted its proposal after months of community meetings in the neighborhoods that surround the fairgrounds and with workers groups across the city. If negotiations are successful, both parties will have a legally binding agreement that could set a new precedent for future developments in the city.
"When development happens, it can change a whole community ..." says Odessa Kelly, co-chair of Stand Up Nashville and one of the chief architects of this proposed community benefits agreement. "Nashville is diverse. Whatever development happens in Nashville, it should reflect every asset and every component of the community that's here."
Stand Up Nashville gathered feedback from church congregations, community groups and workers about their priorities for the site, and the group sorted through hundreds of index cards filled out by participants to craft a proposal. It has three main categories: job creation and worker safety, affordable housing, and cultural spaces and amenities.
First, Stand Up Nashville wants the development to create a jobs pipeline by adopting an apprenticeship program that would train highly skilled, highly paid workers. The proposal stipulates that hiring would prioritize people living in what's known as the Nashville Promise Zone, where poverty is concentrated, before opening up opportunities to the rest of the county. Only after these avenues are exhausted could Nashville Soccer Holdings hire from outside the county. Stand Up Nashville also wants a guarantee that construction workers and people working in the stadium after it opens will be paid a living wage and have access to safe working conditions. (Sixteen Nashville construction workers died on the job in 2016 and 2017.)
Stand Up Nashville also asks that Nashville Soccer Holdings include a percentage of affordable housing units that can accommodate families. The Nashville and Davidson County Housing Report issued by former Mayor Megan Barry's office for 2016-17 said nearly 25 percent of Nashville homeowners are cost-burdened, which means they spend more than 30 percent of their monthly income on housing. According to the report, almost half of Nashville renters are cost-burdened.
The third arm of the agreement involves cultural spaces and community amenities. Stand Up Nashville would like to see amenities that benefit the community with price points they can afford, including low-cost child care, a food co-op, and affordable micro-units that artists and artisans could lease to sell their wares.
"We're not asking for things that are extravagant and crazy," says Anne Barnett, co-chair of Stand Up Nashville and the affiliate and campaigns coordinator for the Central Labor Council of Nashville and Middle Tennessee, which is part of the Stand Up Nashville coalition. "We're asking for things that are moral and that someone who cares about this city and its residents should be motivated to do without this process."
Community benefits agreements are becoming more common in other parts of the country, especially with sports arenas that are financed in part by public dollars. In Pittsburgh, a coalition brokered an agreement with the NHL's Pittsburgh Penguins that gave first-source hiring rights to district residents, promised area wage jobs with benefits, built a grocery store and committed $6 million for community needs. At the development adjacent to the Staples Center in Los Angeles, a coalition won job opportunities for low-income residents and those displaced by the project, and increased affordable housing in the project's housing component.
In November, the Metro Council voted to approve then-Mayor Barry's financing plan for a $275 million stadium and adjacent 10-acre mixed-use development. Much has changed since then. Barry resigned in March after pleading guilty to theft related to an affair with her head of security, and the transit initiative she had championed before leaving office failed in a May referendum. Despite Nashville's boom times, the city faces financial woes. Metro Nashville Public Schools reported a budget shortfall in March after it received $7.5 million less than expected from the state due to low enrollment. A citywide budget crunch led the council to approve a budget that did not cover previously promised cost-of-living raises for Metro employees.
"We really need to be showing, whether you're a public or private stakeholder, that we are working to remedy some of the trust issues and equity issues that are happening in our city," says Councilmember Colby Sledge, who represents District 17, where the fairgrounds are located.
Clint Brewer, a spokesperson for Nashville Soccer Holdings, tells the Scene via email that the group cannot discuss ongoing negotiations, but is "confident this will work out to Nashville's benefit."
"From the beginning of the process to build a soccer stadium at the Fairgrounds Nashville, it has been our intention to do something that will truly benefit the most Nashvillians," says Brewer. "This includes a deep commitment to affordable housing, cultural and community space at the site, and creating local and minority business opportunities. We remain just as committed to this today as we were on day one, and we are actively pursuing these goals."
At press time, the groups were still in negotiations. Barnett says things are changing day to day, but she's discouraged by pushback from Nashville Soccer Holdings at the negotiating table.
"Developers are making money in this city hand over fist," says Barnett. "People [in other parts of the country] value contracting with responsible contractors who follow safety procedures and give their employees health care. If developers want to push back on that, it shows how much they've been able to get away with in Nashville and where their values really are."
If the groups can't reach an agreement, Nashville Soccer Holdings might find opposition in the council, which will hear a bill Aug. 7 to demolish the existing fairgrounds facility and apply a $1.75 ticket tax to stadium tickets. The bill is sponsored by Sledge. He might be willing to withhold it pending negotiations about the community benefits agreement.
"I don't think I would feel comfortable putting this to a vote to my colleagues without there being some sort of agreement in place," Sledge says. "As a public official, I'm committed to wanting to see a community benefits agreement that both sides, and especially the community side, says, 'This is what we want.' If sides were to come back and say, 'This isn't adequate' or 'We're not in a place where we think we can agree on this,' I have to take all that into account very seriously. … Let me put it this way: It would really damage the prospects of doing this stadium or doing this project because of it. And I think everyone who's involved in these negotiations knows what's at stake."
Like Sledge, council members in surrounding districts say they feel optimistic, but the fate of the agreement will influence their stance on the project's future. 
"As just one [council] member, my take on this is, absent a CBA, it's harder for me to discern the entirety of the public benefit," says District 19 Councilmember Freddie O'Connell. "Then we're back to sort of this notion of, 'Hey, we're going to assert that there's a lot of public benefit here, but we're not engaged with a group of the stakeholders who would love to participate in this.' I think the deal is considerably harder to negotiate through a formal public process absent a CBA."
"Whatever agreement we end up with will require some give-and-take on both sides, and I've let both sides know that," says District 18 Councilmember Burkley Allen. "I've said to the MLS folks that I think this is really important, and I'd like to see them sign some kind of agreement. That's important to me before I'm going to feel comfortable supporting it."
If Stand Up Nashville and Nashville Soccer Holdings reach an agreement, Nashville's first community benefits agreement could become a model for developments to come.
"If Nashville is going to be the 'It City,' it should qualify to be the 'It City'  for everyone," says Stand Up's Kelly. "And that means that we then raise our standards around how we do development and how we adequately compensate people for the work that they do. We're supposed to invest in people, and then people will turn around and invest in the city, right? We are fighting tooth and nail to make sure that all those things happen."