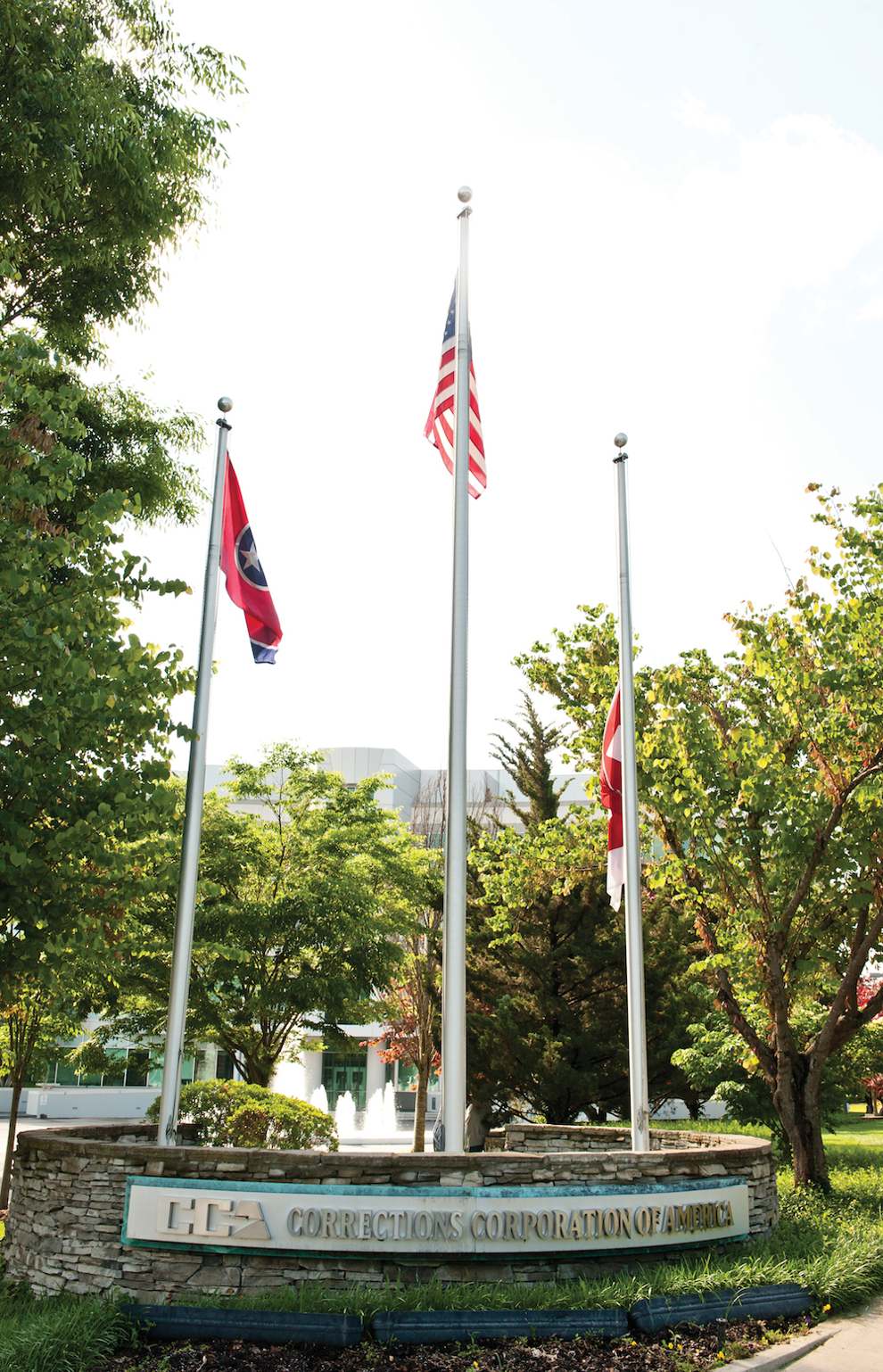 State correction officials and private prison executives are forever fogging the air with euphemism, so best to start bluntly: Tennessee should end its relationship with the for-profit prison industry, because it is a moral nightmare and a practical failure.
The U.S. Justice Department announced earlier this month that it will phase out its use of private prisons after a report from the department's inspector general found them to be less safe and less effective than government-run prisons. For-profit prison stocks — a nauseating collection of words, but more on that in a second — took another hit this week when news came that officials with Immigration and Customs Enforcement, one of the industry's biggest customers, might consider doing the same.
In response to these developments, many observers have noted that, significant though they may be, these steps affect only a relatively small number of private prison inmates. The majority are in state-level facilities. That's true. The latest figures from the Bureau of Justice Statistics show that 91,244 state prisoners — 6.8 percent of the nationwide state prison population — were housed in private prisons. In Tennessee, Nashville-based Corrections Corporation of America — the largest for-profit prison corporation in the country — runs seven facilities with a combined total of 10,790 beds. 
Cutting ties with private prisons would not solve the myriad problems with state-run prisons — far from it. But it would eradicate a particular strain of the disease that infects our criminal justice system.
The first reason for Tennessee to end its relationship with CCA is a moral one. As punishment for crime, and in theory to protect the public, our elected government strips people of their freedom for a certain amount of time and keeps them away from society. But what CCA and companies like it do is make a lucrative evil out of what is, at best, a necessary one. Instead of carrying out a function that is at least supposed to be in the public interest — however short of that the government might fall —  they conduct a business, with all the skewed motivations and priorities and profits that come with it. CCA brought in more than $1.7 billion in revenue and more than $220 million in profit last year, according to its latest annual report. 
Is a company like that more interested in perfecting our prison system or protecting its bottom line? CCA has been caught understaffing facilities in other states to cut costs. The company insists it does not lobby for harsher criminal penalties, but it employs eight lobbyists to work the halls of the Tennessee legislature — and every year it leaves the Capitol awash in campaign contributions. CCA's annual reports warn shareholders of the possibility that advances in criminal justice reform could hurt profits. 
What's more, CCA's cash cow is a system rife with racial disparity, and it trades shares in the endeavor on Wall Street. In a country with a legacy of slavery and terrorism against African-Americans, this fact should be like a large hammer to a sensitive nerve. 
But ignore all that — after all, that's what the state has been doing for years — and consider whether the private prison experiment is working. Newly appointed Tennessee Department of Correction Commissioner Tony Parker told The Tennessean this week that the state has a good relationship with CCA and that there are no plans to end any contracts with the company. Private-run prisons are "held to the same high standards as all of the TDOC-managed facilities," he said. That's concerning. Consider a sampling of CCA's record in recent years:
The CCA-run South Central Correctional Facility in Clifton, Tenn., was the site of a violent attack on a guard last year, and the killing of an inmate in 2013 and another in 2014. Earlier this year, the Scene reported on a lawsuit filed by an inmate alleging terrible conditions and rampant gang activity inside prison walls. 

Three women who had gone to visit the Clifton facility are currently suing the company, claiming that guards forced them to undergo strip searches and expose their genitals to prove they were menstruating after they tried to bring in sanitary napkins or tampons. The Associated Press reported this month that CCA is fighting to seal the documents in the lawsuit. 

After receiving a five-year, $276 million contract to operate the Trousdale Turner Correctional Facility, CCA briefly stopped accepting new inmates at the prison earlier this year amid concerns about inadequate staffing and allegations of excessive use of force and solitary confinement. 
That is far from a complete list and doesn't get into all the little ways that CCA adds a lacquer of corporate obfuscation on top of a state prison system run by a department that plainly loathes transparency. But one might think it'd be enough to get state officials to reconsider continuing to send hundreds of millions of taxpayer dollars to such a company. 
Those state officials should consider it, and consider it deeply. Don't count on that, though. Many of them will need jobs when they retire from public service.