Once a month, reporter and resident historian J.R. Lind will pick an area in the city to examine while accompanied by a photographer. With his column Walk a Mile, he'll walk a one-mile stretch of that area, exploring the neighborhood's history and character, its developments, its current homes and businesses, and what makes it a unique part of Nashville. If you have a suggestion for a future Walk a Mile, email editor@nashvillescene.com.
---
The route:  South on Scott Avenue from Franklin Avenue, then right on Eastland. Crossing Eastland, through the parking lot to the alley, then left on McEwen and right on Bushnell. Left on Ordway, following it around until it becomes Lakehurst. Following Lakehurst back around to Ordway, then left. Turning right on North 17th Street and then right on McEwen with a near-immediate left on North 17th. Turning right at Eastland, following it to Setliff.
Number of hunting house cats: Five
Abandoned e-scooters: None 
Cats are doing just fine during this pandemic, thank you very much.
Sure, we've all heard jokes about how feline expertise in lounging around, avoiding people and doing nothing fits perfectly into the reality of the quarantine. But all-day layabouts aren't the only activity at which cats excel. Slung low to the ground with feet like creeping fog, house cats mimic their wilder and larger cousins in the fine art of stalking. With fewer Homo sapiens and their insidious and noisy automobiles flitting about, Felis catus finds the hunting very good indeed.
On a bright dogwood-winter morning in Lockeland Springs, cats carefully pad their way into roadsides and alleyways choked heavily with untended underbrush, disappearing into the vernal mystery in pursuit of some creature cursed with a position lower on the food chain.
The cats have Lockeland Springs to themselves. The parking lot at the Fannie Battle Day Home for Children is empty. Founded in 1891 by Fannie Battle — a former Confederate spy — as the Addison Avenue Day Home on what is now 17th Avenue North, it is among the oldest continuously operating child care facilities in the United States. Renamed for its founder in 1924, it relocated to the site between Scott and Chapel avenues in 2011.
Nor is there much bustle at Portland Brew at the corner of Scott and Eastland. Normally at 8:30 on a weekday morning, the caffeine-dependent would be shuffling about the corner with their cupfuls of lattes and mochas. But today, just one customer is there, having slipped out of his car and ducked in the cafe. He needn't worry about maintaining the mandated six feet of distance, for there's no one else around to close the gap.
Another sign of the times is on the sidewalk outside neighboring Rosepepper Cantina. A series of X's — the requisite fathom apart — leads from the door east. The neighborhood Mexican joint is known as much for the messages on its sign (today it's a now-well-worn piece of internet humor about Tiger King Joe Exotic, the late Steve Irwin and video-game villain Wario) as for its queso. Rosepepper is doing swift trade in to-go margaritas. But there are no margs to be had this early in the morning, though with the relative anarchy of The Current Situation, one wonders why not.
The alley-cum-parking-lot across the street is mostly empty. In The Before, Lockelanders would be picking up doughnuts from Five Daughters or coffee from Ugly Mugs or getting in a quick session at Climb Nashville. Now a few sit in their cars awaiting their online orders. Scene photographer Eric England, a truly longtime East Sider, says the emptiness brought on by The Great Ingression led him paradoxically to notice how crowded East Nashville has become — now he's reminded of the East Nashville of long ago, before widespread gentrification and hip shops and trendy restaurants planted roots.
There are, though, signs of life and the coming spring. Yellow honeysuckle is already in flower, and its white cousin is starting to bud. A heavy — and blessedly, non-tornadic — overnight thunderstorm has brightened the greens. The relative chill brought on by the storm-making cold front notwithstanding, it truly looks and feels like April's verdancy arrived on time.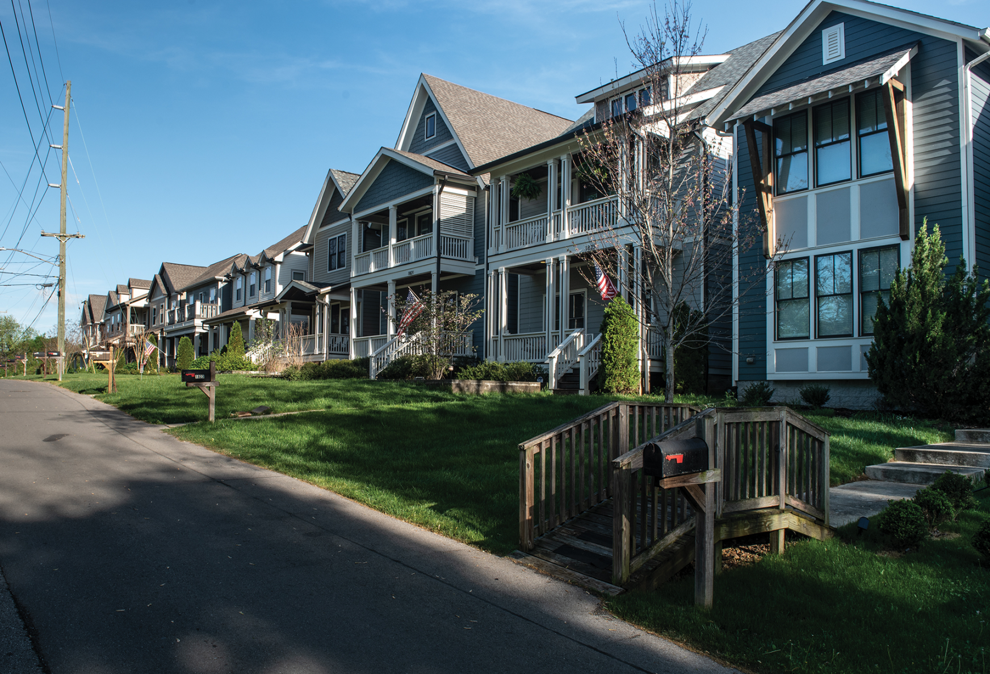 We walk south in the alley; new homes in a ditto-marked row stretch west along a short stretch of McEwen before the road elbows to accommodate Shelby Park. This was once mostly vacant lots — some of those persist, much to the cats' pleasure across the street — but infill has taken over. The tall trees on the fringe of the park cast heavy shadows on Bushnell, where a for-sale-by-owner sits ready at the McEwen intersection. But splashes of white — dogwoods mostly — break the gloom.
Here are the first hints that one is walking into a quirky if not incongruous neighborhood.
Almost suddenly, the architecture goes from standard-issue postwar tract housing with the occasional sprinkle of Craftsman bungalow to striking Spanish Revival.
This is Little Hollywood, a corner of Lockeland Springs offering pleasant views of the golf course at the park, and raising more than a few eyebrows over the past century or so.
The homes here — ranging from sprawling mission-style haciendas to smaller, quaint Pueblo-style houses — evoke Old Spain, or more correctly, the American wing of its empire, the first in history on which the sun never set. There are houses that would fit in nicely on St. Augustine, Fla.'s Aviles Street, and others that wouldn't be out of place in the desert hills of Santa Fe, N.M. Those cities were, of course, the footholds of Habsburg Spain's New World viceroyalty. What is now Tennessee may have nominally been part of this empire, but beyond Hernando de Soto's hike in search of El Dorado, there's little to tie the Volunteer State to the men who took Charles V's motto "Plus ultra" to heart.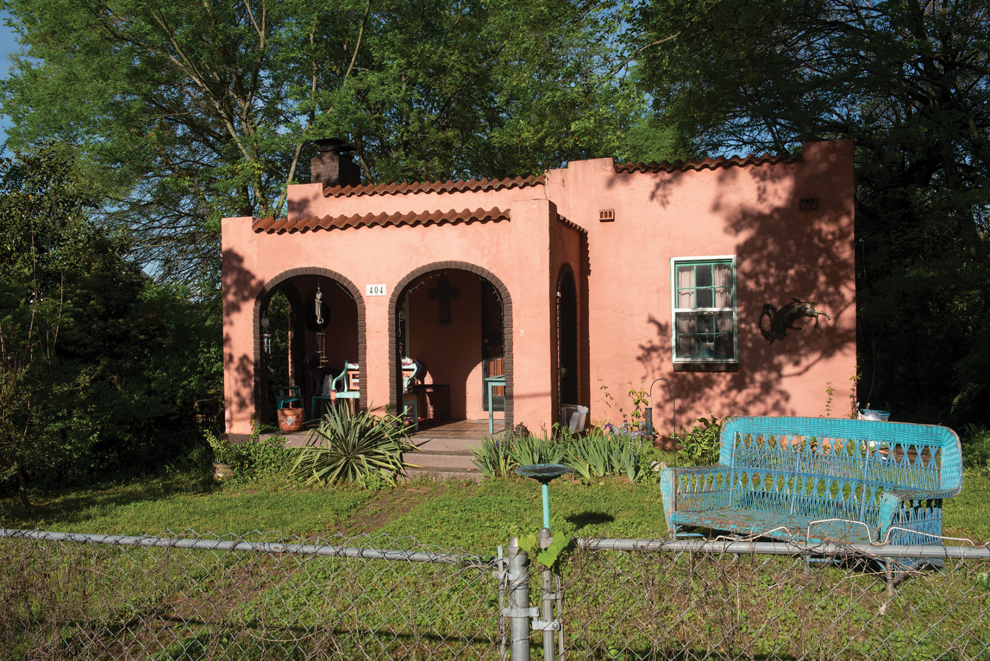 This particular pocket of Mediterranean charm doesn't have a history stretching to the 16th century — just to the 1920s and a man named Church Sexton. Bucking aptonymity, Sexton did not become a man responsible for sacred building maintenance. He became what we'd now call a developer, buying up various lots in what was called the McEwen Subdivision. Back in 1800, Col. Robert Weakley bought much of a Revolutionary War land grant from Daniel Williams. Weakley married a woman named Jane Locke, built her a mansion and named it Lockeland. It's now the site of Lockeland Elementary. The Weakley burial vault was in the 1700 block of Ordway until 1947, when it moved to Mount Olivet.
In any event, in the 1930s, Sexton and his brothers bought lots and started building home after home in this vernacular Spanish style. The story goes that Church's wife Nora was charmed by the architecture of the American Southwest, and so the Sextons employed it in their project. True or not, Nora did leave a lasting legacy in the neighborhood. Her maiden name "Hurst" forms the back half of the name of the road that winds through Little Hollywood: Lakehurst.
Another far more prosaic theory is that the Sextons chose Spanish Eclectic because it allowed for construction using inexpensive stucco or concrete blocks, and with the Great Depression on in the late 1920s and early 1930s, cheaper was better. It also employed the arch, a favorite of Church Sexton, who used the form even in homes of Colonial or Tudor style.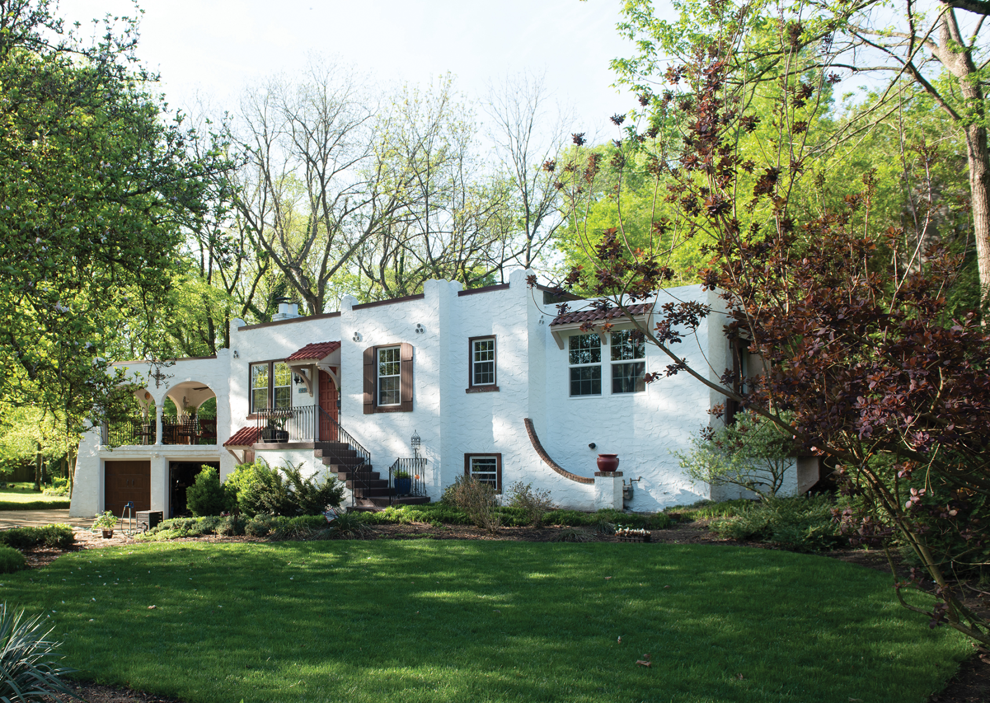 The houses have been maintained and refurbished flawlessly. There are whitewashed verandas wrapping second floors, and it's easy to picture Mary Pickford minding a drinks cart for Douglas Fairbanks and friends. There are odd little doors that even from the outside evoke twisting interior passageways and stealthy shortcuts. The larger hacienda-style houses tend to be bright-white; the smaller homes are a panoply of colors: corals and bright pinks and greens and blues. The yards roll and meander, the homes fit naturally into the topography. A mailbox in front of one house stands on a pair of rather sexy mannequin legs.
At Lakehurst and Ordway, a sign positioned in front of a well-manicured formal garden — complete with arbor and water features — welcomes passersby to Little Hollywood, and the sun starts to set on Old Spain.
Walking west on Ordway, slowly but noticeably the quirks fade, though Sexton's beloved arches and flat roofs still make frequent appearances. Like their partners on Lakehurst, the homes are built seamlessly into the lunging hills, looking as if they sprouted from the ground at the same time tectonics and glaciers and millennia of water pushed up the hills and shoved down the valleys.
Ordway climbs past Lockland Drive, which — for reasons lost to time — dropped its pivot-point E. A vintage pickup truck painted 1990s expansion-team teal sits idle, advertising a hot yoga studio. Climbing north on 17th Street, purple lilacs crowd the previously ubiquitous white of the dogwoods and woodbine. 
The corner gable of the house at the intersection of 17th and McEwen stretches above a mighty magnolia, which has yet to show its white inflorescence. Built in 1910 and now classified as a duplex, the home is all early-20th-century charm and was clearly built for someone of means, with a dozen rooms inside and attenuated white columns on its brick porch.
As 17th moves north toward Eastland, the west side of the road maintains the older homes — largely bungalows and Craftsman cottages — while newer builds crowd on the east side. At the crown of the street is a large house, built in 1900, with fully wrapped verandas on both floors. The home sustained much damage in the 1998 tornado, but was restored to its turn-of-the-century glory thereafter. Its spacious yard includes tulip poplars, just starting to show their unusual blooms.
Turning west on Eastland, there's still precious little activity at the shops and cafes and restaurants, even as early morning waxes into mid-morning.
At Eastland and Setliff, someone has scrawled "BAD WOLF" on the sidewalk, a relatively subtle Dr. Who reference. A few houses down Setliff, some sculptures — which would be Rubenesque if they were people, but they are in fact of a stack of books, a bunch of grapes and other things that are not half-naked women — beg for passersby to look, but alas, there are few today.
Eventually the sidewalks will be full again, and pedestrians will ponder the voluptuous books, and the cats will find other places to hunt.