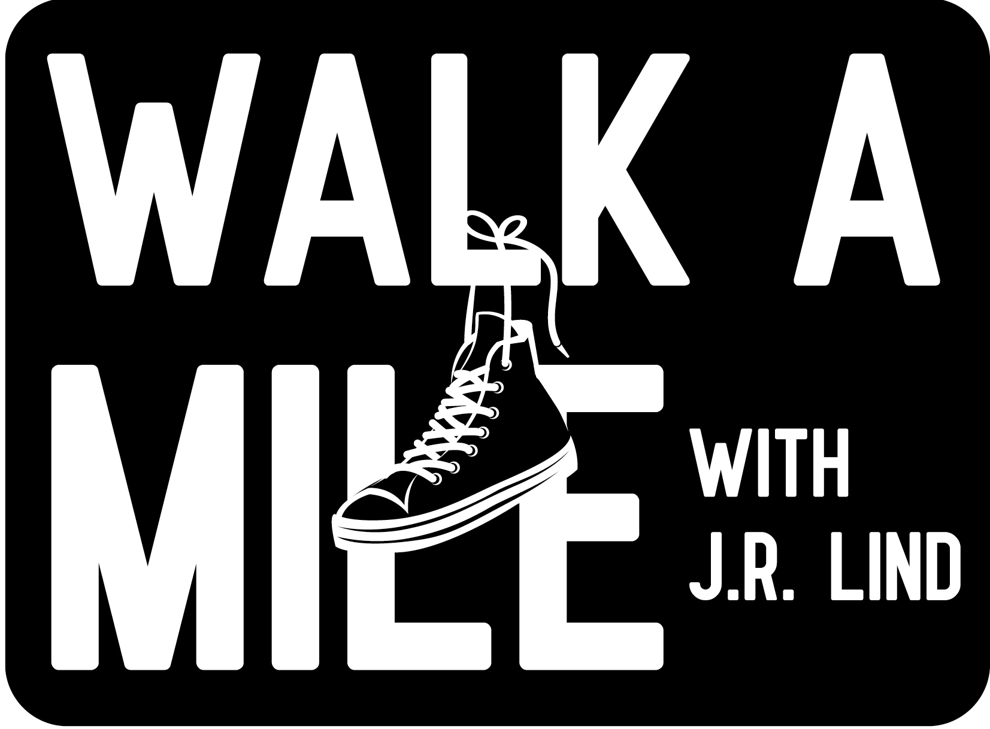 Once a month, reporter and resident historian J.R. Lind will pick an area in the city to examine while accompanied by a photographer. With his column Walk a Mile, he'll walk a one-mile stretch of that area, exploring the neighborhood's history and character, its developments, its current homes and businesses, and what makes it a unique part of Nashville. If you have a suggestion for a future Walk a Mile, email editor@nashvillescene.com.
---
---
There have been lots of beginnings at Nashville's St. Patrick Catholic Church over the past 130 years.
Founded in 1890, the Second Empire church opened to serve the growing Irish community settling south of the city, joining other parishes erected primarily for the benefit of immigrant Catholics — among them St. Lawrence for the Italians in what is now Joelton and the Church of the Assumption for the Germans in, uh, Germantown.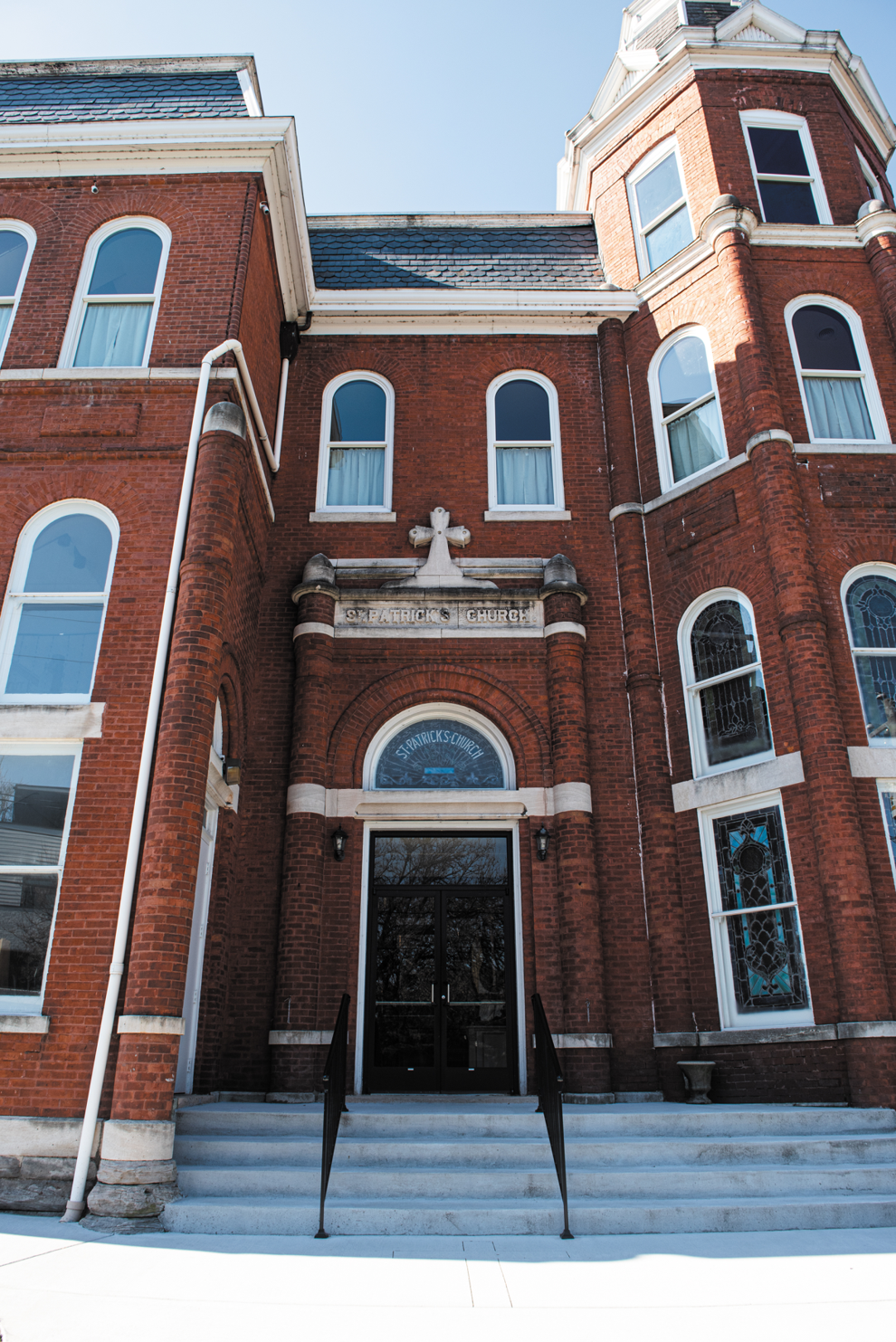 Almost from its beginning, St. Patrick served a special role for Irish Travellers, an peripatetic ethnic group whose American branch considers Nashville particularly important. The tradition of Traveller families returning to Nashville in early May persists, though in smaller numbers than before. For decades, though, the Travellers would come to Nashville and then head to St. Patrick to baptize their children, to get married and to hear a Mass for their dead, whom they would traditionally bury at Calvary, the Diocese of Nashville's nearby cemetery. Their gravestones are distinctive, often extravagantly decorated with brightly colored baubles and photographs — a stark contrast to the staid monuments more common in the burial ground. But in any event, St. Patrick is special to the Travellers — so much so that the families donated statues of Our Lady of Perpetual Help and the Infant of Prague to the parish.
Across Second Avenue stands Johnson Alternative Learning Center, a Metro school whose functional architecture is zhuzhed up with a funky midcentury entry awning. Nearby, for a time, was a legendary piece of Nashville — and national — sports history. Like St. Patrick, Wilson Park was a place of gathering for a people separated from broader society by culture and tradition — but it wasn't by their own choice, as St. Patrick was for the Travellers.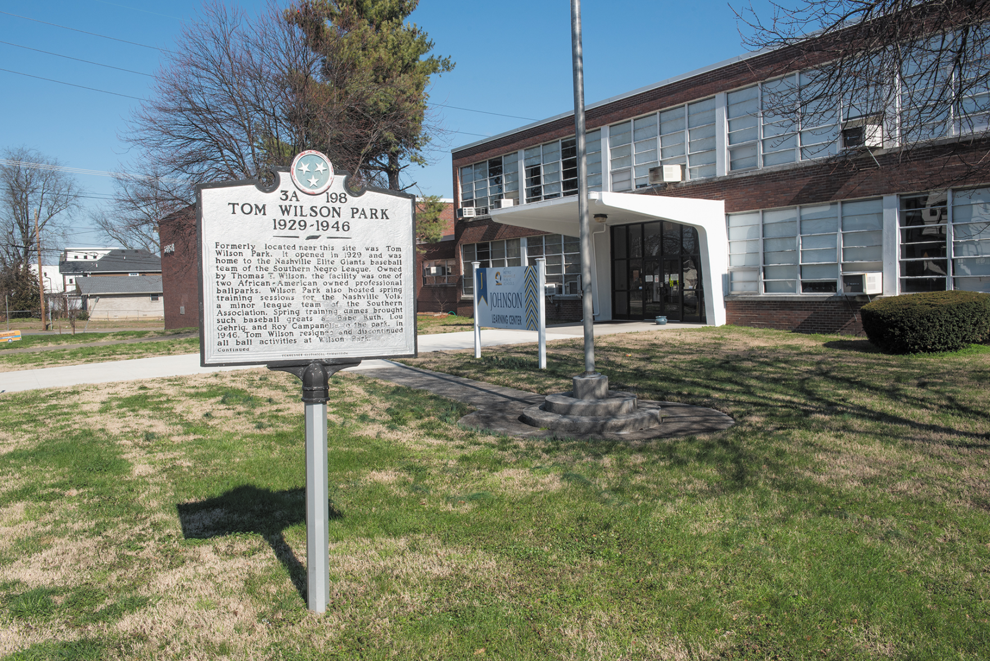 In March 1920, Nashville businessman Tom Wilson founded the Elite Giants. But that's not "e-LEET" — it's properly pronounced "E-light," with a hard emphasis on the first syllable. In 1921, the team swept the Montgomery Grey Sox to become Southern Colored Champions. In 1929, the Elite Giants — formed from a merger of two earlier teams, the Maroons and the Elites, and who'd been playing as independent team — were invited to join the Negro National League, which was founded in Kansas City, Mo., the month before Wilson began the local club. Wilson paid for and built a park for the Elites that year, and it bore his name until it closed in 1946. The team had long since left Nashville, eventually settling in Baltimore, where they won the Negro National Title in 1939 and 1949.
The area between Second and Fourth avenues was the center of Nashville's African American life in the early 20th century, where black Nashvillians rubbed shoulders with the growing Irish community. Wilson Park eventually grew to hold 8,000 fans and was one of only three stadiums nationally built specifically for use by a Negro League team. But Wilson was a savvy businessman, leasing the park for use by white teams — particularly the hometown minor-league team the Nashville Vols — for spring training. On warm-up tours and barnstorming circuits, both Babe Ruth and Lou Gehrig played at the park. Hall of Fame catcher Roy Campanella also played there during a tour with the Baltimore Elite Giants.
Though new homes — mostly of the tall-and-skinny variety, of course — have started to creep into the neighborhood, they're mostly south of St. Patrick and Wilson Park. North, toward downtown, the homes are still of vintage style with front porches mere feet from the sidewalk. There's no sense of architectural unity; there are low-slung bungalows, houses with tin roofs, imposing Queen Anne townhouses. Some have been meticulously cared for (or meticulously restored), while others offer a definite sense of having been lived in for a century. Still, it's hard not to be charmed by the variety of it all, as the homes stand in the shadow of the looming sameness of those tall-and-skinnies.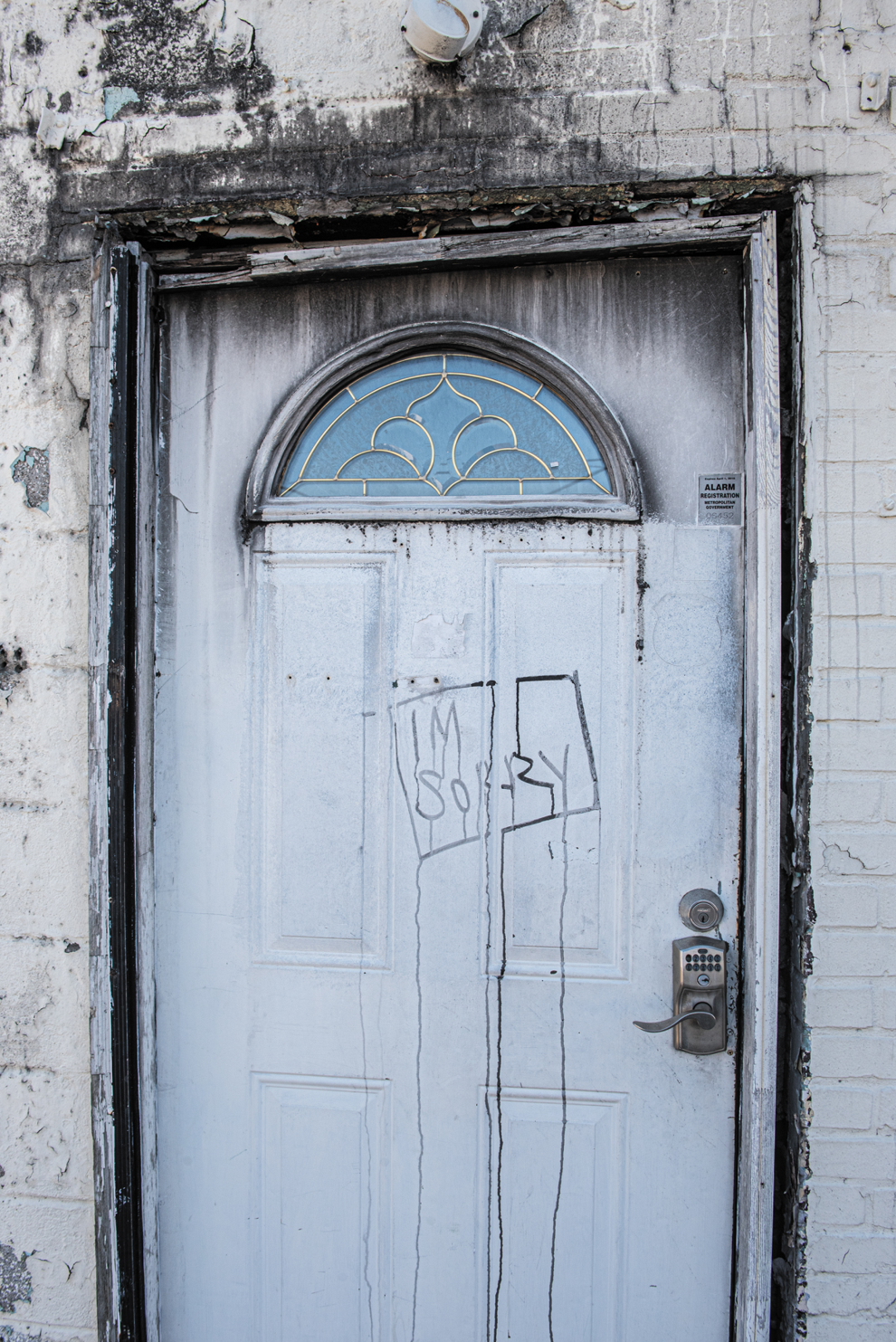 Turning onto Chestnut, signs of coming change are even stronger. The reimagined May Hosiery Mill, formerly a stocking factory, is just a few blocks and a railroad crossing ahead. There are vacant lots with the little flags that spring up like oracular dandelions when a new building is due. On this particular block, though, there are just two buildings. One, a dilapidated white two-story that, at least once in the fairly recent past, was a pizza joint, seems to be empty. Scrawled in spray paint on the door: "I'm sorry." The apology comes off as pure and earnest, if left for inscrutable reasons. The paint trickled down the door like tears before it dried. Across the street: Layman Drug Company. For most of its 130 years, the building was what it says it is: a druggist. Now it's an audiovisual studio, but it'd be impossible to know that just looking at it from outside — it looks like a perfectly restored turn-of-the-century drugstore, complete with a lovingly maintained vintage-style Coca-Cola advertising mural (created by Michael Cooper's Murals & More).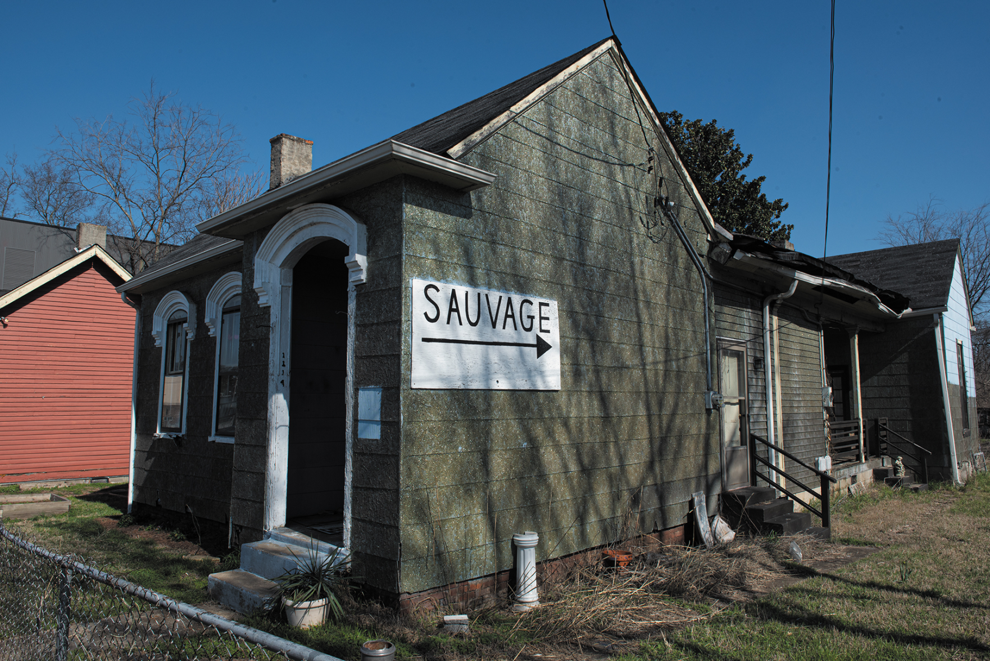 Continuing north on Third, there are more vintage homes, but now more of them neighbor vacant lots. One, painted in bizarrely glitter-infused olive green, includes a sign reading "Sauvage" with an arrow pointing to the rear of the home. There didn't appear to be anything untamed back there, but then again, why risk learning the hard way that the sign really was a warning? (After further investigation, it turns out Sauvage was formerly an art studio and gallery.)
Eventually, the residential gives way to the light industrial here, a predictable outcome given the proximity of the rail line and, more cynically, given the proximity of neighborhoods once populated by the underclass. Though there's still a butcher supply, an ice-machine service, a bolt manufacturer and a bolt wholesaler apparently doing brisk business, signs of change are here too. There's a CrossFit gym next to a boxing gym, and one wonders just how many of each Nashville can possibly sustain. There's an overriding sense that these are just the advance guard, and once just one of the legacy manufacturers shutters and sells to a developer, well, après ça, le déluge.
That said, nearby is perhaps Nashville's greatest monument to permanence. City Cemetery opened in 1822 "on the plains south of town."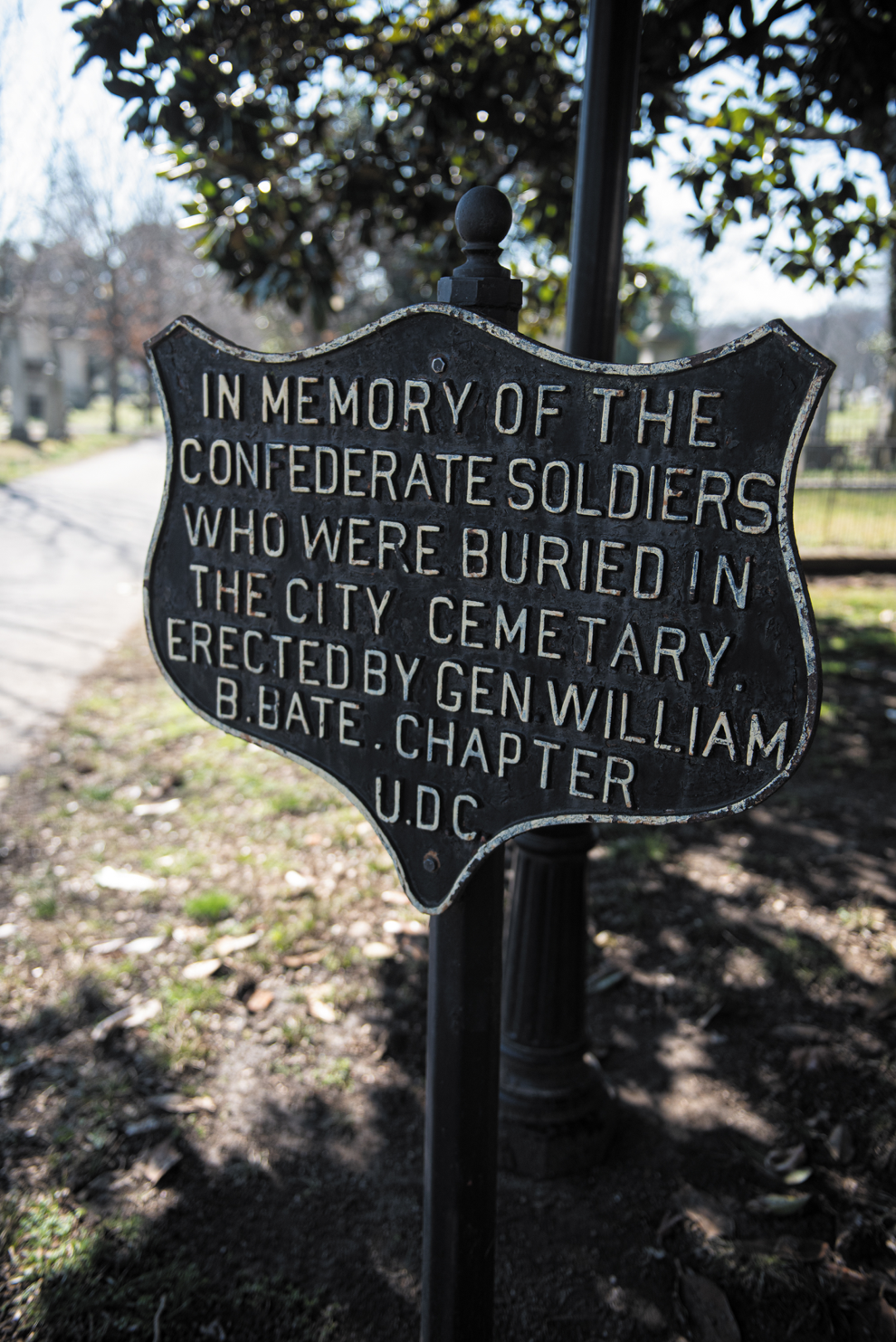 There have been 20,000 burials there in the nearly two centuries since. It's more or less impossible to be buried there now unless your family has a plot in place, with one exception. Former mayors of Nashville (and Metro) are entitled to a spot, a privilege extended most recently to Mayor Richard Fulton, who, after his death in 2018, became the most recent person buried there. Fulton's arrival forms a link in a great chain that goes back to the founder of Nashville, James Robertson, who with his wife Charlotte (of "Avenue" fame) and his son Felix — the first European child born in Middle Tennessee — share a family plot, often decorated with flowers from the local chapter of the Daughters of the American Revolution.
There are former mayors, former governors (including William Carroll, the first governor to declare himself "the business governor," and judging by the size of his monument, business was very good indeed), and people whose names have become streets. But there are also the people whom those people enslaved, along with free people of color from before the Civil War and after, including two of the original Fisk Jubilee Singers. There are men who were incarcerated at the penitentiary who died during the cholera outbreaks of the 1830s and a communal plot for unincarcerated victims of the same disease. That plot once included former President James K. Polk, who succumbed to cholera and was buried in the mass grave, before he was re-interred outside his home downtown, as per the explicit instructions in his will — though he and his wife Sarah now reside on Capitol Hill and hopefully never in Columbia, as historical-revisionist state legislators have proposed.
A man named Smith C. Clark paid, presumably, a handsome sum for an all-brick mausoleum when he met the fate of every man. He did not, however, spring for a copy editor. The plaque reads he was born in "Ithica, New York," rather than "Ithaca."
Cemeteries often give the strong sense that we all come in and go out the same way, and Nashville's original elite lying beside people who lived in slavery or men who died in prison makes that very clear. 
The gate donated by the Gen. William Bate chapter of the United Daughters of the Confederacy leads onto Oak Street. And lest we scoff at former politicians insisting they spent time at City Cemetery looking for vandalism, as former Mayor Megan Barry notably once claimed to do, let it be known that the B in Bate's name has been marred to read "Hate" — a comment, one assumes, on honoring the rebellion.
Oak Street hugs the side of St. Cloud Hill, offering glimpses of downtown through the big box buildings nearby. It crosses the rail line, where a long freight train passed below during my walk, its top dusted by snow as it rumbled from the north. There are signs still on the hill, home of Fort Negley, of the camp that once existed on its side before the trees were clear-cut. Trash, yes, and discarded tarps and blankets. But also a handwritten sign asking for money and assuring the giver they are beautiful.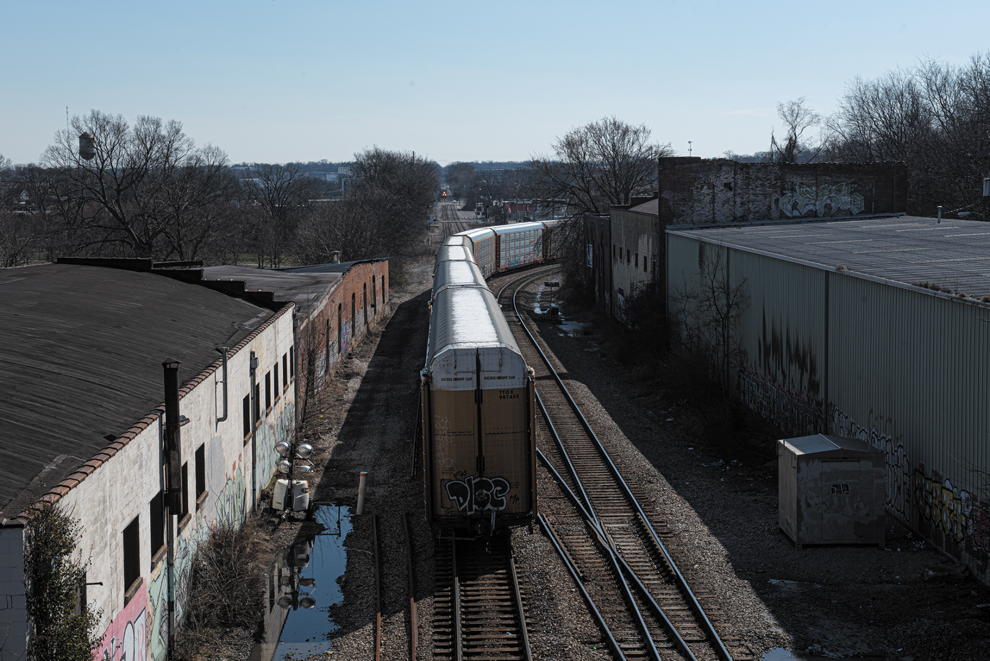 The hill and the fort are special places — sacred almost, in the way St. Patrick is. 
Fort Negley — and its sister ring-forts, built by the Union after occupying Nashville — was constructed in large part by former slaves who fled to the Union lines, and freed blacks conscripted out of Nashville's churches. It was garrisoned by, among others, members of the United States Colored Troops. For decades, it was a symbol of the strength of Nashville's African American community, despite it being targeted by ill-informed Klansmen who tried to host cross-burnings — odd given its construction history and the general embarrassment that the Battle of Nashville was for the Confederacy.
So strong was the hold of the fort that after the war many of the laborers stayed on St. Cloud Hill, creating what was essentially the city's first black neighborhood, which eventually bled down the hill into Trimble Bottoms. Even those who moved away to North Nashville and elsewhere would, like the Travellers to St. Patrick, come back to the fort.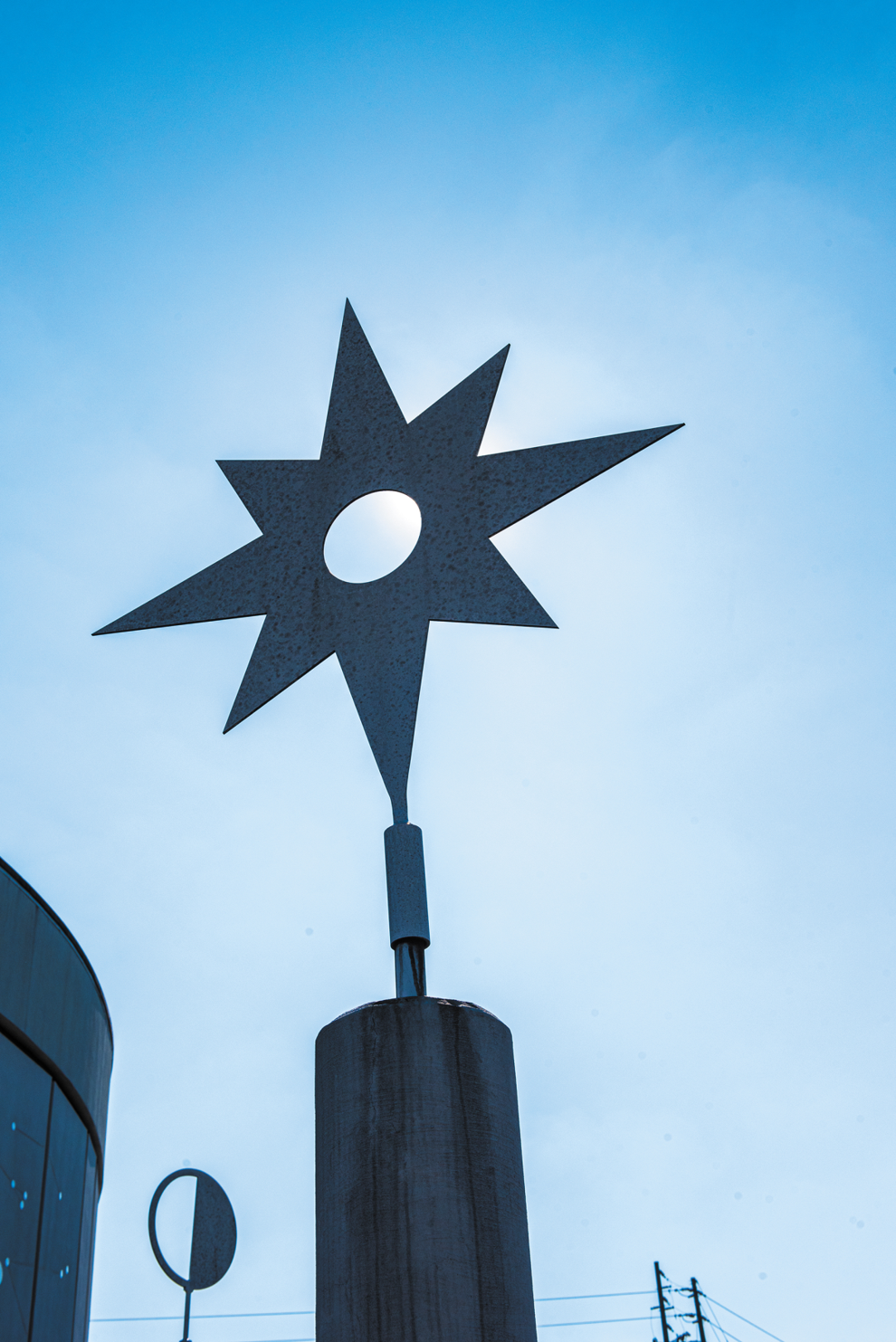 On the north-facing side of the hill sits Adventure Science Center, and north of that, downtown. The front of the science center offers the most complete panorama of the Nashville skyline, stretching east to west — so wide it's impossible to take in with one look. The interstate runs almost at eye level, giving it a futuristic feel, as if the interstate is instead a monorail zooming around the city.
The mile ends just outside the Sudekum Planetarium — fitting in its way, because this mile wound through neighborhoods and by places marking how Nashvillians, those held back by birth and hatred, and those who weren't burdened by those enormities, strove to make places their own, reaching ever higher.
Ad astra per aspera.